The app marketing o app marketing refers to the marketing of an application, or short app, that can be used on various mobile devices. App marketing aims to attract as many users as possible to an app or widget and thus generate revenue. App marketing can be categorized as part of cell phone marketing, but it differs from it in that it focuses on apps, while in cell phone marketing, mobile devices are considered the distribution channel for commercial promotion.
General information
With the increasing use of mobile devices, apps and widgets have also become popular. The number of smartphone users has grown steadily in recent years.
The apps are available in various designs and they usually have very specialized functions that users consider tools. But before apps attract user attention, they must be marketed. In many cases this is handled by specialized agencies, but you can also do your own marketing as long as you keep several basic rules in mind.
characteristics
App marketing is supposed to generate as much user coverage as possible. At the same time, the segmentation of the different target groups is enormously important; otherwise, the waste would be too high. Users can be technologically savvy, early adopters, or interested in a particular subject area. Therefore, there are specific target groups to focus on. Different channels can be identified depending on the target group to which the app should be marketed.
A multichannel strategy Combine the advantages of segmentation with the broadest feasible target group. Social media, blogs, various app stores such as iTunes or Google Play Store, press releases or reviews from real users who can test the app before launching it are possible channels to sell an app.
Before marketing can begin there must be a good idea. Users want specific features when using apps or widgets. Something new, disruptive, or original can attract users faster than a copy of a well-known application. An idea goes hand in hand with a good concept. To this end, the following questions must be answered:
How can you identify the USPs (Unique Selling Points) of the application?
How should it be designed?
What kind of user experience should the app offer?
All of these factors play an important role in development and marketing. Based on content, marketing can be done within the framework of storytelling and use various documentation formats to bring the app to users. Influencers, bloggers or professionals can surely be listed as reinforcing factors. They can test the app, evaluate it, and let it know if it delivers what it promises.
Last but not least, the app and the marketing concept must optimize for the particular platform on which it is to be sold. App store optimization is definitely recommended. It should be considered that the Freemium and Premium models offer an initial incentive to download the app, and later be able to generate income as a next step through a Premium model.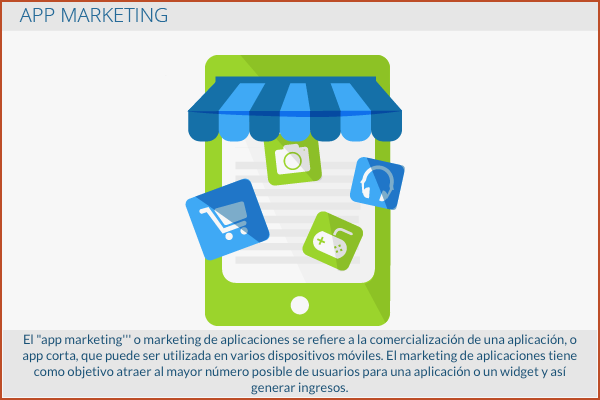 Legal aspects related to App Marketing
If you market your application, you must follow the guidelines of the app marketplaces and you must pay attention to certain legal aspects. Whether it consists of the iTunes Store, the Google Play Store or other markets where apps are offered for download, each platform has its own rules and, if they are not followed, you can exclude from that distribution channel. Sexual material, violence, intimidation or gambling are prohibited on all platforms.
Property rights such as patents, trademarks and copyrights will not be infringed. At the same time, it is essential to follow the guidelines for downloads, subscriptions and advertising campaigns. These aspects must be examined before launching an application. Actual customer reviews, the use of foreign brands in keyword business promotion, and various clauses of the competition law are relevant aspects of marketing.
Importance for SEO
The Marketing app can be used specifically to drive traffic to mobile websites or landing pages. Deep linking can be determined in apps to expand the app in a topic-appropriate way. They can go to the screens of the app and, therefore, refer to special parts of it, for example, a cell phone web portal.
This content is also visible to Google. App indexing describes from this procedure the perspective of search engines and the Googlebot for mobile is always looking for relevant mobile sites. Maintaining an overview in app marketing is essential. You must create an informative web portal before launching an application. Optionally, a landing page can be distributed via email, social media or other channels. The websites that complete the offer of the app must, in any case, generate downloads, but they can also be considered positive signs for search engines, similar to press releases, blogger reviews, or lots of interactions on social media channels.