The 100% online trainings taught by ENEB are the first option chosen by those seeking an official and recognized qualification. Although this business school is very short time since its inception and lacks academic renown has managed to create a completely virtual platform to teach more than 40 masters and specializations of all kinds.
University degree
A pioneer in Low-Cost education, it has at least 50,000 registered students and several thousand graduates. The official title comes from the hand of his alliance with la la ISABEL university I. At the end of the training, the degree issued by said university and signed and stamped by a notary can be requested. It is even possible to request it with the HAYA apostille.
Accreditations
All the training programs taught by ENEB are degrees issued by the European Business School of Barcelona endorsed and certified by the Isabel I University, which is within the European Higher Education Area. ENEB adapts its training programs through the unit of lective measure ECTS (European Credit Transfer System) in all training programs of the school to facilitate the organization of study of their students. The homogeneity and quality of content are fundamental pillars in our center.
In this way, ENEB's masters and postgraduate courses have the maximum recognition, endorsements and approvals that guarantee the educational quality of their content and obtain a great professional training evaluation in the field of each of the different areas of knowledge.
¿Por qué es tan económico en comparación a otros masters?
A modo de referencia el precio del MBA de ENEB (que suele ser la formación más demandada) tiene el siguiente precio:

Aplicando a diferentes becas o descuentos, es posible acceder a muchos de sus masters desde solo 279 euros (al menos por ahora). Luego, además habrá que abonar la expedición del título, cuando hayamos finalizado la formación (montos que rondan los 100 euros. Si solo precisemos el título digital, el mismo gratuito). Este precio se logra con una plataforma administrada por una cantidad acotada de profesionales y la ausencia de sedes físicas, de este modo se pueden evitar muchos gastos innecesarios, que a veces no son puestos en valor por los estudiantes.
¿Reemplaza a los MBA tradicionales?
Aunque la titulación es emitida por una universidad oficial, debemos recordar que se trata de una escuela de negocios muy joven. También es cierto que no hay un seguimiento personalizado para cada alumno ( es realmente difícil hacerlo con más de 40.000 alumnos registrados). Si duda, no es comparable con un master de 20.000 euros. Aunque si es cierto que es una opción completamente válida y por su valor, vale la pena. Si tenemos en cuenta la homologación del título y los ECTS, hablamos de la forma más económica de acceder a formación con reconocimiento oficial.
Is ENEB a scam?
No hay estafa de ningún tipo. La propuesta es clara, acceder a una plataforma educativa a un precio accesible y luego, si se completa, recibir un título. Eso ocurre sin problemas, por ende no es correcto hablar de estafa. Luego, cada uno, tendrá que evaluar precio pagado y valor recibido. Pero sin lugar a dudas, ENEB es una escuela seria y su plataforma cumple las expectativas. Muchos interesados suelen tener dudas, debido a que habitualmente ENEB ofrece agresivos descuentos sobre muchas de sus masters.
Valuable elements that make us trust ENEB as a training center

Isabel I University
All training programs are accredited by the Isabel I University

Barcelona Center Universitari
ENEB is the only Business School attached, together with the best universities in Catalonia, to the Barcelona Center Universitari that has the objective of promoting, coordinating and directing all the actions and activities considered necessary for those students who wish to settle in Barcelona while they carry out their studies .

CECAP
Member of the Spanish Confederation of Training Companies.

Anced
Member of the National Association of e-Learning and Distance Centers, the main national business organization that integrates the most important e-learning and distance teaching centers.

Trinity College London
Collaborating center of Trinity College London, a British educational institution specialized in certification in Oral English (GESE), Multi-Skill English (ISE) and Oral English for the Business World (SEW). All certifications are included within the Common European CEFR Framework.

Quality and excellence certification
Quality and excellence certification issued by the European Foundation for Quality Management with the highest score.

International Certificate of Educational Excellence
Certificate of educational excellence established based on the overcoming of quality standards in management, training offer, teachers, tutoring, structure of training programs, resources, facilities and equipment.

Barcelona Chamber of Commerce
Member of the Barcelona Chamber of Commerce, a corporation that provides services to companies and contributes to the consolidation and growth of the economic fabric.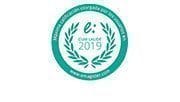 Seal of quality Cum Laude 2019
Quality Seal Cum Laude 2019 as the best business school valued by its students.

Trademark
Registered trademark with number 3,543,757 within class 41 belonging to Education and Training.
Criticism and reputation
Emagister.com
This website collects comments from students from thousands of institutions around the world. The study house of ENEB so far has 1243 reviews with a remarkable 4.7 / 5. Without a doubt an incredible rating considering the amount of comments.

Furthermore, emagister is in charge of certifying the quality of each institute and symbolically rewards it with a "CUM LAUDE seal". To achieve this, the institution must at least meet the following requirements.
All courses are up to date
The average rating is higher than 3.7
More than 50 opinions in the last 12 months
In the case of ENEB, it exceeds the requirements by a wide margin, achieving this seal every year since its inception.

Google My Business
As we already know, Google's "tabs" allow us to collect comments on different businesses or institutions. In this case, we have reviewed the comments that there were about ENEB and we have found that it has 245 opiniones con un promedio de 4.5/5. Sin dudas una buena reputación para una de las plataformas de comentarios más «crueles».

iAgora.com
This platform, similar to emagister, offers opinions on universities and training centers for international graduates, Erasmus students and exchange students. In this case we see that they have 585 opiniones con una calificación de 4,71/5

Prestigio
La Escuela de Negocios Europea de Barcelona, cuenta con apenas 6 años desde sus creación. A pesar de esto, han logrado posicionarse como un centro Online de excelencia elegido por miles de alumnos. Ha obtenido el reconocimiento de importantes portales como emagister.com (mencionando anteriormente). También el portal rankia.com la ha elegido como uno de las mejores 5 universidad online.
The specialized media have given ENEB the following recognitions:
El País – segunda mejor escuela de negocios de España
Portal MBA – tercer mejor MBA a distancia de España
Club-MBA – tercera mejor escuela de negocios a nivel internacional
Financial Magazine – segunda mejor escuela de negocios a distancia de España
Emagister – segunda escuela de negocios de España mejor valorada
Employment exchange
ENEB has been recognized by many prominent companies from different industries. Their dynamic training, adapted to the current context of the world of work, allows the student to function perfectly in any company and to develop a promising professional career. To make it possible, the school has an agreement with important business firms and a job bank in which you can receive weekly job offers. They have signed an alliance with igora.com to have an online portal where they are published exclusive offers for ENEB students
Scholarships and discounts
Actualmente ENEB esta ofreciendo descuentos muy importantes a los cuales se puede acceder utilizando el siguiente link. Utilizando el Código EMBAJADOR3069  podrás acceder a un descuento de hasta el 97% sobre los precios publicados en la web de ENEB hasta fin de año.
Utilizar código de descuento EMBAJADOR3069
A modo de ejemplo, podrás adquirir un doble máster por solo €279, o bien, un Global MBA por solo €479.
Con este importante descuento se convierte en una oportunidad accesible para todos. Mantendremos actualizado esta página para acercarte las mejores ofertas y promociones de ENEB, or, of other postgraduate or master's degrees. We recommend you subscribe to our notifications.