The 100% online trainings taught by ENEB are the first option chosen by those seeking an official and recognized qualification. Although this business school is very short time since its inception and lacks academic renown has managed to create a completely virtual platform to teach more than 40 masters and specializations of all kinds.
University degree
A pioneer in Low-Cost education, it has at least 50,000 registered students and several thousand graduates. The official degree comes from the hand of its alliance with la la Isabel I University of Castilla. At the time of completion of the training, the degree issued by said university and signed and stamped by a notary can be requested. It is even possible to request it with the HAYA apostille.
Accreditations
All the training programs taught by ENEB are degrees issued by the European Business School of Barcelona endorsed and certified by the Isabel I University, which is within the European Higher Education Area. ENEB adapts its training programs through the unit of lective measure ECTS (European Credit Transfer System) in all training programs of the school to facilitate the organization of study of their students. The homogeneity and quality of content are fundamental pillars of the center.
In this way, ENEB's masters and postgraduate courses have the maximum recognition, endorsements and approvals that guarantee the educational quality of their content and obtain a great professional training evaluation in the field of each of the different areas of knowledge.
Why is it so cheap compared to other masters?
As a reference, the price of the ENEB MBA (which is usually the most demanded training) has the following price:

Applying to different scholarships or discounts, it is possible to access many of his masters from only 279 euros (at least for now). Then, in addition, the issuance of the title will have to be paid, when we have finished the training (amounts that are around 100 euros. If we only need the digital title, it is free). This price is achieved with a platform managed by a limited number of professionals and the absence of physical headquarters, in this way many unnecessary expenses can be avoided, which are sometimes not valued by students.
Does it replace traditional MBAs?
Although the degree is issued by an official university, we must remember that it is a very young business school. It is also true that there is no personalized monitoring for each student (it is really difficult to do it with more than 40,000 registered students). If you doubt, it is not comparable with a master of 20,000 euros. Although it is true that it is a completely valid option and for its value, it is worth it. If we take into account the homologation of the title and the ECTS, we are talking about the cheapest way to access officially recognized training.
Is ENEB a scam?
There is no scam of any kind. The proposal is clear, access an educational platform at an affordable price and then, if completed, receive a degree. That happens without problems, therefore it is not correct to speak of a scam. Then, each one will have to evaluate the price paid and the value received. But without a doubt, ENEB is a serious school and its platform lives up to expectations. Many interested parties tend to have doubts, because ENEB usually offers aggressive discounts on many of his masters.
Valuable elements that make us trust ENEB as a training center

Isabel I University
All training programs are accredited by the Isabel I University

Barcelona Center Universitari
ENEB is the only Business School attached, together with the best universities in Catalonia, to the Barcelona Center Universitari that has the objective of promoting, coordinating and directing all the actions and activities considered necessary for those students who wish to settle in Barcelona while they carry out their studies .

CECAP
Member of the Spanish Confederation of Training Companies.

Anced
Member of the National Association of e-Learning and Distance Centers, the main national business organization that integrates the most important e-learning and distance teaching centers.

Trinity College London
Collaborating center of Trinity College London, a British educational institution specialized in certification in Oral English (GESE), Multi-Skill English (ISE) and Oral English for the Business World (SEW). All certifications are included within the Common European CEFR Framework.

Quality and excellence certification
Quality and excellence certification issued by the European Foundation for Quality Management with the highest score.

International Certificate of Educational Excellence
Certificate of educational excellence established based on the overcoming of quality standards in management, training offer, teachers, tutoring, structure of training programs, resources, facilities and equipment.

Barcelona Chamber of Commerce
Member of the Barcelona Chamber of Commerce, a corporation that provides services to companies and contributes to the consolidation and growth of the economic fabric.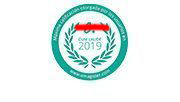 Seal of quality Cum Laude 2019
Quality Seal Cum Laude 2019 (emag **** r.com) as the best business school valued by its students.

Trademark
Registered trademark with number 3,543,757 within class 41 belonging to Education and Training.
Criticism and reputation
Emagis platform ** r.com
This website (which we are prohibited from expressly mention) collects feedback from students from thousands of institutions around the world. The study house of ENEB so far has 1243 reviews with a remarkable 4.7 / 5. Without a doubt an incredible rating considering the amount of comments.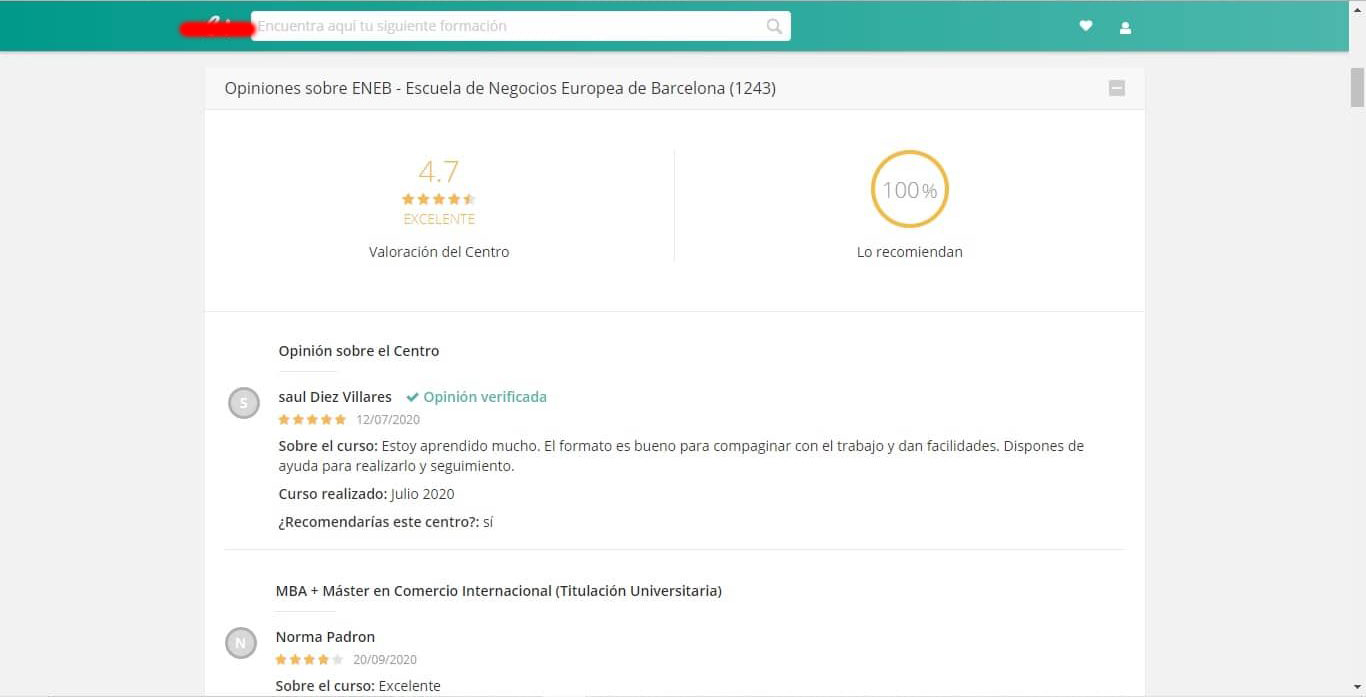 In addition, this platform is in charge of certifying the quality of each institute and symbolically rewards it with a "CUM LAUDE seal". To achieve this, the institution must at least meet the following requirements.
All courses are up to date
The average rating is higher than 3.7
More than 50 opinions in the last 12 months
In the case of ENEB, it exceeds the requirements by a wide margin, achieving this seal every year since its inception.

(Unfortunately we have to edit the images because it was prohibited make express references to said platform)
Google My Business
As we already know, Google's "tabs" allow us to collect comments on different businesses or institutions. In this case, we have reviewed the comments that there were about ENEB and we have found that it has 245 opinions with an average rating of 4.5 / 5. Undoubtedly a good reputation for one of the most "cruel" comment platforms.

iAgora.com
This platform, similar to emagis ** r.com, offers opinions on universities and training centers for international graduates, Erasmus students and exchange students. In this case we see that they have 585 reviews with a rating of 4.71 / 5

Prestige
The European Business School of Barcelona has barely 6 years since its creation. Despite this, they have managed to position themselves as a Online center of excellence chosen by thousands of students. It has been recognized by important portals such as emagis ** r.com (mentioned above). The rankia.com portal has also chosen it as one of the best 5 online universities.
The specialized media have given ENEB the following recognitions:
The country - second best business school in Spain
MBA Portal - third best distance MBA in Spain
Club-MBA - third best business school internationally
Financial Magazine - second best distance business school in Spain
emagis ** r.com - second best rated business school in Spain
Employment exchange
ENEB has been recognized by many prominent companies from different industries. Their dynamic training, adapted to the current context of the world of work, allows the student to function perfectly in any company and to develop a promising professional career. To make it possible, the school has an agreement with important business firms and a job bank in which you can receive weekly job offers. They have signed an alliance with igora.com to have an online portal where they are published exclusive offers for ENEB students
Scholarships and discounts🎁
Currently ENEB is offering very important discounts that can be accessed using the following link. Using the Code EMBAJADOR3069  you can access a discount up to 97% on the prices published on the ENEB website.
Use discount code EMBAJADOR3069
As an example, you can purchase a double master for only €299, or a Global MBA for only € 499 💸. 
In the same way, each person who registers with this code also You will receive a Higher Course of your choice. You can enjoy this Course yourself or give it to someone else, at no cost. (This is something that is not offered by emagis ** r.com or Grou ** n)
CashBack in Paypal🎁!
If you use the code EMBAJADOR3069, R Marketing Returns € 15 * through Paypal. (or € 20 if you enroll in a Global MBA training)
* The cashback or refund of money is subject to verification of the use of the code EMBAJADOR3069 at the time of enrollment in ENEB. For this you must send us an email to [email protected] with your full name, training in which you enrolled, the date you did it and your username in Paypal. Once verified, you will receive an email with the access data to the chosen course.
With this significant discount it becomes an opportunity accessible to all. We will keep this page updated to bring you the best ENEB offers and promotions, or, of other postgraduate or master's degrees. We recommend you subscribe to our notifications.
Do you want to ask a question about ENEB?
We solve your doubts or queries.