A Ad Network It is an online commercial promotion network that connects the advertiser with the publisher and thus acts as an intermediary network between supply and demand. The main objective is to offer publishers an advertising space where they can enter the demand of advertisers.
Selling the ad space
So a Ad Network aims to market the advertising material in specific media. Publishers who have available advertising space contact the Ad Network. At the same time, advertisers who want advertising space related to the topic of interest also contact the Ad Network. In this way, the online business promotion network connects the two stakeholders.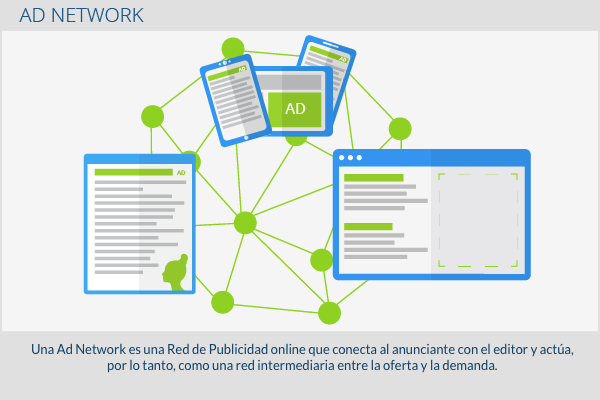 Media on the Ad Network
The Ad Networks They offer different types of commercial promotion. There are commercial promotion networks for printers and for television commercial promotion. In practice, Ad Networks they are generally used for online media since they are used in that context. There are many different types of online business promotion:
Websites
Blogs
RSS-Feeds
Apps
Adware: software that displays advertising material during installation or during use
E-mails
Social media
If an advertising company is used, the ads will be served via an ad server on the Ad Network. The ad server connects to the landing page, the landing page, and therefore the ad automatically redirects to the page that contains the offer and the purchase option (Eg online store).
Types of Ad Networks
The means of distribution of advertising content are divided into three types:
Vertical Network - vertical network: the advertiser can control the ad space of the ad at any time. The advertiser will get good quality traffic. The big brands normally use this type of network.
Blind Network - Blind network: with low prices, this type of network is very interesting for Direct Marketing professionals. However, it is not a transparent ad network. In many cases, you don't even have the opportunity to control the ad space in which your ad will appear. Some Ad Networks offer the opportunity to create blacklists. The commercial promotion spaces that are included in this list may not be used for commercial promotion of ads.
Targeted Network: this network focuses on a selection of advertising spaces analyzing behavioral and contextual aspects, and takes into consideration the feasible effect that it can generate on social networks.
Relevance for SEO
Commercial promotion networks are considered very important for SEO. A clear example is the ads through the platform Google adwords. While advertisers use Google adwords For business promotion, website owners earn money by posting these ads on their websites by using Google AdSense. The Ad Networks They are an essential part of the SEA and directly influence the rankings in the SERPs. Overloading the web portal with too many ads has negative consequences and can even be penalized: Google considers that an abuse of commercial promotion causes a negative user experience and does not offer added value. The same is true if, for example, affiliate links are not tagged "nofollow".