The social signals They are communicative and informative signals that provide information about interactions, emotions, relationships, and social behaviors.
This term is used since the great success that social networks such as Facebook or Google+ have obtained and also for other social networks such as Twitter, Pinterest or Tumblr. Items such as comments or Likes they are part of these social signals.
With respect to SEO you mean, these social signals include activities such as Backlink (Eg share a web portal on Facebook). The analysis of these signals helps to understand and categorize the behaviors of potential customers.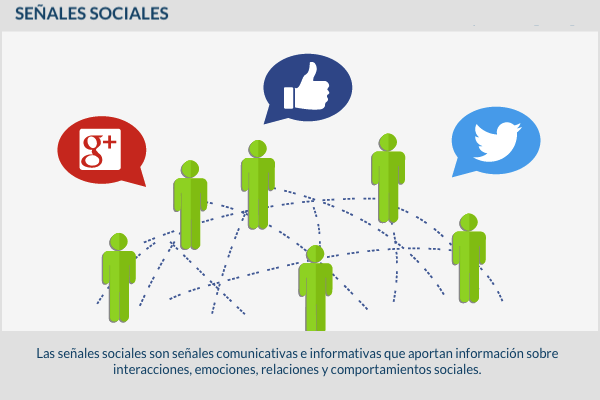 Social Signals and Positioning
There are many studies that analyze the impact of social networks on the positioning of a web portal. As a result, it has been concluded that many websites that appeared in the first search results actually had a strong position on social networks. Despite everything, there is no evidence to show that they really affect or not the positioning of the web portal in search engines.
Google reports
Even Google has to deal with issues related to social networks and the effect of these signals on the positioning of websites. In an interview with the SMX Advanced In 2012 by Matt Cutts it is reported that traditional links have a much greater weight than those from social networks.
You can read that post here. Matt Cutts reported in the SMX Advanced 2013 that social media data is a very important criterion for ranking. He also reported that Google is not able to index a database as large as, for example, Facebook. Regardless, he announced that the impact of social signals may change in the future. And on January 22, 2014 Mr. Cutts posted in the Youtube Channel another video on the subject.
Importance for SEO
The exact link between social media and SEO remains unknown. Experience has shown that social networks do influence positioning but it has not yet been confirmed by Google.
Web links