Google Shopping is a Google price comparator and, together with Product Listing Ads (PLAs), is part of the Google AdWords platform. Online stores expose their products on this Google portal with ads that contain the image and data of the product advertised in Google search results. They generally pay based on the number of clicks the ad receives. To participate in Google Shopping, an AdWords account and an account in the Merchant Center are required.
Origin
Google shoppin it was originally called Google Base and it was released in 2005. In the beginning, online store owners could sign up for free in the Merchant Center and download their details. Their products were advertised for free on the Google Base portal. After Google Shopping became a fundamental part of Google, the company has decided to cancel the free version and turn it into a payment platform in February 2013. Now, if a seller wants to appear with their product on Google Shopping, it has to pay based on the Cost Per Click (CPC) model.
Product Listing Ads
Product Listing Ads are part of the new Google Shopping system. They are image ads that appear in Google's organic results with a tag that establishes them as ads (Ads). A PLA generally consists of a product image, the price and a brief description - Meta Description.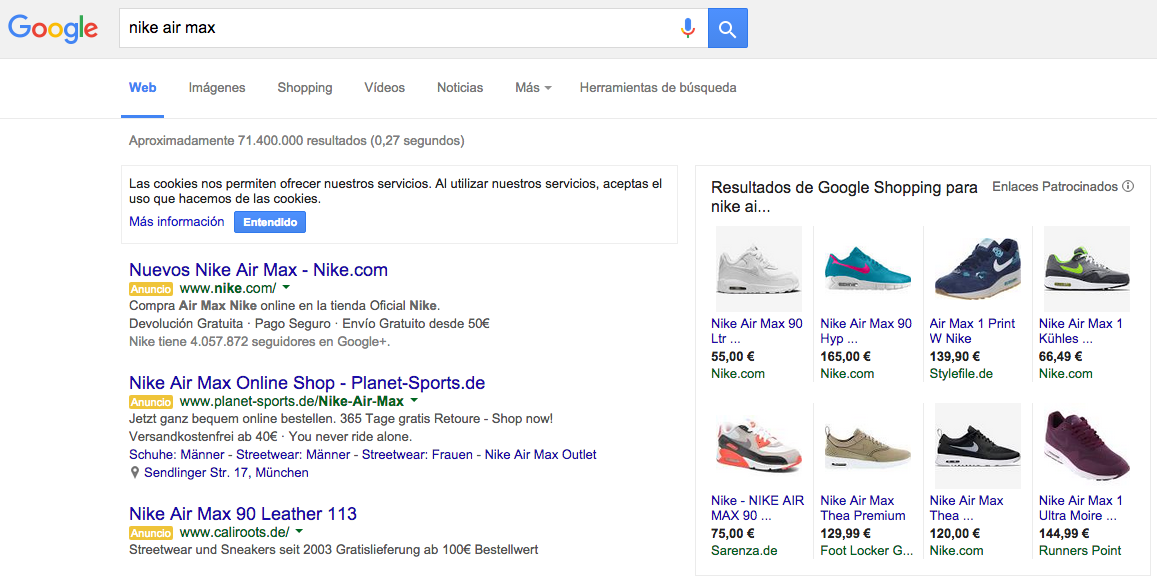 The position in which said PLA ad appears is defined by Google AdWords: AdWords receives the information through a database that has previously been incorporated into the Google Merchant Center.
Google PLA ads can even be limited to regions or countries, like display or text ads. Google also offers different types of display and betting strategies. The main feature of this type of ad, PLA, is that an entire catalog must be selected for the chosen ad, at the same time displaying specific individual products based on their ID or saved keywords. Therefore, marketers can offer very specific PLA campaigns to have a greater impact on their target audience and achieve better results.
Use of Google Shopping
If you want to show your products in Google Shopping Through the Product Listing Ads you need to have a valid account in Google AdWords and an account in the Google Merchant Center. While the database is in the Merchant Center, the Google AdWords account is the one you should use to make your ads.
The price of the ad will depend on the number of clicks your ad receives through Google Shopping and based on the price agreed in your Google AdWords account.
Google Shopping optimization
Product lists can be saved in CSV format. You can get the most out of your product lists with informative titles and putting a brief description of each of your products may help you to improve your positioning in Google search results.
Database components
Google clearly defines what information the product database must contain in order for products to be displayed in search results. Price and availability are very important. Each product must be easily identifiable with an MPN (Manufacturer Part Number), an EAN or an ISBN.
If the product listing does not meet the requirements, the Google Merchant Center account will be blocked. Therefore, it is recommended that all the data provided to Google be up to date and be as clear and simple to understand as possible.
The rules that apply to all AdWords ads generally apply to PLAs as well. Neither drugs nor weapons can be sold on Google Shopping. If you want to use Google Shopping internationally, stay informed about the specific requirements of each country. For example, for pharmacies there are very strict rules and these must be approved by Google, at the same time as the general registration in the AdWords account.
Google Shopping Reviews
With Google Shopping, Google has expanded its portfolio of payment services and is in competition with other price and product comparison portals. Google has already received a lot of criticism about its PLAs since many competitors think that Google takes advantage of its position of power to put your competitors at a disadvantage.
Because Google has already integrated the opportunity to search and even buy flights directly from its search engine through Google Maps totally free, users no longer use the other portals. With the current Hummingbird update and the improved Knowledge Graph, Google has improved its position even further.
Google Shopping and SEO
When Google Shopping It was still a free portal, the product lists represented for many a way to improve their SEO and their presence in organic search results. An online store that presented its products in Google Shopping, benefited from increased visibility in the SERPs without having to pay additional costs.
Currently, Google Shopping and Google AdWords have no direct influence on the positioning of organic search results. Despite everything, like any other SEA measure, these paid ads do have an impact on SEO. Through paid commercial promotion (PLAs), online stores increase their brand image and improve their results in direct searches to, ultimately, get more traffic and increase their sales. When this happens, increased traffic, Google considers that this online store offers added value to its users and, in this way, improves its positioning in organic search results, in addition.
Web Links