Something you should know when you start in the world of blogging is that you should not be obsessed with generating content, or in other words, you should apply the Pareto principle effectively, dedicating a 20% to the creation of the contents and a 80% to the promotion plan of those contents.
Think for a moment that if we start from that idea, a blog could work with only 4 or 5 articles that were in the first positions of the Google search engine and that generated 20 to 30 thousand visits each, I call these contents the Pillars of your content strategy And it should be an important part of your blog work.
In this article I am going to tell you how we can position an article in Google and get more than 100,000 visits per month.
For this I am going to clarify a fantastic way to find long tail niches that you can add to your blog editorial calendar.
How to find long-tail niches of thousands of hundreds of visits in a matter of seconds
To find these long tail niches we are going to use ahrefs, one of the most important SEO tools in my opinion if you need to increase the web traffic of a project. What I like the most about this tool is its ease of use and how we can have access to high quality information in a matter of a few seconds.
To do the search, it is as simple as indicating a search term for example "social networks" and finding out which niches contain this word that have the most traffic and visibility.
Then we are going to filter by language and by web traffic, so that we can see first those with the most traffic they have.
Once you find a topic, I suggest the following analysis:
1.- Analyze the traffic of monthly visits.
2.- Analyze the number of keywords that we can obtain.
3.- Analyze the competition and difficulty of the term.
4.- Analyze SEO On Page optimization (content, images, density, prominence, etc.)
5.- Analyze the page authority, the domain authority and the relevance of the backlinks or incoming links.
Once this analysis has been carried out, we will be able to know if we are definitely going to work that niche to position it or if, on the other hand, our web portal does not have enough authority or sufficient guarantees to climb to the top positions.
How to find long tail by analyzing the blogs with the most traffic in your sector
#M method 1: ahrefs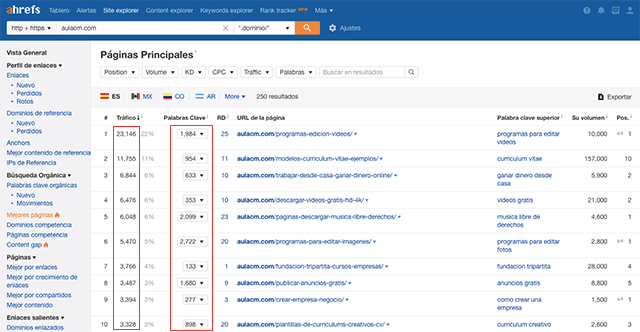 It is as simple as adding the url address of the page we want to analyze and then clicking on Organic Searches> Better pages.
What I like about ahrefs is that it even gives us an approximation of organic traffic for each article, I think it is a very valuable piece of information.
Something that you can observe in this top 10 of the capture is that many of them are long tail, therefore this reinforces my theory of attacking these types of niches.
#M Method 2: SEMrush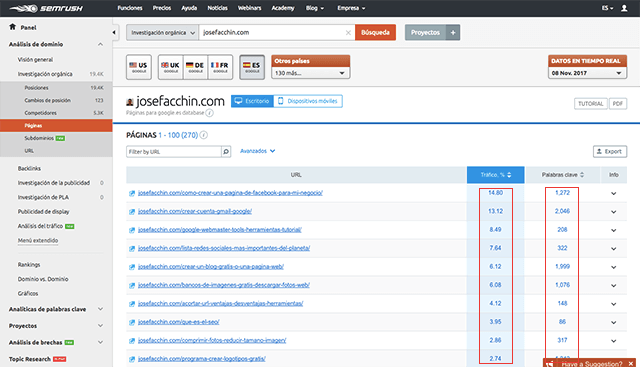 It is as simple as adding the url that we want to analyze and then clicking on Organic Research> pages.
What I love about this tool is the competitive analysis capacity it has, being able to analyze any site or web page in all its facets.
In this second example we see that the top 10 matches 100% with long tail.
How to position a blog article in more than 120,000 visits / month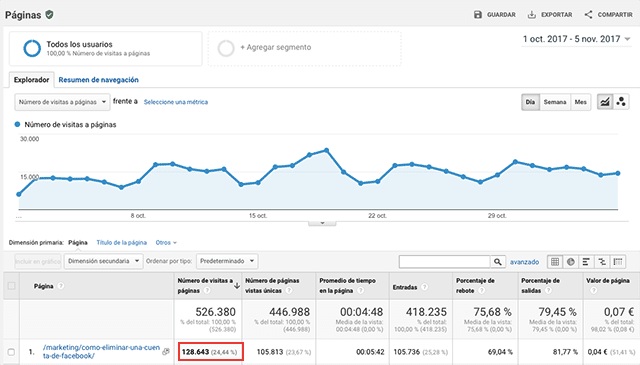 As you can see in the image, this article already exceeds 120,000 visits per month, has a very good dwell time, almost 6 minutes per user and a bounce rate of 69%.
It is a content designed and prepared for:
1.- Make it very simple and easy for anyone who reads it.
2.- That it fosters a good experience and with enough retention items.
3.- Provide precisely what the user's search is demanding.
Rich snippet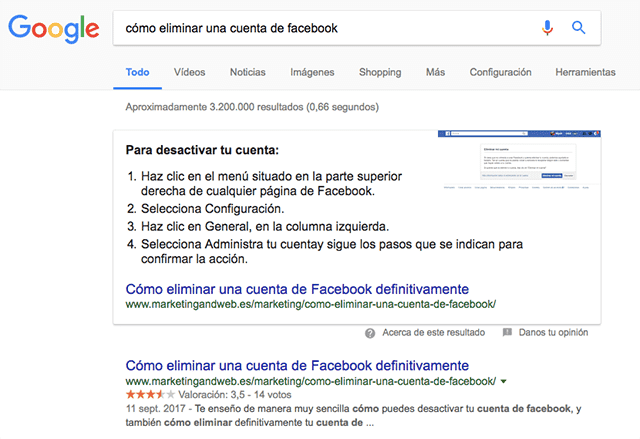 I knew that obtaining the enriched result was going to bring me a large sum of organic traffic, therefore I was very careful to use a list format to achieve it.
The good thing about these Rich Snippet is that we can get to get ahead of the first position in Google without even being the Top1, sometimes not even being the Top3, what it does is that it is a very great organic advantage and that we must know take advantage of.
Analyzing authority of pages and backlinks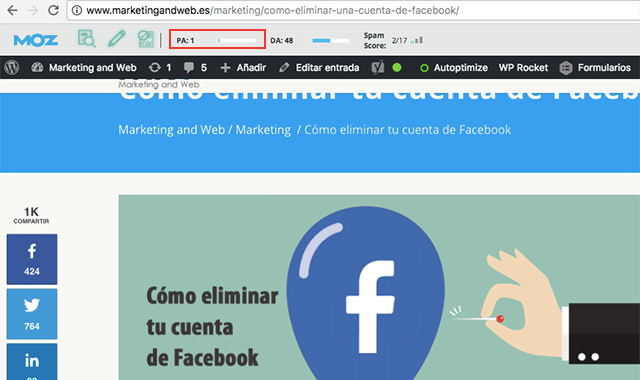 You may still be surprised to see that the article has page 1 authority, but the truth is that it is only a month and a half old and has not yet assigned its authority value, but what is surprising is that an article climbs to the first position and generate this volume of traffic only 3 weeks after publication and when you have not yet received the link juice of the links you have obtained.
If you analyze the following screenshots, you will have the option to see that it has obtained 79 links from 14 different domains.

At the same time, other interesting data are the more than 2,000 keywords positioned in Google and how the traffic estimated by ahrefs is quite close to the real one, almost "nails it".
Have you seen how easy it is to find these high traffic niches for a blog?

What are you waiting for to start testing it and position an article in Google?
The next step would be to establish your editorial calendar for the next 3 months, and determine what the promotion plan is for each article, and when I talk about promotion I am talking about obtaining visibility in all possible channels, including climbing positions in the Google search engine.
Remember that you need to get links from high authority domains and if at the same time they come from high traffic sites it would be perfect, because at the same time you are going to follow link juice and we are going to get highly qualified traffic, which will logically improve the user experience.
The best and simplest method to achieve them is by publishing posts on other blogs, and to achieve this we have to do a lot of networking, there is no other way, think that the blog is a very personal tool and for another blogger I let you have access in his little house virtual we have to earn it, and the best way to do it is little by little and over time.
Relationships are not created or invented, they are born from the moments and occasions that you live with other people, therefore the best way is that, to create many moments where that person can know you more and you also know her.
On November 16, I invite you to the Extremeño Congress of Digital Marketing that will take place in Badajoz and where more than 500 professionals from the sector will meet.
If you come, you will be able to attend presentations and workshops by great professionals such as Álvaro Fontela, Tristán Elósegui, Elena Charameli, Ernesto Bustamante, Phillippe González, Carlos Fernández Guerra, Víctor Arroyo, Carmen Figueiras, Natalia Paskhina, Alfredo Solana and Javier Alonso.
Take advantage of these coupons with which you will save a 25% at the entrance and remember that they are limited, therefore do not think about it too much and buy your ticket as soon as possible.
★ Coupon 25% face-to-face entry discount: cemd_maw_presencial
★ Coupon 25% discount online entry: cemd_maw_streaming
In my presentation I will talk to you about the best strategies to work on your branding or personal branding, or how we also know as a personal brand, and how I have been able to point out in a sector with so much competition such as marketing, if I have achieved it, you also do it. you can get therefore do not miss my presentation.
Later in the afternoon I am going to give you a workshop on how you can monetize a blog, I will talk about the most effective ways and how to launch a course or an info-product so that we can truly obtain the desired results.
See you on November 16 in Badajoz! 😉
Conclusions
Positioning an article in more than 100,000 visits per month is feasible, if I have achieved it, you can also do it. Start by selecting very well the long-tail niches where you want to position yourself and then define a whole promotion plan or strategy to take it very high in many Internet channels, and mainly in the Google search engine.
In this there are no tricks or stories, just do the promotion strategy well, therefore define a good tactical plan for each long-tail article that you want to publish on your blog.
And remember, do not get obsessed with generating content or make the mistake of increasing the frequency of publication in the blog, with that you will not increase web traffic.