For all of us who do any activity on the web, the social networks they are powerful tools. Almost essential.
Is that if you have a website at your disposal, they are an effective source of traffic.
That is why we have explained how to take your content to the networks:
If yours is a company or a deal, either physical with a web anchor - a professional page or blog created in WordPress.org, of course— or if you have an entirely digital business at your disposal. Social media helps you generate interactions and create links with your audience.
Engagement how English speakers say.
Call them visitors, readers, followers, prospects or potential customers ...
The clients of your dreams, those little people who will make the metrics of your website grow and, more importantly, of your bank account! They are active users of social networks.
How do we know?
Easy.
Yes, as of the date of writing this article:
Facebook has more than 1.94 billion users.
Instagram boasts 1 billion active users.
Oh yeah and Twitter.
The blue bird social network boasts (we repeat, as of the writing of this article) more than 332 million active users.
Yes, 300 million users is an amount let's say ... important.
Twitter in WordPress
And from your online trench (page or blog) based on WordPress you can take advantage of all the social media traffic. In this particular case of Twitter.
Why from Twitter?
Because Twitter is simple and massive. Point.
Not to mention that said social network generates a certain degree of addiction (loyalty) among its users.
That is why it is more than advisable to juice it.
We have already explained the dynamics of the share buttons on social media.
And how at the same time it is possible to even share a fragment of the text of one of your blog articles.shading the section you want to draw through a Tweet.
But another option to share on Twitter is through the Twitter Cards.
And it is one of the most attractive.
What are Twitter Cards?
The Twitter Cards are an option for share content in an attractive way. In short, they are a format of Enriched tweet that unfolds multimedia information which can be appreciated by users in preview.
The people of Twitter On his official developer page he explains it like this:
With Twitter cards, you can attach photos, videos, and multimedia experiences to Tweets, helping to drive traffic to your website.
There are different types of Twitter Cards. Each format offers a different user experience.
The formats of Twitter Cards available are
Summary Letter
Summary Letter with large image
Twitter Card of app (App Card)
Twitter Card with player multimedia
Summary Letter - Summary Card
This is ideal for promote the contents of your website or blog.The summary letter is concerned with providing your readers with a preview. So you can see what it's about what you post before they click on the letter, which will redirect them directly to your site.
Large Image Summary Letter - Summary Cards With Large Image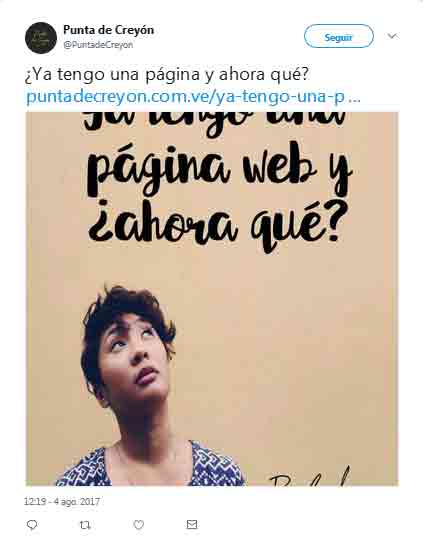 It has all the advantages of the standard summary letter plus an addition: Visual appeal which provides an image. An image that at the same time when clicked will take the user directly to the article or content that is on your website.
Twitter App Card - App Card
The best way to show mobile apps on Twitter is through a Tweet loaded with a App Card. Why? Because it displays relevant information linked to the app: Name, icon and description of the App, as well as the rating it has obtained in the Store and the price
Twitter Card with media player - Player Cards
It enables you to share multimedia content: audios or videos that can be played without leaving the time line from Twitter. The bomb.
How to add the letters Tuiter to your WordPress website or blog?
Now if you wonder how you can get the most out of Twitter Cards from your WordPress We show you two methods:
Activate Twitter Cards on WordPress.org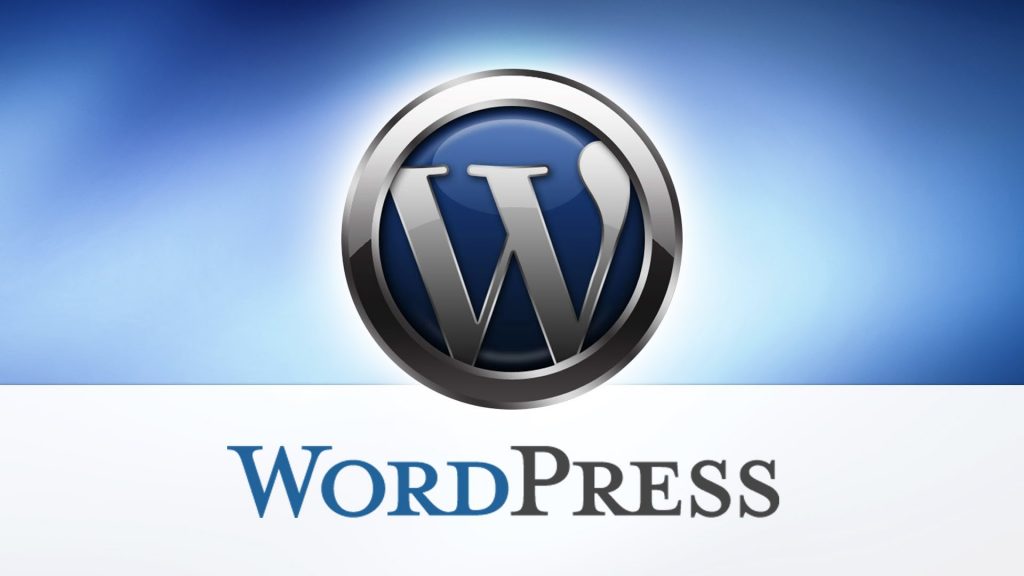 The simplest way to activate tweeting cards doesn't require installing anything.
On your WordPress dashboard follow the following path:
Settings> Share>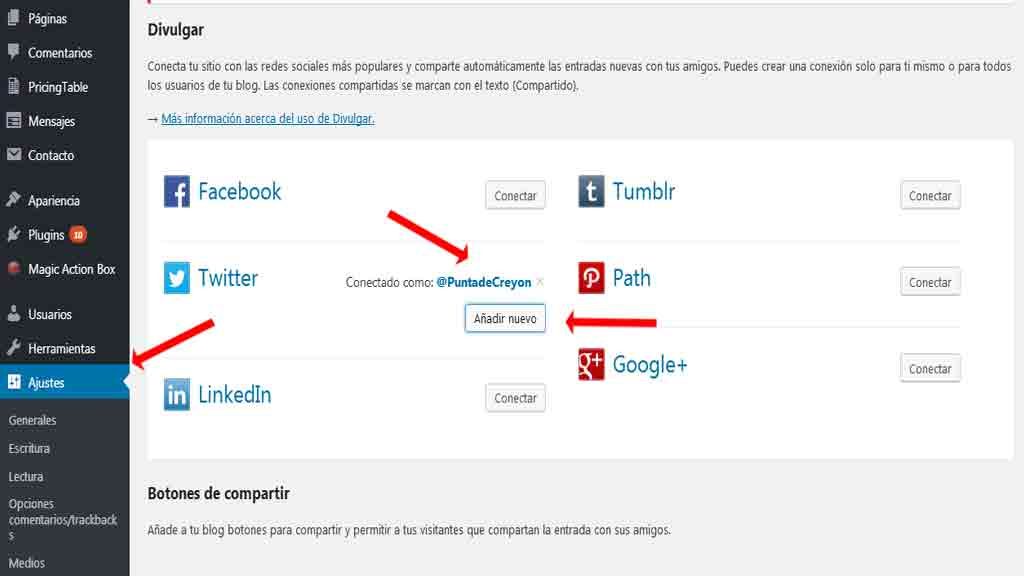 From there you can link your Twitter account with your blog. So every time you upload an entry it will be launched in a Tweet. Yes, automatically.
 Twitter Cards with Yoast SEO Plugin
If you frequent our tutorials you will know that the Yoast SEO plugin It is one of our all-time favorites.
With the Yoast apart from optimizing the SEO of your website it is feasible to share enriched Tweets or Twitter Cards.
To do this you must:
Create a new entry
Go to Yoast SEO options
Choose the "social" option

4.Select the Twitter icon
5. Fill in the information fields and upload the image with the specified dimensions as shown below: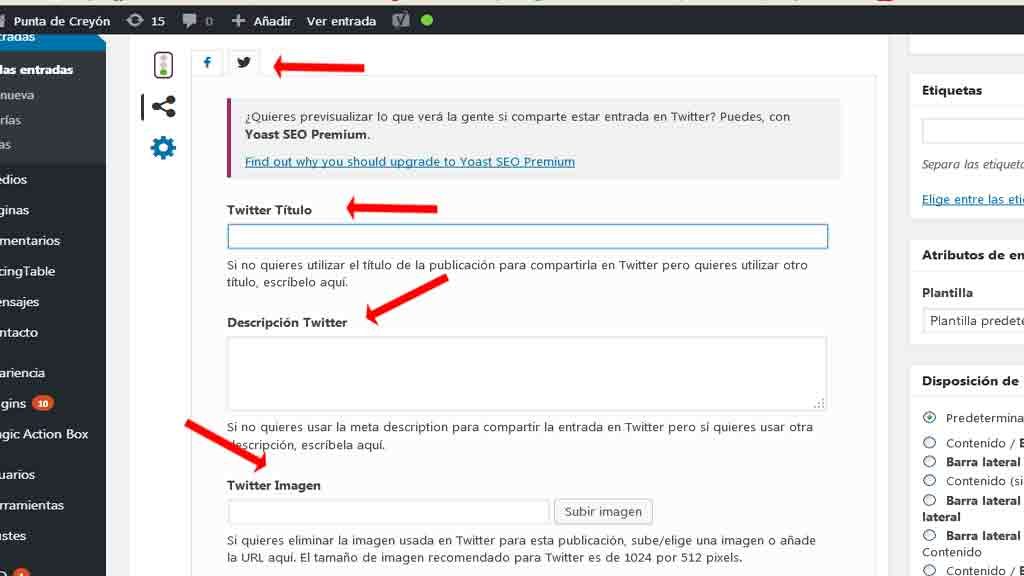 Save changes
Update the information every time you upload a new entry
Welcome to the world of Twitter Cards.
If you want to get the most out of these and other tools from your page or blog, you have the best online WordPress course in Spanish with which you will become an expert. What are you waiting to sign up?