Before starting with the post I would like to say that it is a pleasure to be able to participate in this great community, as well as thank Miguel for allowing me to participate with this SEO Guide for WordPress and Ecommerce. And now without further ado, let's go to the post!
If you think that all websites are the same and that SEO is worked in the same way for all of them, you are very wrong, since, even though the base may be the same, we have to adapt to what we need in each specific case.
For example, the type of work that we will have to do for a WordPress blog where we only give information and where optimization will be relatively simple is not the same as for an Ecommerce where we are selling products and we have to pay attention to many more factors.
That is why in this post I want on the one hand to explain how to configure every last aspect of the SEO On Page of your blog in WordPress and then go on to talk about more advanced SEO factors that influence an Ecommerce.
In just under 2 weeks you have this piece of advanced SEO course where you will be able to learn from great SEO professionals.
The SEO course has an extension of 2 months and throughout that time we will work on the positioning of your project. In what way? We will start with an SEO audit and later design a content strategy, which we will carry out through the 2 mentoring sessions that you will have with R Marketing Digital, which will surely help you lay the foundations for your project to grow a lot.
Classes are taught live on Friday afternoons and Saturday mornings, and all classes are recorded, so you will be able to advance at your own pace in the course.
More information about the advanced SEO course 
SEO Tutorial for WordPress and Ecommerce in Spanish
Structure of URLs in a blog in WordPress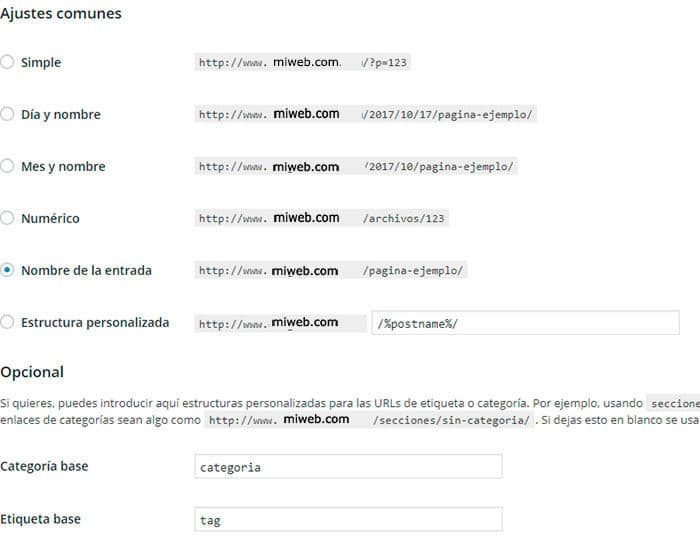 Configuring the structure of the urls of our blog in wordpress is essential and what we should do before launching ourselves to publish content or do anything else on our blog.
In order to have access to this configuration we have to have access to the wp-admin of our wordpress and in the menu enter settings and within here to permanent links.
At this point we will have to select the type of structure we want for our publications, if we want the URL to include the date like myweb.com/2000/10/11/name-del-post/, if we want something like myweb. com / post-name / or if we prefer something like myweb.com/category-name/post-name/.
At the same time, we must pay attention that having the date in the url is something that will not contribute anything positive, so it is something that we must totally discard.
What we have to think about is whether we prefer to have the category name or not in the url. What will this depend on? Largely from the volume of our website.
If we have a very large website, with many categories, we may be interested in organize content into clusters that have equivalent content which if the name of the category is in the url.
However, if we have a very small micro-niche website, it is really preferable that the name of the category does not appear in the url address since practically all of our website will deal with the same content and we will thus save a level of depth in the urls.
You may also be interested in:
Course how to make an SEO Strategy + 4 Video tutorials
SEO On Page. Guide with the best tips and tricks!
How to create a YouTube account and optimize it for SEO
SEO On Page Optimization in WordPress
When making the most of WordPress on-page SEO without any doubt we have to resort to using one of the two great plugins in this matter, All In One SEO or SEO By Yoast.
Which one to select from the two?
Truly both plugins are very good but SEO By Yoast has a few more features that All In One SEO doesn't have, so in general I would prefer to use SEO By Yoast.
This is why I am going to clarify the fundamental points in the configuration of SEO By Yoast, so that you can make the most of your WordPress.
Titles and goals in Yoast SEO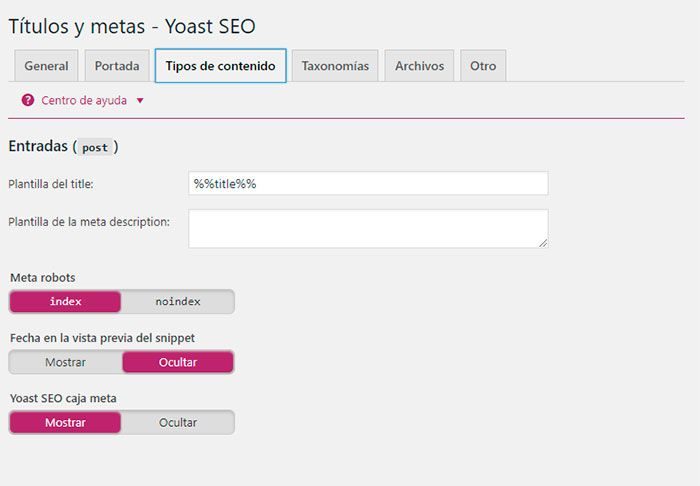 The "Titles and goals" chapter of the plugin is mandatory. since this is where on the one hand we will be able to configure the meta title and meta description of the main page of our website and on the other hand we will be able to configure the rest of the goals in the other urls.
We will be able to configure whether we want it to be index or noindex to index or not in the Google search engine the articles, pages, tags, author files, paginations and a long list of urls, as well as configure their meta titles or the templates to generate a meta description from the pattern that we want.
Without any doubt, this configuration is more than essential after the installation of this plugin.
XML sitemaps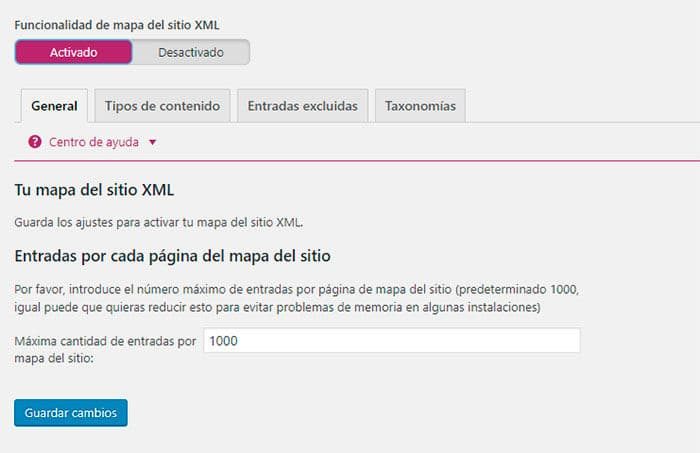 In this chapter we will be able to configure if we want Yoast to generate a sitemap of all the urls on our website, as well as configuring the urls or categories that we want to exclude from it.
Something very interesting for people to save us an extra plugin to manage and generate sitemaps.
At the same time, we will be able to configure as many urls as maximum we want there to be for each xml file of sitemap caused.
The interesting thing about this chapter is that we can turn it on or off to our liking in such a way that we are not obliged to use or not sitemaps at any time.
Advanced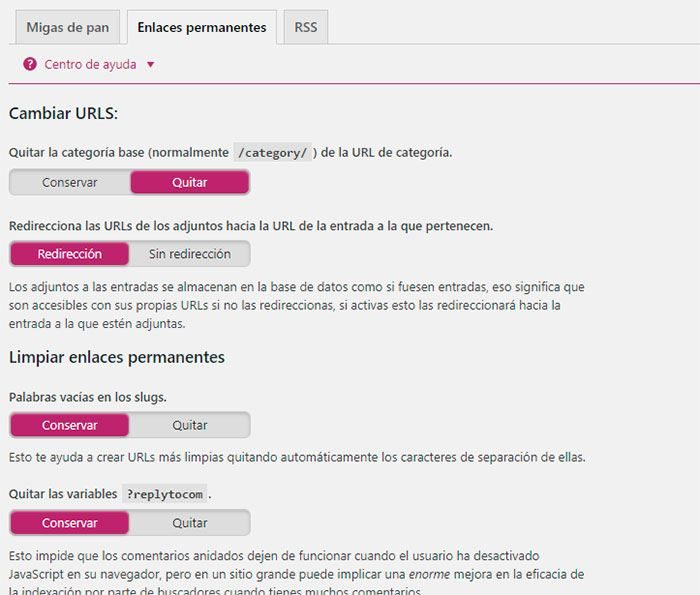 In this chapter we will be able to configure other Yoast options such as using bread crumbs automatically without the need to use other external plugins
In the same way, we will also be able to configure other options such as remove the word "category" or "category" from the urls of the categories, clean the urls with some parameters and so on.
Related Articles in WordPress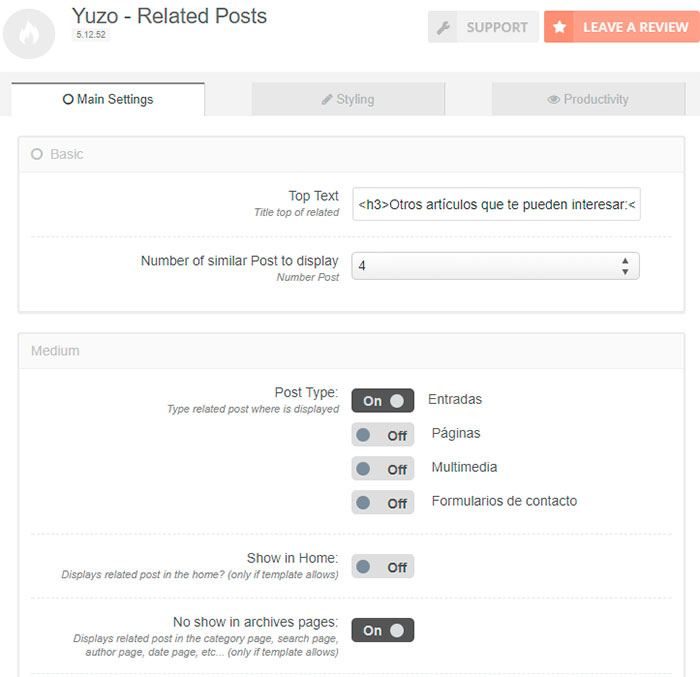 Another point that we have to configure in WordPress if we want the users of our website to continue browsing it once they finish reading our posts is a related article plugin.
One of the plugins that I like the most in this regard is Yuzo Related Articles, since it not only allows you to put related articles automatically, but at the same time it allows you to configure it completely to your liking and with images.
The use of this type of plugins will make the user find related content of interest in a striking way when they finish reading your articles, which will make them access them and not leave your website, thus also improving user metrics, average stay time etc.
Improving the loading speed in WordPress
The loading speed, we all know that it is something very important both in SEO, and when trying to prevent users from leaving our website, in this way it is also essential to improve it in WordPress.
Cache plugins can play a fundamental role in this sense, fundamentally if we use plugins that allow us to perform other optimization actions, as the plugin allows us, for example W3 Total Cache (Comment that WP Rocket is also giving very good results).
That is why I am going to clarify the basic configurations of this plugin so that you can get the most out of it.
General Settings in W3 Total Cache

When we access this section of the plugin we first have the option to configure the different types of cache available in our WordPress.
The interesting thing is that the plugin itself detects the compatible cache types that we can use in connection with our hosting.
The main cache that we must not stop activating is the "Page Cache" which is the one that will truly reduce the loading time of our website.
Regarding the rest, we have among others, database cache, of objects and we even have the option to configure an external CDN.
All these caches and including the CDN we will be able to configure them more thoroughly in the different sections of them once we activate.
Apart from this, another interesting alternative to activate is that of "Minify" or what is the same, the decrease of weight in HTML, CSS and JS of our web.
Minify in W3 Total Cache

Once minify is activated in the plugin, we will have to configure all its options to be able to get the most out of it.
On the one hand we will achieve minify HTML code eliminating all kinds of spaces, line breaks, comments and equivalent from the source code.
We will also achieve minify javascript files combining them all in 1 only, to only have to load 1 javascript, as well as minify their code to make it lighter.
Regarding CSS, the same thing happens with javascript, we will achieve merge all stylesheet filess in 1 and also minify them.
IMPORTANT NOTE: The minification and modification of both CSS and JS can be dangerous since we can load our website by modifying essential files both in their aesthetics and in their operation. That is why if you want to touch this type of files, you go to a professional who will do it for you.
All this will save us a lot of useless source code and less file calls, which in the end will translate into a shorter loading time of the web.
[clickToTweet tweet = »Minifying HTML, JS and CSS will improve the loading speed of our website.» quote = »Minifying HTML, JS and CSS will improve the loading speed of our website.»]
SEO Guide for Ecommerce
An Ecommerce is oriented to commercialize, but not for that reason we have to stay only in putting products in the Ecommerce and wait for users to buy, but we have to pay attention to some optimizations that will work very well both at the SEO level and at the user level.
That is why from here I want to focus on Ecommerce in general, but without thinking about any specific CMS, if not what the Ecommerce concept is in general.
Well let's get down to business and let's see what are the most important aspects of SEO for Ecommerce.
Ecommerce categories
Categories are an essential part of an Ecommerce since we have to classify our products in some way so that the user can easily and easily find the products they want.
The problem is that in many cases product categories are created and not worked, which is a big mistake both at the SEO level and at the user level.
Is essential enter text in each of the categories Since in this way we will be able to work on the SEO on page of that category, the keywords to position, synonyms of these keywords and even work the internal linking from those texts to other areas that we are interested in linking to on the web.
In the same way, at the user level it will be much more human for us to explain what we offer in that category, what they will find, what they will not find and in general that we make things easy for them.
That is, we will do a two-for-one, optimize SEO and help the user.
This text that we add to the categories can be placed in the sidebar or the bottom of the category page, with which we will achieve that they never impact the scrolling and viewing of the store's products.
[clickToTweet tweet = »Work the categories of your Ecommerce with text not only by Google but also by the user.» quote = »Work the categories of your Ecommerce with text not only by Google but also by the user.»]
Post content
Many people think that putting a generic description in the posts or with a little text is enough for an Ecommerce, but they are very wrong.
On the one hand, eIt is important that there is text that can be interpreted by Google, that you can process and relate to in order to rank us.
On the other hand, it is essential that this text solves all the doubts of the usersThat is, if a user does not know, for example, the measurements of a post, it is possible that they will not buy it on your website because they think it is too big or because it is too small.
These indecisions due to lack of information can trigger not only that you lose sales, but that there are abandonments on your website and that these users go to Google to find your competitors, which is a symptom of low quality on a website and can be disastrous for the SEO of a website.
To fix this problem we must not only help ourselves with text, but it is also very useful to use real and quality photographs that can solve many of these doubts and questions from users or even in some cases videos of those posts.
[clickToTweet tweet = »In the products of an Ecommerce, it is important to solve the doubts that the users may have.» quote = »In the products of an Ecommerce, it is important to solve the doubts that the users may have.»]
Old or out of stock products
Many people keep old or out-of-stock products in ecommerce despite the fact that users can no longer buy them nor will they ever be able to buy them or at least for a long period of time.
This is a big problem in several respects:
-If the user browses our website and finds many products without stock, it gives a very bad image and will see things that they may want to buy but that we do not offer to finish, which will make us have user abandonments to go to other websites in search of those posts.
-If the user comes from Google because we have positioned that post, he enters our website and it turns out that he cannot buy it, the user will leave the web immediately to search the Google search engine for that post again. What does this mean? What Google will see that those users are not interested in our website or have found it to be an unhelpful website, which will be disastrous for our SEO sooner or later.
A solution to these posts is to either delete them directly, or if we have another equivalent post, make a 301 redirect to this post that if we have stock and it is associated so as not to lose the links and the linkjuice that may have that url address.
Ecommerce usability
Something essential in an Ecommerce is that it be simple and quick to use In order not to have user abandonments or cart abandonments.
On the one hand, we have to have good internal linking with which you can browse the entire web and very easily find any type of product. That is, not only to be able to reach the main large categories but also to each of the posts. This I will explain in the next point.
The loading speed in an ecommerce is crucial Since users in general like to browse all kinds of posts, they like to browse Ecommerce a lot, and thus, if the loading speed is slow, they will end up leaving the web.
The shopping cart is another of the great problems of Ecommerce since too many steps are often taken when adding or removing a product and this causes many cart abandonments. This also happens when there are extra expenses that we add to finish the user instead of adding them from the beginning.
It also happens with the alternatives for payment, which many users seek to pay with X form of payment specifically and if you do not put it clearly on your website, they will leave it to go to another website to buy thinking that you do not accept that form of payment. pay. That is why it is essential to make the payment alternatives that you accept well visible.
Internal linking between products
Internal linking on any website is essential so that the user does not leave the website and to be able to hand out linkjuice, but in an Ecommerce it is still much more important.
In an Ecommerce we can collect a lot of data from our users such as what exactly they buy and what products they usually buy related to.
In this way, we can offer our users the products that we believe will interest them the most.
What do we gain from this?
-We increase sales.
-We offer what the user wants to find.
-The user will not look for these products on another website.
-Longer stay and better user metrics.
Parameters in Ecommerce URLs


In ecommerce they are often used parameters in urls for sorting by prices, by brands and equivalent.
This is very good in terms of usability for the user, but in terms of Google we have to avoid that these parameters generate urls of similar content and thus duplicate content for Google.
Therefore, we will have to take it into account to avoid indexing the urls that generate these parameters or at least to use the canonical rel tag that indicates which is the unique and original url address.
Linkbuilding in an Ecommerce
When we work an ecommerce, as a general rule we will reserve the main page to work our own brand, in order to enhance it or at most, work on a single, very, very large keyword on our theme that encompasses the entirety of our niche.
This is why, as a general rule, the link building of our home page will be very natural, with anchor texts of our own brand, which is great when it comes to obtaining naturalness in our link profile.
On the other hand, in the categories, we will try work on large keywords that encompass sub-branches of the theme of our ecommerce. For example, if we have a dog shop ecommerce we could work the keyword "dog food" in a category and thus try to create links that enhance this keyword.
Regarding the posts within the category it will be interesting work long tails that complement those great keywords that we have positioned in the categories. Following the previous example, we could work on a post called "food for small dogs" or "food for dogs brand X" and in this way work links that enhance those long tails.
Of course, in general to an Ecommerce we will not be able to work the link building of completely all the posts, since in general there are many that we will have, therefore we will have to focus more on working on the link building of their large categories so that they distribute part of the that linkjuice and working on the linkbuilding of the star posts, that is, of the posts that we are most interested in marketing or that more buyers can attract us.
You may also be interested in:
SEO Guide for Beginners + 8 Videos
25 SEO Techniques That Work Best In 2017
26 steps to do an SEO Audit: [Guide + Tutorial]
Conclusions
In SEO we have to adapt to the type of website that we must work with Since it is not the same what we need in a blog in WordPress, a case in which configuring your SEO on page is quite easy, as we have commented in this post, than what we need in an ecommerce, since for this case we must pay attention to many more factors, factors that are going to be crucial, not only for our positioning, but also for our sales.