SEMRush It is an online marketing tool that is vital to understanding the performance of your website as well as the niche in which the site competes. From SEO to PPC, this tool is a must for anyone in the marketing world, the amount of data and information here is so important for you to determine what is best. This will be a detailed guide on how to get the most out of SEMRush, which will hopefully put you on the right track to market your website.
Below is a detailed overview of all the SEMRush tools and exactly what they can do, but I've decided to do individual tutorials on many of SEMRush's main features:
Introduction
Before making the decision on which one suits you best, I will briefly explain what each function is:
Analysis : these are the data that will be shown in the searches you carry out. Each price affects how many results you can receive per report and how many reports you can do per day.
Projects  - A project is essentially a domain name that you choose for SEMRush to perform site audits, position tracking, social media tool etc.
Reports  : SEMRush can provide you with regular reports on their sites that come in PDF format, some pricing plans have features like personal branding on the reports.
Users Management : Each account will start with a user, depending on the package you choose, you can allow up to 9 other people to access SEMRush accounts, each with their own username.
Other - The most expensive package will include access to the API that you can use to receive data without having to search through the interface yourself.
Now that you have a little more information about each function, we can start using SEMRush.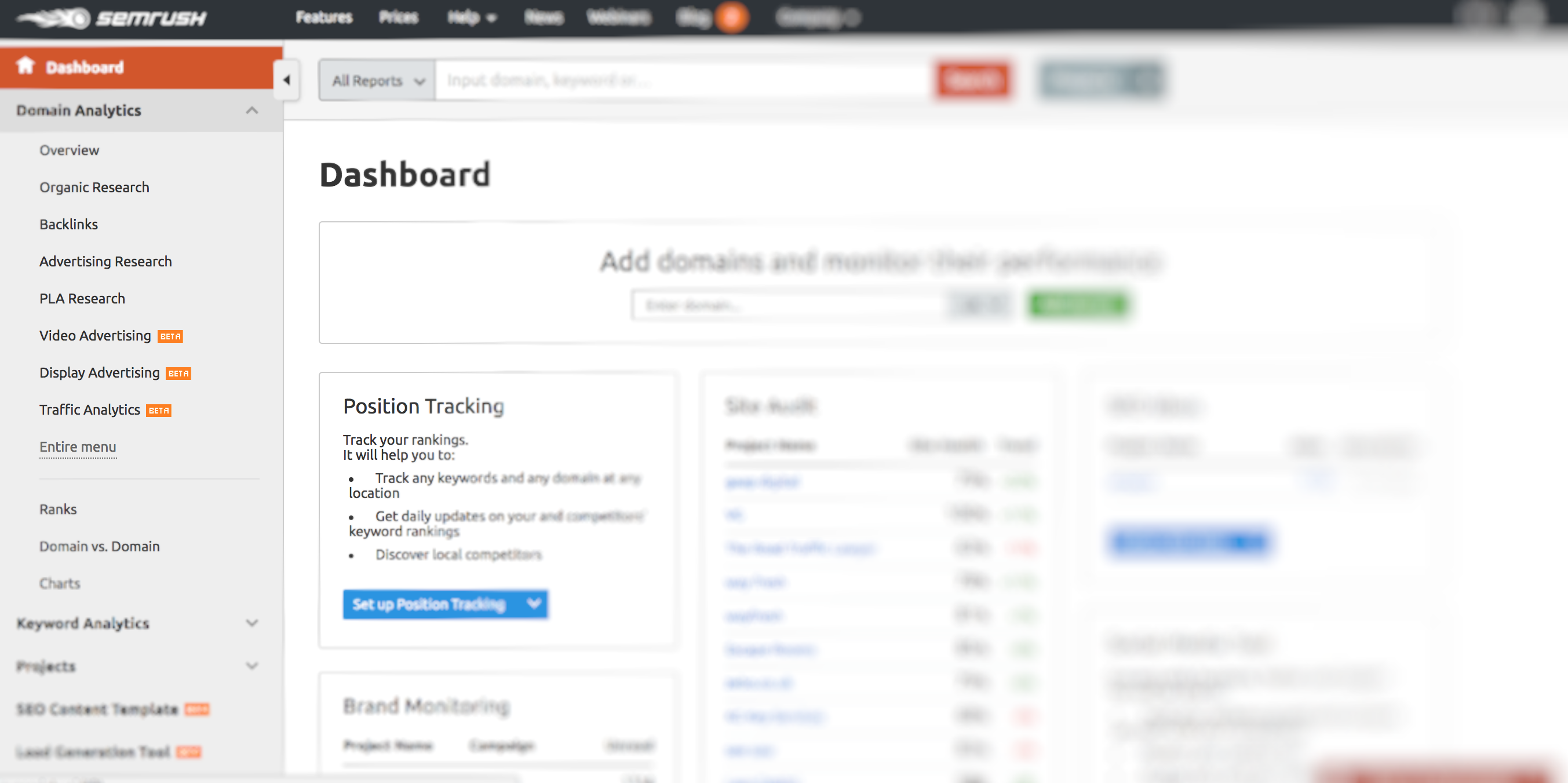 Above is a picture of the SEMRush panel. Each of the features are listed on the left side, the main categories are as follows: domain analysis, keyword analysis, projects, my reports. 
To get started, you can type in a keyword or domain name. Entering a domain will take you to the "Domain Analysis" section and a keyword will open the "Keyword Analysis" page.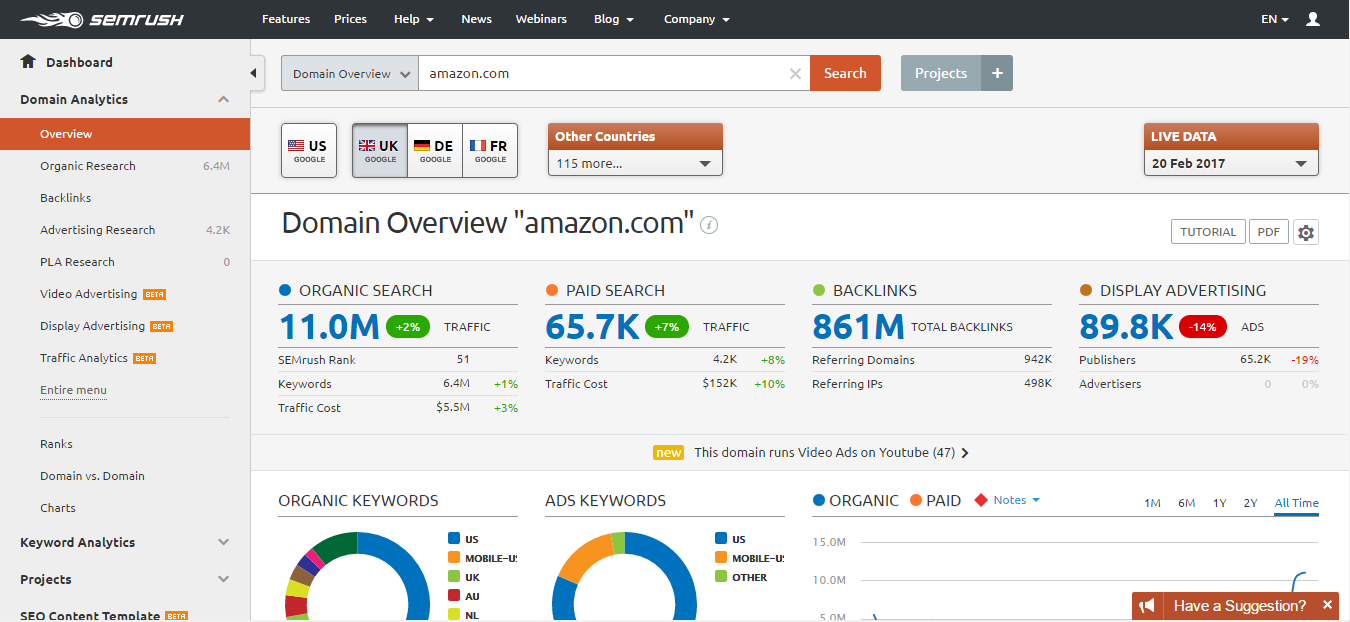 In this example, I did a search for «amazon.com « . As you can see in the image above, you can select which location the marketing results are based on. Geographic location is a fairly important feature in SEMRush, whenever you do a search you should always make sure to check the results in the country where the site does its business so you can be sure that you will get the most accurate results.
Draft
Before entering the search functions, it is time to start your first project.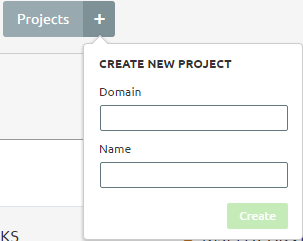 From the dash, you should see a button at the top right called "Projects" with an add (+) button next to it. Clicking on this button will open the box above where you can enter your project's domain and project name. Enter your details and click "create"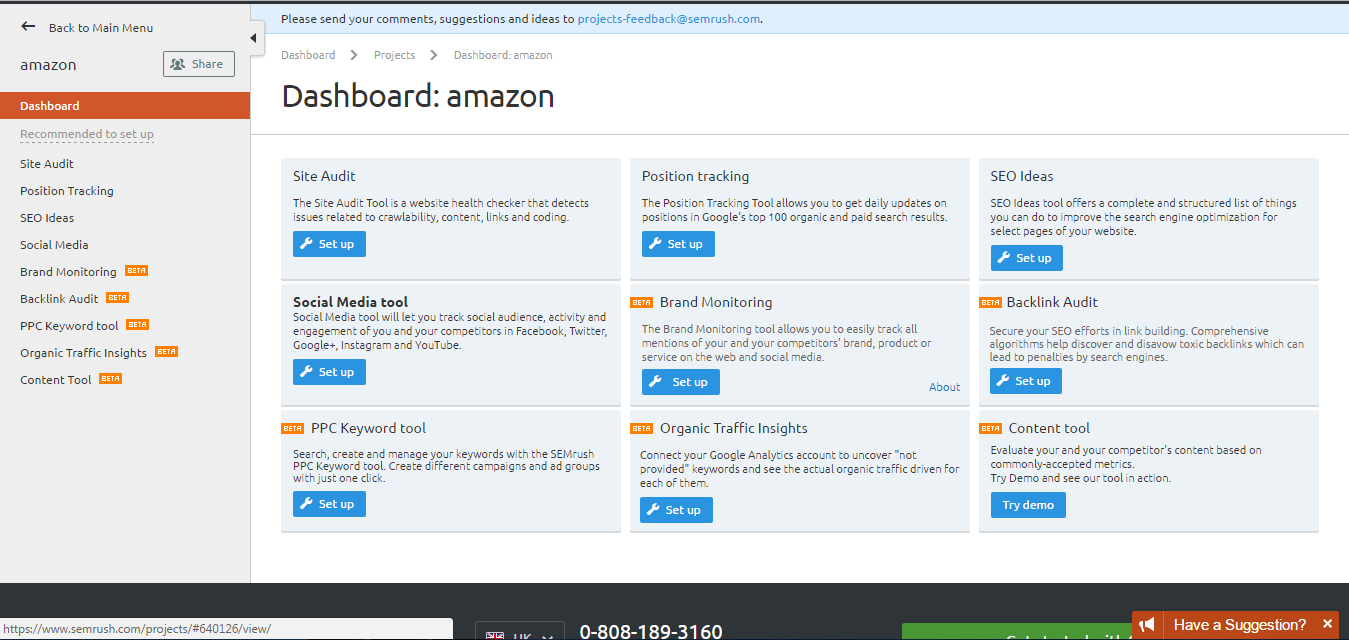 Once you've created your project, it's time to start using some of the tools that SEMRush has.
Recommended article >>> SEO On-page vs SEO Off-page
Audit site
The site audit tool will carry out a series of checks on your site, to see where it can make possible changes to improve SEO usability.
Position tracking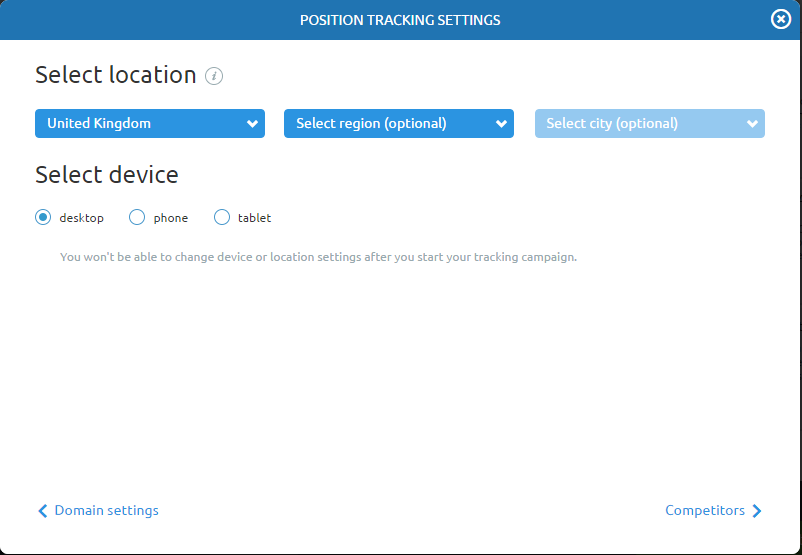 Position tracking allows you to see where your site is in search engines for certain keywords. Although this will not be 100 exact, it is a great way to track the progress of your online sites.
Above is the beginning of the position tracking setup. The first thing you should do is establish the location where the results come from. You can make this as wide or as narrow as you like with the region and city as optional. You can then choose which device you want to retrieve the search from. Results may differ on the laptop of someone doing a search on their iPhone for various reasons. There are still quite a few sites that are not compatible with mobile devices, which now Google punishes and makes it difficult for the site to be classified on a mobile device.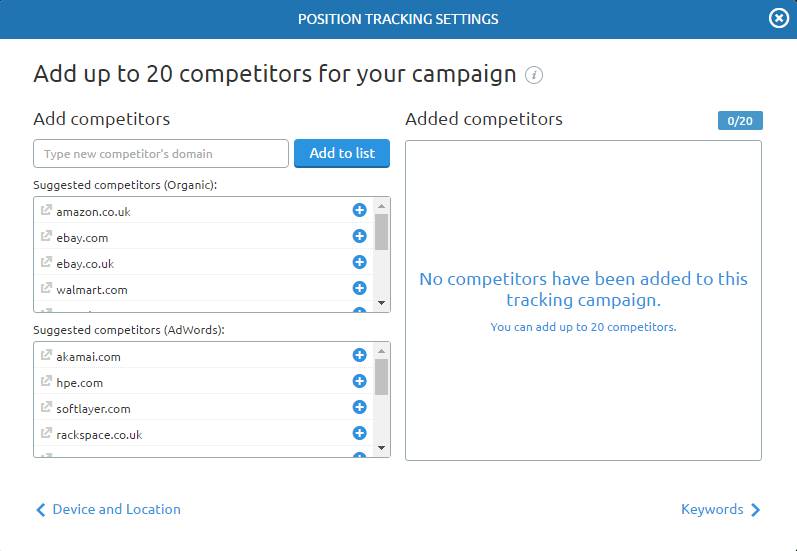 The next area is where you can add competitors to your list. This is completely optional, but I would suggest adding some competitors for comparison. This is a very good way of knowing how your site should work and what kind of results you can receive.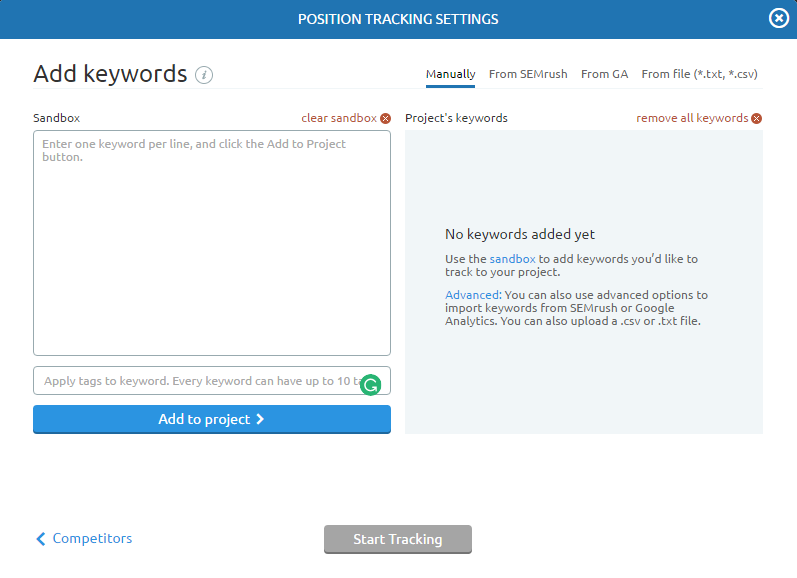 Finally, it is time to add keywords to the position tracking. There are a few different ways you can add them: Manually, SEMRush, Google Analytics, File 
SEO Ideas

This section offers you the option to examine each of the different elements that could improve the SEO of your site. What I suggest is that you first audit some of your pages, then head over to this section so that later you see which areas need improvement
To begin this, you must choose the pages of your site that you want to optimize. You can import this list or enter each of the URLs manually. Once you are ready, you will begin to analyze the pages you have chosen. After this, you will separate the ideas into separate categories, each with its own color.
Strategy ideas - Will be suggested if you have multiple pages on your site targeting the same keyword. It's a waste of time trying to rank a page if you already have another page on your site that ranks higher in the search engine.
Semantic ideas  : Search engines also consider related content when ranking keywords, this semantic section will tell you if your page content can be improved to help target related search terms as well.
Content ideas - This section will help you with any ideas related to the content of the page. It will suggest things like improving header tags (
), add more content, etc.
Backlink Ideas - Backlinks are a very important part of SEO, this section will alert you to possible link building opportunities for your niche and help you improve the anchor text found in your links.
Technical ideas - This is where you will be alerted to any technical issues on the site, such as 404 errors, to see any on your site, you will need to set up a site audit.
Ideas for the user experience : Nowadays it is increasingly important that the user interface of your site is easy to use and navigate. This section informs you about anything that may cause some confusion and uses Google Analytics to obtain this data.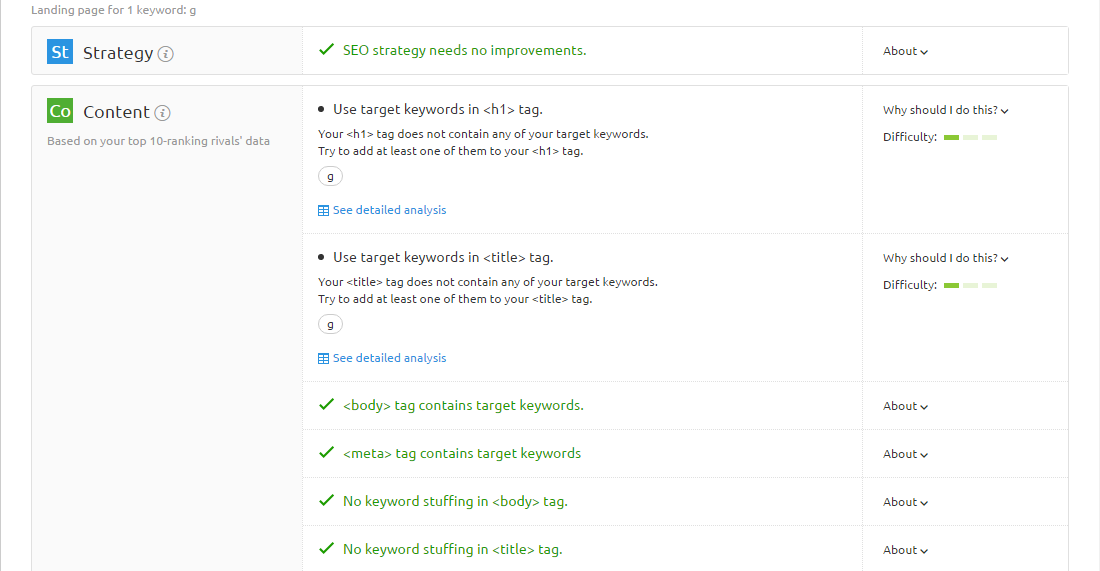 Click on one of the ideas on the page and it will expand on the changes you can make. In the example above, some changes are recommended for the page content. On the right, you will see a level of difficulty for each of the recommended changes. Some changes will be more difficult than others, and the difficulty feature is a good indicator of which changes are easiest.
Social media tool
This tool is what you can use to compare your social media accounts with your competitors. At this time of writing you can track:
Facebook
Twitter
Instagram
Youtube
Google Plus
Linkedin
There are a number of features that this tool has to offer, below are the key reasons why this can help improve your presence on social media.
You can examine the social media activity of multiple competitors, for example. Facebook posts, tweets, etc.
You can track growth and decrease the amount of traffic your social accounts get.
See the best trending hashtags that your competitors use.
Compare your own social media habits, like how often you post to your competitors and how much interaction there is.
You can export multiple types of data in pdf format.
Brand monitoring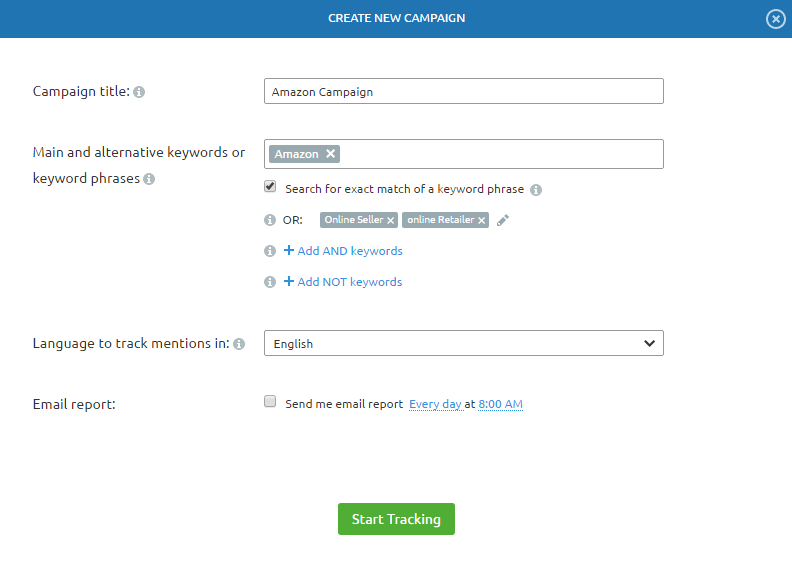 Brand monitoring is a new feature for SEMRush, allowing you to track certain keywords to see how often they are mentioned and from which location. Most people will paste their brand here, for example, which is a great way to assess how people mention your brand. You can then use this information to improve your marketing strategy, for example, you can contact sites that mention your brand that does not contain a link to yours.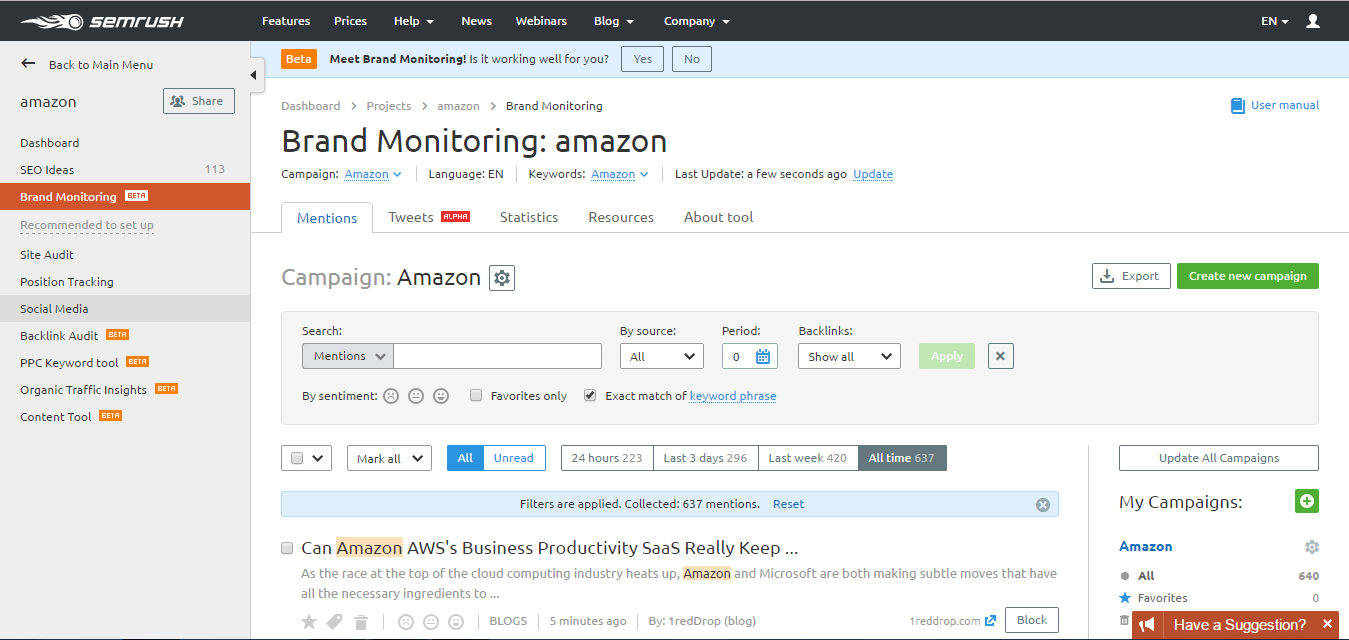 Once you have completed the information, you will see a board that looks like the image above. From here you will be able to see the web pages that mentioned your keywords, you can get more details with these results by expanding them into a mini browser window that shows you exactly where it was shown. There are quite a few ways to organize your results with SEMRush, which gives you plenty of filter options and labels to separate them.
PPC Keyword Tool
In this example, I am using Fasthosts as my test subject. They are a UK based hosting company that does not do much with their PPC

As you can see in the previous information. The Fasthosts were using fairly heavy PPC in 2010-11 and then stopped until mid-2016, where they started picking it up again.
Compared to this is "godaddy.com". They are one of Fasthosts biggest competitors, and their PPC budget tells a different story.

GoDaddy has had a strong PPC presence since compensation and the budget is many times greater than Fasthosts.
Again, one statistic we can see is the companies' ad history. Here you will see where your ad was for each keyword.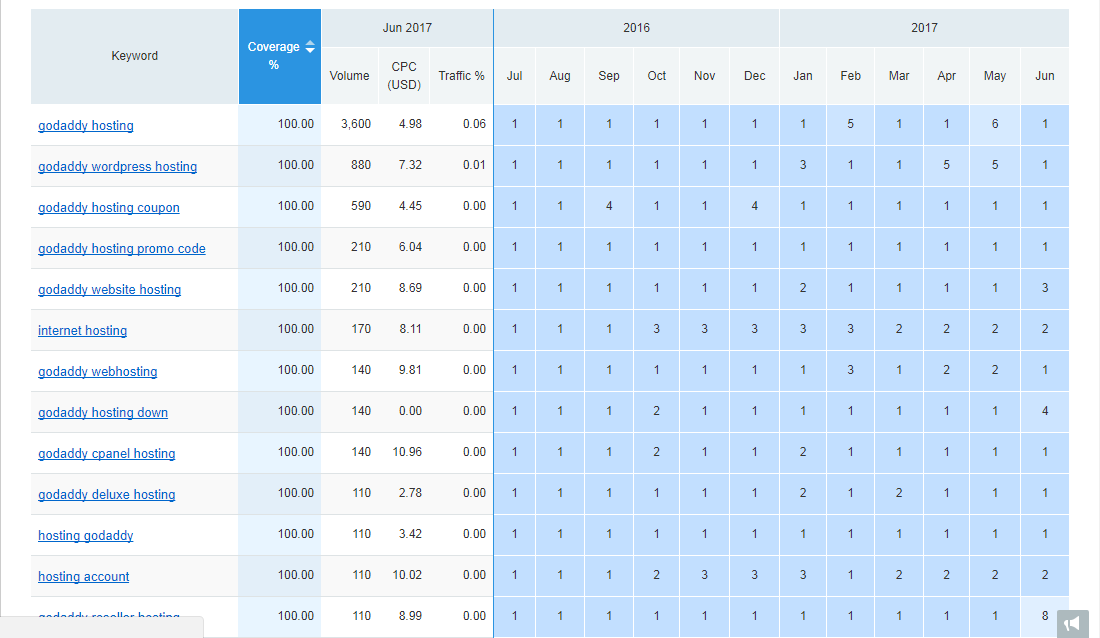 First of all, we have Go Daddy. Most of their ads have been in 1 or 2 in the last year. The search volume and cost of each of these clicks are also displayed here as well.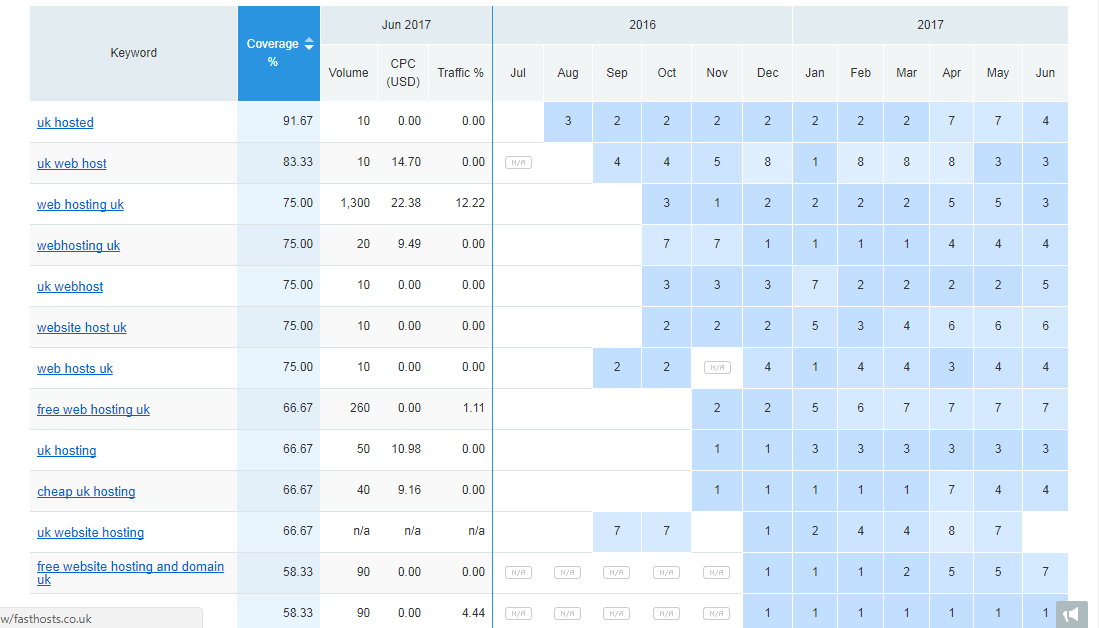 Fasthosts pay per click, on the other hand, has not been as consistent. They haven't been doing much PPC until the end of 2016 and now they are starting to see some keywords hitting the top 3 positions.
Now if I was now tasked with taking on the Fasthosts pay-per-click campaign, of course they couldn't face companies like Go Daddy without a much bigger budget. However, there are better ways to maximize your budget using the SEMRush PPC Keyword Tool.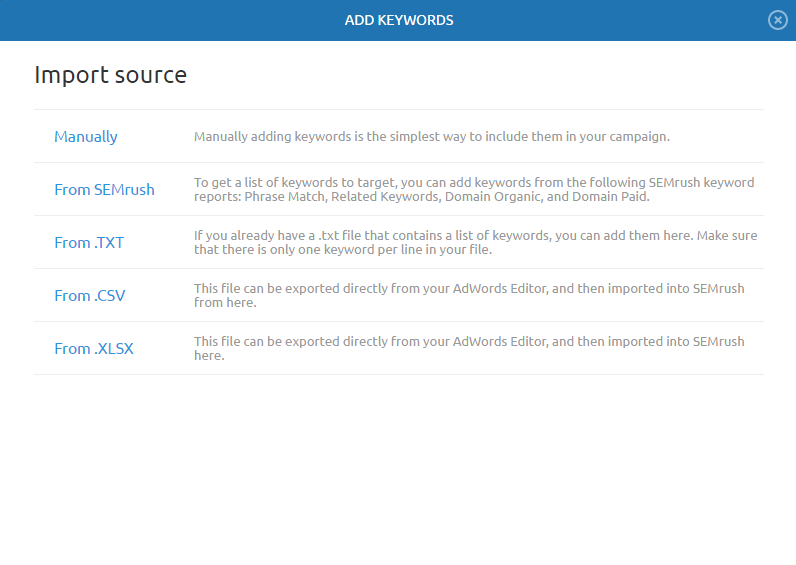 This tool allows you to import a list of keywords from your AdWords editor directly into SEMRush. From here, you can start building your AdWords campaign on SEMRush. You can create ad groups and filter keywords by volume and CPC (cost per click), add negative keywords, and even add competing keywords from your organic and advertising results.
Using SEMRush for your PPC research is an extremely useful way to get the most out of your advertising investment. The data that this tool can extract is an amazing amount that you should really take advantage of. Once you've finished planning your PPC strategy on SEMRush, you can export everything to your AdWords account with the click of a button.
A great feature of this tool is its ability to take keywords from its competitors. This means that you can see the affordable keywords that your competition is getting traffic from and start earning some business.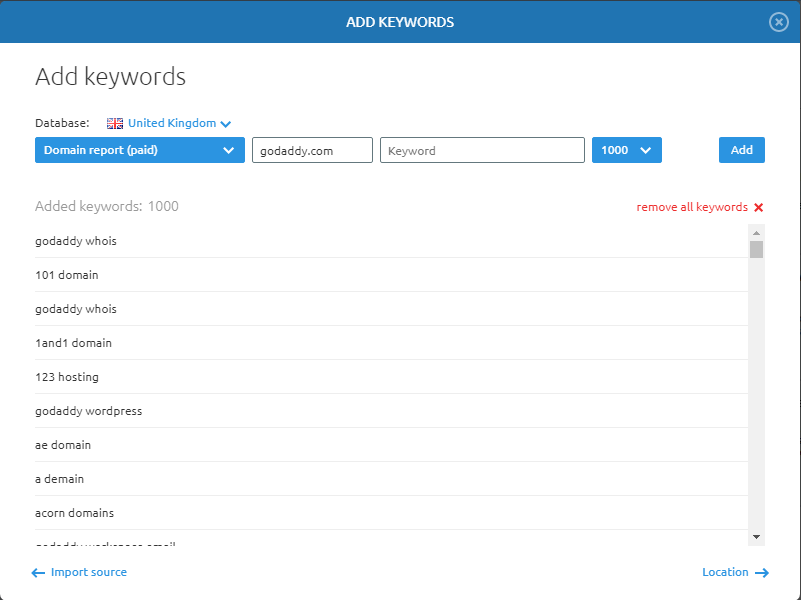 So I entered the Go Daddy domain name and took 1000 of its keywords. These keywords will now be saved in the next section, where we can start narrowing down exactly which keywords will benefit us.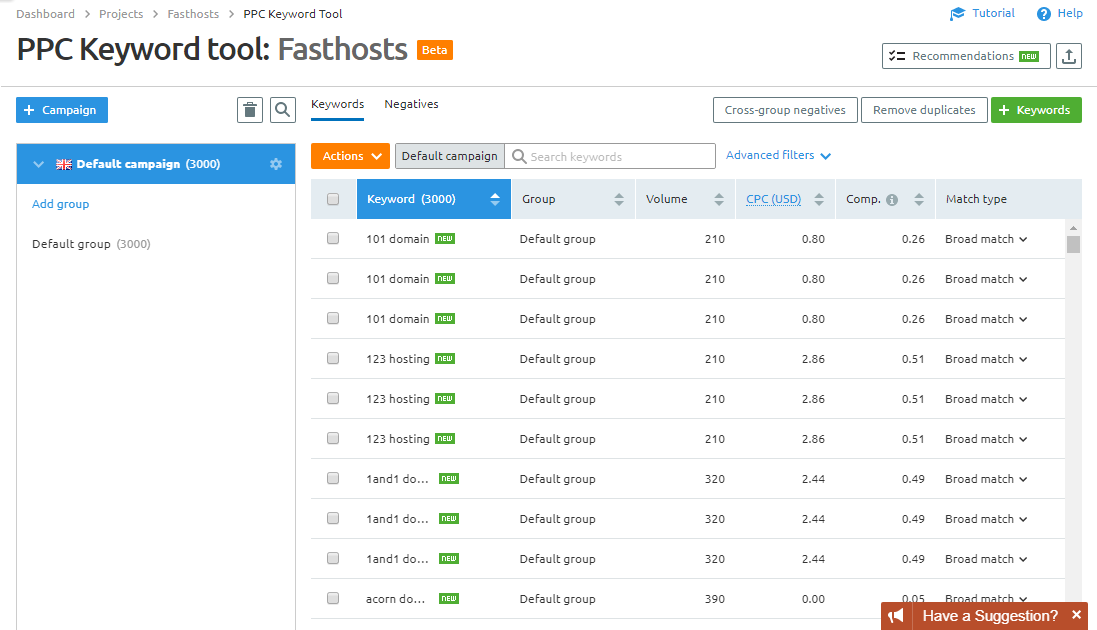 So I have my keywords saved in a default group. At the top, you will see the option "Remove duplicates", which helps to remove any unnecessary words in your campaign.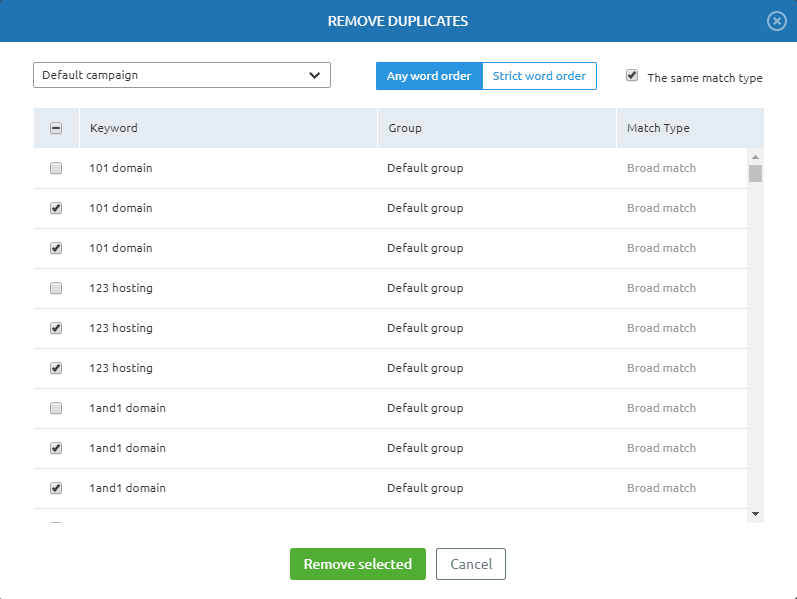 Another feature is to remove group cross negatives. Now what this means is that you can remove words that are going to conflict with any of your other ad groups so that you don't have the problem of Google showing the wrong ad.
Suppose, for example, that you have one ad group configured for a sale with the keyword "Cloud Hosting Offer" and another ad group configured with only "Cloud Hosting". Negatives between groups allow you to add the word "sale" as a negative for this specific group so that there is no conflict.
You can also go to the 'negatives' tab and add any negative words at campaign level for which you don't want any of your ads to show. They can often be words like "free" and "cheap" if that doesn't want your offer.
Organic traffic prospects
To use organic traffic information, you must have an existing Google Analytics account linked to your website. Once you have this, it's time to connect SEMRush to it. With google analytics, you can have multiple accounts linked to one email address, SEMRush will let you choose which one you want to use and you can start getting results instantly. In addition to this, you can also sync SEM with the Google search console to learn more about the performance of your website.
Domain analytics
This area is where you can analyze everything there is to know about domain names. There are a number of tools here that will help you gather a wealth of information about your competitors and your own domain. Let go more in depth with the following aspects:
Domain Summary
To see an overview of any domain name, all you need to do is enter the URL in the search bar at the top. This will show all the data that SEM Rush has on that particular domain name. You can click on some of the data again to expand the information.
The "Overview" section shows 4 main data systems: Organic search, paid search, backlinks and Display Advertising each of which are color coordinated.
Organic search
This shows the monthly organic traffic your site receives.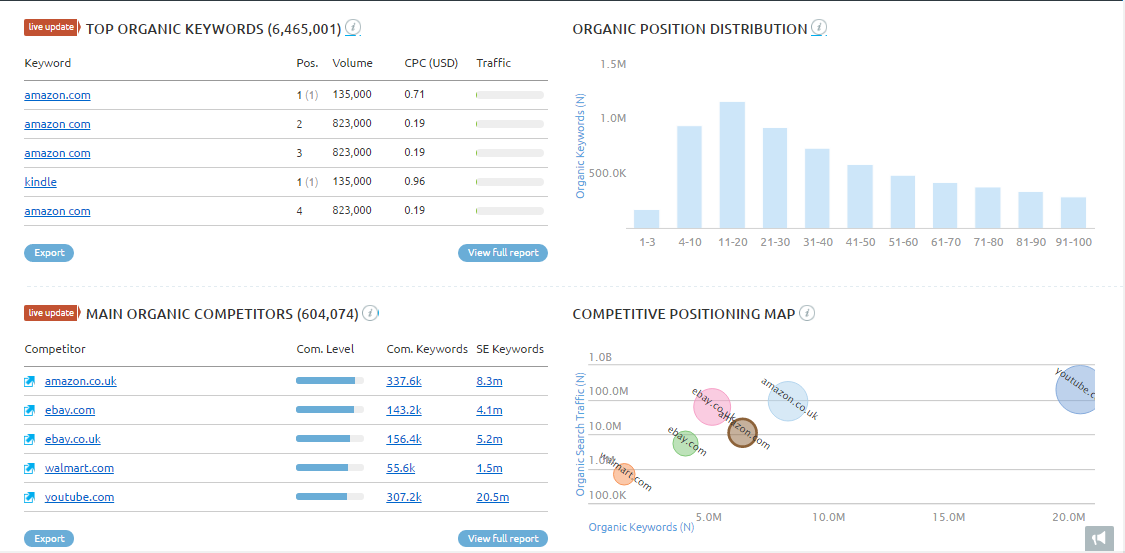 You can see above that there are various charts showing statistics like brand and unbranded traffic, trends in organic and paid keywords, and more. With each of these results, you can click the "View Full Report" button to show you all the results, and the "Export" option allows you to take your own copy of the report.
Paid Search 
The paid search area shows how much traffic you get from pay-per-click advertising.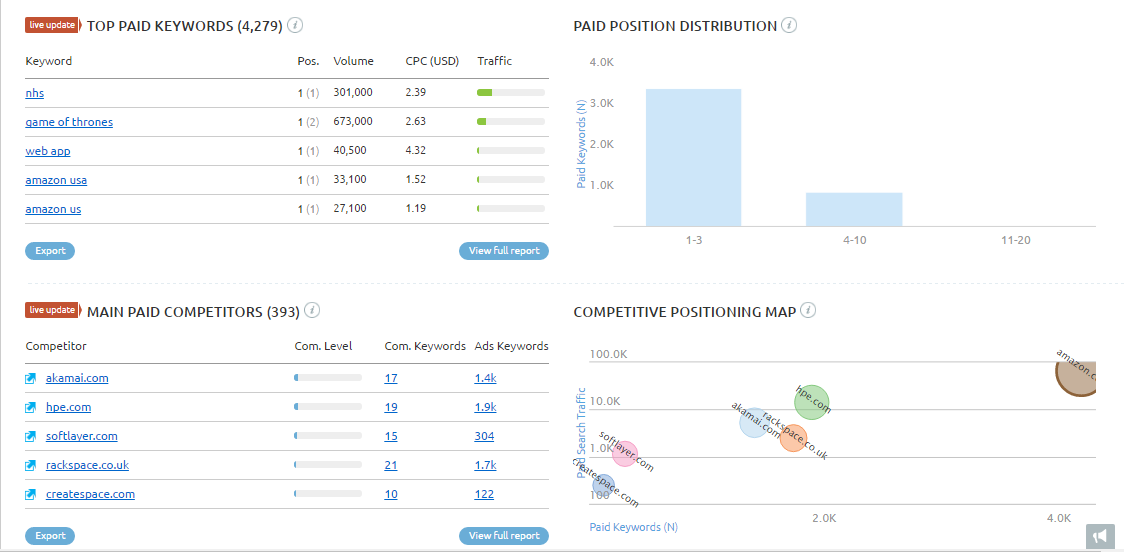 Paid search statistics again are very similar to organic search statistics, except that these are the results of pay per click advertising. SEM Rush can show you how competitive certain keywords and phrases are, and what type of CPC you can expect to see.
Backlinks
This box shows the number of backlinks that SEM Rush has found. Expanding this will show you where the backlinks come from.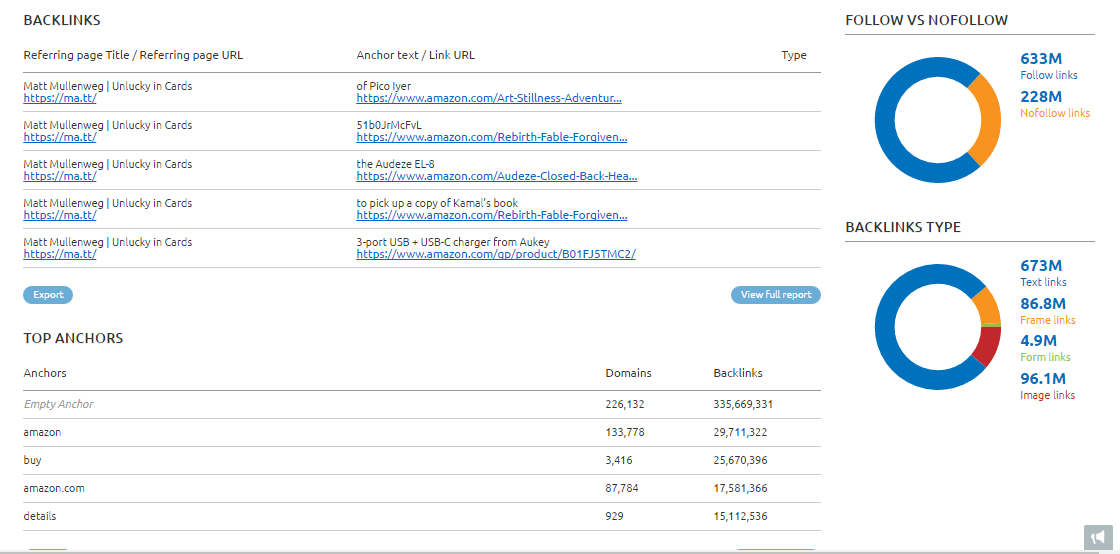 Here you can see more detailed information about your backlinks, such as the main referring domains, the track / nofollow relationship and the top anchor text found in the domains.
Show ad
This is where you can see how many ads you have on your site through Google Adsense. Clicking on this will expand the behavior of your ads.
One thing you should know about the displayed advertising is the difference between publishers and advertisers:
Editors These are the websites that offer space on your website through AdSense to allow other companies to advertise on the website. You can allow a large amount of ad space to be allocated for your web space.
Advertiser - These are the sites that will be advertised on the publisher's website.
The list of publishers or advertisers. This is determined by whether the domain has more than one or the other. If your site advertises on other sites more than it publishes, you will see the last list of publishers and vice versa. You can also see the main landing pages to which these ads are directed. SEM Rush also provides you with a preview of how some of your ads are displayed.
Video advertising
This feature is available if your site has a video that shows video ads on YouTube.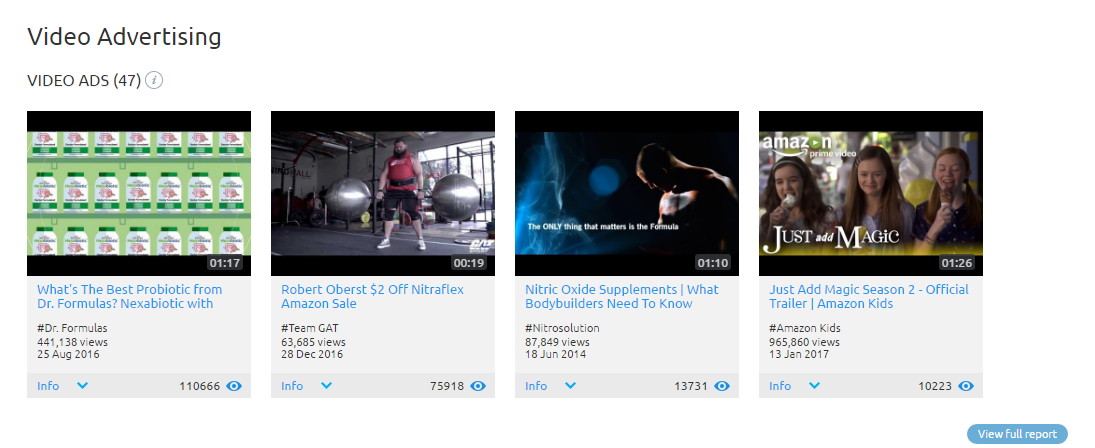 This report will give you the number of viewers who have seen your video and when it was published. Clicking on any of these videos will display the landing pages of the videos and which YouTube channel you are on.
Traffic analytics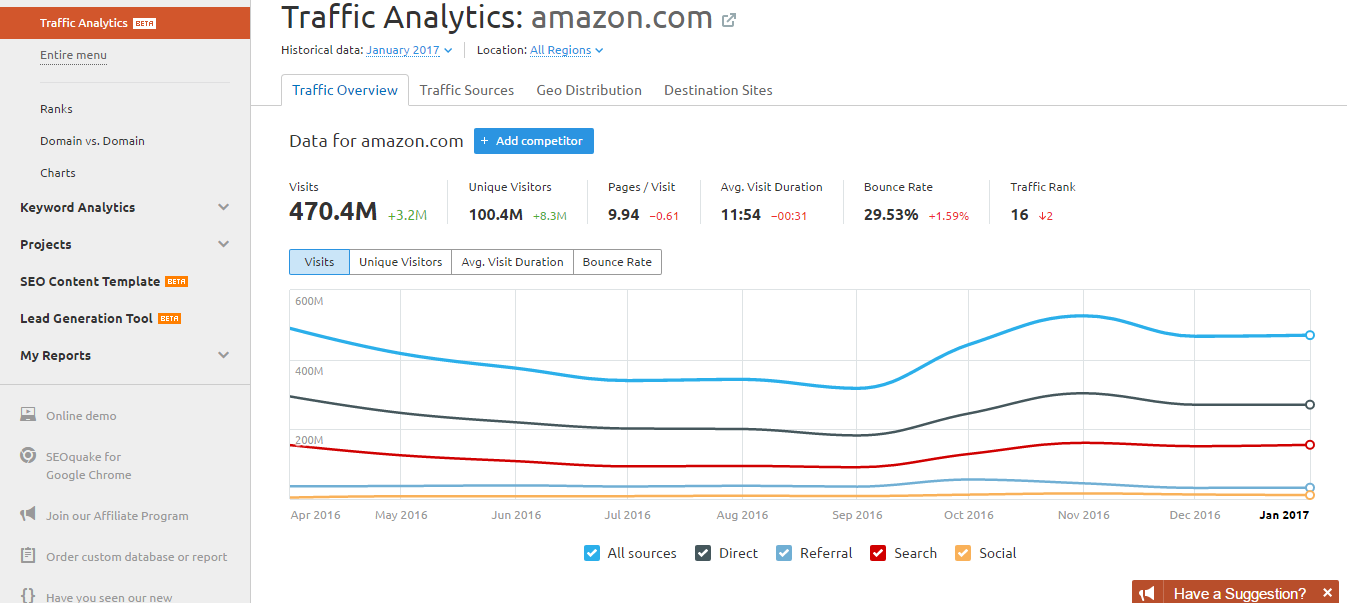 The traffic analysis page works in a very similar way to Google Analytics, it will show your monthly traffic with the different sources, each one separated by color. You can get a wealth of information on customer behavior from this data with options such as the country where the search came from and where users are going after visiting the website. You can further expand each of these reports and see the exact referral sites, which search engines were used, and which social media platforms were the most popular.
Rank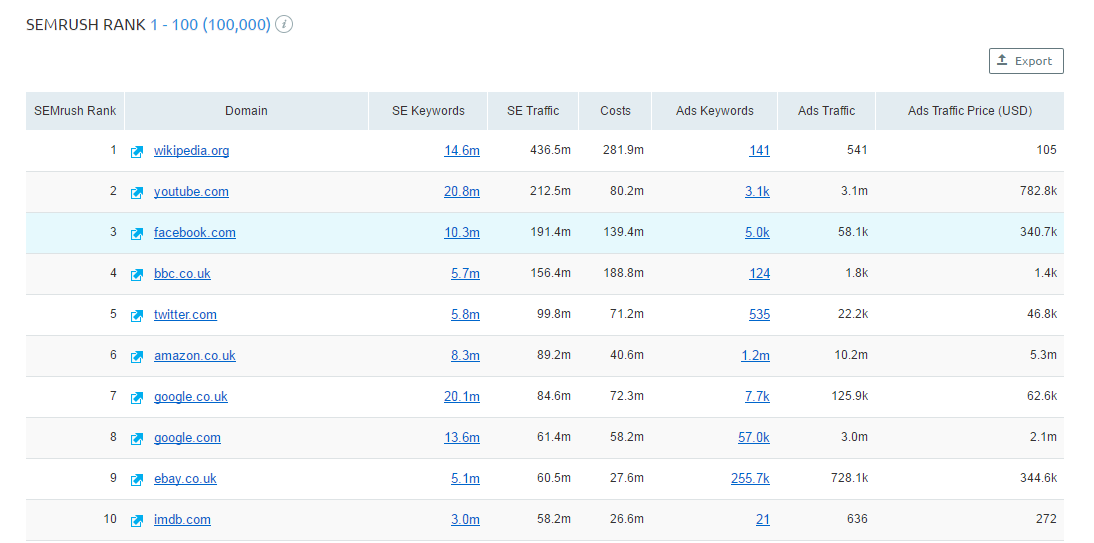 This area is a list of the top 100,000 domains in SEMRush. For anyone in digital marketing, this is quite interesting information to help you find the best website possible. You can evaluate from here which sites you should search for links. There is also a winners and losers section: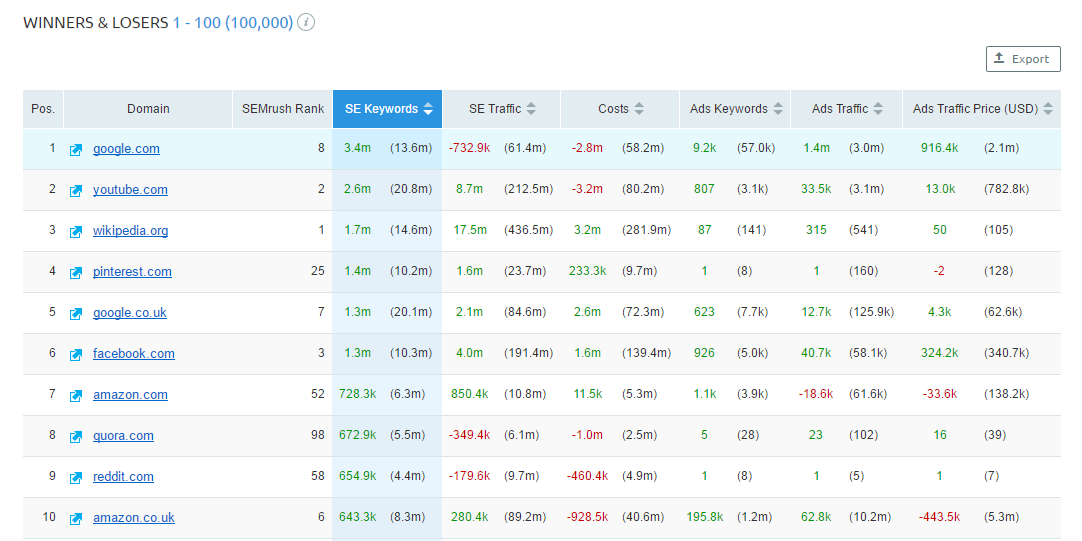 This area shows you a list of websites similar to the top 100,000, but gives you details on how your marketing is going. The results shown in parentheses are the overall numbers for the month, while the results in green and red are increases and decreases in areas such as organic search engine traffic, ad traffic, keywords, and search costs. AdWords every month. The sites that are listed at the top of the search are those that are considered winners, with a regular increase in traffic, while the others near the bottom are ranked as losers with a decrease in their traffic. By clicking on any of these sites, you will access the overview page for your domain, which you can then further analyze.
Domain vs. Domain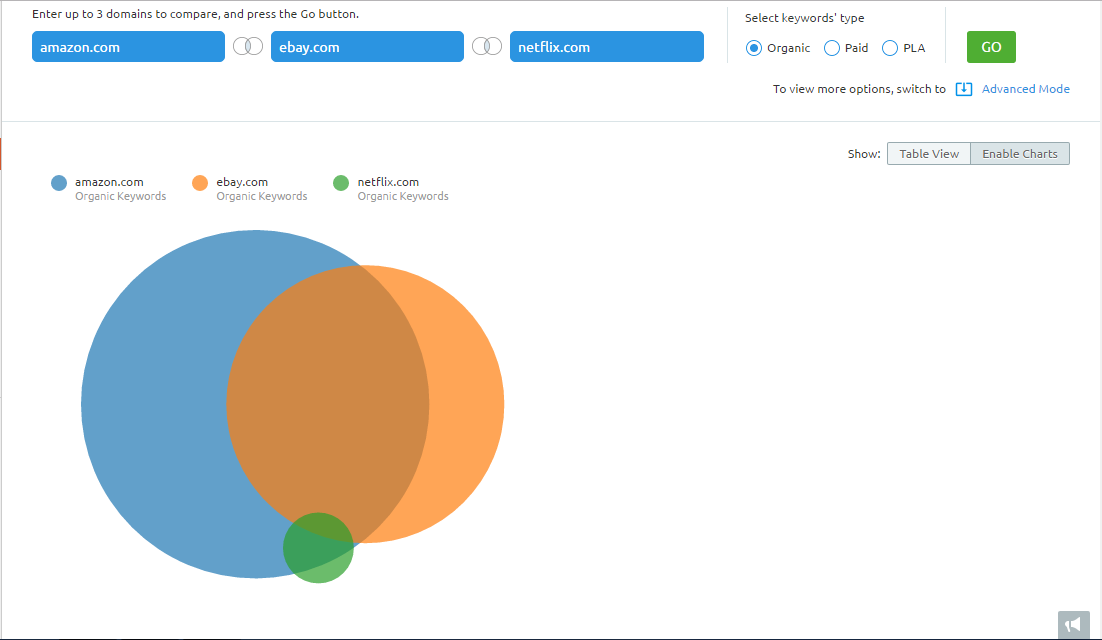 With domain vs. domain, you can compare up to 5 websites (when using advanced mode), each of which shows you both a graph and a table. Above is an example of the simple mode that allows you to compare 3 domains. In this I have used amazon.com, ebay.com, netflix.com. The graph shows which site has a higher search volume is Amazon in blue. Netflix has considerably less traffic than the others depicted in the screenshot above.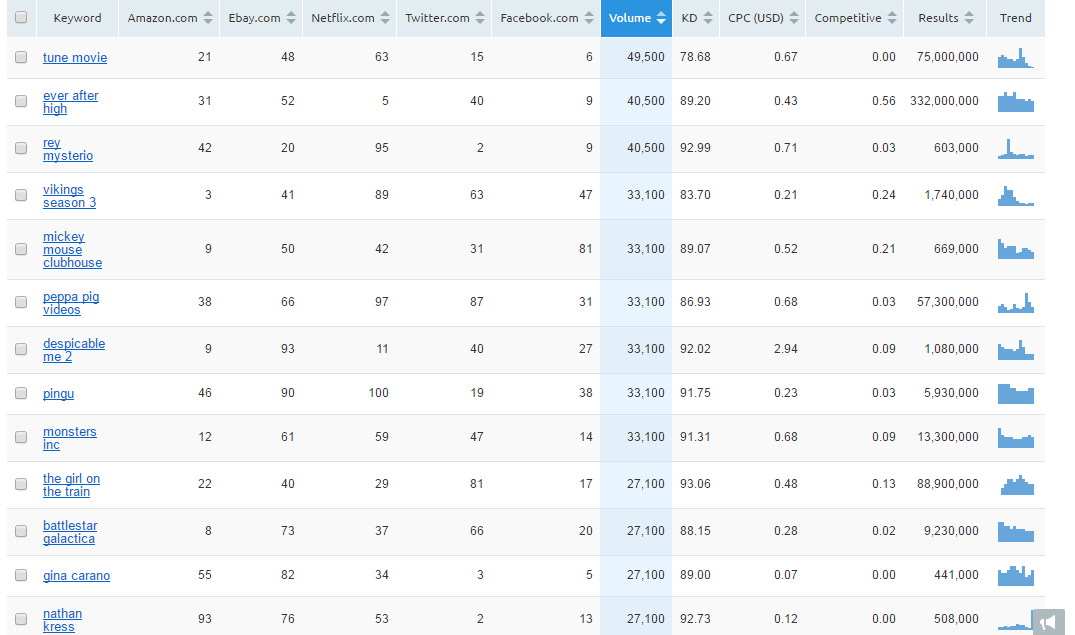 If you choose to use advanced mode, you can add two other sites to compare the results. In the image above, you will see the 5 sites I have compared in a table format that shows you the most popular keywords compiled from all the sites. In advanced mode, you can also compare different types of keywords to each other. For example, you might want to see Facebook's organic search, while comparing it to Amazon's paid keywords. Again, this is effective in finding which type of marketing is most effective in certain industries.
Keyword analysis
The keyword analysis section is what will be displayed when you type a keyword in the search bar instead of a domain. The keywords are bread and butter from someone who searches the web. No matter what people are searching for, they will use keywords to carry out the search.
This is where keyword analysis comes in handy, with SEMRush you can get all the detailed information you need on any keyword you can think of.
Keyword Summary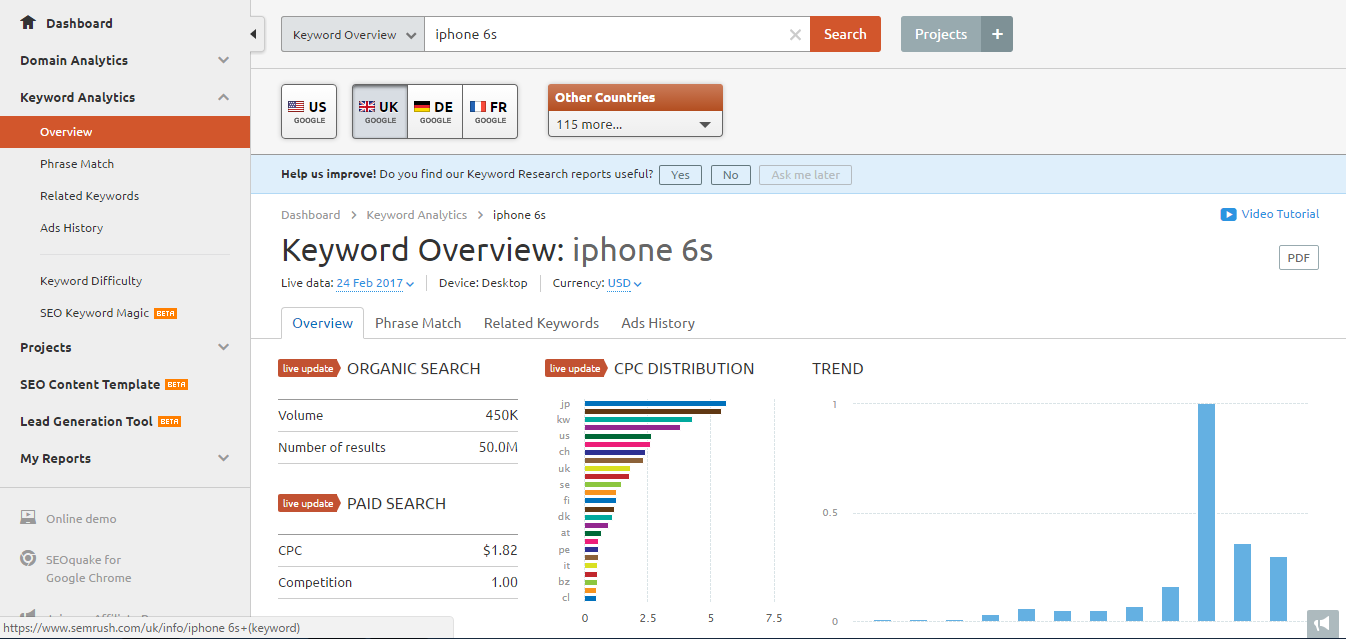 The keyword overview is similar to domain search, you can see a graph showing the CPC (cost per click) for the keyword. Above is the list of data you will get with each search term.
Volume - This is the number of times the keywords were searched during a period of one month. This is a great way to determine how popular a particular keyword is. The "short tail" keywords are generally the ones that generate the most traffic due to the breadth of the term, while the "long tail" keywords are more likely to be niche specific. Depending on what type of services you are trying to target
Number of results  - You will see the number of results appearing on Google for that keyword, this is a good indication of how competitive the niche is.
Trend - You can see how popular the keyword has been in the last 12 months. It's good to keep an eye on the latest trends so you can really understand which areas of a market you can get the best results from.
CPC (cost per click): You can see the cost price in US dollars for each of the keywords in Google AdWords. If you are planning to start a PPC campaign, it is definitely worth using this tool to research which keywords are the best to bid on.
Competition - There is a metric that indicates how competitive a keyword is in Google Adwords.
Link volatility
Occasionally, a website can lose its ranking for a short period of time. This is solely due to changes that may occur within search engines and will affect rankings for a short period of time.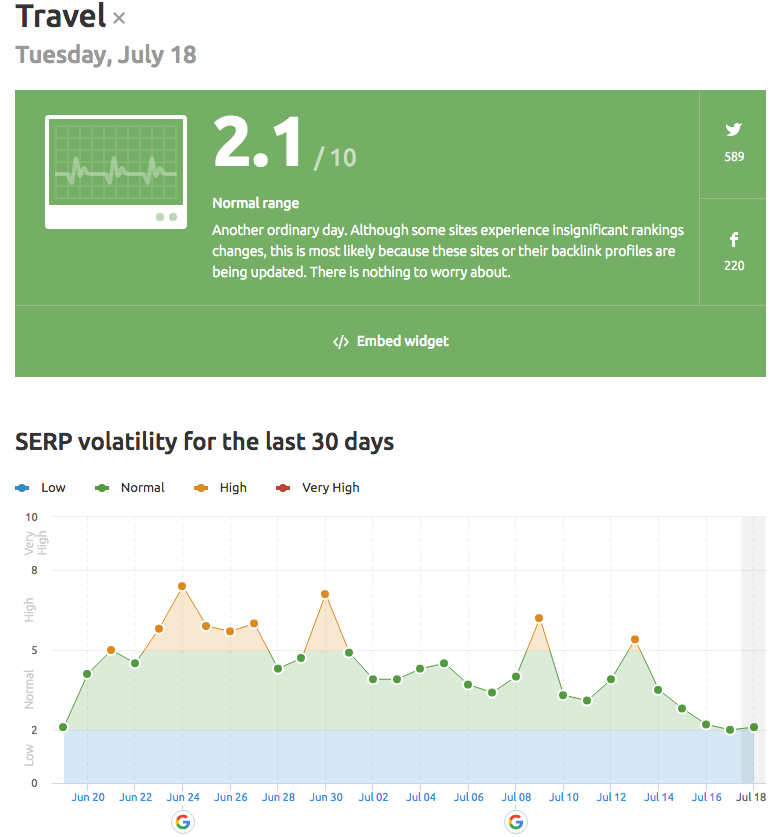 As you can see from the chart above, these are the last 30 days of site volatility. There is a score indicated at the top that ranges between 0.0 and 10, a medium of high volatility could lead to changes in the classification that do not really represent the position of the classification. This tool can show you the volatility of any type of industry, as well as the performance of your own website.
SEMRush also provides a widget that you can place on your website to easily access this statistic.
This is a very beneficial tool if you have a customer contacting you to get a rating note. These data may prove that a change in Google has caused the slide to take effect, hoping to save you headaches by trying to justify the ranking slip.
SEMrush sensor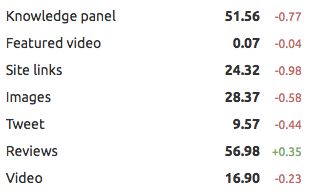 The SEMRush sensor scans your website to see what type of content activity is taking place. In this example, we have scanned a site called "agriturismo.it". They are competitors with companies like Airbnb and Travel Direct, which can be quite a feasible option for those looking to travel outside the UK to more rural areas.
The above scan shows that most of the activities taking place on this particular website are "Reviews". This makes sense since properties and destinations are regularly reviewed.
Other industries may show different results, since Wikipedia has more activity in the knowledge panel and YouTube with videos.
conclusion
So overall, you can probably see by now that SEMRush does a wide range of different things, from keyword research to site auditing, gaining insight into its competitors, and more. It is a tool that is constantly improving and I am sure that in the coming years there will be many more improvements. If you have any SEO questions please don't hesitate get in touch with us.
Try the Pro account for 7 days: Click here