It's been said over and over again: keyword research and SEO are vital to a successful blog. No matter how good your content is, no one will know if you can't find it.
This is why most bloggers rely on SEO and keyword research to publish content that ranks well on Google and as a result helps them achieve business goals like growing an email list. or sell products / services through their blogs.
Unfortunately, most SEO tools are not very affordable. For example, Ahrefs, Moz, and SEMrush cost $ 99 / month. If you are not doing much from your blog, then this may not be a viable option for you.
This doesn't mean that you can't do effective keyword research on a limited budget.
Spyfu is a free tool that allows you to spy on a competitor's website and see all the keywords they are ranking for, their search volume, and even the ads that are being served on Google. It is one of the best free SEO tools that can help you improve your site's search engine traffic.
It doesn't have as many features as other keyword tools, but you will get some valuable information for free, which is a great deal.
How to Use Spyfu's Free Keyword Research Tool
Using Spyfu is fast and straightforward. Signing up for an account is optional.
Step 1 : go spyfu
Step 2 - In the search bar, type the website of a competitor in your niche. Press Enter .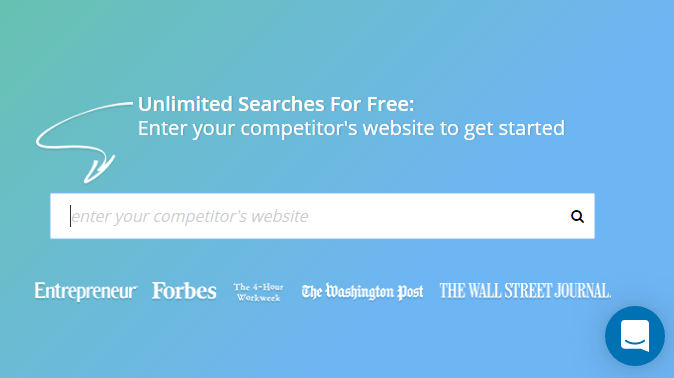 Step 3 : On the next page, you will get a lot of information.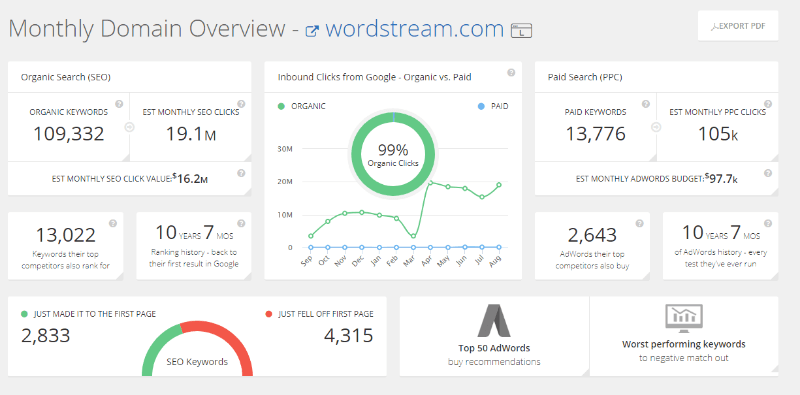 Overview
In the Overview section, you will find significant numbers that include historical site data. In this example, we use Spyfu's competitor, Wordstream.
On the left side are the metrics for organic clicks and on the right side are the numbers for paid clicks. In this example, the overview reveals that 99% of Wordstream traffic is organic.
Below, you will see a total of keywords that reached the Google first page , as well as those that fell from the first page.
Each item in the overview has a question mark icon in the upper right corner, which you can scroll over to view the description.
Competition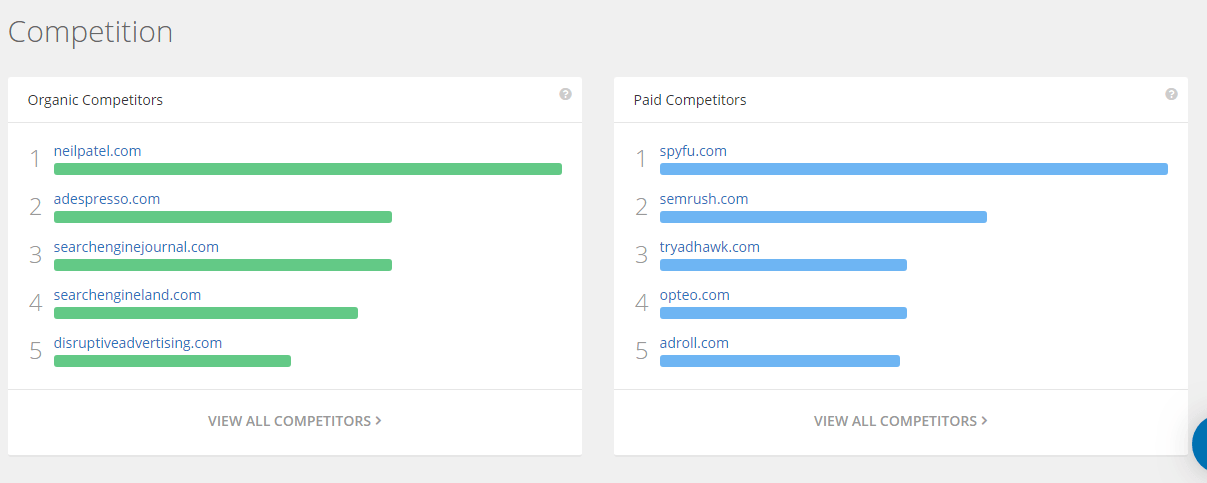 Scrolling down the search results will take you to the Competition and Shared Keywords sections of the competition.
Here you can see a list of competitors who are advertising or buying ads for the same keywords. You can also see keywords that none of the sites buy but are popular in user searches.
Main keywords
Here you will find keyword lists for organic and paid methods. As you can see in the example below, organic keywords are not necessarily related to paid keywords.
Top AdWords Buying Recommendations
In this section, a list of keywords is displayed. These keywords are proven to have successful ads and are recommended for buying ads and generating traffic.
AdWords history

This part shows all the Google ads that the site published for all your keywords. As seen in the screenshot below, Wordstream used the keywords 'keyword research' and 'retargeting campaign'.
How to do basic keyword research with Spyfu
If you want to start searching for keywords for your site or niche , then simple keyword research requires a few clicks here.
Step 1 : click on the tab Keyword research .

Step 2 : Type a keyword in the search bar and press Enter.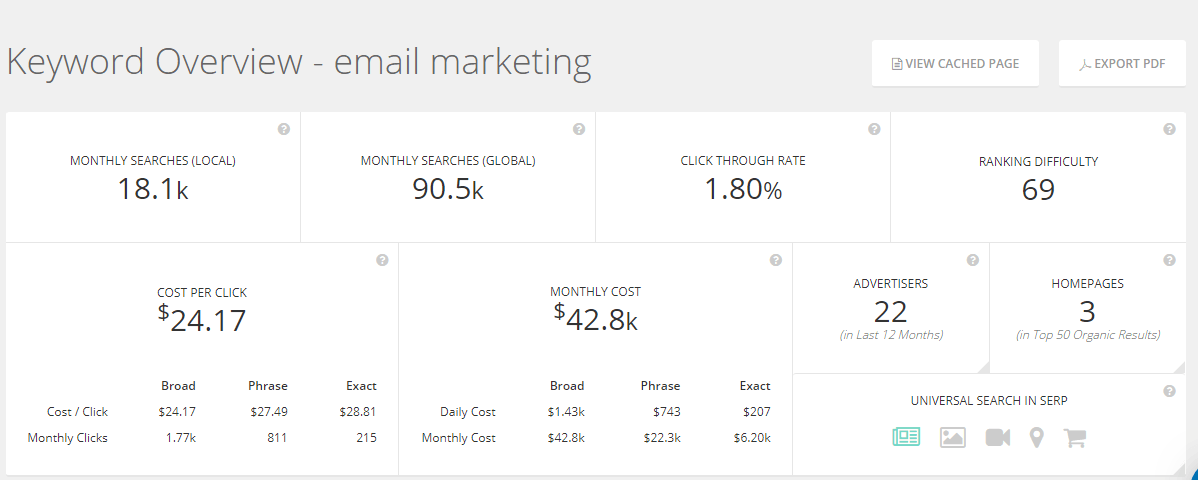 In the Overview section, you will learn:
Monthly searches: number of times each month users type the keyword in Google search

Click-through rate: The number of clicks an ad receives versus the number of times it was viewed. Example: If an ad was viewed 100 times and got 2 clicks, the click-through rate is 2%.

Ranking Difficulty: The level of complexity to rank the keyword on a scale of 1 to 100. The higher the number, the more difficult.

Cost per click - The average amount advertisers pay Google when someone clicks on their ad for this keyword.

Monthly cost: The estimated amount you would spend on ads for this keyword.

Advertisers: Number of unique advertisers who have used this keyword in the last 12 months.
Beyond looking at the keyword overview, you can click the adjacent tabs to learn more about your entered keywords.
The Related Keywords tab displays a list of similar keywords, some are long-tail keywords, containing useful statistics on each of them.

The Advertiser History tab shows the most successful advertisers for the keyword and their highest performing ads.

The SERP Analysis tab reveals the top search results for the keyword and its current rank status. You can also see the domain strength of each URL and the estimated monthly clicks.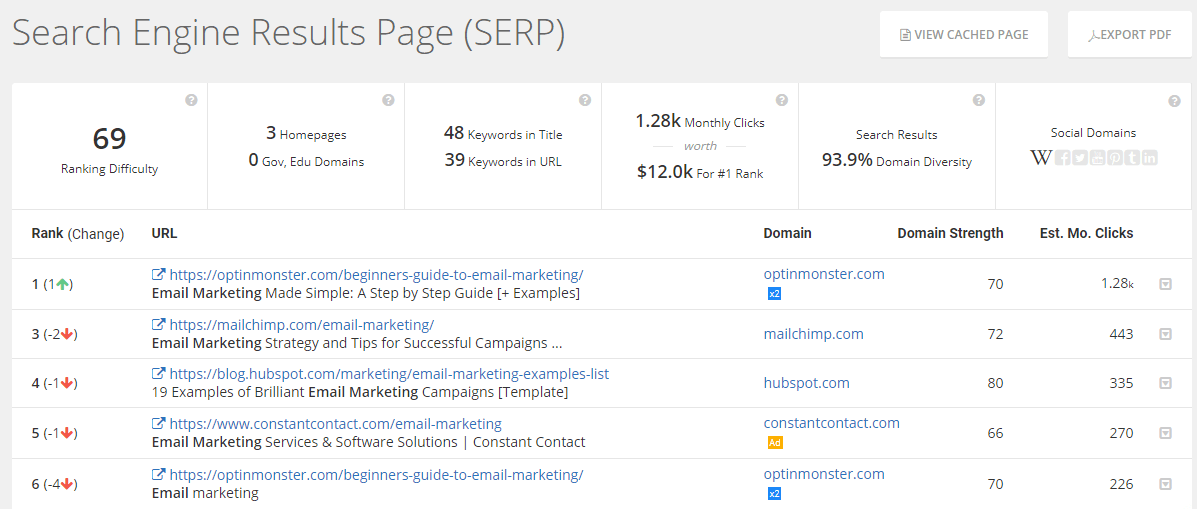 Most of the tabs offer an option to export the data in an MS Excel or PDF file, but you must upgrade to the paid version to continue the download.
How to Find Keyword Weaknesses for Your Site Using Spyfu
You can use Spyfu to find out which keywords you are not using that are your competitors.
Step 1 - Click the SEO Research tab and click Kombat.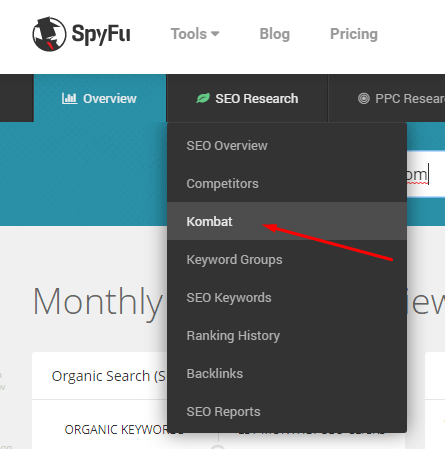 Step 2 - Enter your website URL in the first box at the top and add two competing websites in the following fields on the right. Click on To struggle .

You should see a similar graph, as seen below. The orange part indicates keywords that were used by the two competitors but not by your site.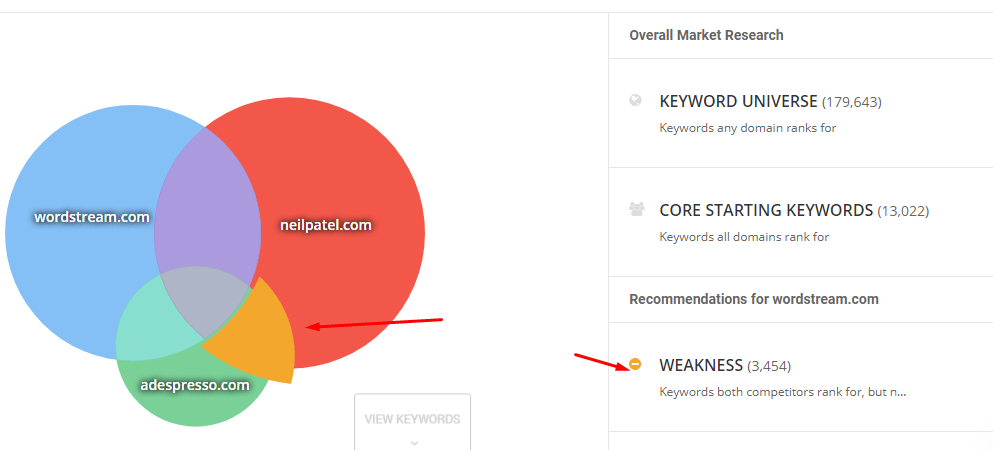 Step 3 - Click the Weaknesses box to see the list of keywords.
Now you can take a look at the list of keywords that are your "weaknesses" and decide if they are relevant enough to add to your keyword planner.
How to use it to find quality backlinks
Spyfu It can also help you see relevant backlinks to a competing keyword or site. Just go to the backlinks tab and enter the keyword you want to rank for or a competitor's site you want to emulate.
You will get a list of links. Spyfu finds the top 5000 links found for a keyword and selects the best backlinks from these sites as indexed by Google.
These URLs link to other sites, and help these sites to rank higher. In short, these are the URLs that give other websites the much-needed "link juice" to appear in Google's top 10 SERPs.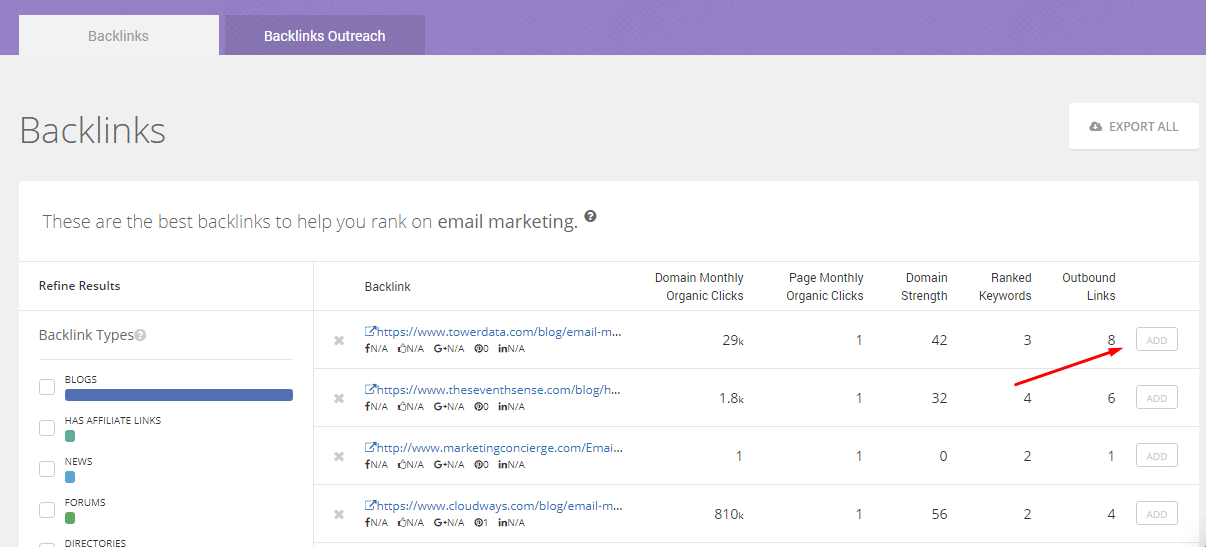 Your job as a blogger is to reach out to these domains and request that their content be added to your outbound links. You will be surprised that most of these sites will grant your request if they find it relevant and useful enough to include it in their content.
To the right of each link is an Add button and you can click this to include it in your URL list for outreach activities later.
The added links are stored in the Projects folder which you can find by clicking the Projects tab on the right edge of the dashboard.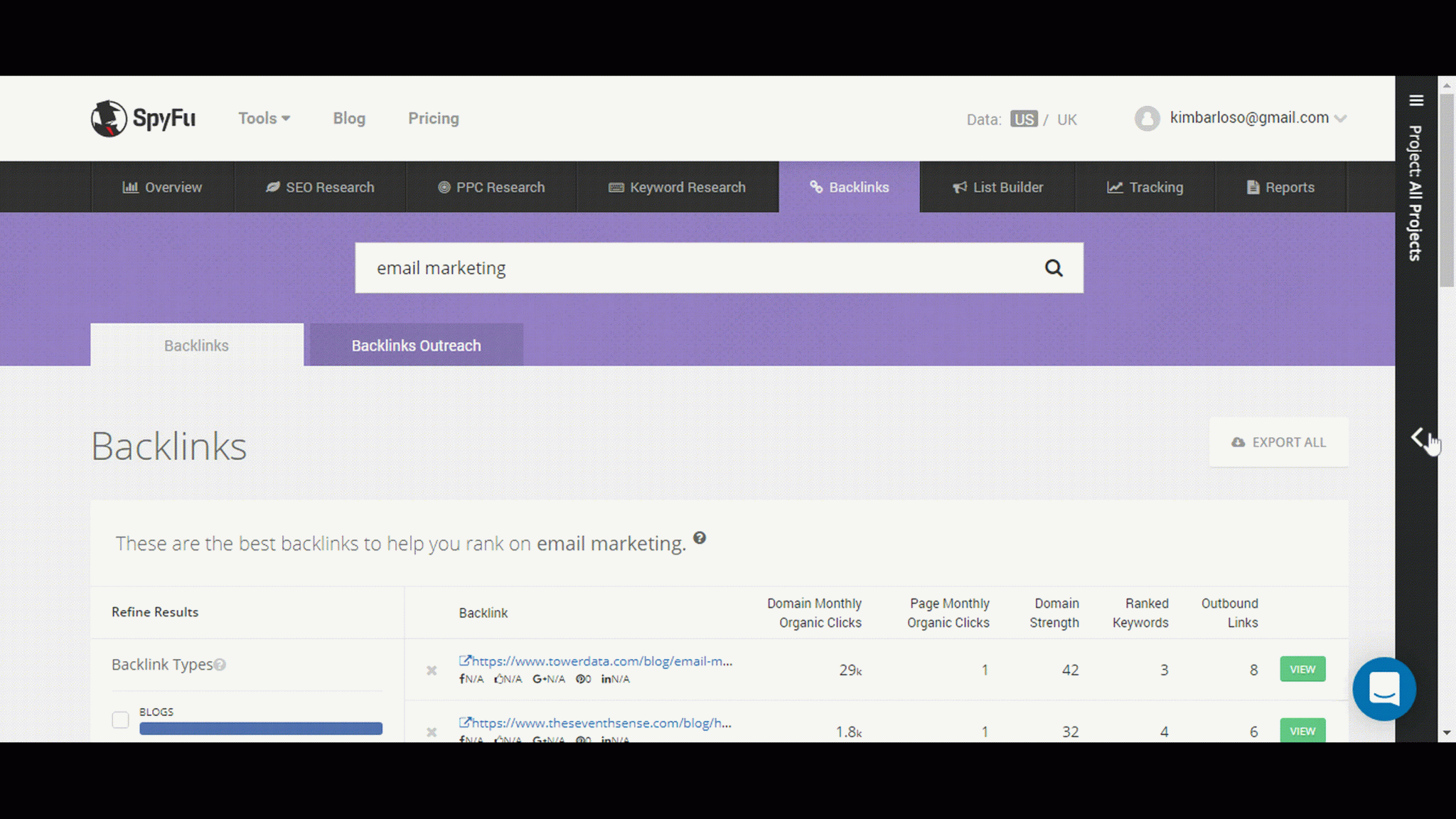 How to use Spyfu's ranking history
In addition to knowing a competitor's keyword statistics, you can also find out a keyword's ranking history for 7 years.
You can go to a website and see the top performing keywords over time or enter a keyword and see the best performing sites for that keyword.
To use this tool, go to Keyword research > Classification history .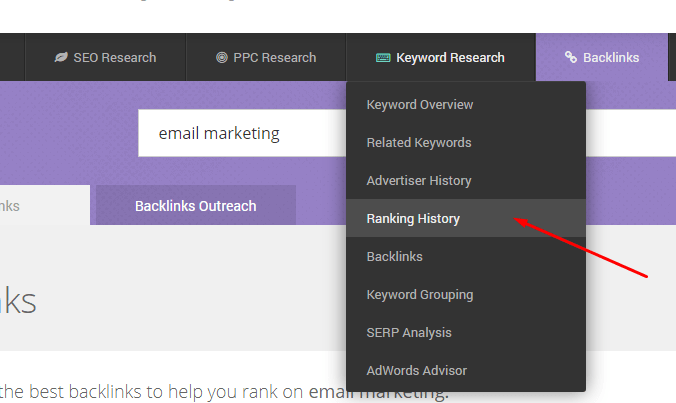 Enter a website or keyword and press Enter. You will see the top 10 sites and their historical data on a chart.
You can use this tool to analyze sudden ranking drops or monitor when your site has risen in ranking. Spyfu uses both calendar days, and Google's algorithm changes to get accurate ranking statistics.
This tool is great for learning about high-performing sites and studying their strategies to apply to your own site.
If you manage SEO for clients, it is a great tool to discover their past performance without having to access their Google analysis.
Prices: Free vs. Paid
Although you can use most of the functions of Spyfu for free , there are certain limitations.
For example, the number of keywords you can search for free is limited. With a paid account, you get unlimited searches, as well as unlimited data exports, domain overviews, and crawled keyword rankings.
For unlimited SEO reports, keyword data, and a domain overview, you can choose one of their paid plans.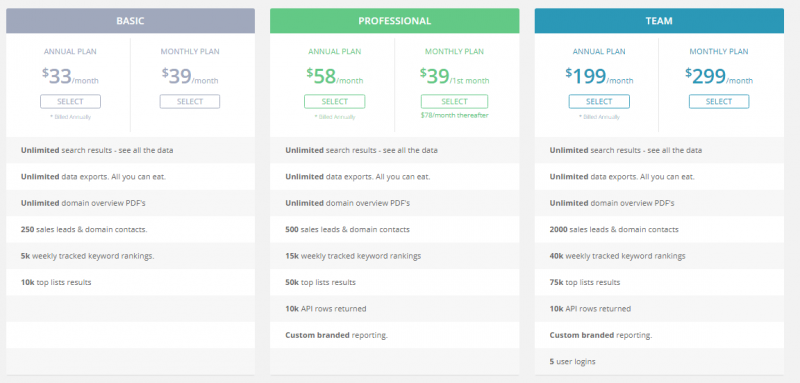 If you decide to upgrade, paid plans start at $ 33 / mo, making it one of the cheapest SEO tools.
When you compare Spyfu to SEMrush o Ahrefs, its price seems very affordable.
Sure, it might not provide some features, like the keyword difficulty metric like Ahrefs, but it's a cheaper 60% than most popular SEO tools.
For entry-level SEO reporting and keyword research, Spyfu offers a great deal.