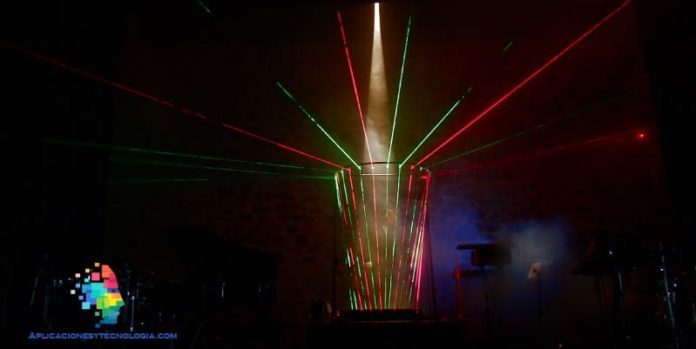 Are you interested in learning more about Laser Harp? In Applications and Technology we are going to introduce you to one of the rarest and most modern musical instruments that currently exist, the Laser Harp. Not many people know this because the concerts or shows in which they are used are few and far between.
What is the laser harp?
As the name implies, It is a fully electronic musical instrument where the traditional strings are replaced by a laser beam.. It is a striking spectacle for the colors, the sound and the strings that can be stretched several meters; making the setting look like a science fiction movie.
It is a classic instrument with a retro-futuristic style that produces a quite interesting sound. In this sense, there are several musicians who, while playing the well-known ones, are experts in the Laser Harp; one of them is the Spanish Santi Liaño, another is the French Lincoln Center.
One of the best known concerts for using the laser harp was one held in the Lincoln Center in 2000 and in 2005 at the Burning Man festival that takes place in Nevada, United States. Among the most recent is Barcelona in 2017 and multiple private or televised events.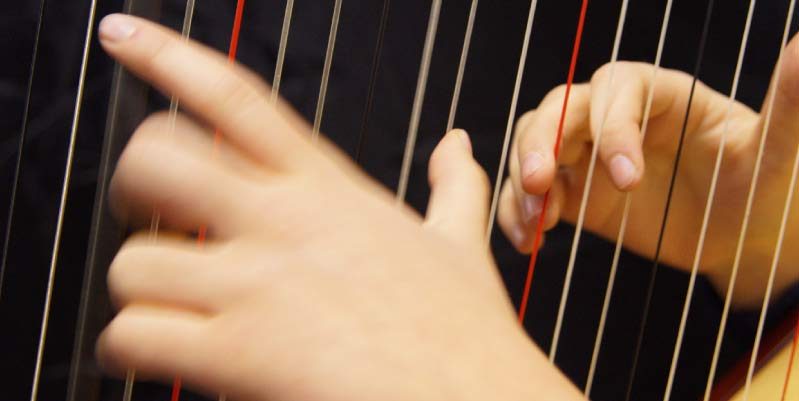 The history of the laser harp
The popularity of the instrument is not the highest but undoubtedly its use surprises and amazes all the spectators.. Technology had a great impact on our lives, not only facilitating our daily tasks but also allowing the creation of new alternatives for entertainment, work, education and much more.
The advantages of technological advances are too many to summarize, but one of the industries that has benefited the most is music. These items have always gone hand in hand and as an example we take electric guitars, keyboards and drums.
In the 70s and 80s, the heyday of the electronic music industry began where it was no longer just something characteristic of Rock. and its variants, but in addition to other genres such as pop. It is at this time that Bernard Szajner invented the laser harp, more specifically in 1980-81.
This composer, music theorist and visual artist was born in Germany in 1944. During his adolescence he became interested in music and in his maturity he became a famous electronic music artist, his five albums released between 1979 and 1983 were listed as cutting edge and groundbreaking. He achieved quite a considerable reputation among the public and professionals in the field.
The laser harp It was doable because Szajner started out as a lighting and visual effects technician., working with world-class artists such as The Who, Magma and Gong; He was one of the pioneers in the artistic and commercial use of laser technologies. In 1980 he started one of his biggest projectss where he combined technology, classical music and visual effects in a single instrument.
Jean-Michel Jarre was delighted with the success of the Laser Harp and asked Szajner for a model to use on his tour of China.. Despite the growing popularity of the disruptive instrument, the creator has decided to leave the music industry entirely due to various personal problems.
Today Bernard Szajner continues to be a benchmark in electronic music and his invention continues to be used in multiple eventss. A curious fact is that he returned to the world of music in 2012 with the visual artist Yro.
How does the laser harp work?
This instrument has a very interesting design and is simply "Built" with parallel laser beams only each other that can exceed two meters in height.
It works in a rather peculiar way because the musician only has to block a beam with his hand for a photodiode or photoresistor, generally connected to an electronic console, to detect it. When this happens a specific musical note is activated; in turn, the sound is reproduced with the help of a computer or synthesizer that is connected to the instrument.
There are several versions and designs even when one of them uses MIDI technology, which is capable of transmitting up to sixteen information channels that can be connected in different devices but that interact and communicate with each other. The latter was created by Philippe Guerre. Others prefer the model designed by Maurizio Carelli that uses two types of colors, red and green.
How dangerous is it to use the laser harp?
This instrument can only be applied by professionals because to produce visible laser waves, the instrument used must be quite powerful and produce at least 20 mW of power; however, if you are looking to create a mind-blowing and memorable show, then the power should be 500mW.
So we are talking about a fairly powerful laser system so the musician must be properly protected. The main parts of the body that can be adversely affected are the hands and especially the eyes. Gloves and goggles are needed to avoid contact with skin and sight.
Controversies over the laser harp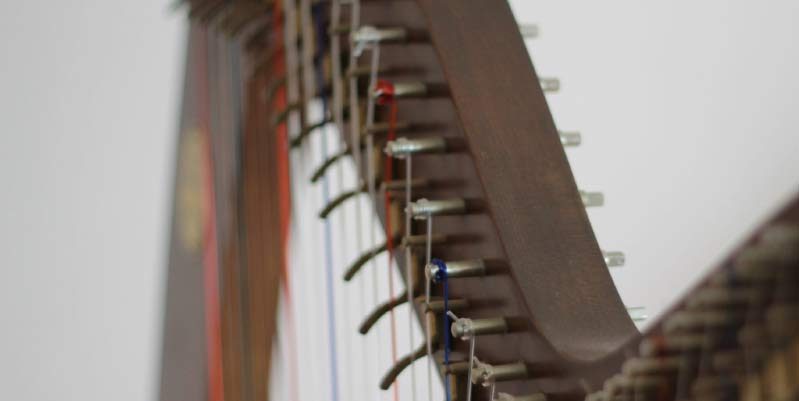 Even though the Laser Harp is an instrument that has been on the market for more than 20 years, there are many visual effects professionals, as well as musicians and songwriters who doubt their veracity and credibility.
They say it is a product with which viewers can easily be fooled; who believe that sounds come from lasers when reality is quite different. In spite of everything, it should be noted that there are several videos and specialists that explain the operation of the instrument; several musicians have also used it in their live concerts.
What do you think of the laser harp? Answer us in the comments section and do not forget to share this post on your social networks.