An EPUB (electronic publication) is a file format created by IDPF (Digital Publishing Forum) as specific format for viewing books. This type of file allows it to be read by any compatible reader or tablet, being the favorite for the publication of electronic books. This is because it has a resizable format, capable of accommodating different screen types and font sizes. At the same time, they allow the inclusion of video and sound at the same time of text and images.
If you plan to enter the digital world by reading books, we suggest these EPUB format e-book readers for your Windows computer.
Caliber, the most popular
This application was born as a tool to catalog our electronic books on the PC, even though over time it has become one of the most popular and popular EPUB readers for Windows. With this we can read any kind of e-book format, which allows us to read in full screen, change the font and go through the chapters. At the same time, it has all kinds of functions, which makes it possible for us to download EPUBS, download covers, manage metadata or convert books to different formats.
It also has a portable edition so that we can use it from any external storage device such as a USB memory or an external disk. At the same time as EPUBs, Caliber also makes it possible for you to read comics and magazines. At the same time, we can use the application to search for news, but it is not feasible to do so with all websites, only those that have collaboration agreements and are in English, such as the BBC or the New York Times.
You can download Caliber for free from your Web page for any computer because it is multi-device.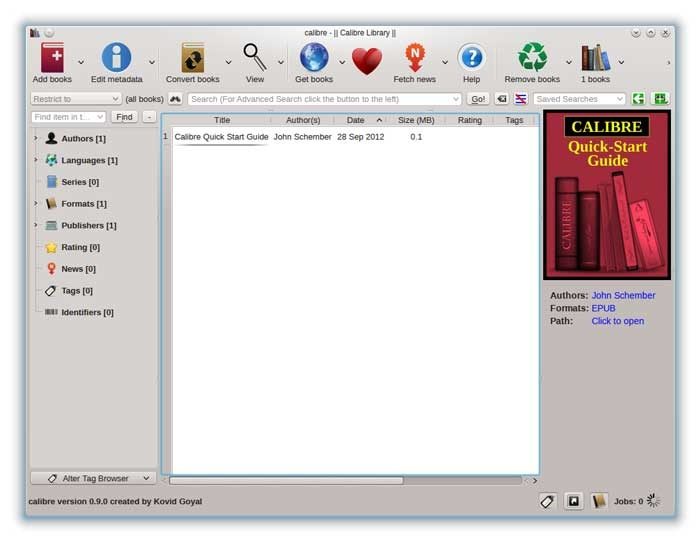 Sumatra, simple but effective
We are facing a fairly simple and direct application, whose main mission can be said to be that of a PDF viewer, even when it has other reading formats such as EPUB, MOBI, CBZ Yes CBR, so we can read comics as well. Sumatra is a very light, fast and fundamentally functional program, ideal for PCs with few resources. This application is only compatible with Windows computers, unlike other competing programs that are multi-device. This also has some customization options which can be very beneficial for those who are only looking for a tool to read e-books, and negative for those who seek the opposite and hope to find more personalization.
Sumatra is a free and open source application for Windows that we can download from this link.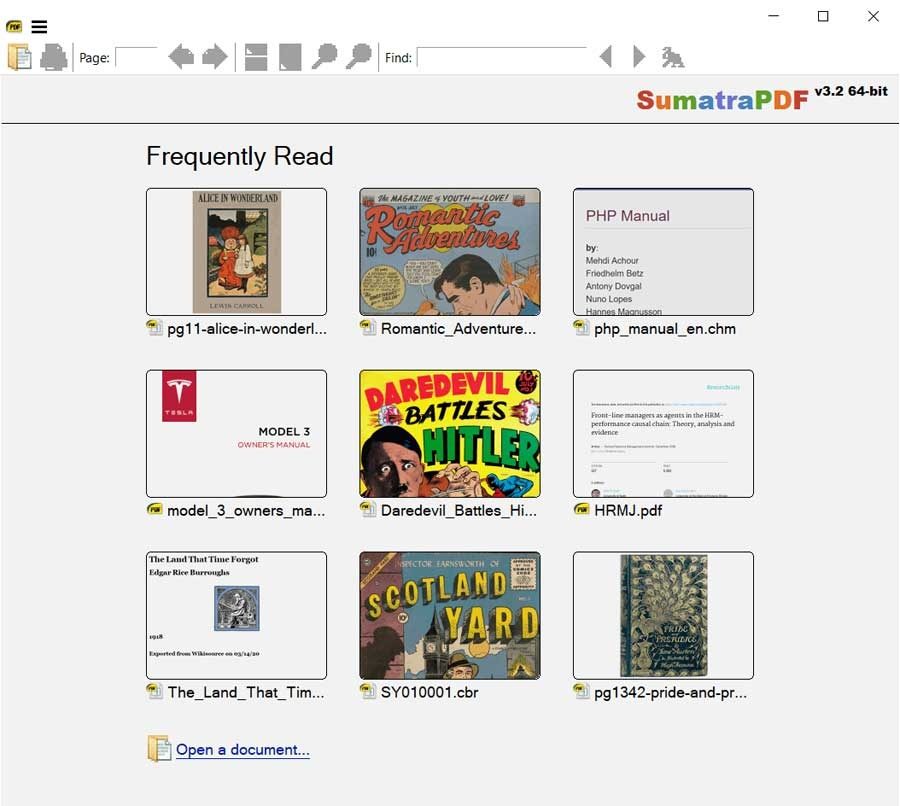 Freda, read and download books in EPUB format
Another great option that we can find for reading e-books is Freda. It is a free program for Windows that enables us read books in EPUB format, as well as other formats such as FB2, MOBI, HTML, and TXT. This program also offers us customizable controls, fonts and colors, as well as the opportunity to make annotations and markers. At the same time as being able to read our ebooks in EPUB format, this application supports organize, catalog and search our entire electronic library all its content, so that it is extremely easy for us to find what we want to read. At the same time, it offers the opportunity to be able to download books, as well as the sources to obtain them. Of course, it is important to note that the Spanish translation is not complete and that these sources do not offer the opportunity to download in Spanish.
Freda is an EPUB reader for Windows 10 that you can download for free (with ads) from the Microsoft online store.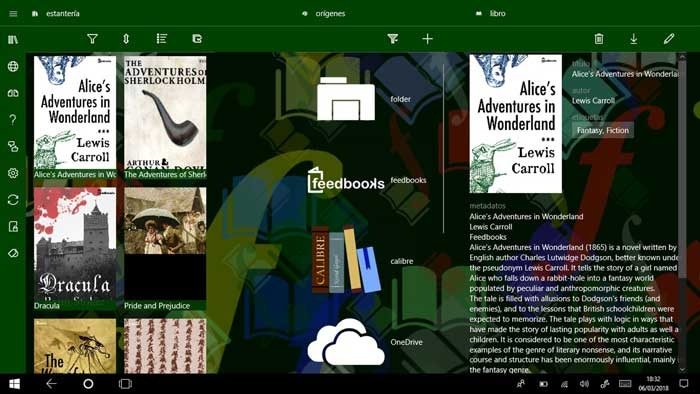 Bibliovore, is distinguished by its organizational functions
Another good option to read our EPUBs on a Windows PC is Bibliovore. Beyond the opportunity to read our ebooks, the program is characterized by the offer of a large number of organizational functions with which to manage our library of books. We will also have the opportunity to edit the metadata of the books and change the font settings. Another feature to highlight is the opportunity to use a reading mode according to day or night for the sake of our eyes. It also supports the uploading of books to your library from where we can organize them. Its main drawback is that it is in English and does not have any help. Despite this, given its simplicity, we should have no problems using it.
If you want to start reading your Bibliovore EPUBs, basically download it for free from the Microsoft Store.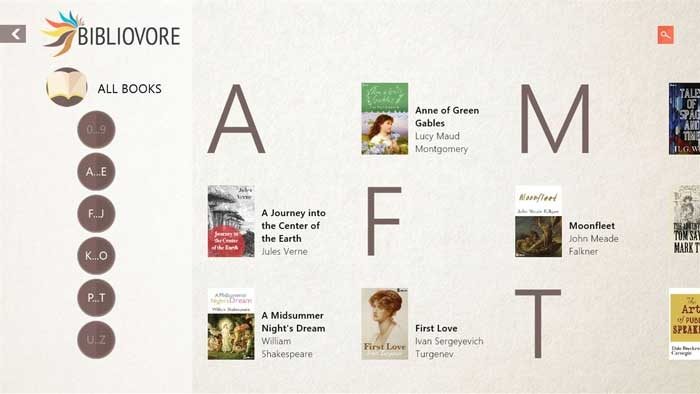 Adobe Digital Editions, for renting and reading e-books
The popular Adobe firm also has its EPUB and PDF reader for Windows with which to read our favorite books. Among its features, you have the opportunity to rent or borrow the EPUB version of books from public librariesas well as the use of bookmarks. We can also organize books by folders, bookmark our favorite pages, add notes or search for text fragments. Its use for reading is extremely easy to use, allowing our reading to be comfortable. For this we can increase or reduce the size of the text we read or go to a specific page. Perhaps, its main drawback is that it does not have much more compatibility with other types of playback files and also does not allow full screen viewing.
If you are looking for a good and comprehensive reading experience, you can download Adobe Digital Editions from your Official site.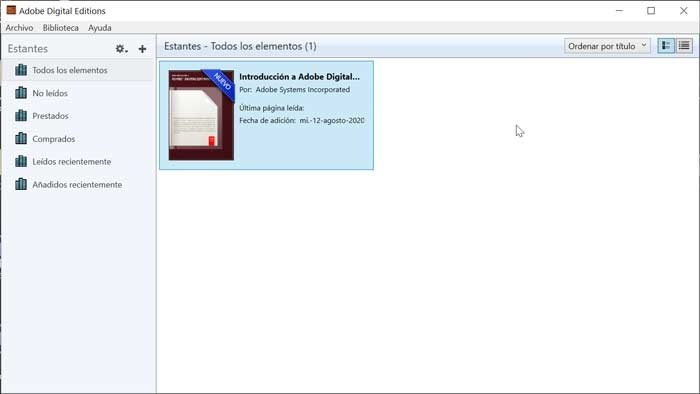 FBReader, compatible with virtual hard drives and online libraries
This e-book reader supports FB formats, EPUB and DJVU, so it becomes a good tool for our electronic readings. Is an application multi platform so that we can use it on different devices beyond our Windows computer. Among its characteristics we can highlight the opportunity to connect to virtual hard drives and online libraries, so it will not be necessary to download our EPUB to be able to read it as long as we have an Internet connection. For a comfortable reading of our books, the program enables the rotate pages 90, 180 and 270 degrees, which enables us to change the font and background color. Among its disadvantages we can highlight that it does not have basic tools such as page markup or the opportunity to add notes.
You can download FBReader free on your web portal.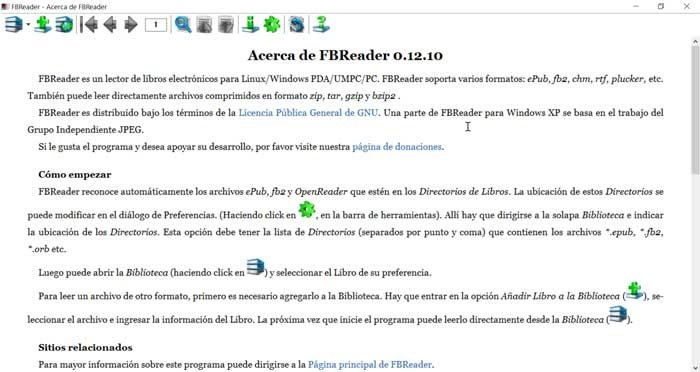 Cool Reader, in its simplicity is the essence
We are facing an application popular enough to read electronic books thanks to its versatility and simplicity. Its features include its text search engine, table of contents, list of books already read, and list of favorite pages. It is also compatible with a large majority of formats such as FB2, FB2.ZIP, TXT, RTF, DOC, HTM, HTML, EPUB, CHM, MOBI, PRC, AZW, PDB, PML, ZIP. So that we have a comfortable reading of our e-books includes configurable fonts and font sizes and enables the ability to zoom and full screen. Therefore, we are facing an interesting application, but not perfect, since it has a fairly upgradeable design and its additional functions are quite limited.
If you are looking to try Cool Reader, you can download it for free at here.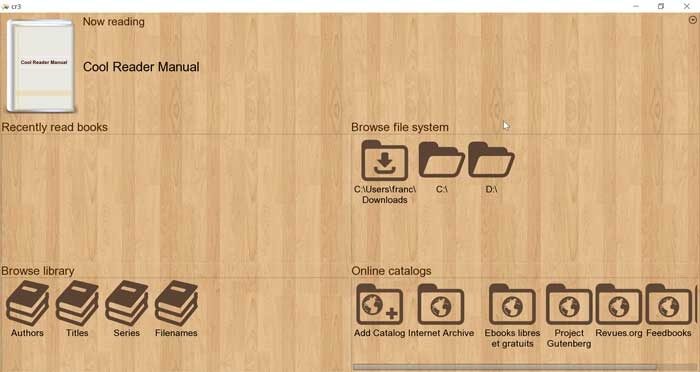 Azardi, with online and desktop version
This e-book reader is owned by Infogrid Pacific, which distributes it for free under a Gnu / Linux license. The app has a online version that we can see from any computer as a desktop version. This application offers the opportunity toread and manage our e-book library It offers various configuration options, including a powerful search engine, changing the background color, adding notes, and using various keyboard commands to navigate the application. The app can be used by all types of users thanks to its simple and intuitive interface, even when it is in English and can delay some users, the truth is that there should be no problem for its use.
You can download Azardi for free from developer web portal.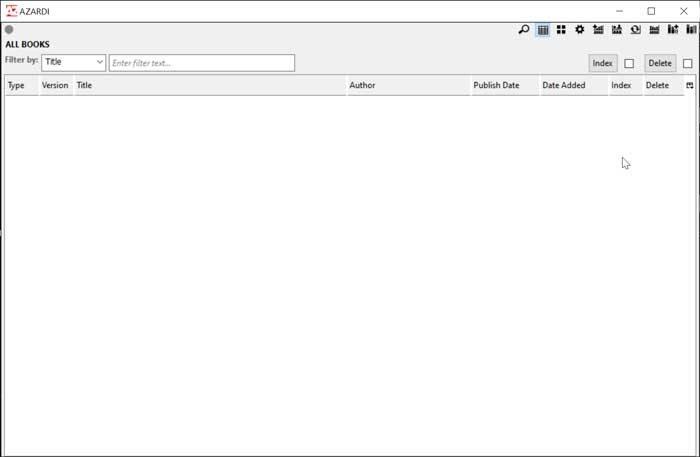 IceBook e-book reader
Another initiative that you can use to read your e-books in the best way is with IceBook Ebook Reader. Here we find powerful software in a multitude of languages and compatible with most current formats. In fact, we are talking about software that acts as a free e-book reader for Windows.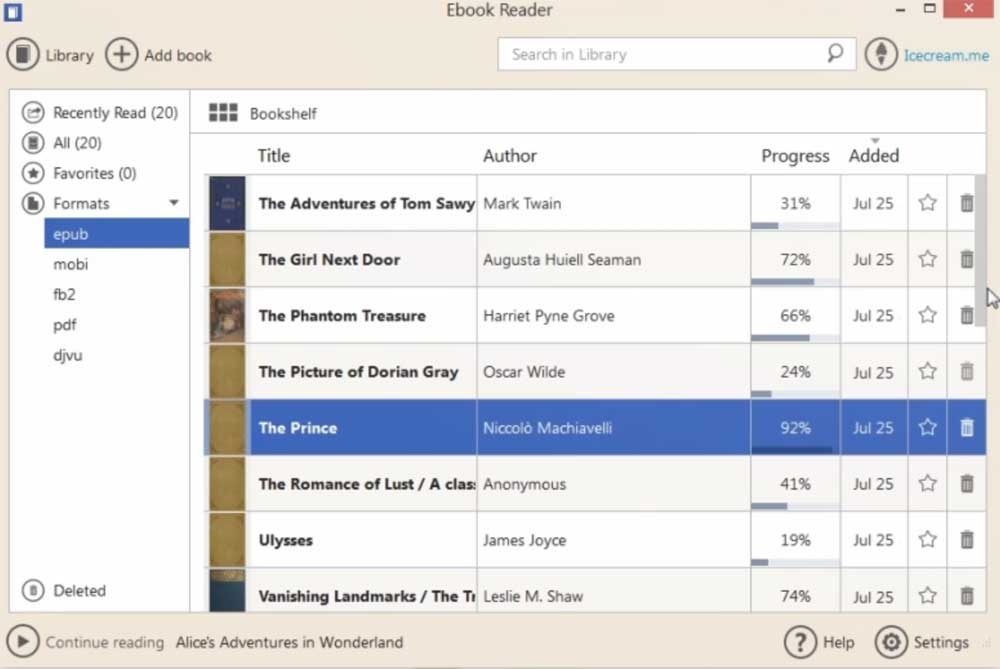 It turns the computer screen into an electronic book reader from which we can also manage our digital content library in a simple way. Regarding the reader as such, we find useful items such as personal notes, power translate texts, wear Markersetc. With all this, what application developers are looking for is to improve the experience of using the program. At the same time, it is very easy, even for those who have never used such software. To try it, download it from this link.