This is something that most, and fundamentally digital music enthusiasts, will certainly be fully aware of. With everything and him, this kind of records more precisely, we use them in a multitude of fields related to multimedia processing.
Utilities offered by MP3 files
When we talk about digital music, the first thing that comes to mind in most cases is the files MP3 format. As many of you may have seen by now, they are used in a multitude of projects, devices, and platforms. We say this because the mentioned MP3 can be part of your own video projects, by way of example, included in multimedia presentations, etc. This is why we can also use a good amount of software fundamentally designed to work with these types of files in particular.
Thus, we find solutions that help us convert, edit, reproduce or improve the digital music that we have stored on our PC. At the same time, we use all of this to listen to music, create documents from text read, as a soundtrack to our videos, etc. Of course, the thing to pay attention to is that MP3 has been so popular for years, not always in the most suitable format for all these uses. Sometimes we will be forced to convert them, which is what we are going to focus on now.
But of course, these files are the only ones that allow us to enjoy all kinds of music and sounds in general, even when they are the most widespread. This is why having programs that work with these files will never be too much on our computer. For this reason and for all this, below we are going to show you a series of programs to convert music files, to the aforementioned extended format. MP3.
Programs to convert all music to MP3
There are several applications that we can find in this regard today, so we will review some of the best alternatives. These will allow us to have all our music in the file format that most interests us, regularly in MP3.
Xrecode
When we talk about the program Xrecode, we refer to a software that, among other things, will allow us to convert audio files to the format we need at that time. At the same time, it presents us with several tools to edit these specific files. But that's not all, since the program also allows you to divide the sound files, or normalize MP3 volume simply.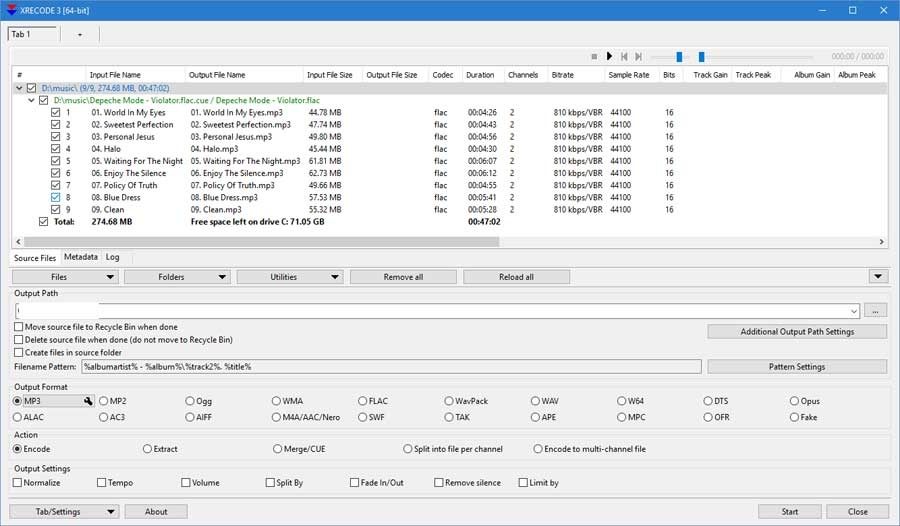 As you can easily imagine, the software is compatible with most current formats and it is important to note that it enables audio extraction videos we upload here. Therefore, to test the software first-hand, we will only have to download it from this link.
Audacity
It is one of the most recognized proposals in the world, at least when it comes to the music industry. It is a program that will allow us to do all kinds of work with these records, application that you can download from this link.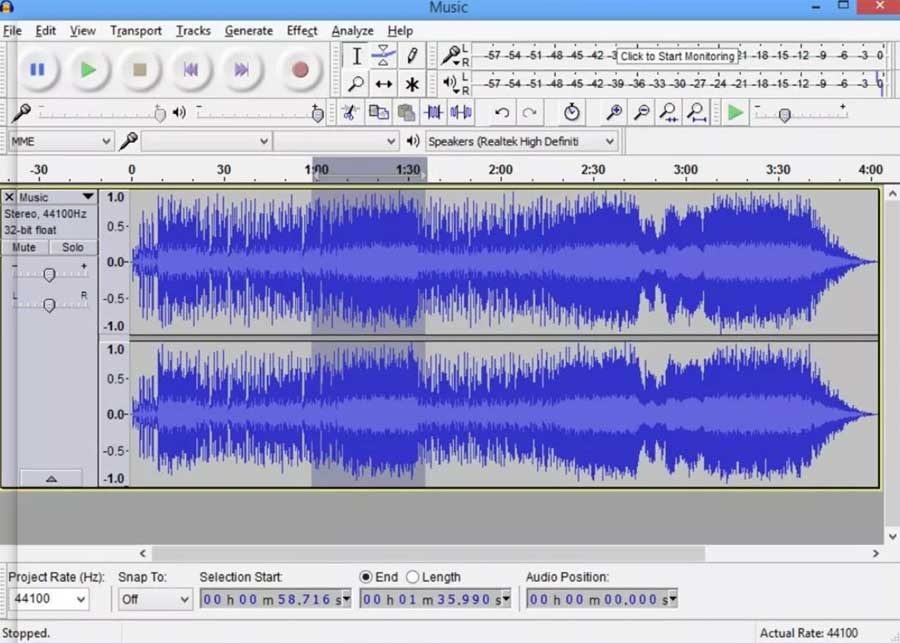 It is a fame that has grown over time, largely thanks to all the functions it makes available to us, including file conversion of music. So, after installing this program, at the same time as a powerful music file converter, we will have a multitude of functions to edit these files.
Factory format
We will continue with another powerful alternative that will help us convert our music files to MP3. For this case, we will focus on the software called Factory format, a program that at the same time allows us to convert music files, allows us to carry out conversions between different files linked to videos and the The photograph. From this dynamic, while being able to have the music in the format that interests us the most, we will be able to use it for other multimedia tasks.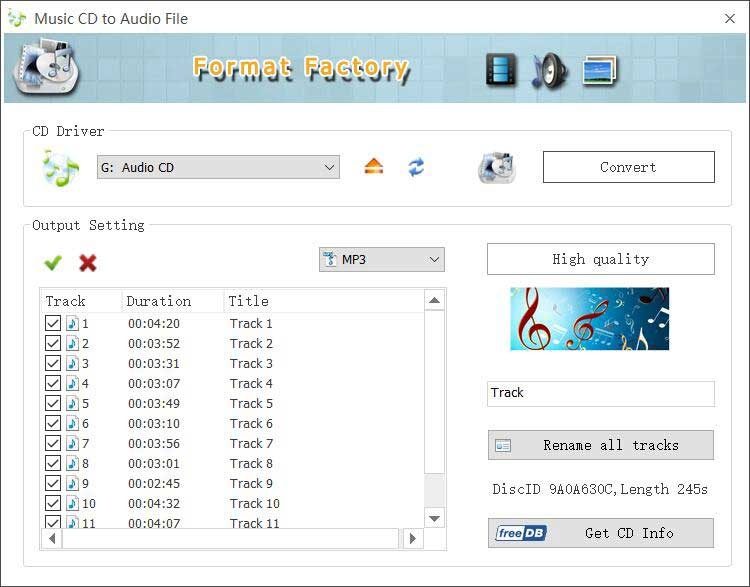 At the same time, and how could it be otherwise, the application is compatible with most audio formats current, so we will not have problems when going from one to another. If you want to try the program first-hand, you can do so from this link.
Change
Next, we will talk about another music file conversion program that is compatible with most of the formats in use today, including MP3. But not only can we work with these here, we can also convert wma, wav, cds, aiff, mpeg, avi, midi, etc. To test it, basically download the program from this link.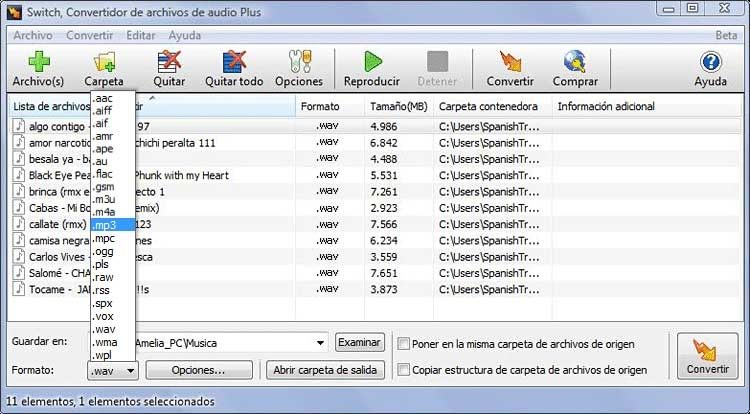 It is also interesting to know that the software allows us, at the same time to convert, to compress our MP3s so that they occupy less space in the devices. It also has the function of normalizing the the volume from these, it extracts audio tracks from videos and enables batch work to save time.
Freemake audio converter
And we will continue with this selection of programs to convert music with Freemake Audio Converter. It is powerful software compatible with a multitude of audio files, including the popular MP3, which has a simple and efficient function. user interface. On the other hand, at the same time as the aforementioned conversion function that we are talking about in these lines, we can also extract the audio from the videos that we indicate.

To all this we must add that it is an extremely simple program to use thanks to the characteristics that it presents in its main window. For all this, in case you want to try this program to convert Music, you can download it from this link.
Freac
As most of you already know, there are many audio formats that we can use today. The difference between these is in their compression, which translates into the sound quality that we will obtain. Well, to achieve this type of sound conversions, the Freac software is another very interesting option. With the program we will have the opportunity to convert the songs from our music library to MP3, among many other types of files.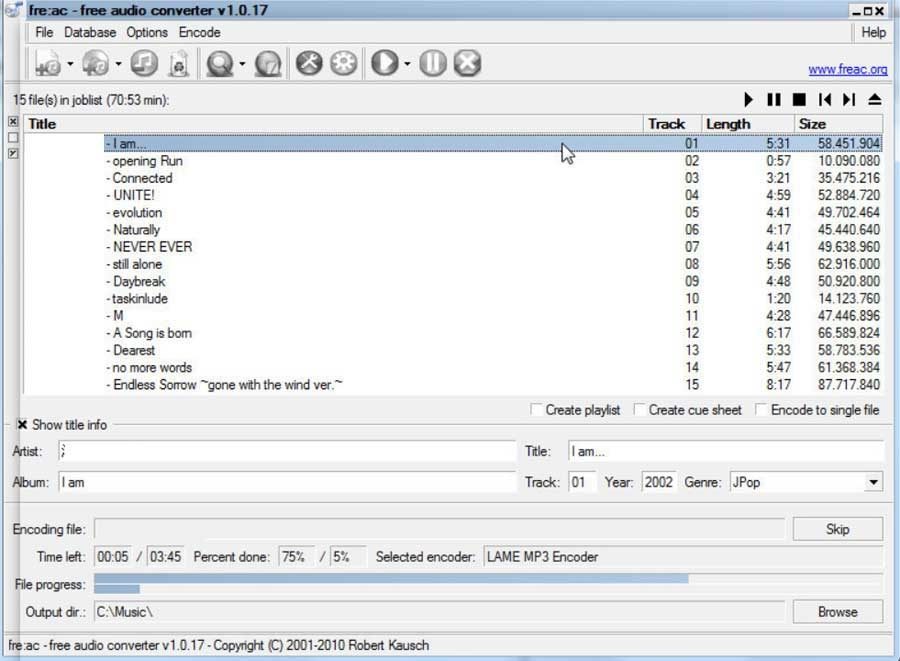 The software supports most of these formats and Interface The presenting user facilitates many of these tasks. At the same time and from here we can include Tags in them, while being able to modify them. To download this specific program, you can do it from this link.
MediaHuman audio converter
We will finish this selection with another simple music file converter, for this case it consists of MediaHuman Audio Converter. More exactly, we are talking about a free app which will be of great advantage to convert our music between the most common formats, including MP3. To test the program as such, you can do it from this link.

At the same time, it is important to note that it also enables us to divide the musical themes or convert them into batches, which will save us a lot of time and effort.
Wondershare UniConverter
This is another free program for Windows that enables us turn our music to MP3 quickly and easily. At the same time, it is important to note that it consists of a very complete solution that has a multitude of functions associated with the multimedia sector. From this dynamic, we will not only be able to carry out audio conversions like the ones we are commenting on here, but it goes much further. Thus, we will have the opportunity to work with video files Further.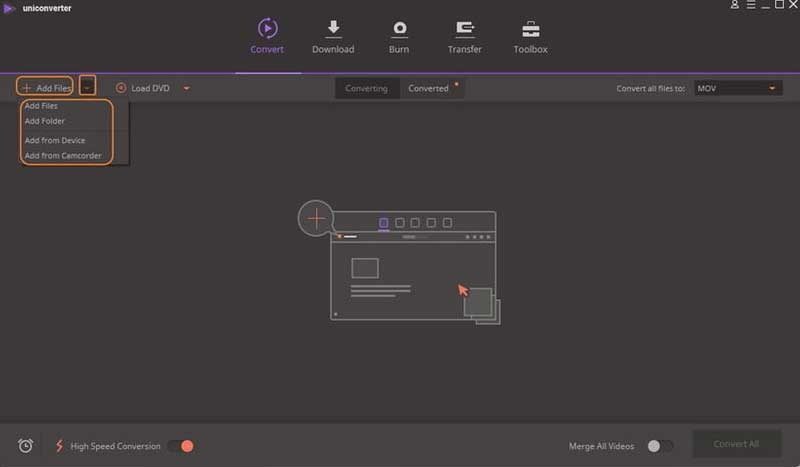 Specifically, we are talking about both editing and conversion jobs, where MP3s play a very important role. At the same time, how could it be otherwise, the Wondershare UniConverter program is compatible with a multitude of file formats related to this industry. Here we can load WAV content, WMA, M4A and many more to convert to MP3. At the same time, we will also have the opportunity to extract the audio from the videos that we load in the application to generate new files from Audio in this format. In order to test all of this first-hand, we can do it from this link.
Pepsky audio converter
This is another such solution that has also worked with us for many years and offers all its converting power. From this dynamic we find an application of conversion audio to convert formats to the most common of all, MP3. If something characterizes this program that we mention, it is the speed it achieves in this conversion procedure. It is also compatible with various file formats and presents us with a simple and intuitive interface to use.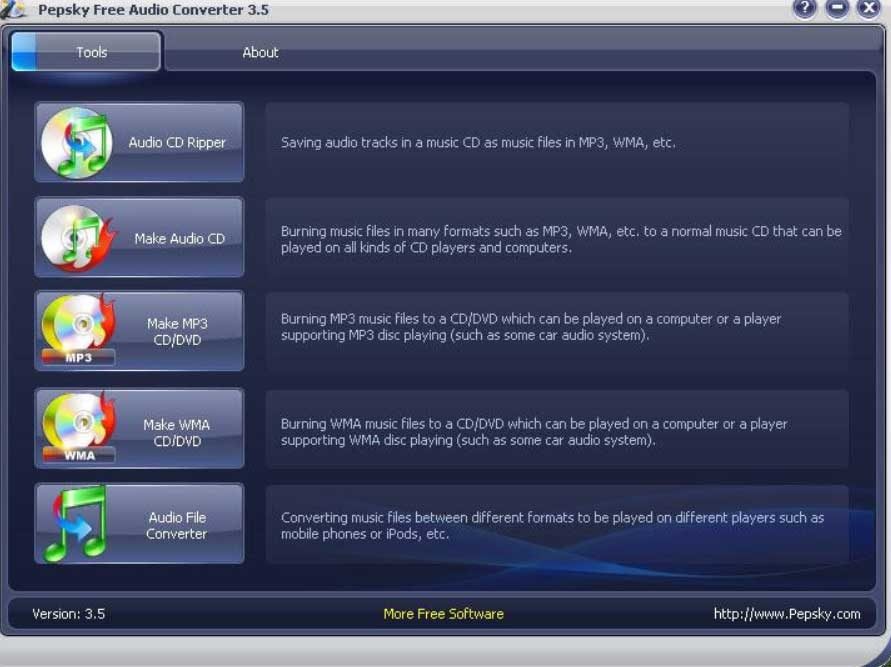 And not only can it convert to the aforementioned MP3, but it also has other additional functions such as creating Audio CD of different kinds. We find all this clearly differentiated in a series of buttons that are found in the main interface of the program from its inception. This is software that you can try from your Official Web.