Maybe in our bill mobile can show a SMS from 600124931 and we have no idea who it is. Suddenly we can believe that it is a mistake, if we never send traditional SMS.
Many people don't recognize these "Ghost SMS" 600124931 and, even though there are many complaints from Movistar, Vodafone and Orange, it is actually because they have more clients. the the problem affects all operators. It is caused by the cell phone itself and not by the telecommunications company.
In reality, this is not the only problematic sender, since from the same origin we can also be charged for an SMS of 600124932 (the next number) and 950050584 (a landline). These are the three possible senders:
600124931.
600124932.
950050584.
The three numberings belong to google, and even though it appears as a sent message on the invoice, we actually received it. The anger comes when we observe that it cost us money (between 21 cents and 50 cents, depending on the operator) without us noticing.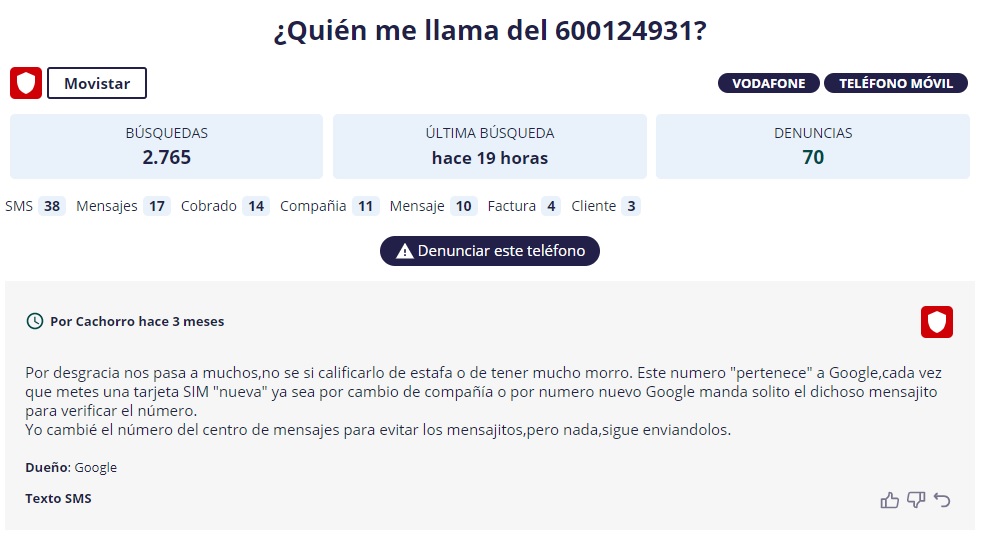 Google uses this SMS to verify phone number associated with our account on Android, a useful security measure to avoid hacks. The text says something like this:
Unfortunately it happens to many of us, I don't know whether to qualify it as a scam or having a lot of nose. This number "belongs" to Google, every time you put in a "new" SIM card either due to a change of company or a new number, Google alone sends the happy little message to verify the number.
The normal thing is that these messages of 600124931 appear billed in a timely manner, even though some users report that they arrive monthly. Some of the reasons for shipping are:
By adding a new cell phone number to the Google account.
When changing the SIM card.
Periodic security check.
How to avoid verification messages from Google
Although these SMS are a useful security measure, they also allow us to recover a Google and Gmail account If you forget your password, we may want to avoid being charged for SMS in the future.
Let's see the steps to do it from our Android cell phone, or from tablets with 4G connectivity:
We enter the Android Settings, then in the section Google: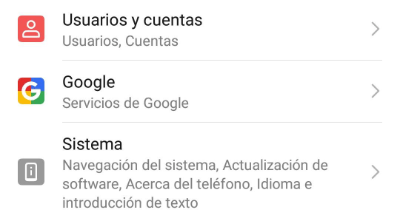 We choose the option of "Data and messages", there we go «Device phone number«: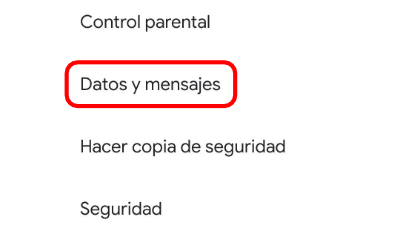 After a few seconds of loading, we will see our cell phone number, and we must click on "Control how other users enter ...":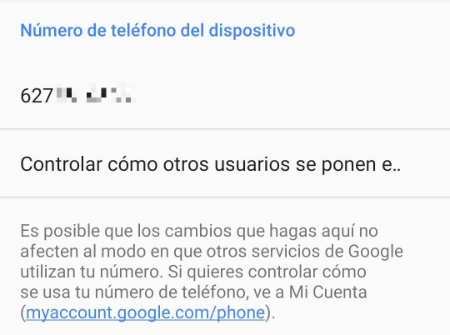 We will choose the option of "Use my number, but ask me first if charges apply" or, if you wish, directly "Do not use my number."
This should be enough to stop SMS collection 600124931, 600124932 and 950050584 on the invoice, even though we will also see how to completely unlink the cell phone from the Google account, in case we want to go further.
Entering the Android configuration and in the Google chapter we access the chapter of «Manage your Google account»
Let's go to the tab "Security", and in the box "Methods to verify your identity" We choose "Recovery phone".
We need to confirm the Google password, for security reasons, and we will see our number next to a trash icon, which we will press to remove it: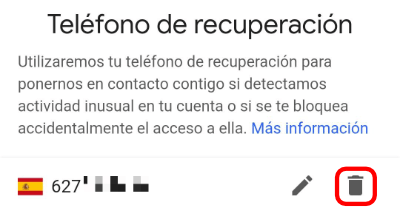 After confirming the action, the the number will no longer be associated with the Google accountThus, it is advisable to have other verification options, such as a second email.
In principle, following these steps should stop sending us "ghost SMS" from 600124931, as well as from 600124932 and 950050584. Some operators will propose to completely block the sending of messages on the line, a somewhat extreme measure, but one that we can examine.
With regard to the return of billing costs, in general it is they will refuse to refund the cost of the messages, this is not a failure of the telecommunications company.
These messages by 600124931 may seem like a scam and causes annoyance to users, but overall they barely cost a few pennies a month So the most common complaint is that they didn't tell us they were going to charge us.