PRESENTATION
The Master in Human Resource Management prepares you to become a leader capable of managing the human capital of a company or organization at the highest level. You will learn to discover the value that proper recruiting and selection can bring, resulting in the best feasible asset in business.
This Master will open the doors to increase your job position and be able to lead the human resources department and develop a professional career at the highest level there.
Choose to train at ENEB, one of the most relevant distance business schools in Europe that allows you to train at the highest level, from anywhere and with the daily support of all teachers and tutors.
GOALS
Clarify the keys to direct human resources in companies.
Apply the most advanced techniques for the selection and evaluation of personnel.
Design essential business strategies to achieve a sense of belonging to a community through human capital.
Analyze the relevance of continuous training in the company.
Mastering the different administration policies and their coherence with the strategic objectives of the company.
Study the successes of various institutions and apply them to other projects.
Be aware of changes in the culture of the company and adapt them to new situations and business requirements.
PROFESSIONAL OUTINGS
The Master in Human Resources Management enables you to develop your career as a human resources director, recruitment, training and development or personnel management technician.
ADMISSION
To have access to one of our master's programs, applicants must meet the following requirements:
To be in possession of a diploma, architecture, higher or technical engineering, bachelor's degree, diploma or other similar title.
Students pursuing university studies or equivalent higher studies.
Professionals with professional projection in the position held.
If you do not meet any of the above conditions, contact the school and the admissions department will evaluate your particular case.
TRIPLE GRADE
At the end of your studies, you will get a triple diploma issued by the European Business School of Barcelona, approved and certified by the Isabel I University.
Master in Human Resource Management
Diploma of Specialization in Coaching and NLP
Business English Program Certificate
All of our training programs come with an optional business-level English course, which will allow you to function in an international work environment. In the event that you do not follow it, you will get a double degree.
Opinions in Google My Business
As is widely known, Google's "tabs" make it possible to compile comments on different businesses or organizations. For this master we have reviewed the comments that there were about ENEB and we have found that it has 245 opinions with an average rating of 4.5 / 5. Undoubtedly a good reputation for one of the most "cruel" comment platforms.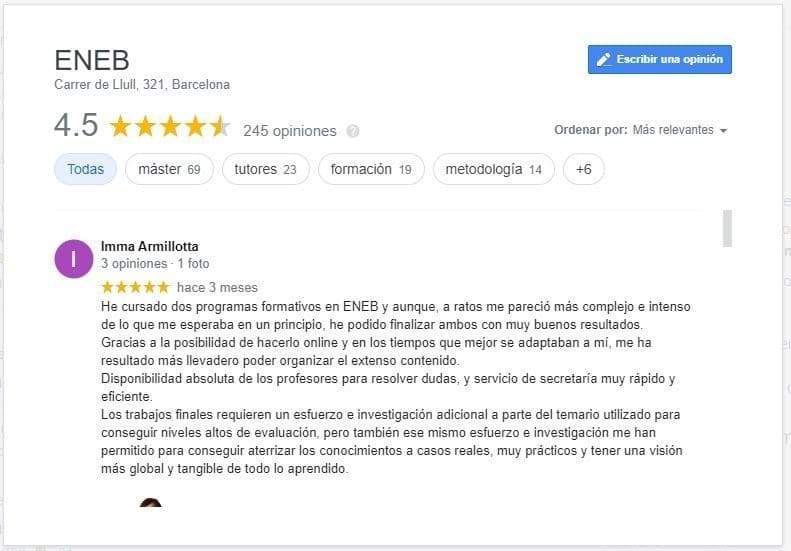 Discounts, scholarships and special prices
Today ENEB offers important discounts to which you can have access using the link below. With the code EMBAJADOR3069  you will be able to have access to a discount up to 97% on the prices published on the ENEB website.
Use discount code EMBAJADOR3069
As an example, you will be able to obtain a double master for only €279, or a Global MBA for only € 479 💸 (lower prices than those published on emagis ** r.com and on Grou ** n).