No one is born knowing and we have all passed that stage where we do not know which button does what or which is what. For him We will show you where the SHIFT key is on the keyboard and the actions we can perform with her. Before!
About SHIFT
We can say that the key SHIFT is a function button. His name has origin in old typewriters and is used to create keyboard shortcuts, select multiple items, set capital letters, key combinations, etc. For this reason It is considered a modifier key and in general there are two variants per keyboard, one to the right of the second bottom row and one to the left.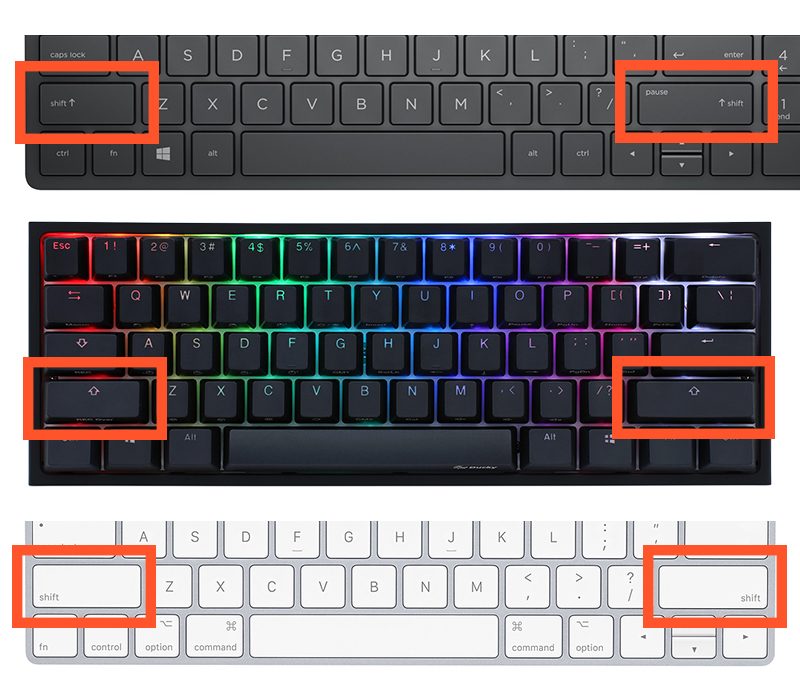 The graphical representation of SHIFT may vary by manufacturer. We will usually find it with the arrow icon (⇑ or ↑) underline pointing up or with your own SHIFT name silk-screened on it. At the same time a combination of the two can occur options.
Common uses of the SHIFT key
Remember that there are specific programs (Photoshop, Blender ...) that can perform specific functions with this key. We will list common uses in office automation, since key command specifications for programs may vary by user.
SHIFT + letter: written in uppercase even if CAPS LOCK is disabled.
SHIFT + digits 1-0 on the keyboard: enable special characters (!, «, $, %, &, /, (,), =,?, ¿).
SHIFT + swipe right: enlargement without maintaining the aspect ratio (aspect ratio).
SHIFT + mouse wheel: zoom in and out in Firefox and Safari browsers (replaced by CTRL + scroll wheel).
SHIFT + left click: selects all the text from the cursor position to where we clicked, left or right (this is a selection variable without dragging the mouse).
SHIFT + WIN + right or left arrow: Move it window to the right or left monitor, respectively, there must be several connected to the computer).
Shortcuts, including the SHIFT key
Regardless of the commands that have the base SHIFT, in our daily life we can find many situations where there are other combinations that make use of it. We list the most basic:
ALT + SHIFT + TAB: Show us all open and active applications on our PC and select which of them to maximize to change from one to another without entering the taskbar.
CTRL + SHIFT + TAB: We move program or browser windows that we have open today.
CTRL + SHIFT + N: open a new incognito sale.
CTRL + SHIFT + T: open the last closed tab.
SHIFT + DELETE: delete files without going through the garbage (Destroy them).
CTRL + SHIFT + ESC: open the The task manager (The Windows).
CTRL + SHIFT + B: hide the bar browser bookmarks.
CTRL + SHIFT + DELETE: remove the Navigation data.
In conclusion about the SHIFT key
The SHIFT key is a essential command in our daily life with which we can perform various actions. Programmers and designers get great performance out of their use because together with CTRL and TAB they are options that streamline work and simplify your life of many ways.
When it consists of keyboard shortcuts, you might be interested in:
For the general public, we hope you found this article useful and that some of the commands listed here are useful to you.
The personal data that you provide us through this form will be stored in a file owned by Miguel Ángel Navas Carrera, in order to manage the comments you make on this blog. The legitimation is carried out with the consent of the interested party. If you are not accepted, you will not be able to comment on this blog. You can verify
confidentiality policy
. You can exercise the rights of access, rectification, cancellation and opposition in
[email protected]