The "Cohort study" It is a method of analysis and evaluation of the behavioral changes of a group of people with common demographic characteristics during a specific period of time. Currently, cohort studies are used in various scientific fields, including economics and sociology. Depending on the definition, the cohort study may also be called a "longitudinal study".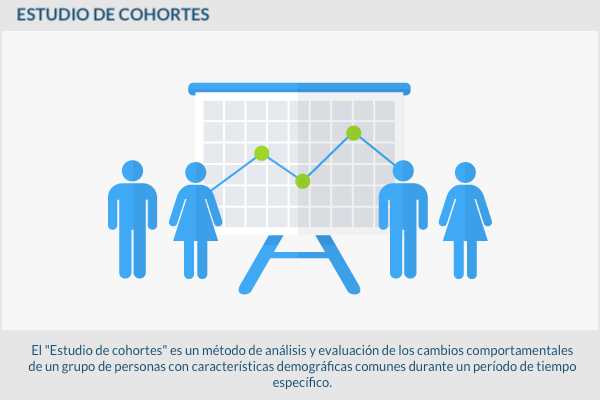 History and Origin
Whelpton was the first population where a cohort study, or longitudinal study, named with this name was carried out in 1949. Its main objective was to review the reasons for the large increase in population after World War II (WWII) in the United States of America. The objective of this study was to establish the link between the increase in the birth rate and the separation between each individual birth.
Apart from this, the scientists of the Nazi regime decided to use it in order to review and categorize the efficiency of the demographic strategies of the regime.
Currently, this method is applied to medical studies and analysis, including Pharmacology, and in Economics, mainly in market analysis.
Cohorts
The word "cohorts" establishes a group of people with similar demographic characteristics. Characteristics such as the year or decade of birth, when a specific new school year started, etc. In a cohort study In addition, different cohorts can be reviewed and compared.
Types
There are 3 different types of cohort studies. However, there is currently no standard definition of this method.
1. In this case, the same cohort is repeatedly analyzed over a long period of time. This type of study is called a "longitudinal study."
2. In this type, the analysis is based on independent samples from the same cohort at different times.
3. In the third type, different cohorts are analyzed in different periods of time.
The second type is generally used in economics. Similar age groups are categorized in relation to the demand for a particular product or brand. These groups are analyzed at different time intervals.
Important aspects of the study
"Cohort effects" is a definition used when a cohort is characterized by a particular behavior. For example, there may be a difference if a group of consumers of the same age are analyzed in different years. We will show some of the possible effects:
Effects of age
In a cohort study you can also review what are the effects of age. That is to say, changes in habits attributed to the age of consumers and associated, at the same time, with changes in attitude are analyzed. For example, having children, getting married, or buying a home can significantly change consumer behavior and buying habits.
Effects of time
The "time effects" represent changes that impact the cohorts regardless of generational and socio-demographic factors.. For example, it may be that, due to a new technological change such as smartphones or the Internet, there is a change in the behavior of the segment.
Apps in Online Marketing
The "Cohort study" offers the basis for decision making in Marketing in general, and Online Marketing in particular. Some analytics can be easily generated with common tools like Google Analytics.
Data on a web portal can be examined even over very long periods of time. In this way, it is feasible to reach conclusions about the purchasing habits of users from, for example, the same geographic region. Apart from this, buying habits can also be analyzed during Marketing campaigns, commercial promotion. For example, it is feasible to find out if a recurring user or a new visitor purchases more or less frequently in an online store. To carry out a larger-scale cohort study in Online Marketing, data from different information sources can be added in the so-called "Big Data".
Example
Online stores can establish the frequency with which customers of a certain age or geographic region have benefited from an offer created through a cohort study. After examining the data, the online store can, for example, adjust its Marketing to specific customer segments who have bought, for example, only once since the study was carried out.
Apart from this, it is also recommended to review the exact reasons why these users did not make a purchase with the help of, for example, surveys.
The main advantage of conducting a cohort study in Online Marketing is that most of the information is already enabled and, in this way, its analysis and classification are very simple with the help of this method. Due to its digital nature, data derived from Online Marketing can be easily detected and separately evaluated. Even with a simple login file, a cohort study can be created to review the visitors who have accessed the web portal in a given period of time from a given browser. At the same time, the cohort study is very useful for reviewing the keyword rankings and the evolution of the visibility of a web portal.
Apart from the common Web Analytics tools, the "Cohort Study" can help to relate separate data so that advertising or retargeting campaigns, for example, are perfectly adapted to the needs of each segment. The most important thing in all analyzes is, despite everything, that privacy is respected at all times and that personal and confidential data is left anonymous by grouping everything in the "Big Data".
Web Links
Cohort Analysis with Google Analytics Source humanlevel.com