We are receiving many inquiries through the web about security issues and of Instagram account recovery. We summarize here the most important steps to be able to protect your presence on Instagram.
Well be for having bought a new cell phone, as per have updated the app, you may be led to start a new session of your main account and other active profiles. Remember that you can have up to 5 different profiles on a device simultaneously.
Another bigger problem, it may be that your Instagram profile has been stolen or impersonated and you need to recover your original account. Here we give you the answer.
In any of the cases, we always suggest keeping both your cell phone software and its applications up to date with the latest updates.
How to reset your password?
There are three different methods of recover your password on Instagram, through:
Your username or email.
An SMS on your phone.
Your Facebook account.
Use your username or email.
Without being logged in, open Instagram and touch have you forgotten your password? (on iOS) or Forgot your login details? (on Android).
Click Username and write your username or the email to create your account. If you do not remember any of them, you should use another help method that we will indicate later.
Then click on Send access link and you will receive an email with a link to change your password. Click on this link, enter a new password and save the changes. The next time you log into Instagram, make sure you have access with the new password.
Restore your Instagram password with an SMS (Android only).
On Android, you have the option to reset your password via SMS. Open Instagram and tap Forgot your login details? Enter your username, tap the button Next and choose the option Send an SMS.
Then you will receive an SMS in the phone number for creating your account and follow the instructions in the message to reset your password. Please note that this option is not available on iOS devices.
Recover your Instagram password through Facebook.
Instagram gives you the opportunity to access your account using your credentials from Facebook, the parent application.
On the Instagram login screen, tap Forgot your login details? (on Android) u have you forgotten your password? (on iOS). At the bottom of the screen, tap Login with Facebook. On iOS, this option is also available on the first login screen.
When Instagram asks for permission to log in with your Facebook account, tap Continue.
Recover Instagram password
Warning, so that it does not happen to you again, write down the password somewhere that you will not lose. Securely store your passwords, whether you do it physically on paper or in a file.
You can also use the "remember my account" function to save your password and not be asked again. We are going to explain the process to recover the password through the PC, but at the same time you can do it through the application.
The first thing we have to do is click on the "I forgot my password" button. It will say something like «Did you forget your password?»And it is located just below the blue button.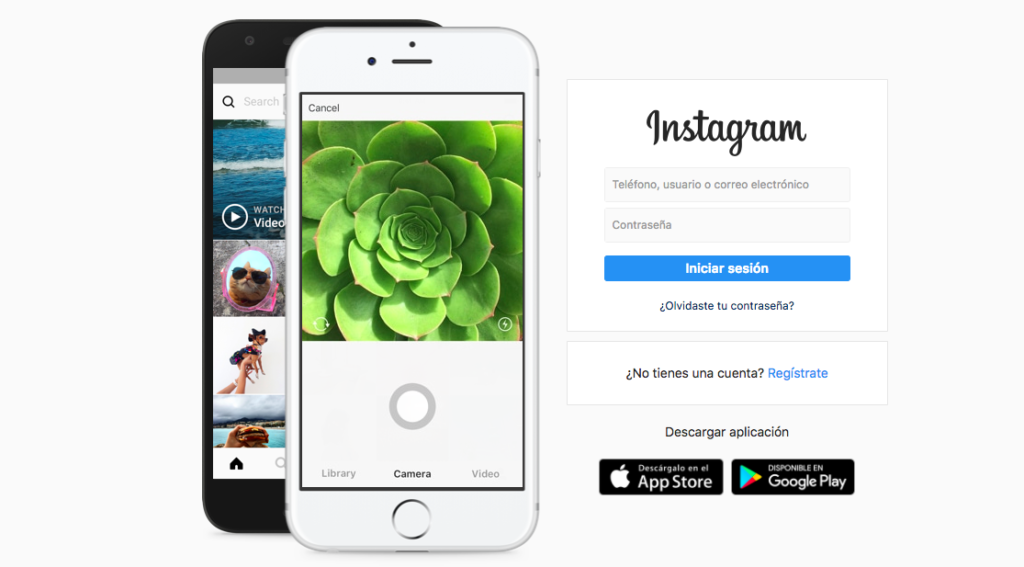 When you have clicked, a screen will appear to identify your account. It can be done through email or through your username.
Enter the name of your account, click on "I am not a robot" so that Instagram knows that you are not a hacker trying to steal an account, and click on Restore password.
For those of you who don't know what your name is (ask your parents… no lie☺️), you can ask an acquaintance for a cell phone and look for images that you have recently liked. Then see which users have liked and you will find your username.
If you prefer, you can enter the email you used to register your account. What many people tell me is that they have 2 Instagram accounts and they don't remember which one they used to sign up. For those who do not remember either the username or the email, there are other options to recover the Instagram account.
Remember password without email or Facebook
This option is available only for the latest versions of the app. If this option doesn't appear, try updating the Instagram app.
Ok, let's see how to recover an Instagram password without email or Facebook. What you can do is simply put your phone number on the password recovery screen.
Once you have put your phone and click on the button you will receive an SMS with a link to recover your password. For this it is important that, when you registered on Instagram, you have put a real phone that you have access to.
Attention! As you can see, you must do it from the application and not from the pc.
In this article we have shown you some of the possible options to understand how to recover the Instagram account. In spite of everything, before trying to recover the password, it is important to read the terms and conditions of Instagram to understand why we must reset the password as they tell us. They only make it possible to recover the password through email, username, Facebook or SMS.