Surely you have heard about the entrepreneur Judit Català , founder of the XL Agency (ex-publielevator.com). He started with just 23 years in the world of digital marketing. However, this was not a barrier to break through the business world and get to know the keys to a successful company
Courses and training
Judit Català, creator and owner of the XLYourself business group, an expert in digital marketing and with extensive experience in business creation, has created her course "Asccend To Another Level" for all those people in search of success through their own business and who want to double their turnover, automate sales processes, master digital advertising and even create their personal brand, in order to achieve their dreams.
This is, at least, what it promises us verbatim on its website.
Ascend to another level
This course is 100% online and has an extensive program of modules. Among them we can find:
Sell more.
Ads
Organic Traffic "free"
Team generation.
Personal brand.
Finance.
Goals and planning.
Productivity.
The growth formula.
Business model.
Copywriting.
Sales funnel.
Unfortunately we have not found more details on your website. According to data from the web, more than 2000 students around the world have taken this training. As an additional advantage, Judit Català's platform offers exclusive access to her networking network made up of entrepreneurs and businessmen. With regard to training, one of its advantages is the possibility of being able to answer all your questions once a week live and direct.
Refunds / User Satisfaction
They offer as a guarantee for the Course "Ascend to Another Level"Up to 60 days to request a refund of the 100% if for any reason the student is not satisfied. Undoubtedly, a point that will be highly valued by users.
Advantage Summary
Once you acquire the course you can enjoy the following benefits totally free:
Access to this training for life, that is, you can access it and take it at the pace you want whenever you want.
Downloadable material applicable from day one.
Exclusive access to the private Facebook group of businessmen and entrepreneurs, training students.
Live sessions with all their digital experts for your accompaniment during the training.
60-day guarantee for the total value 100% refundable if for any reason it does not meet your expectations.
Judit Catala opinions
Unfortunately we were unable to find reviews from public sources such as Facebook or Trustpilot. However, we have been able to views the XL Marketing Digital Agency in Google My Business. It has about 25 opinions with an average of 4.8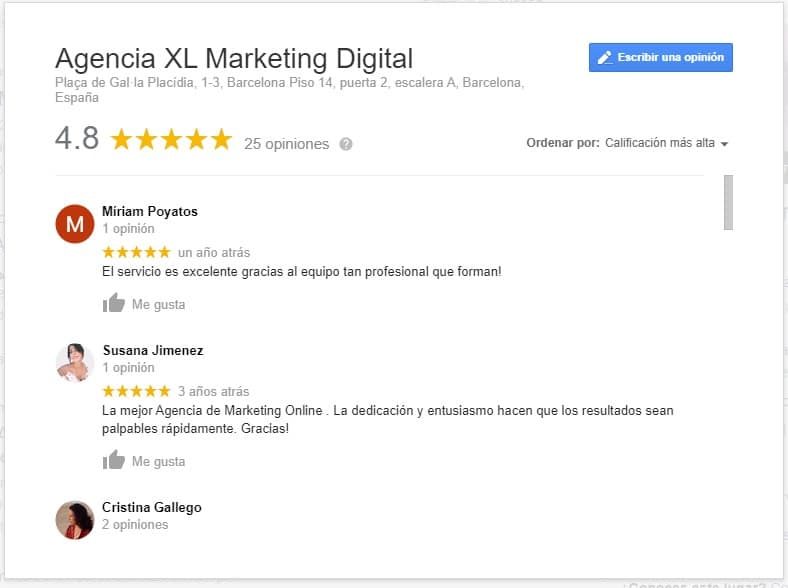 Cost of training Judit Catala
According to the official website the cost is € 2988
Training alternatives
There are several alternatives to train in digital marketing. However, we recommend that you evaluate some of the ENEB (Barcelona Business University). First, because they are more affordable in price. Second for issuing an official European degree at the end of their programs (ISABEL I University)