It has been 4 years since I started this wonderful madness of having a Blog, and I assure you that it has been a few years in which I have learned a lot and have met great professionals and people, but I have to tell you that it has not been easy at all. create a blog in WordPress and get it to point out in your sector where there are hundreds of blogs, and I assure you that I have "screwed up" often, and on several occasions I have been about to throw in the towel.
Here I tell you the story of my Blog, which is a very personal story that I have tried to shape with 75 tips and 75 mistakes, to help you make less mistakes than me and fundamentally to get a Success Blog in less time.
How to create a Professional Blog by following these 75 tips
1.- Not understanding what a Blog is and how to use it
Possibly you have decided to create a Blog because a person has recommended it to you or because you have read somewhere that they are very important for any 2.0 company, but do we simply know what a Blog is and what it is for? Even when the solution seems obvious, The truth is that 1/3 of the people who create a Blog are wrong in the way they use it, either due to ignorance or a bad content marketing strategy.
Tip 1
Before starting to create and disseminate content, establish well the objectives you want to achieve with your Blog as well as the strategy that you are going to use to obtain these objectives.
2.- Create an informative Blog instead of a specialized one
A very common mistake when creating a Blog is to use it to communicate to readers the latest news of the company, and therefore publish little useful content for the reader and starting from a poor content strategy.
Tip 2
If you need to create a good Blog, keep in mind its specialization in order to obtain many subscribers and readers loyal to your brand, for this it is essential to create high-quality content and not be in too much hurry to click on the publish key from our Blog.
3.- Having a Blog as an excuse to generate content instead of as a medium
In a mistake to think that it is more important to generate content than the quality of it and that since we have a Blog there is to generate content whatever it is, quality must always take precedence over quantity.
Tip 3
It is essential that we know that a Blog is a fantastic tool for the dissemination of useful and high-quality content, and that we will achieve, among other things, make a company visible on the Internet, improve its brand Branding, both of the company and the of its professionals, etc.
4.- Believe that a Blog is mandatory or abandon it
It is very common to make the mistake of thinking that a Blog is essential for any brand or professional, but this is only a half truth since a Blog is a medium where we are going to communicate with hundreds of people and that it can be very positive, if we know manage and use it well, but it can also be negative if we do not use it correctly or basically leave it abandoned.
Tip 4
It is preferable to close a Blog to have it abandoned and generate a very negative status for our brand.
5.- Create a Blog with the sole objective of obtaining money
So that we can get money with a Blog we need previous years of work in it to have placed it in one of the benchmarks in the sector, do not make the mistake of thinking that you can create a Blog and obtain benefits in a few months because it is not true.
Depending on the degree of competition that exists in that sector, it will be easier or more difficult, or what is the same, it will take more or less time.
If you need to know more about how to make money with a Blog, I suggest this article.
Tip 5
A Blog needs at least 2 years of well-focused and done work to be able to achieve the objectives set, but if obtaining money is the only objective for which you have decided to create your Blog, it is likely that you will abandon it a few months later, motivated by lack of results.
6.- Bad choice of domain name
Don't be too rushed when choosing the domain and don't make the mistake of selecting domains with special characters. Do not add underscores or underscores in their name as much as possible.
Tip 6
Decide if you choose a domain for favor your Branding or if instead you choose to enter the most important keyword for your brand and in this way favor SEO.
7.- Bad choice of domain width
What do I choose a domain .com or un.es?
It consists of a frequent doubt when you have little experience, but we should not make the mistake of choosing it based on whether it sounds better or because I like the way it looks better.
Tip 7
The choice must be made based on where our target readers are, if it is in Spain we will choose .es, if instead we intend to give it an international character we will choose .com.
8.- Bad choice of the hosting company
When we are going to select the company where to hire the domain and hosting we can make the mistake of selecting the cheapest one, something like 1 & 1, but you will see how you will regret the decision, but why does this happen? The solution is very simple, given that not all hosting is equally optimized for get the most out of a blog with WordPress, and some of them may have limitations that may reduce its effectiveness. An example of this is the memory they dedicate as a base, which is 48 mb, when it is recommended for a blog to double (96 mb).
Tip 8
Choose Raiola Networks because:
They have expert WordPress professionals.
The hosting they offer is highly optimized for WordPress.
The attention is fast and efficient.
The availability of their servers is very high.
9.- Choice of the theme for its appearance
Nowadays buying a professional template is super cheap and highly recommended, instead of starting from a basic and free template. Buying this template will cost us from 30 to 40 euros and from this dynamic we will be able to enter a super optimized template, and that without any doubt, it will position in less time than a basic one.
Tip 9
I recommend that you go to best WordPress template bazaar called Themeforest, even though you can buy templates in any professional company, the objective is to find the template that best suits our needs and that is always a professional theme.
If you do not know which template you can use, I recommend that you look at those blogs that you like the most and find out the template they use, in order to do so we are going to use the free online tool What WordPress is theme that?. It has a daily limit of searches but the amount it allows is high and it is difficult to reach that limit. 
10.- Not correctly configure our Blog with WordPress
We could say that it is a catastrophic error not to configure our Blog with WordPress correctly, perhaps due to ignorance or because we believe that the configuration that WordPress brings by default is correct, but it is not.
Tip 10
Follow this guide on how to create and configure a Blog with WordPress point to point and thus you will have the certainty that these basic configuration aspects have been resolved. 
11.- Failure to install and configure the essential plugins correctly 
A fundamental aspect in the proper optimization of a Blog is use certain WordPress plugins which are totally indispensable, with the aim of making our lives easier and simpler, and fundamentally that they help us with some basic questions such as:
Improve the speed of the Blog.
Improve SEO optimization.
Prevent the Blog from generating duplicate content.
Give our Blog a more social aspect.
Get thousands of subscribers.
Increase the number of visits.
Protect the Blog from spam.
Tip 11
If you don't know which ones to select, I suggest you take a look at this list of essential WordPress plugins.
12.- Thinking that design is not essential and therefore dispensable
Underestimating the "Look and Feel" that our blog has is one of the most common mistakes when creating a blog with WordPress. In my professional experience, I have seen that this is usually the escape route for many clients to reduce the cost of the project, but they do this because they do not know the importance of creating a surprising and original brand image.
Tip 12
Do not skimp on the design of your Blog and your brand, since otherwise you will regret it in the future and you will have to pay more in the future to correct this error.
13.- Define an inconsistent hierarchy of the Blog
It is very important to define a correct and adequate category structure for the Blog and put a lot of common sense in your choice.
Tip 13
Do not go crazy when creating categories since the ideal is that you choose and segment your Blog using the least number of them, since if we have many categories and little content we are being inconsistent.
14.- Forgetting to create an Analytics and Webmaster account
If I don't create the Webmaster account, won't Google index my content?
As long as we allow it from the configuration of our website, Google indexes practically everything, but the time it takes to do it is far away when we do not inform you of where you should read our blog site map.
At the same time, Webmaster is the communication channel where Google will notify us of possible errors or incorrect uses in our Blog.
[clickToTweet tweet = »If you don't use Webmaster it's like driving a car at night with the lights off» quote = »If you don't use Webmaster it's like driving a car at night with the lights off»]
Tip 14
Once we have created our blog and we intend to present it in society, before we start showing it to acquaintances or friends we must present it to Mr. Google. For this we will create a Google Webmaster account and define if the objective of our blog is a national audience or not, as well as add our sitemap so that Google indexes our content first.
Creating a Google Analytics account will help us measure the results our blog is getting.
15.- Do not create and send our site map 
Creating a map of our site and choosing how often Google should crawl our web portal is very important so that we can index new posts faster.
Tip 15
For this I suggest you use any of these 2 wordpress plugins:
WordPress SEO by Yoast
Google XML Sitemaps
When we are going to publish new content on our website or blog, we would always like Google to index them as soon as possible in the search engine, therefore, to obtain this objective, give the search engine the greatest facilities so that it can enter the content of your web portal. 
16.- Do not protect the feed of our Blog in WordPress
A very common mistake is not protecting the Blog feed and of this dynamic being able to be a victim of tools that automatically make our content public in many web pages, blogs and forums.
Tip 16
The answer is simple, we have to add an author link that appears at the bottom of all our feed posts, so that from this dynamic we protect the authorship of the content against these automatic tools.
17.- Do not integrate our Blog with Social Networks
Even though it seems surprising at present we can still see many Blogs with little or no incorporation with social networks that favor the dissemination of their contents in the aforementioned social medium.
Tip 17
It is essential to define the degree of incorporation that we want our Blog to have with the social medium, social incorporation goes far beyond simply putting the simple share buttons on Social Networks.
I suggest you install the WordPress Sumome plugin, and your Blog will be a tremendously social tool and you will get:
Amplify social virality.
Increase social traffic.
Get subscribers for the Blog.
18.- Not properly structuring our blog content
It is essential it is important that you know that the first lines of reading are essential to convince the reader to continue reading our article, as well as the structure that this article must have so that it is the most attractive for the user.
Do not make the mistake of writing a blog article without a clear and defined structure. 
Tip 18
The ideal structure of the perfect article for your blog is:
Introduction. We explain in one or 2 paragraphs what we are going to talk about in this article.
Structure of the content of an article. We develop the chapters or parts of our article.
Conclusions. At the end it is very convenient to add some conclusions from the article.
References. We add the sources of information or the credits of the images.
Call to action Share on social networks or add subscribers, etc.
19.- Do not make the most of or abuse the images
The Article loading speed is a very important factor in SEO so we must select well which images we are going to use and optimize them to the maximum.
Tip 19
Follow these recommendations:
Compress each and every image to the maximum.
Insert the image to the exact dimensions that will be seen in the Blog.
Do not abuse normal images or photographs because they tend to weigh a lot, instead bet on vector images.
20.- Do not include subscription mechanisms in the Blog
Getting subscribers to a new Blog should always be one of the main goals But many users make the mistake when creating a Blog to delay or not pay attention to this objective.
Tip 20
You only need 5 minutes to install and configure the WordPress SumoMe plugin. With only one of its applications I have achieved more than 8,000 subscribers, and between all I have more than 12,000 subscribers.

21.- Do not perform an SEO optimization On page of the Blog
In a mistake not taking full advantage of both the blog tool and the content.
22.- Absolutely not translating the theme
Surely you are very used to seeing parts of a blog in English such as the word "comments", "by", "posted" or the date in American format, since it is one of the most common errors in any blog.
This small problem occurs because most WordPress themes are not translated into Spanish and if we have not translated it ourselves, it is very likely that we will find words in English in the header and footer.
Tip 22
Edit the translation files for the .mo /.po template. To do this, look in your template for a folder called "language" and download it to your PC. Then install Poedit which is a free tool that will allow you to edit the language files, and finally replace the language files on your web server.
There is also the option via plugin but this application is ancient and has not been updated for years, therefore I do not recommend it.
23.- Build the URL with the date
Including the date in the blog url is an error because it does not add anything of value to it and increases the number of characters in our URL.
Tip 23
From an SEO point of view, the most important thing is always to the left of the URL, so we have to try to make the base of this URL as short as possible.
24.- Bad configuration of the share button on Twitter
This is one of the most common mistakes in a blog that we ignore since we do not use the buttons of our own blog to share content on social networks, and unless a follower or reader of ours tells us it is difficult for we realize.
Tip 24
The ideal structure of the share button on Twitter is:
Post title + URL + via @cuentatwitter
But in the 30% of the blogs they have an incorrect configuration and use the following format:
Post title + URL
With this format we will be losing the mentions when our followers share the post from our blog, something that is very important to grow the influence of the brand in social networks, and at the same time it is believed that in the future it could influence authority of our web portal, just as backlinks do right now.
25.- Do not take full advantage of the loading speed to the maximum
Not only is it a big mistake from the point of view of accessibility and user experience, but it would also harm our visibility in the Google search engine.
Tip 25
It is essential to increase the speed of our Blog with WordPress to the maximum that is feasible in order to obtain that our blog has a charging time less than 2 seconds.
You should only care about getting the most out of pagespeed with the Google tool, and not other speed analysis tools.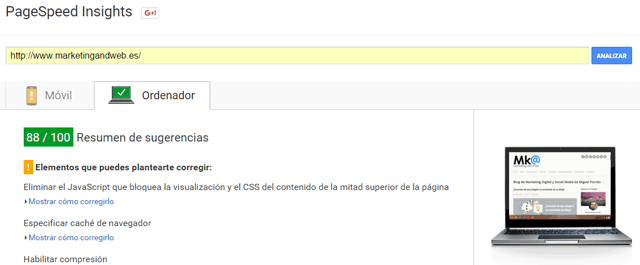 You should try to get a pagespeed above 70, but if you work it well you can get it up above 80 as is my case.
26.- Do not keep duplicate content at bay
There are 1001 alternatives to generate duplicate content with a BlogSome are very simple to solve and others are somewhat more complex, but we must correct them as much as possible.
Tip 26
In this post I tell you how to detect and delete duplicate content from a Blog.
27.- Not listening to what your followers request
Perhaps it is a more common mistake than it should be and always motivated by a poor content marketing strategy.
Tip 27
If you need to facilitate the virality of a content it is very important that you analyze the needs of your followers or readers, now the social impact is paramount.
28.- Publish the content on an inaccurate day and time
Do not make the mistake of publishing content on the Blog, whatever the time and day of the week, since a bad choice can reduce its impact and visibility.
Tip 28
Analyze the behavior of your followers to see what are the best times to publish content on the Blog and Social Networks. I specifically like to publish content on the Blog from 12 to 13 in the morning. In the case of Social Networks, the evening schedule is usually the best time (from 5 to 7 p.m.).
29.- Not having a social community with which to spread the content
Having a social presence is very important so that we can disseminate the contents of the Blog and connect with other relevant professionals in the sector, always looking for quality compared to the number of users in that community.
Tip 29
Do not be obsessed with obtaining hundreds of followers and look for a way to publish high quality content, whatever the source, if you do it well the followers will arrive over time and naturally.
30.- Do not connect with influencers of the theme
If you have just created a Blog and you are a little-known professional in the sector, it will be very difficult for you to interact with brand influencers, since you need to work on your brand image through the Blog for a certain time beforehand.
Tip 30
The first step after creating a Blog with WordPress has to be to improve our Personal Branding and make ourselves known to other professionals in the sector, that over time we will be able to connect with them to determine a closer link, and in this way we can connect with influencers who can give a great boost to our posts.
31.- Not having a mobile device version (responsive) for my Blog
Is there still a blog without a mobile device version?, even when it seems difficult to believe this is one of the most common errors of those Blogs that are 3 or more years old, but taking into account that the number of mobile visits already exceeds 60% makes it totally essential that our Blog count with a version 100% mobile device (responsive).
Tip 31
There are different methods or ways to have a mobile device version of a Blog with WordPress, the easiest is to change to a Responsive theme. 
32.- Not having an SEO strategy
A Blog is in a medium or a tool that uses an SEO Strategy, which seeks as main objectives the:
Improve visibility in the search engine.
Get a greater number of visits.
Improve Brand Branding.
Tip 32
When we are beginners in SEO, we do not know where to start and on many occasions we work in a disorganized way or we skip some essential stages, to avoid this I have decided to create this SEO guide for beginners to guide you point by point how you should make the most of your SEO strategy .
33.- Not having a Social Media strategy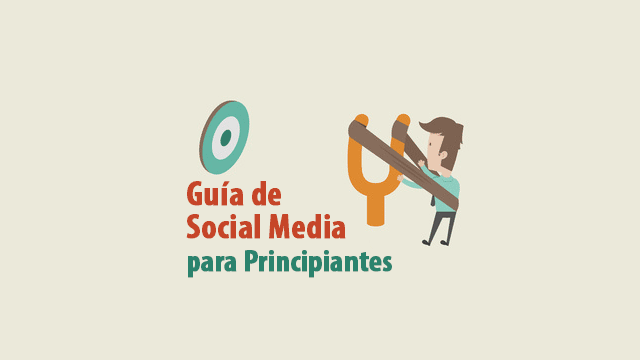 A very frequent mistake that is usually made is to start the Social Media strategy with the creation of social network profiles, even before creating the company's own website or even before they have defined its services or products.
There are other important stages that we must start before creating the new profiles.
Tip 33
Starting to manage and energize Social Networks, goes much further than creating profiles and starting to publish articles or tweets, but consists of a planned and studied procedure, which in the end has the intention of achieving the objectives established in the strategy of Social Media.
34.- Not adding value and utility
Perhaps it is one of the most common mistakes when creating a Blog, since we could say that the easiest and simplest way is to copy what other Blogs do, even though this path will not lead you anywhere in the end.
Tip 34
Providing value and authentic quality content should be the backbone of any Blog
35.- Do not focus your Blog on a specific area
The first step, long before starting to publish content in a blog, is to choose in which areas we intend to specialize with the Blog.
Tip 35
If we open the content areas a lot, we will get more visits but instead we will get fewer subscribers.
On the other hand, if we decide to talk about very specific content, we will sacrifice positions in the search engine and thus visits, but we will increase the number of subscribers who will faithfully follow our Blog.
36.- Low number of publications and doing it irregularly
Google increasingly rewards the number and regularity of content we publish each week, but this is not available to all bloggers unless they have external collaborators to help increase their number of blog posts.
At the same time of the prejudice of the search engine, it is a mistake not to publish content regularly, since we have to accustom our readers to access our Blog several times a week, if we do not publish content regularly they will not do so.
Tip 36
The ideal is to publish 2 or 3 contents each week, if you are not able to reach this publication frequency, give the entry to good professionals to publish content on the Blog.
37.- Write for Mr. Google
It is a mistake to think about the search engine when selecting and making the most of the content of a post, the only objective we have to keep in mind is the people. Gone are the realization of content of questionable quality, and where the keyword was repeated and repeated over and over again.
Tip 37
[clickToTweet tweet = »Always choose useful content that contributes valuable knowledge to your community» quote = »Always choose useful content that contributes valuable knowledge to your community»]
38.- Make spelling mistakes
Grammatical errors or spelling mistakes is the eternal pending issue of many blogs that mistakenly prioritize publishing content to the network as soon as possible, than dedicating the time necessary to review and correct these grammatical errors.
Tip 38
Spelling is not only essential to take care of our professional image, but at the same time correct spelling improves SEO. Its impact on SEO is very low, even though I personally consider that it should be a higher valued feature within the Google Algorithm.
39.- Do not impregnate our contents with semantics
It is a mistake not to understand what semantic Google searches are and how they work. Since the arrival of Google Hummingbird, semantic searches and a struggle for the naturalness of content appear.
Tip 39
Avoid repeating keywords in your content and try to make it look as natural as possible. I suggest you use synonyms for the keyword you have used.
For example:
Error = Failure or mistake
Blog = Blog
Tips = Recommendations
It is essential to use the keyword both precisely and variably, as well as in reverse order.
40.- Not favoring and encouraging blog engagement
It is a mistake to think that users will one day come "all at once" to our Blog, to debate and comment on our posts.
Tip 40
I suggest you participate and comment on other blogs, as well as on the social networks of other professionals to favor and encourage engagement in your own Blog. If you are not interested in the work of others, why should they be interested in yours?
Another way to promote engagement is to mention professionals or blogs within our content.
41.- Not being creative and original
I think that we all always tire of reading the same tips, errors or tools in an article, therefore a key factor to be successful in a Blog is to differentiate ourselves from the rest by having our own way of making content.
Tip 41
Try to be creative and original in choosing the content to publish on your blog.
42.- Not thinking well what the title of your Article will be
It is a mistake to select the title of an article too quickly, since this title will be decisive to impact to a greater or lesser extent on Social Networks.
Tip 42
To select a good title we must take into account the following aspects:
Optimize well the SEO of h1 and Meta Title.
Try to shock and surprise the reader.
Generating curiosity or surprise can be very positive.
Do not forget that emotional marketing is very important for a better dissemination on Social Networks, for this choose an article title that causes some kind of emotion in the reader.
43.- Do not invite other professionals to publish content on your Blog
The time to see other professionals in the sector as the competition is over, now we must enrich our Blog by giving the entrance to magnificent professionals.
Tip 43
It is essential to connect with professionals through Social Networks and invite them to publish a post on our Blog. It is essential that this content publication is never a substitute for the publication of our own article but a magnificent one. complement. 
44.- Neglecting your readers
It is a mistake to neglect our readers of the Blog and we must be quick in responding to the comments they make, think that without readers it makes no sense to have a Blog therefore give them the treatment they deserve.
Tip 44
It is essential that we use a loyalty strategy for our subscribers, offering them totally exclusive training programs, guides and ebooks.
45.- Not knowing how to review or measure the results
It is a mistake to publish content in a Blog and not review their impact on a weekly basis; visits, social impact, backlinks, etc.
Tip 45
In any Marketing strategy it is very important that we can measure the results obtained weekly and that we can make the necessary adjustments in this strategy based on the results that we have extracted from the measurement.
46.- Not knowing to the public that you want to address yourself
One of the most common mistakes when creating a Blog is not thoroughly reviewing the audience to whom we intend to target our posts.
Tip 46
These are some aspects that we must review from the public that we intend to address:
Age
Level of studies
Profession
Sex
Hobbies
The more data we have about the audience we are going to target, the more chances of hitting we have with our content marketing. 
47.- Not properly protecting our Blog in Wordpress
A Blog with WordPress is one of the CMS that receives the most attacks by hackers and we must protect it adequately.
Tip 47
To protect your Blog with WordPress I suggest you:
Always update to the latest version of WordPress.
Always update the version of all WordPress plugins.
Update the version of our theme.
Use a user other than the generic "admin".
Use an antispam plugin
Use a plugin that protects our WordPress and with which we can always review if we have vulnerabilities that can be exploited by hackers.
I suggest you read this article where I show you how to increase security in WordPress.
48.- Having our Blog outdated
Having an outdated Blog is a very serious mistake because we are making it easy for a hacker to pass through and make us "a wreck."
Tip 48
Always make a full backup before updating plugins, theme or WordPress version.
49.- Do not use a hierarchy of internal links
The internal links will promote and improve the authority of other articles on our Blog, as well as offer the opportunity to expand or search for more information on that subject.
Tips 49
Not using internal links is an error from the SEO point of view since our posts will take much longer to get a good authority to reach the top positions of the Google search engine.
50.- Do not make backup copies and monitor it
This one of the common mistakes that can give us more of a headache with a WordPress Blog, especially when an update "plays a trick on us."
Tip 50
You can make scheduled backups by installing the following wordpress plugin.
Choose any of these
51.- Do not encourage the subscription of your readers in Feedly
As I have explained previously, one of the main objectives of a Blog should be to obtain subscribers, but in this case I will focus on those readers who subscribe to our Blog through the Feedly tool.
Feedly allows readers to enter more easily and with better time management to the news of my favorite blogs, so the more subscribers in feedly we have more visits we will have as soon as we click the publish button, but not There are many blogs that encourage this subscription, which I consider a mistake.
Tip 51
Add a Feedly button with this WordPress plugin Or if you wish, create your own button and link it with your URL in Feedly.
In my case it has worked wonderfully for me and in just 18 months I have managed to go from 30 readers to more than 2,450 readers.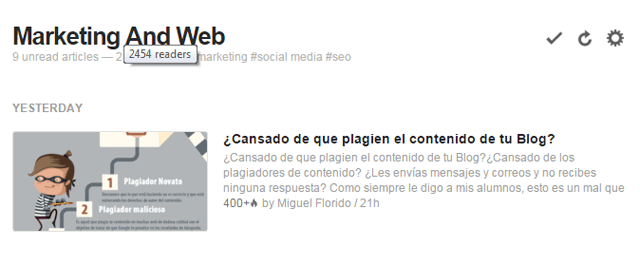 52.- Not having an editorial calendar
Creating an editorial calendar for a blog is very important to plan well the content grid that we will publish in the coming weeks and months.
Tip 52
Minimally create a calendar of publications with a month in sight, even though the ideal would be that you plan the next 3 months of blog publications.
53.- Selecting a bad content strategy
One of the most common mistakes when creating a WordPress Blog is not selecting a correct content strategy.
Tip 53
The first step is to know the user target you want to attract to your community and then do a good keyword research study, to select the niches in which you want to position yourself.
54.- Forgetting to carry out a branding strategy
This was one of the main errors or "gaffes" that I had, I thought that creating the blog and publishing valuable content, and spreading it on Social Networks would be enough, and it is not like that.
Tip 54
Start from minute zero to work on your personal brand. For this I leave you an ebook that will guide you point by point how to improve your branding strategy.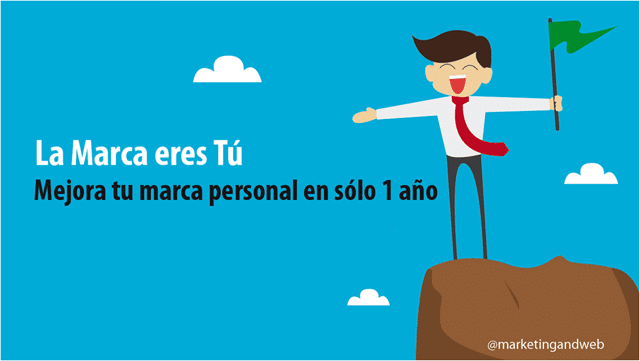 Ebook how to improve your personal brand in just 1 year.
55.- Do not publish in other blogs related to the sector
One of the very common mistakes when you are going to create a Blog is to publish more posts on your Blog than outside of it, when it is completely the other way around.
Solution 55
It is very easy, we have to make ourselves known, so we have to dedicate 2/3 of the publications to relevant blogs in our sector and that have a lot of traffic, in order to make our work known to many more people.
56.- Do not network with other professionals
Do not be afraid to contact other professionals and make proposals for them to promote and publicize your brand.
Tip 56
I suggest that during the first month you focus on working your Blog to the fullest and publish 4 to 6 articles, and from there start networking with other professionals in your sector.
57.- Not being currently trained in Blogging
If you need to create a Blog in WordPress you must be aware of the latest developments in the sector, to see any news how they may affect us or if we have to make any WordPress update.
Solution 57
Spend at least 30 to 40 minutes to read posts from other Bloggers and leave a comment in terms of what you think.
58.- Not defining the user target well
Look at this is one of the most important steps and where our content strategy will be based, if you do not get the definition of that user target right, logically the marketing strategy and its results will be negatively affected.
Solution 58
You need to define what your objectives are and based on that, collect all the necessary information from the company that helps you better define the customer's user target.
59.- To think that if I publish more frequently I will get more web traffic
I see that there are still blogs that continue to publish posts of 500 or 600 words and make public every day, in my opinion this does not work and it will not allow you to increase web traffic.
Solution 59
Bet on publishing content of true value for the user and you will be right, and dedicate all the time necessary to achieve it. To make quality content, there are no limits of length or time.
60.- Not having defined well the marketing kpi

The kpi in marketing are indicators that we are going to determine and that do not help to measure and assess the achievement of a goal.
Solution 60
Do not go crazy defining a large number of KPIs, but you do need to determine some indicators that you can review and measure to see the result of the marketing strategy.
61.- Do not focus web traffic on conversion
There is no point in attracting traffic to a website or blog and subsequently not converting it. This error is very frequent when we start that we wonder if we have to get subscribers from the beginning or instead we should wait some time.
Solution 61
Decide what you want to convert the web traffic you get into, but do it from minute zero.
62.- Not knowing Google's guidelines to create a web page
This is a very common error because most users do not read the Google super stop where it indicates the guidelines and recommendations to follow.
Tip 62
Spend an afternoon looking through it a bit, it is not necessary to read it all from top to bottom, this can help you avoid future penalties for having done something improper.
63.- Do not protect your content against plagiarism
When your WordPress Blog begins to have a good traffic of visits it is very likely that you will meet a figure who over time you will take a lot of "dislike", yes, I am talking about content plagiarists, who want to use and take advantage of your hours of work and effort for your own benefit.
Tip 63
In this article titled "Tired of having your Blog content plagiarized?" I show you how to detect and act in case someone has kidnapped you. You can also join a private Facebook community, for this you just have to leave a comment.
64.- Do not customize the 404 error page
Transform your classic 404 error page into a tool that helps you get leads. Many professionals and companies with a good eye take advantage of this error page as a tool or resource to obtain leads.
Solution 64
There are companies that basically bet on very attractive and original designs, and other companies and professionals take advantage of this page as a space to obtain subscribers.
65.- Not having a marketing plan
A blogger does not have to be an expert and have advanced knowledge to create a marketing plan but they do have to at least make a basic and condensed version of it.
Solution 65
Here is a complete guide that will help you create a very complete marketing strategy.
66.- Do not measure the effort necessary in daily hours
This error is fatal when creating a Blog in WordPress, because if you think that I am dedicating a while and my Blog is going to be successful, let me tell you that your Blog has the hours counted.
Solution 66
The work of a blog is very sacrificing and you need to know, before putting your hands on the wheel of your blog, how much daily time you will have to dedicate to make it work well.
67.- Not finding your differentiating aspects
Well, you may have heard this in a lot of conferences, but of course, when we look at ourselves in the mirror that we see, what are our strengths and what are the weaknesses.
Solution 67
Discover that something in which you are good and stand out, and try to maximize it with your Blog.
68.- Do not create guest blogger guidelines
In the last few weeks several bloggers friends have told me that they have had some problems with bloggers who have invited to their Blog, since the content they have sent does not conform a bit to what they thought they would receive.
Solution 68
It is very easy, if from the beginning you already establish what are the publication criteria in your Blog, with this you will get to erase almost all these communication problems.
69.- Thinking that in a few months you will get a Success Blog
If you know of any case, I ask you to please tell me about it, I don't know of any, and it is logical and normal that to create a successful WordPress Blog we need a lot of work and effort.
Solution 69
Always try to set goals that are realistic, I assure you that your blog will not be successful in just a few months.
70.- Not attending events such as congresses
Attending congresses is an important part of any blogger, since with this we will learn the latest techniques and strategies in the sector, and all this from the hand of great references. At the same time, we will be able to get closer to other professionals and build relationships that will lead us to future collaborations.
Tip 70
Mark on your calendar the events that you are going to attend this coming year 2016.
71.- Do not follow the main references on Social Networks
It is very important that you follow the main references and influencers in your sector on Social Networks. We must obtain proximity and create strong relationships with them that in the future can help us promote our brand.
Tip 71
Identify 5 professionals for each social network you want to connect with and try to create a strong bond with this professional.
72.- Do not follow the main blogs in your sector on Feedly
How many blogs do you follow from Feedly? Feedly is a very useful tool that makes it easier for you to access the data, as well as to find content to publish on Social Networks.
It is a powerful channel to get referral traffic and to get more social traffic.
Solution 72
Start using the tool before you go to create a Blog, it is my favorite place to read and I do not change it for anything. If your Blog is in my Feedly then I follow your posts if not, no, it's that simple.
73.- Not be subscribed to the blogs referring to your sector
It is very important to know the strategies that other bloggers are using with their subscribers.
Solution 73
Therefore I suggest you subscribe to many of them, at least those blogs that you like the most and you will be up to date with all the email marketing strategies.
74.- Not having an email marketing strategy
Do not think that an email marketing strategy is reduced to sending a newsletter to our subscribers, because it is not, we have to know that the objective of email marketing is none other than conversion and that of obtaining money through our subscribers.
Solution 74
Define within your email marketing strategy different types of content; those who want the sole objective of caring for and keeping that subscriber loyal, and those who want to sell and get money.
75.- Do not use a multichannel strategy
I have left until the end what I consider most important and one of the main mistakes when creating a Blog in WordPress is the very high dependence on a single channel. I'm going to clarify it with 6 examples:
Conclusions of the Guide how to create a Blog in WordPress
1.- Always bet on a multi-channel strategy, and thus in the event of a drop in traffic from one of the channels, the visits to the Blog will not be reduced so much.
2.- Choose the target well and design a good content strategy.
3.- Create your editorial calendar of blog posts.
4.- Create a marketing plan that includes a web, social and brand positioning strategy.
5.- Analyze and measure the results.
6.- Learn and enjoy this magnificent one every day. Blog.
I hope these 75 tips and mistakes to create a WordPress Blog they are very helpful on your way as a Blogger.