If you have at your disposal a business related to real estate and you want to update the web in this article we explain the best WordPress templates for real estate.
We talk about eight templates that are very well understood with the latest WordPress updates and that will give your business website a professional appearance without the need to hire a designer or a studio.
VW Real Estate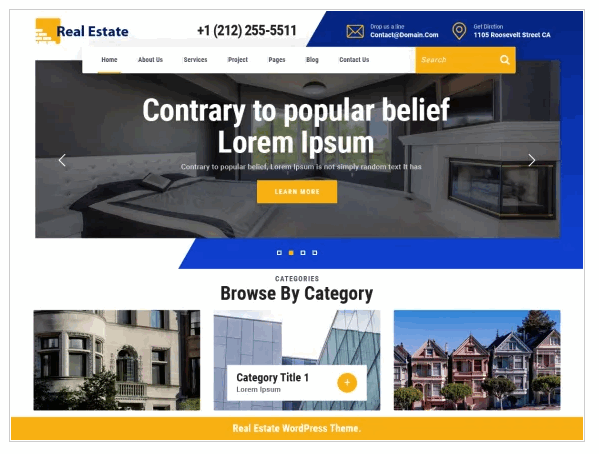 This is a responsive WordPress template designed for real estate and real estate businesses which at the same time you can take advantage of if you have at your disposal a business of:
Plumbing
Interior design
Decor
Gardening
Architecture
But the truth is that with VW Real Estate the possibilities are almost unlimited, it is quite customizable and you can get a lot out of the options it offers.
It is responsive, light, has an optimal code for the SEO.
Real Estate Salient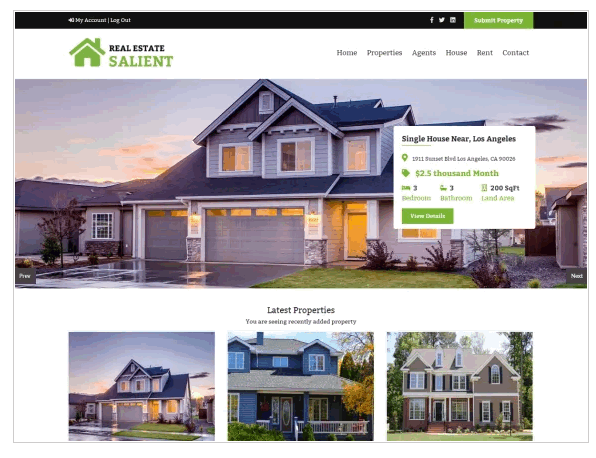 Real Estate Salient is a free theme that was created to meet the needs of real estate agents.
What we like about Real Estate Salient is that it is quite a functional template.
Most of the WordPress themes dedicated to the real estate sector focus exclusively on the visual section.
Real Estate Salient differs from the rest by having advanced tools for property management.
Instead of creating entries you can create and add new properties.
At the same time, it has a property management tool for availability.
You can tell prospects if a flat is available, rented or sold.
Real Estater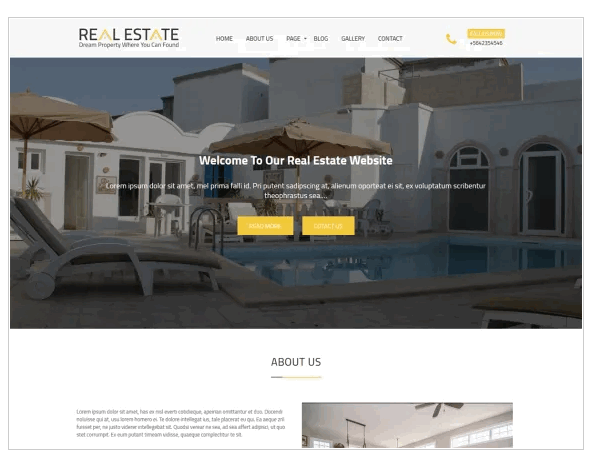 If you want a WordPress template for your real estate that is: modern, simple and easy to customize, then real estater may be a perfect option for you
We are talking about a light theme which has clean code and flawless appearance.
What we liked about this theme is that it is totally resposive and the photos are automatically adapted to the size of the screen of the device from which you navigate.
Another remarkable feature of Real Estater is that it has the option of creating a static page with dynamic items.
This template includes predesigned sections for:
Testimonials
Headers
Equipment section
Headers
Featured images
Image carousel
Real Estate Right Now
If you are in the real estate business and you are trying to design your website you have surely tried tons of WordPress templates for real estate that are a complete scam.
I'm talking about those themes that say they are real estate but later do not offer you any option to manage your business.
Well, Real Estate Right Now is not like those issues.
Unlike most templates with Real Estate Right Now you have access to several options that make your life easier, we talk about features such as:
Advanced Property Search
Plugins to set the price of properties
Black or white design
Social menu
Header sticky
Three footer options
The best part is that you can control advanced functions without having to touch a single line of code.
Real Estate Lite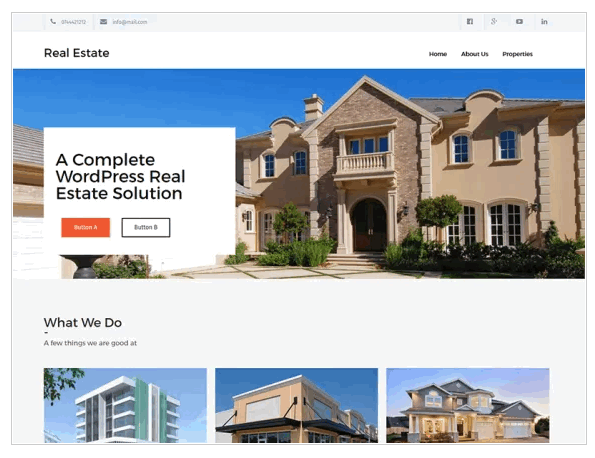 Real Estate Lite is a real estate WordPress template versatile enough that you can use it, even if your business is not directly related to real estate.
One feature that we highlight about Real Estate Lite is its option to image header with text box and button.
This will allow you to take advantage of an important section of your website to promote a specific property or service.
It is an absolutely configurable theme, with which you can modify:
Logos
Headboard
Typography
Colors
All sections of the home page (header, about, form, services)
The free version of this theme is quite complete, but if you buy the pro option the chances are at least tenfold.
The payment option gives you access to dedicated tools for the real estate sector.
Realestate Base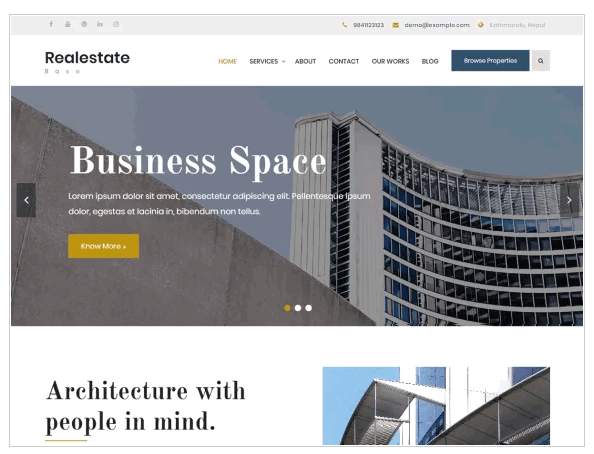 Realestate Base is another WordPress template for real estate, but it would be unfair to say that it only serves to create websites associated with properties and real estate.
The truth is that Realestate Base is a WordPress theme with which you can create clean and sophisticated design websites even if you don't know how to program.
You should not touch code and the best:
You can design the website you want in just a few minutes.
The only difficult thing will be to select which design to choose, later capturing your ideas will be quite simple.
VW Construction Estate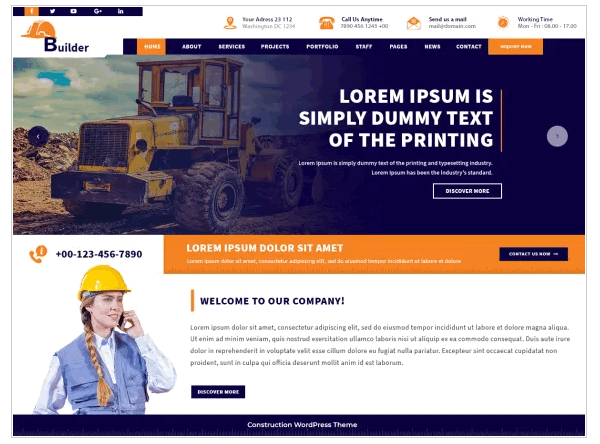 VW Construction Estate is more than just another WordPress template for real estate, with it you can have a professional website in minutes for your business of:
Real estate
Building
Spare parts
Architecture
Decor
Contractors
Carpenters
Electricians
Blacksmiths
If your business has to do with houses then VW Construction Estate may be the template you need.
It is multipurpose and offers dozens of customization options.
Social media menu
Main menu
Contact Menu
Logo
Header with call to action
At the same time, its code is clean and optimized for SEO.
With VW Construction Estate loading times will never be a problem (just make sure to upload images with proper resolution and weight).
fRealEstate
There may be other WordPress templates for real estate more popular than this one, but fRealEstate has nothing to envy other themes.
It offers enough customization options that you don't need to install any plugins. We talk about:
Multi-level menu
Effects edit
Home with slider
Static page option
At the same time it is quite light, easy to use and SEO friendly.
Among so many WordPress templates for real estate, which one to choose?
Maybe after seeing this selection of themes you are wondering "Which one should I choose?"
It is time to choose.
There are many options, but there is no chance of being wrong, each of these templates offers the benefits that every real estate website needs.
Of course, keep in mind that it is not only a matter of aesthetics.
A good WordPress template for a real estate business should offer other options for managing and organizing the properties that you upload on the web.
And if you want more templates, you can read this article from tuwebdecero.