At the beginning of the year facebook enabled Creator Studio for Instagram. In the following article we are going to explain you step by step so you can manage your posts with Creator Studio.
What is Creator Studio?
To begin we will say that Creator Studio is a completely free and official Facebook tool that It will allow us to program all the Instagram content directly from our PC.
Stories cannot be scheduled yet, but posts and posts can be scheduled on IGTV
Creator Studio had previously been online for a while, although it was only available to manage a Facebook page. Now it has been a habit for Instagram.
Connect your Instagram account to Creator Studio
The first thing we must do is link our instagram account, for that, we will register in Facebook Creator Studio.
The only ones fundamental requirements so you can use this tool are:
Have an Instagram account and a Facebook page and that both are linked.
Have a company or creator Instagram account.
Clarification: you will only be able to see information about posts and stories that you have published since you switched to a merchant or creator account. In other words, if you convert your Instagram profile from personal to commercial today, you will see the statistics only as of today.
Step 1: Access the web
Enter from your PC to Facebook Creator Studio by clicking on the following link:
https://business.facebook.com/creatorstudio/
Step 2: Connect account
Link your Instagram account by clicking on "Connect your account".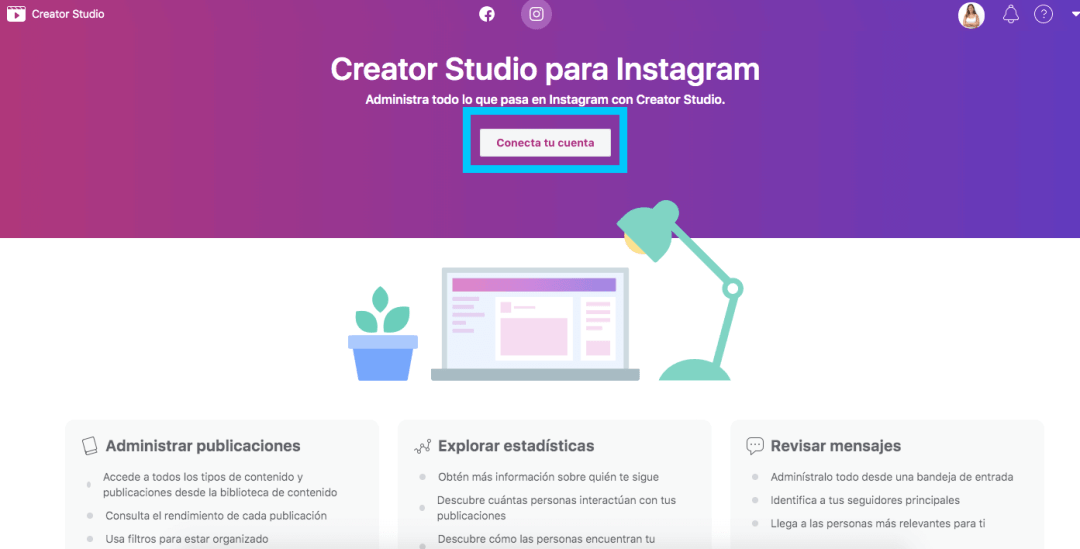 These steps are really simple and easy, you should not have more complications.
After this, you will have access to Facebook Creator Studio.
Important- When connecting an Instagram profile to Creator Studio, anyone else with a role on the Facebook page connected to that account automatically gets access to it in the Instagram section of Creator Studio.
How to use Creator Studio for Instagram?
Once you have linked your Instagram account to Facebook Creator Studio, you will see the tools to manage your IGTV posts and videos from your PC. What is the platform like? We will see it below.
The Instagram content library
Is Creator Studio content library is a repository of your videos, photos, carousel, stories and publications of IGTV from Instagram.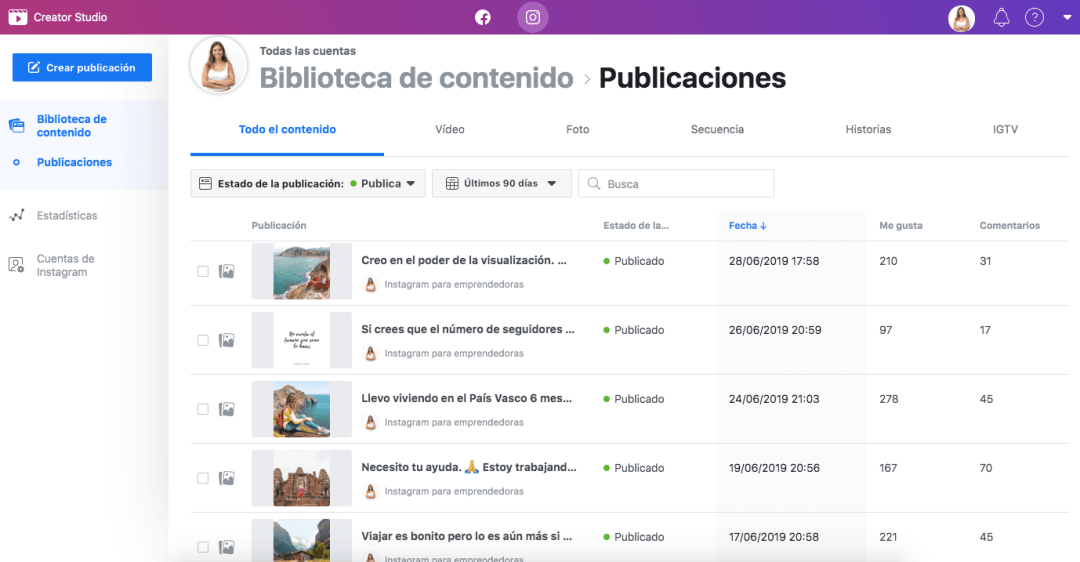 When you click on any of these contents, you will see a section with statistics and their performance.
These are the same metrics that you can see from your mobile: interactions, new followers, reach, impressions, etc.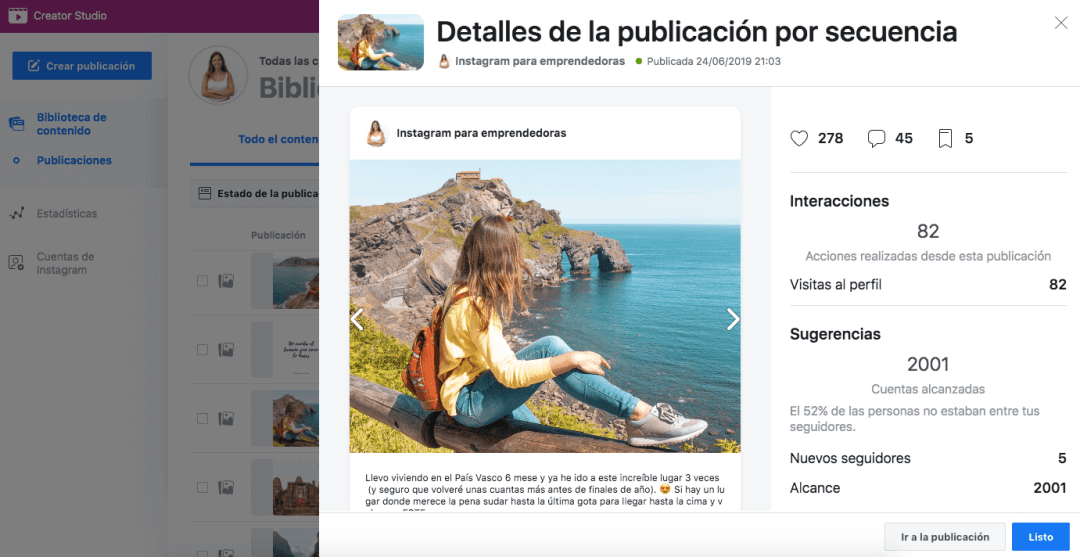 Important: the statistics that you will see when you click on any item in the Content Library are modified according to the type of content you have selected.
For example, the reports of the stories are different from the content that you have published in your gallery.
How to program your content with Facebook Creator Studio
Already with your account Facebook Creator Studio, we will start scheduling your Instagram posts directly from your PC.
Step 1
Go to the button «Create Post»Found in the top left and then«Instagram news»(In case you want to publish an IGTV video, select the second option).

Step 2
After you have selected "Instagram news", A pop-up window will appear on the right where you can do the following:
Attach an image / video (or more than one to create a carousel)
Write your description
Add a location.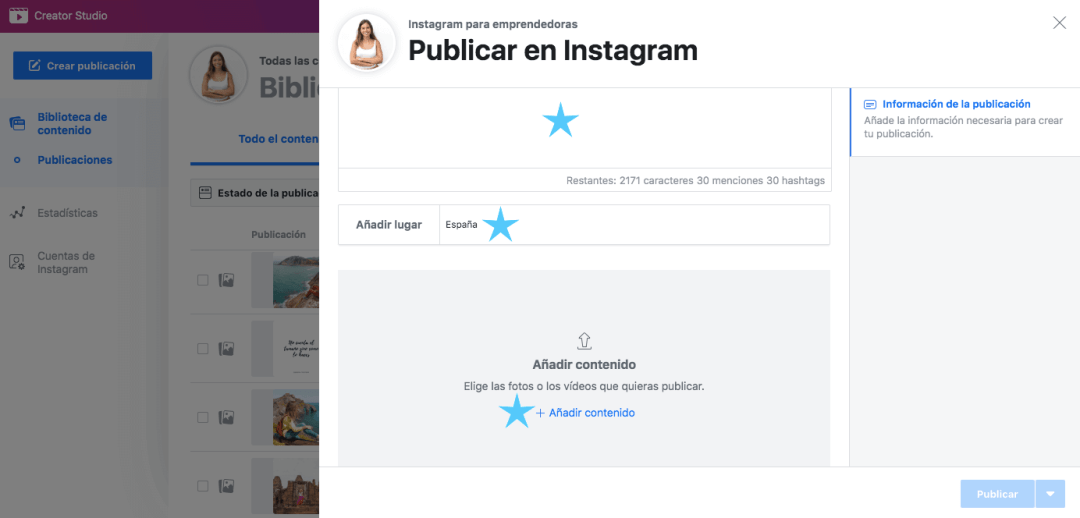 Step 3
With this ready, what you need to do is go to the "Publish" button and select "Program". Next, a box will appear with a calendar and the hours. Here you just have to select the day and time to schedule your publication.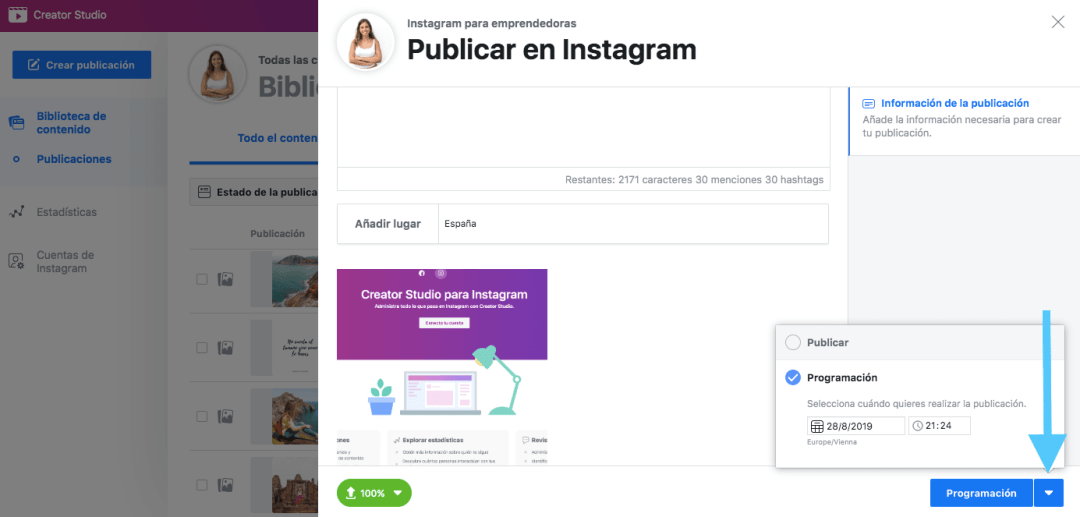 We recommend you look at the statistics to know when your audience is connected to Instagram.
Statistics for Instagram
In this section within Facebook Creator Studio, you will find two tabs:
1. Activity statistics: with visits to the profile, to your website, impressions, reach, likes, etc.
2. Audience statistics: country City, age, gender, when they connect, etc.
Inbox
Creator Studio nucleate your posts and message management. From here you can reply to the comments they have left on your publications.
What Differences Between Creator Studio and Onlypult?
Until relatively recently, to manage our Instagram posts from the computer I used Onlypult.
Although Creator Studio is free and the official Facebook tool, it still has a lot of work to do to get to the levels of other programming tools. Onlypult contains several advantages over Creator Studio.
What I especially miss in Creator Studio for Instagram is:
1. Creator Studio do not allows you to preview from your gallery.
2. Creator Studio does not allow us to add the first comment. Therefore, you will have to put your hashtags in the content description.
Opinion
Facebook has been working hard to make content management easier. Scheduling our Instagram content should be easy. But facebook creator studio still it is not yet up to standard with other programming tools such as Onlypult, Later or Planoly.