Through this app we will get metrics of the Instagram accounts that interest us. With Pikdo no need to register to visit Instagram accounts we long to see.
Depending on which side of privacy we are looking at, at Pikdo the stories cannot be seen, we will only see the biography of the profile, the photos and videos uploaded to the feed and other data such as likes and comments.
What is Pikdo?
Pikdo, a website with a very simple interface that makes it easy for you to view public IG profiles without leaving a trace.
This simple app allows us to see Instagram profiles of all the people we long for (as long as they are public profiles), but without the need to enter our credentials, without registration of any kind, or authorization, and whether or not we have an Instagram account.
Pikdo is accessed via browser and its use is very simple. When you log in to Pikdo and search for a profile, we receive a lot of information including the followers, the most common hashtags, as well as the mentions and even the filters used in the photos.
Pikdo What is it used for?
Although basic, Pikdo works quite well for free. For search profiles by their username and search posts by location, it's more than useful.
Pikdo It also works through the API (Application Programming Interface) of Instagram, although this is not allowed in private accounts, it is an extraordinary tool to break down useful information that you can get on your own and use that information for the growth of your page .
Likewise, it is feasible to see the accounts of other users, their followers, stories, location, most used hashtags, mentions, content, statistics, and even the filters used in the photos, without the need to enter credentials, without registration or permissions and without have an account on the platform.
To start using Pikdo, you need to do the following:
We access your Official Web
In the search bar we write the name of the account we want to visit.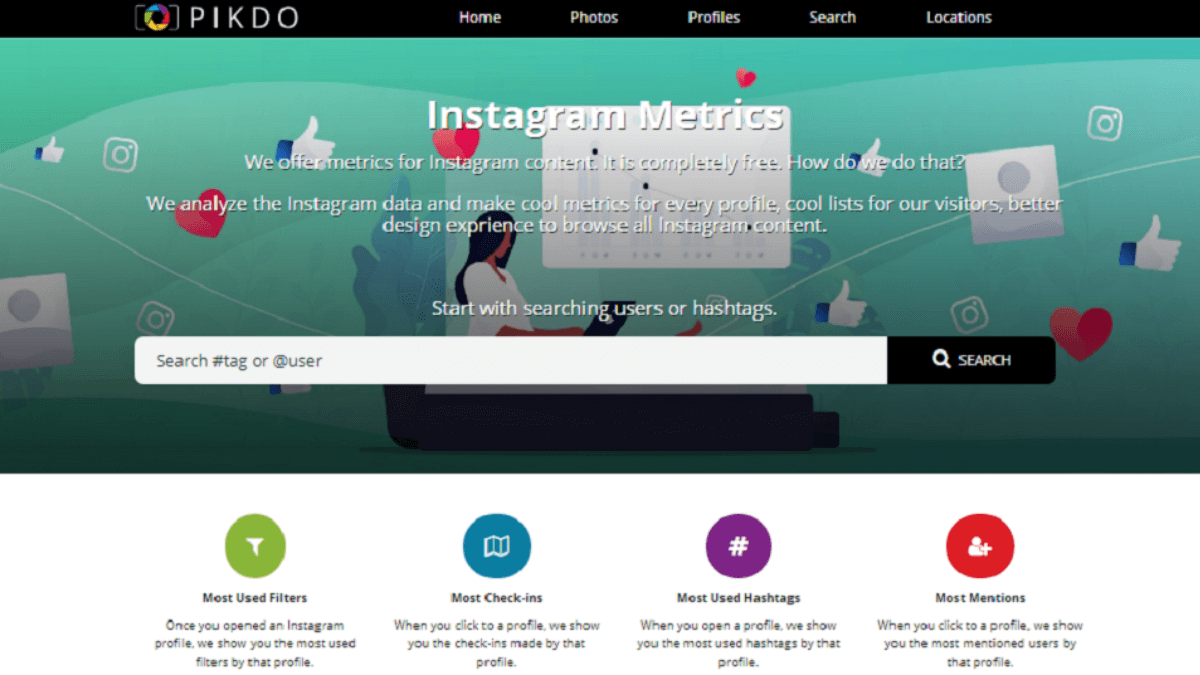 Click on "Look for", and that takes us to a screen where we have to choose the profile we are looking for, since there may be several with the same or very similar names.
Now it takes us to the chosen profile and we have all the information there.
The funny thing is that at the same time you can search for tags, that is, hashtags. What is the problem? Who is looking for what he wants. In other words, we we write «#cat» and the web looks for us Catalonia.
If we click on the "Profiles" tab, in the black bar above, we see a top 100 with the most influential profiles on Instagram.
At the same time, with each search we do in Pikdo, at the bottom we will see the Most popular hashtags on Instagram.
Pikdo advantages
Among the advantages of Pikdo , we can find that, you can grow your account like a professional Instagrammer, since you can analyze the accounts of celebrities, as an example, and know the reasons for their popularity.
At the same time you can analyze the strengths of your profile or your post-engagement rates. That is why it is ideal to boost your organic content strategies. Because, it enables you to analyze and improve your efforts to enhance your profile.
In addition, as we said before, you can search in it for the best or most popular labels to strengthen your account, also, search for profiles by location and if you click on the "Profiles" option, in the black bar above, you can see a top 100 with the most influential Instagram accounts, among other functions.
It can also be useful to generate hashtags on TikTok
Attention!
Alternatives to Pikdo
You may have seen that Pikdo can be offline. This is because its creators must adapt to the policies of Instagram to avoid falling into infringements. For this reason we leave you an alternative so that you can get the most out of Instgram tags with the app to generate Sistrix labels