5 Best Ringtone Maker Apps for Android: Whether you're sick and bored of your old ringtone or absolutely obsessed with a song you've recently listened to, ringtone maker apps make the task a breeze. Aren't some songs so amazing that you want to hear them all day, and what better way than to make them your ringtone? And aren't we all guilty of searching the Internet for the tune version of a song? Well, what if we say that you can make your own ringtone? If you are looking to make your own custom ringtone and adjust your favorite songs to your personal style, you are in the right place. In this post, we will talk about some truly cool ringtone maker apps that you definitely need to check out.
5 Best Ringtone Maker Apps for Android
#1 Ringtone Maker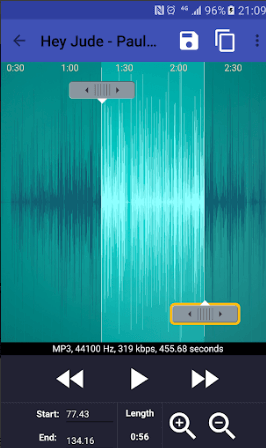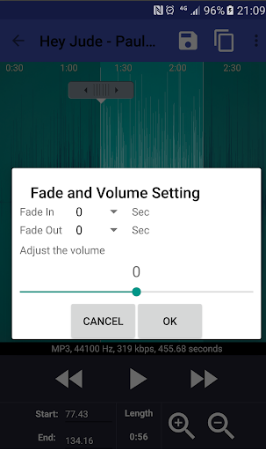 This is a free music editing app that you can use to make ringtones, alarm tones, and notification tones. Cut and merge your favorite parts of various songs to create custom ringtones with the super easy interface of the app. You can easily trim songs using the available swipe option or by directly entering the start and end time. Supports a large number of file types, including MP3, FLAC, OGG, WAV, AAC / MP4, 3GPP / AMR, etc.
Other features of this app are fading and volume adjustment of MP3 files, previewing ringtone files, assigning ringtones to specific contacts, remapping ringtones to contacts or remove a contact's ringtone, up to six zoom levels, save the trimmed tone as music, ringtone, alarm tone or notification tone, record new audio, sort by track, album or artist, etc. You can play any chosen portion of the audio with an indicator cursor and let the waveform scroll automatically or even play some other portion by tapping on the desired area.
The app is ad-supported, but you can also opt for the ad-free version of this app, which is paid, but also with some added features.
Download Ringtone Maker
#2 Ringtone Creator - MP3 Cutter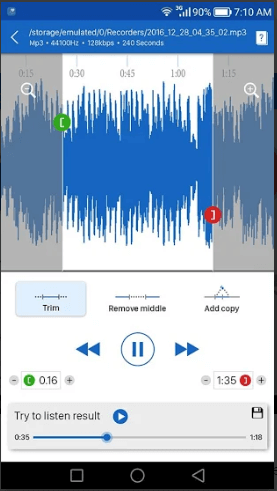 Ringtone maker - mp3 cutter is another powerful application to edit and trim audios and songs, to create custom ringtones and alarm tones, etc. And don't be guided by its name, since the app not only supports the MP3 file format, but also FLAC, OGG, WAV, AAC (M4A) / MP4, 3GPP / AMR. You can easily find the songs and other audio files on your device from the application itself or record new audio for your ringtone, also in your preferred quality from the 7 available options. You can trim and combine different songs in one tone. Again, you can assign the chosen ringtone to one or more specific contacts and manage the ringtones of the contacts from the app. Plus you have some nice features like cropping, removing media, and adding copy, which makes the app even more useful.
You can see a preview of the tones you want to edit and hear the results. This application can trim the audio or songs with a perfect cut to the millisecond. Great, right?
Download Ringtone maker - MP3 cutter
#3 MP3 Cutter & Ringtone Maker
(*5*)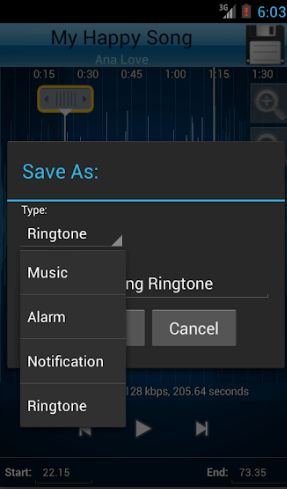 You should go for this app if you want to make a simple ringtone by cutting out a part of the desired song. This application is compatible with MP3, WAV, AAC, AMR among many other audio formats and it is free. You can trim part of a song to make a ringtone, an alarm tone, a notification tone, etc. You can choose a song or an audio from your phone or make a new recording in this application. You can see a scrollable waveform for the chosen song with a zoom of up to 4 levels. You can enter the start and end time manually or by scrolling through the touch interface.
The features of this application include audio recoding for editing, the option to delete the created tone, play and play the music from any part of the audio. You can save the created ringtone with any name and assign it to your contacts or make it the default ringtone through this application.
Download MP3 Cutter and Ringtone Maker
#4 Ringtone Slicer FX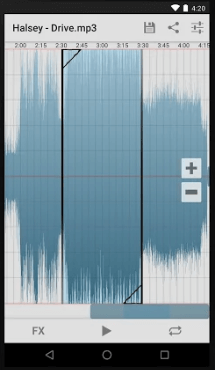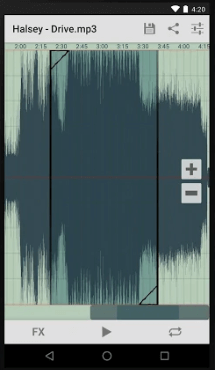 Ringtone Slicer FX is a free application that you can use to edit your audios and make tones. This application also has different color themes for the audio editor interface, which is one of its unique features. The app has some cool effects to help you create your own ringtone, like fade in and out, equalizer to boost bass and treble, and boost volume. That is truly impressive. It has a built-in File Explorer, which makes searching for songs extremely easy, since you don't have to scroll through a single list of audios. With its intuitive ringtone editing interface and landscape mode, this one definitely tops our list.
The app is compatible with MP3, WAV and AMR audio formats. And what is more pleasant is that you can even save the file in your preferred format. You can play from any point of the audio with a simple touch and listen to the edited audio. You can save the audio with any name you want and the saved file will be available in the Android audio selector.
Download Ringtone Slicer FX
#5 Doorbell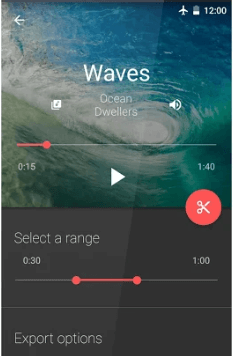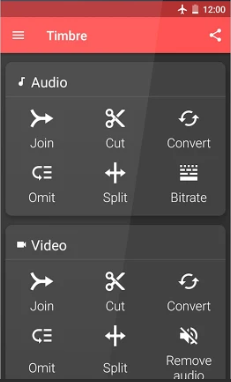 This is another super efficient and multipurpose app that you will definitely want to check out. They comment that it is a "critically acclaimed" application for audio and video editing. The app is free and can be used to create ringtones not only by editing audios but also by converting videos into audios. Yes, that is doable. It supports a wide variety of formats such as MP4, MP3, AVI, FLV, MKV, etc. You can easily trim or even combine your audio or video files to create your perfect ringtone.
The extra feature of the app is that you can create GIFs from the videos. At the same time, you can convert video and audio formats if you want, let's say WAV to MP3 or MKV to MP4. Timbre is a complete audio and video editing application, since it allows you to divide the audio or video into two parts, omit a certain section of an audio or video, or even change the bit rate of the audio. At the same time, you can change the speed of the audio or video and make slow motion videos. Overall, this is one of the truly great apps out there.
Download Doorbell
So that's it. These are a few amazing apps that you should try if you want to make custom ringtones.
I hope this guide has been able to help you choose the best ringtone maker apps for Android, but if you still have any questions about this guide, feel free to ask them in the comments section.