The Duplicate Content Checker, or duplicate content reviewer, is used to find duplicate content on the Internet. Based on the results of the analysis, webmasters and SEOs can directly target duplicate content using canonical tags or other measures, since duplicate content prevents a good ranking of a web portal. From a legal point of view, a duplicate checker can help find illegal copies of content.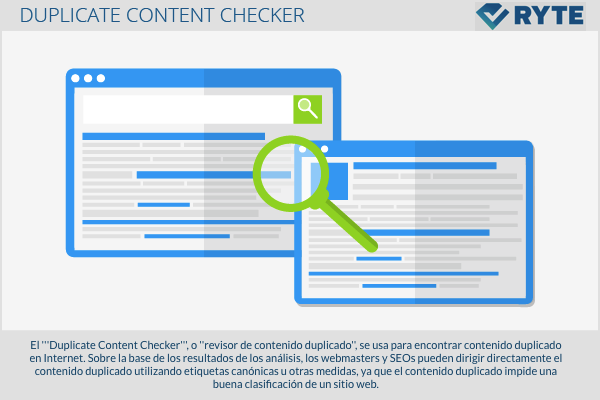 Functioning
This tool works on the same principle that Google uses to establish duplicate content on websites.. Analyze a content and find if there are other documents with the same content or too similar. This is possible thanks to the Google database, its index. The web portal is analyzed word for word.
characteristics
The Duplicate Content Checker has several characteristics:
Content plagiarism analysis
Automatic analysis of the web portal content
Background check, background
Availability through any device with Internet
Segments of interest
There are different groups of people who can benefit from this tool, for example, website operators can make sure that their content is not copied by other people (plagiarism).
Each web portal should always certify that the content it has at that time is unique. This can easily be done through audits. Therefore, in the case in which someone wants to plagiarize your content, you will be able to prove that yours was disseminated before.
Limits
Although this tool offers protection against plagiarism, there is no guarantee that this will not happen. The Google database does not save all the data generated on the Internet. In this way, all those pages that have not been indexed by Google will not be analyzed. Even if a web portal has been indexed, it is very likely that it contains pages that have not been and therefore is beyond the scope of the analysis of this tool.
In this way, even though the Duplicate Content Checker have not found duplicates, it is possible that they do exist. At the same time, this software does not offer any security for other materials such as that the content has been printed and used in a book or magazine.
Another problem is the sensitivity of the tool. If the user wants it to be safe, he should set it to low sensitivity. In this circumstance, the user would receive hundreds of messages of phrases with 3 or 4 words that appear in other contents and the analysis would become too long and complicated.
Relevance for SEO
For him SEO, the Duplicate Content Checker is a useful tool to avoid Google penalties for duplicate content.
Web links