The term "Brand Bidding" refers to the positioning of brand keywords, that is, try to appear in the search results of your brand or that of your competitors. These days, almost all companies advertise their brand on the Internet and try to appear in search results with specific keywords. Ranking for specific brand names in search engines is called "Brand Bidding."
General information
The Brand Bidding it is part of Keyword Marketing and is sometimes used negatively, primarily when it affects competitors' brands. For example, company X ranks in SERPs with the brand name of company Y. Therefore, ads from company X appear in search results when a user performs a specific search for company Y. The idea is to redirect these users to the web portal or to the advertisement of company X, despite everything, these users were simply interested in company Y.
The more companies or users try to rank in the SERPs with a specific keyword, the more the price of that particular keyword goes up. Continuing with the previous example, this means that for company Y, positioning itself with its own brand name will be much more expensive since its competitors are also using its name.
When your competitors position themselves with your brand, it is essential that you also do it. Even though this increases the price, branding helps increase traffic to your ads. For small companies it is very useful rank for specific keywords and Longtail combinations. Brand Bidding is carried out through commercial promotion platforms such as Google Adwords, Yahoo! and Bing Network.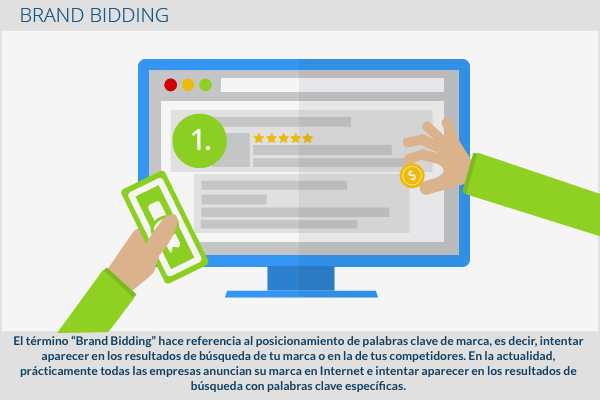 IMPORTANT: you should always take into account the positioning limits for your competitors' brand name to avoid violations of current regulations.
Examples
Position yourself with your brand
The ABC company wants to position itself in the SERPs with its own brand. AdWords ads include keywords with the name "ABC." Therefore, if any user searches on the term ABC, he will be able to see the ads of this company.
Position yourself with your competitors' brand
Company ABC would also like its AdWords ad to appear when a user searches on the name of its competitor XYZ. For this reason, ABC creates an advertising campaign with the brand name of its competitor as the keyword, "XYZ." Now company ABC will appear in search results next to its competitor. Positioning for competitors' brands is generally considered a violation and may lead to legal action. For this reason, it is necessary to establish precisely what are the legitimate criteria to carry out said advertising campaign so that it respects the legal framework.
Brand Bidding and trademark violation
The fact that the Brand Bidding Whether it is a practice permitted by law depends on two factors. The European Court in principle has not prohibited it but it has established the limits that companies should respect.
The ad should make it clear that the competitor's brand name was basically used and that it is not the company the user was looking for. That is, the user must be able to easily distinguish the company that placed that ad with the company that they were really looking for. This also applies to any web portal or landing page to which this link redirects.
The brand name used must not appear in the advertisement. That is, the competitor's brand must appear exclusively in the head of the ad and it should be easily distinguished from the advertising message.
The legislation is focused on the consumer: he must be able to easily distinguish which is the competitor of the company that he was really looking for and that, therefore, should not appear in the SERPs. Still respecting this, there are particular cases in which we could say that such advertisements are legally disputable. For example, positioning yourself for brands of specifically well-known companies can constitute a 'gross violation. At the same time, it is recommended to be very attentive to this type of commercial promotion since the regulations may be different in different countries.
Brand Bidding in Online and Affiliate Marketing
The Brand Bidding It is a practice mostly used in Affiliate Marketing with the aim of increasing traffic on the web portal. Traffic, as such, does not necessarily mean an improvement in ROI or more sales. In the case of online stores, for example, the use of specific keywords that invite the purchase is more important, since they are usually more effective than basically increasing traffic (that is, you can increase traffic on your web portal with users who are looking for precisely what you offer them or with users who are simply not interested).
In connection with the brand positioning of competitors, there are many legal aspects that can entail extra costs. The Brand Bidding it is useful if it is carried out in a legal and legitimate way. Despite this, Adwords experts recommend focus on themselves, your own brand and, fundamentally, important and relevant keywords.