The adaptive content (adaptive content in Spanish) is a content strategy technique designed to be presented on different channels and interactions between users and these channels. It consists of content conceived, planned and developed around clients, their interests, their mood and their goals. [1] The content is adaptable if it is published or advertised on all channels and users can interact with this type of content in their day-to-day, both online and offline.
General information
Behind the creation of adaptive content is the diversification of distribution channels and, consequently, the way in which users or potential customers interact with the content of these channels. Internet searches are increasingly carried out via mobile devices[2] and the answers to the navigation questions have long been customizable. Therefore, company websites that have integrated information, such as Google Maps or iPhone maps, can show users where they can find what they want and help them find their way.
Even the search in the Google search engine is adaptable in some respects. Depending on the type of search query that a user has entered, the information that helps users is displayed directly through features such as the Knowledge Graph, or the representation of structured data. However, adaptive content goes far beyond the provision of information. The added value of the content and the consideration of the different scenarios in which users may find themselves are of special importance. The content is wonderfully adapted to each scenario, exploiting all the technical alternatives and satisfying the user's needs to the maximum.
Adaptive content: basic items
The foundation of adaptive content is content with specific characteristics. The model used in this circumstance is called COPE: Create Once, Publish Everywhere.
Multiple use: To publish content on different channels, it must be designed in a certain way. It is initially created in a rudimentary way, regardless of the subsequent publication format.
Structured: All content must be structured sensibly, regardless of the device on which it is to be read or viewed.
Tagged with metadata- The metadata describes the content so that the specific device can interpret it.
Personalized: Whenever feasible, a personalized approach to the target group should be carried out. Different target groups have different content requirements on different channels. The content can be adapted to the different characteristics of a target group and their respective needs.
Technically suitable for publication: Content management systems and publishing tools can simplify publishing. Some CMS must be sensitive per se and there are special APIs that allow different output formats.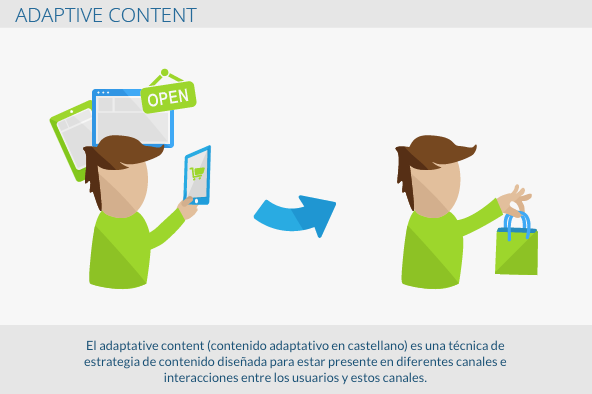 Adaptive content in practice
An example to illustrate adaptive content: A mobile device user is located in a specific geographic location, such as a store. Search for information on an optimized web mobile device about the company, a product or a service offered there. Content is responsive if it includes geographic location and takes into account how the user performs their search. Can that user buy a product right there with their mobile device, pay for it electronically and then receive it at home, given that they already have other scheduled appointments? If the mobile web device or shopping app offers these features, all responsive content conditions will be met.
The channel in which the content can be found is not the most important factor here, but the level of interaction that the content offers. When a user is at the point of sale, they are presented with different alternatives to interact. You can, for example, take the product home directly, order it online, or leave a review about the company and your customer experience directly. In practice, adaptive content is published across multiple channels, is used for different purposes (for example, to solicit feedback or to market a product), and results in substantial user interaction[3].
Importance for Online Marketing
The overriding strategy of content marketing doesn't start with the publishing platform. It begins long before that phase with the content creation. These contents are not only useful for users, but are also adapted to different channels and usage scenarios. The starting point is the user and their different wishes, expectations and needs. Similar to a customer-centric approach, users are the starting point for all activities.
If the content can anticipate the user's questions, the effects are likely to manifest immediately. Responsive content can significantly increase interaction with users and customers. Some side effects of interactions can be recommendations from other users and an altered perception of the company. Feedback has a positive effect on the confidence of potential customers and the technical possibilities of interaction are evidence of a high degree of innovation. Especially in technical industries, this can be a competitive advantage.