The term Snippet (literally translated into Spanish means cut or fragment) has different meanings in the technology industry. It is currently a definition that is commonly used to refer to the clippings, short summaries, that appear in Google search results. The snippets found in SERPs naturally depend on the search being performed.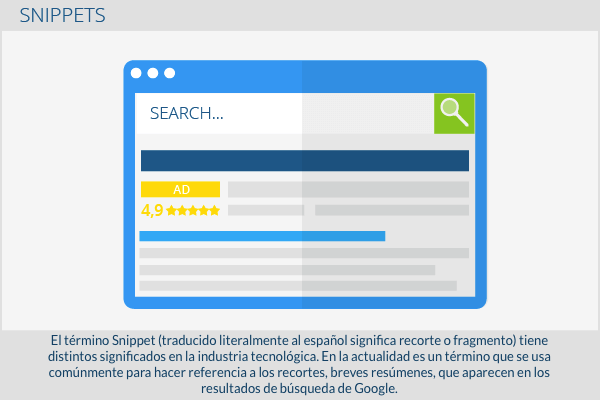 Components of Snippets
A Snippet it is generated automatically by search engines upon receipt of a search request from a user and displays a brief summary of what the URL contains. Displays the title, a short description, and the URL. If these items are too long, they will appear cut off by the maximum established by Google.
There are several types of Snippets and sometimes it is possible to also present the author's name or date through the labels Fresh Tags.
Bold Keywords in Snippets
When a user performs a search in the Google search engine with a keyword, if it appears in the snippet, Google shows it in bold. It is a technique promoted by Google to boost the user experience and help the user to quickly identify the relevance of the results that are offered.
A webmaster can benefit from this by using bold keywords in the description to get the user's attention. However, the meta description does not directly influence the ranking of websites in the SERPs.
Rich snippets
Apart from the Snippets common, there is another version of Snippets called "Rich Snippets" containing items such as stars, images, videos, etc.

To generate these Rich snippets information is used with the HTML markup language that is placed in the source code of the web portal. This markup helps Google to recognize and read the information. With the use of schema.org you can easily establish which are the most important HTML tags for the web portal and the structuring of the data.
The following data is accepted by Google:
Feedback
Authors
products
Institutions
Prescriptions
Events (edit)
Music
Thanks to Rich snippets and his tool "Rich Snippets Testing Tool" it can be verified if a web portal already has the Rich snippets in the Google search engine or not.
Rich Snippets Benefit
The main advantage of Rich snippets it is essentially that they help to get the attention of users. Through images of, for example, the author and items such as customer reviews, webmasters increase trust in users. All this helps to improve the number of visits to the web portal and increases the Percentage of Clicks - CTR, which positively influences the positioning of the web portal.
Web links