A microsite (Microsite in English) is a web portal that extends or expands the information and functionalities of a main web portal. Normally a microsite it is linked to the main web portal but focuses on only a few specific points.
Some examples are: the introduction of a product category, a specific advertising campaign or an event. The microsites they have a separate URL and work independently. They use specific keywords and backlinks that connect them to the main web portal.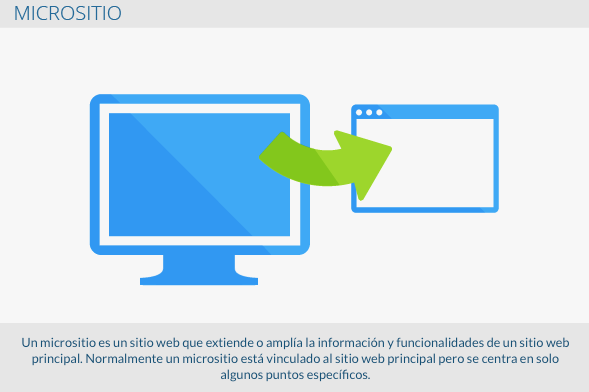 Objective and characteristics
Microsites offer many advantages in connection with online marketing: they inform users of something specific, such as a particular offer for a smartphone of a certain model, or an exhibition in a museum.
Users are not given information or other options that may distract them from the main objective. At the same time, through the links backlink visitors can reach the main web portal easily. This increases the number of visits and the opportunity for them to become buyers.
They are also used for SEO. The Microsites Of reduced dimensions that have been optimized with specific keywords are a good way to improve the positioning, fundamentally when the main web portal is not sufficiently optimized. This is why it is recommended to always stay updated on OnPage Optimization.
Origin
The microsites They began to be used at the beginning of the 21st century. The websites were too complicated for the incorporation of interactive ad campaigns. This is why it was easier to create mini websites primarily for those specific offers so that they could be launched earlier. One of the first microsites that made an impact around the world was the advertisement of Burger King "El Pollo Servil" advertising a chicken burger in 2004. The microsite with the chicken, through which the order could be placed, it received more than 750,000 visits. Since then many other entrepreneurs decided to adopt this method and obtained even better results.
Disadvantages
Experience shows that many users get confused when reaching a page with a different URL and a different layout. At the same time, in many microsites It is difficult to return to the main web portal.
Experts criticize that users who browse microsites without domain authority, known in English as DA - Domain authority, they may be infected by viruses or spam. In this way, many users avoid entering these sites.
The cost of a "microsite" with its design, its own CMS template and maintenance is relatively expensive in the long run. For this reason, it should be avoided under any circumstances to exceed the benefits of advertising campaigns.
Apart from this, those who use the microsites As a means of boosting their SEO they could be disappointed: factors such as the authority and credibility of a web portal are more important than the number of visits.