The juice link, Google Juice or Linking Juice, define the distribution of the backlinks found in a web portal and the power or fame that these links have. Both the quantity and the quality are decisive for the classification of said Link Juice.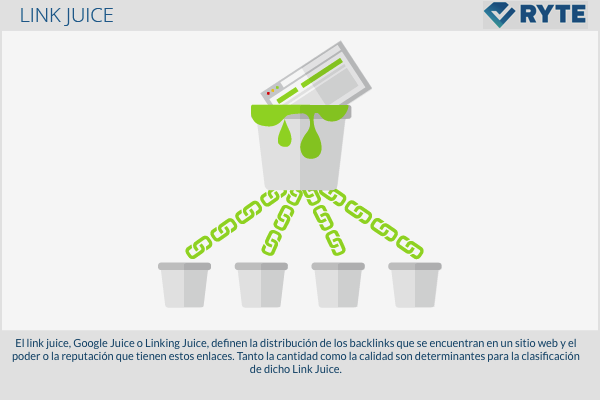 General information
While individual algorithms like The PageRank, TrustRank or the author rank, which represent factors specific to a web portal or its content, the Link Juice it is a metaphorical definition that evaluates various factors. The quality of the incoming Backlink link, the quantity and the way of distributing said links in the web portal are factors that are evaluated to establish the link juice of a web portal. This formula was created by Greg Boser.
In addition, other criteria are considered such as: content, prices, metadata or positioning in the SERPs. As a metaphor it could be said that the juice link represents a river with overhangs: the main channel is a powerful web portal, which has most of the juice link and the projections benefit from juice link of the main channel.
Relevance in practice
In practice, it is recommended to prevent pages such as the legal notice from receiving part of that juice link. For this reason, a few years ago, the nofollow attribute which served to exclude those pages. And that is why the new PageRank Sculpting.
Google changed the rules in 2009. Nofollow links are also used for ranking and ranking. juice link it is controlled in other ways. For example, with JavaScript, the.htaccess file, frames or robots.txt.
Relevance for SEO
The juice link provides information on the structure of the website and its link to other websites. On the one hand, it encourages the creation of high-quality links from other websites and, apart from this, increases the usability of the structure of the web portal. It is useful not only for users but also for crawlers and robots that can get information and analyze it more easily. Search engines recognize the structure of the web portal and evaluate the quality of the links.
Since the juice link includes these and many other factors, it is an important indicator for the optimization of the web portal.
Web links