Have you ever wanted to make a little tweak to your WordPress site but couldn't figure out how to do it? Sometimes what you want to do is too simple for a dedicated plugin, but unless you have some coding skills it can be difficult to make the change yourself.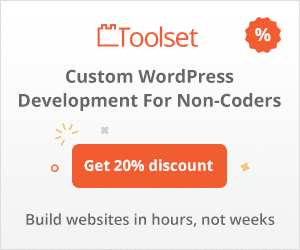 Ultimate Tweaker solves that problem by giving you a simple admin interface to make over 200 different tweaks to your WordPress site. No programming is needed and you can change everything from your WordPress login page to your comment section and much, much more.
And my favorite part is this:
You can make different settings depending on the role of the user. The plugin includes a user role manager that enables you to modify your site based on a user's role (or lack thereof).
Despite the rather unfortunate double meaning behind the name (Google can help!), Ultimate Tweaker is a powerful plugin that offers hundreds of useful ways to customize your WordPress site. Read on to dive into all the features and get my thoughts.
Ultimate Tweaker Features: What Tweaks Can You Make?
Ok, I already told you that Ultimate Tweaker includes over 200 different tweaks. I am not going to list them all. Instead, I'll try to pick what I think are the most useful settings. Just know that this list is nowhere near complete ...
Add a custom 404 page
Customize virtually every aspect of the WordPress admin (even for individual user roles)
Rename media uploads automatically
Minify the theme code
Clean up the code
Turn off site search (if you are using an alternative search method like Google Search)
Exclude / include categories or tags
Automatically open external post links in a new window (saves a lot of time compared to manually making all the links you add open in a new window)
Disable right click
Various security features
Remove the "link" field from comments
Allow anonymous comments
Add login page logo and customize login page style
Add Google Analytics tracking code
Disable RSS feeds
Add featured images to RSS feeds
Add custom header or footer code
Enable admin keyboard shortcuts
Add maintenance mode and customize page
And that's just the condensed version! You can make many additional minor adjustments as needed. See the plugin description to see all the possible adjustments you can make.
Now, I'll walk you through the interface:
Ultimate tweaker interface - dense yet intuitive
Ultimate Tweaker adds a complete admin panel to your WordPress dashboard. You can make all your adjustments from this panel.
The first thing you'll want to do is choose the user roles that you want your changes to apply to:


You can always create new user roles using the Role manager if required. At the same time you can manage the permissions using the same Role Manager.
Subsequently, you can go through the tab in the sidebar and make your adjustments: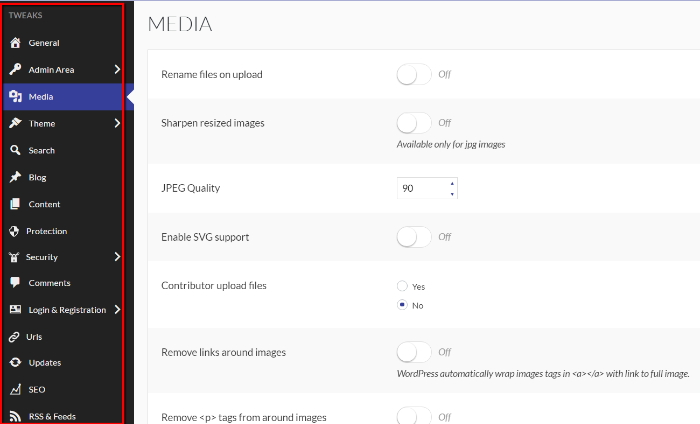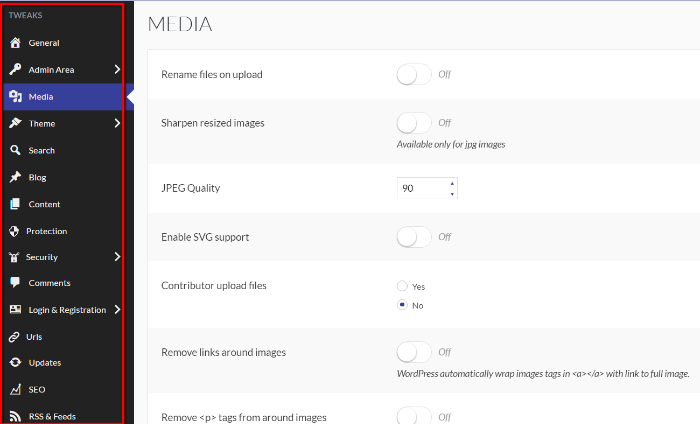 The developers have done a very good job with the Ultimate Tweaker admin. When I started reviewing the plugin, I instantly saw two potential problems:
First, With over 200 settings, it would be incredibly frustrating to have to save settings after each setting (or lose them because you didn't save them). To remedy this, the developers added an autosave feature:


When checked, all your changes will be saved automatically to avoid accidentally losing them.
the second The problem I saw was that more than 200 settings would be overwhelming. It would be difficult to know how each toggle box affects your site and what exactly each setting accomplishes.
To remedy this, the developers have added plain language descriptions to the toggle boxes so you can know exactly what each setting does in its different states. This is what I mean …
If this box is cleared, the plugin gives you a plain language description like this:


But when it turns on, it changes to this:


It's a small thing, but it makes the interface immensely easier to use. I have used several massive admin panels and I would like more developers to think about small functions like this.
Overall, the admin panel is well designed and loads quickly. I never had to wait for the option menus to load and did not experience any errors clicking the switches.
With the interface, I think Ultimate Tweaker has done a great job of making it easy for even inexperienced WordPress users to tweak their site.
Making some adjustments: customizing the WordPress login page
To give you an example of how well the plugin works, I decided to customize the login page for my test site.
First, I added a logo to my login form: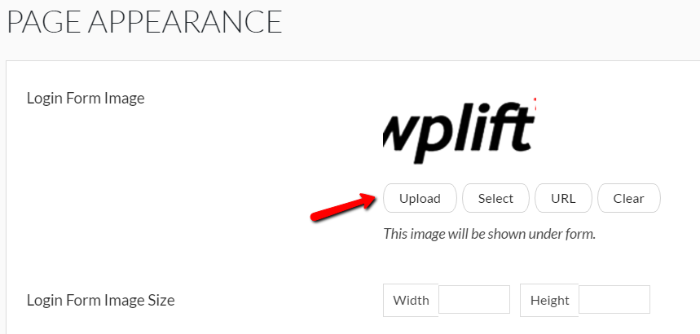 Subsequently, I changed the color scheme a bit:


I'm not looking for a beautiful design here, this way don't criticize my color palette please!
In short, I removed the "Back to blog" link from the login page:


Let's see how Ultimate Tweaker represents those changes I made on the front-end. This is what the login page for my test site looks like now: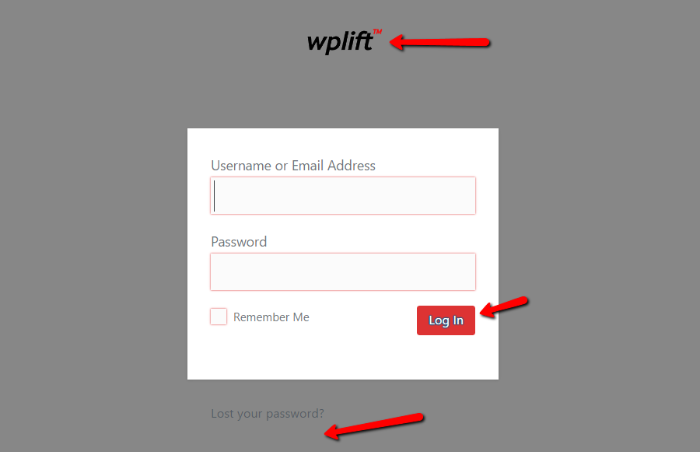 Ok, I definitely did not create the most aesthetic page. But Ultimate Tweaker did everything it was supposed to do. My new logo is there, the colors are different, and the "back to blog" link is gone.
Does Ultimate Tweaker slow down your site? Do not.
200+ settings - that's a lot to load, right? Understandably, you are concerned that Ultimate Tweaker will slow down your bloated site.
Luckily, the plugin doesn't load code for the 200+ tweaks. It only uploads the minimum files necessary for the actual settings you are using. The settings you ignore will not add any size / request to your site, which should eliminate any chance of unnecessary slowdowns.
To verify this, I ran Ultimate Tweaker via P3 (Plugin Performance Profiler) and just added 0.0105 seconds from runtime to my test site, which I would classify as "not worth worrying about."


Ultimate Tweaker support and pricing
Despite offering over 200 different tweaks, Ultimate Tweaker is still an affordable price of just $ 18. I think this is a good price, it's not a big investment to get access to hundreds of useful tweaks.
Ultimate Tweaker is sold through Code Canyon, so you will get the standard 6 months of support like others Envato products.
Amino Studio, the developer, at the same time provides tutorial videos to help you use the plugin. But honestly, I think the plugin is easy to use. You should be able to jump in and start tweaking without any prior knowledge.
Final thoughts
I really enjoyed my Ultimate Tweaker test.
Due to the number of tweaks the plugin includes, you can probably remove some existing plugins on your site. As an example, if you are already using a custom login page plugin, Ultimate Tweaker will completely eliminate the need for that plugin.
Since Ultimate Tweaker is lightweight, you may even be able to improve its performance by installing the plugin.
Whatever happens, you get over 200 adjustments for one reduced price. Combine that with an intuitive and easy-to-use admin panel, and I think Ultimate Tweaker is a great plugin for anyone who wants to tweak their site but doesn't want to dig into the code to do so.