For keep your W10 equipment safe you will need to install an antivirus that protects your PC in real time. Due to this it is convenient that you know if necessary download an antivirus or is it enough to have Windows Defender.
If you need to know the solution, We invite you to continue reading this article. We will talk about the difference between Windows Defender and an antivirus external to the OS.
But this is not all you will find, besides We will show you the step by step to install an antivirus on W10 without making mistakes and therefore keep your equipment protected against all risks. Let us begin.
Do you need an Antivirus in Windows 10 or is Windows Defender enough?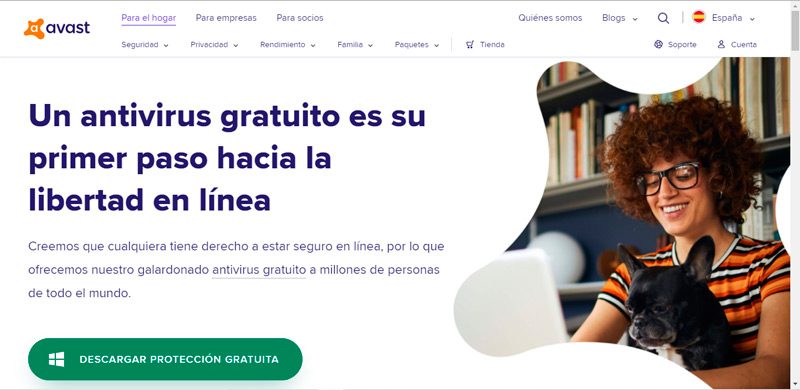 First of all, it is necessary to explain that Windows Defender is the protection program that is installed by default in the operating system. From this dynamic Windows 10 remains protected against threats that are associated with everything type of malware.
But you have to keep in mind that this protection is not enough, since this program is updated every time a new patch appears offered by Microsoft. Although it is true that the time of these updates are frequent, they fail to contemplate and include new threats that appear much faster than Windows updates.
For this reason, it is convenient to install an antivirus external to the operating system to better protect the user's computer and private data. This is because antiviruses receive much faster updates than is Windows DefenderEven more so if you contract a paid version in which the protection is immediate and the updates are more frequent than the free licenses.
Learn step by step how to install an Antivirus in Windows 10 to keep your computer protected
If you need install an antivirus in Windows 10 The first thing you should choose is if you need to pay for the license or get a version free.
Once you are clear about the benefits of both options, you will have to follow this guide: 
Enter Google with your browser and look for the antivirus you want. If you don't know which one to select, avoid worrying because in the next few paragraphs we will present you the best programs of protection you can find. We will take as an example Avast, so you must click on the option that the search engine shows you or access directly on the official page of the program. For this last, you will have to write the URL https://www.avast.com.
Once you have put on the antivirus website you should look for the button DOWNLOAD FREE PROTECTION and click on it.
This will open Windows File Explorer so you can choose the location folder of the executable. Then you will have to click on Keep to start the download.
If for some reason the wizard does not open, you must go to the file where you saved the executable and press the file that has the width .exe.
Following, the system will ask you if you confirm the installation, so you will have to select the option Yes.
In this step the installation wizard will open. You must follow the instructions once you have clicked on Install.
When the installation is finished the analysis of your PC will be carried out automatically. Then you should select which files you want to delete and which to keep. You must remember that every time you want to run the antivirus you will have to open the application and click on Perform analysis.
List of the best free and paid antivirus to use in Windows 10
Learn about the best free and paid antivirus that you can select to install on your Windows 10 PC:
Kaspersky
«UPDATED ✅ Do you want to install an Antivuros to protect your Windows 10 computer? ⭐ ENTER HERE ⭐ and Discover All FROM SCRATCH! »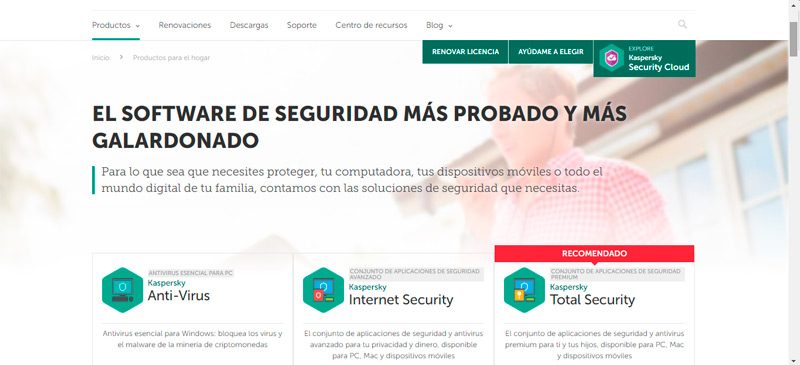 This Russian company that is dedicated not only to the programming of its powerful antivirus, but also to create security systems offers the market very efficient software to be installed in Windows. Due to this, it is feasible to protect the computer in real time from any type of threats. You can get a free license for 30 days, with which you will be able to test all the tools that this antivirus has. You will have the opportunity to store passwords and important documents and to encrypt messages in just a few steps.
AVG
The most important advantage of this antivirus is that it includes updates while the user browses the Internet, so real-time security is guaranteed. The analysis is carried out on the PC, on the web pages, in the email and in all kinds of saved programs. If you wish, you have the option to select a paid license in which you can immediately block any intruder you want enter your camera or microphone. At the same time, you will have protection against fake websites.
Norton
Norton 360 protection is the full version offered by this antivirus for Windows 10 operating systems. With this function you can access a VPN server, a password manager and an ad blocker, among other tools.
It has a free version that allows you to erase any type of virus and a paid license. With the latter you will access customer support and get a backup that will be hosted in the cloud of any type of document you want to protect. For enter a free trial you need sign up in his web page https://es.norton.com
McAfee
The security is guaranteed with this antivirus, since you can access the Internet while providing a full real-time protection from virus threats, identity theft and spoof sites. This is feasible thanks to the permanent updates and the VPN server that can be accessed quickly and easily. You can select different types of plans and get one Free trial that will help you better understand the type of optimization and protection that this antivirus offers.
(*10*) Download McAfee Windows
Panda Antivirus
One of the lightest antivirus you can find, so your Windows 10 PC will not spend too many resources for this protection program to run in the background. Dispose of a free version and a paid version, with which you will get additional tools. As an example, a VPN server.
The automatic execution that it performs in its analyzes makes it possible quickly detect the latest and greatest malware out there. At the same time, in its paid version you can include a firewall, so the level of protection increases considerably.
If you have any questions, leave them in the comments, we will answer you as soon as possible, at the same time I am sure it will be of great help to more members of the community. Thanks! 😉