(*8*)
The airplane mode in Windows 8 it is quite a useful function that you can use in different circumstances. But first it is convenient that you know what this tool is and what happens to your PC when you activate it.
You will be able to find this information, in a simple way, in the following paragraphs of this post that we have prepared for you. We will detail the moments in which it is convenient to activate this mode and the point to point to carry out this task successfully.
At the same time, we will show you how to solve the error in which airplane mode cannot be disabled and other bugs in W8. Let us begin.
What is airplane or offline mode and what is it for in Windows 8?
Among the functions that your Windows 8 PC performs These tasks can be divided into two large groups. One is the execution of the programs you have installed and the other is the emission and reception of signals from WiFi, Bluetooth and Mobile data.
From this it follows that, if you need to disable all signals that your device receives and transmits wirelessly you will need a tool called Airplane mode, which you will be able to activate it quickly and easily. But you have to keep in mind that this function does not disable the execution of the programs.
When is it convenient to activate the airplane mode in your Windows 8?
We will explain below what are the optimal situations in which it is convenient to disable some functions of your device, this will help you get more benefits.
Check out:
We will start with what gave rise to the name of this function and it is when you are in a plane, especially at the time of takeoff and landing. This way you will not produce interference in communication between the crew and also with the control tower.
When your laptop is low on battery power. You must not forget that Bluetooth and Wifi They run in the background and these features consume more battery than many people realize.
Related to the previous point, every time you need to do a fast charge from your battery you can activate airplane mode.
If you want not to be interrupted by IP calls (or video), emails or messages of applications when you are working on projects that require concentration or are in meetings.
At night it is also useful to activate the airplane mode, since you will not receive calls, but you can see the time on the device and use the alarm clock without any problem.
Learn point by point how to activate and deactivate the offline mode of Windows 8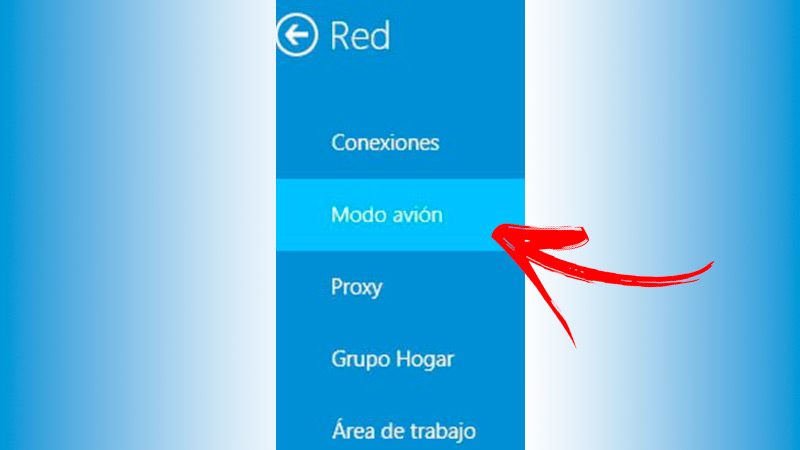 So you can fully enjoy your device Windows 8, we will show you the point to point that you must do to activate and deactivate offline mode.
Pay attention:
Activate
To activate airplane mode in Windows 8 you must go to the Charm bar, located on the right side of the screen, and continue with these steps: 
Click in the menu Setting. At this step you can also do it by pressing the keys at the same time Windows and then I.
Seeks the option Change computer settings and click on it.
Choose the tool Wireless
Seeks field Airplane mode and enable the option Turn it on to stop wireless communication.
In case you have the Windows 8.1 version, you will have to do this point by point: 
Once you have opened the bar Charm, you must enter Setting and then to Change computer settings.
Choose the tool Net.
Seeks the option Airplane mode and activate it.
Deactivate
«UPDATED ✅ Want to learn more about Windows 8 Airplane Mode and how to use it? ⭐ ENTER HERE ⭐ and Discover Everything FROM SCRATCH! »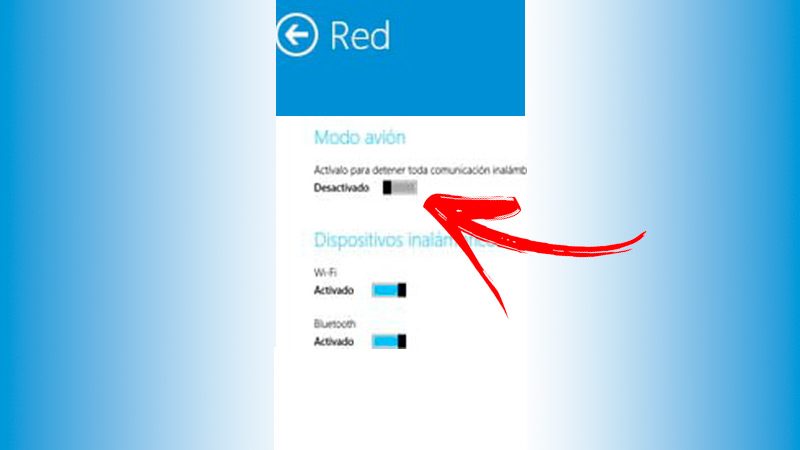 In case you want to deactivate the airplane mode and it will begin to receive wireless signals on your device, you must carry out the reverse steps to those mentioned before: 
Access Settings through Charms Bar by moving the mouse pointer across the bottom right of the screen. Then the icon of a gear, do not forget that you can also enter by pressing Windows + I.
Select Change computer settings and then Wireless (or Net, if you have Windows 8.1 version).
Seeks the tool Airplane mode and turn it off.
An easier way you have to perform these steps is to press the Start button and then type airplane mode. This will make you visualize the tool Look for, so the application of the Airplane mode in a list. Click on it and disable it.
Airplane mode cannot be disabled How to solve this and other errors in Windows 8?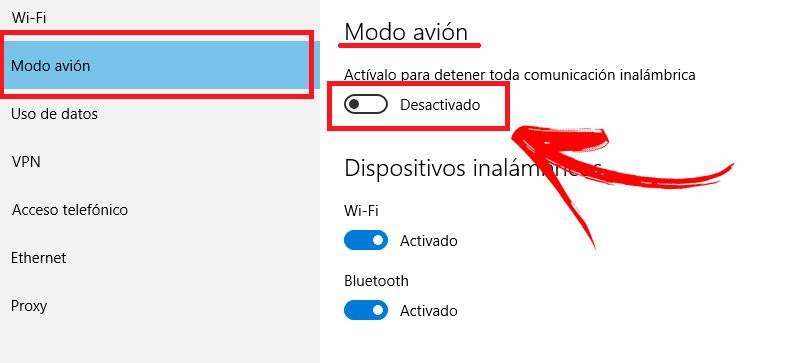 It is likely that airplane mode cannot be disabled due to an internal operating system error. But you should not worry because below we will show you how to solve this error in a simple and fast way.
See below:
The problem can be caused by the shutdown of the network card of your PC. For this reason, it is convenient that you press the key Windows and, without releasing it, press the R. This will allow you to enter the tool Run.
Type in the Open field: the command msc, then press Enter.
Click on the button Yes, if a user warning window appears.
Choose the option User interface devices.
Find the driver for your network card. In this case, you must take into account the brand of your PC or the supplier of the board, since if you cannot find it, it is likely that this hardware is out of date or has been erased. In this way, it will be necessary for you to enter the manufacturer's support and download the device driver for free.
Right-click on the controller and choose the Disable option. After this repeat this step and select now Activate.
Choose the function Network adapters.
Find the adapter. You will be able to find this one with the word Wireless or wireless and right click on it.
Following, choose Properties and then click on Power management.
Disable the box Allow the computer to turn off this device to save power, click on To accept and restart the computer.
In case you are unable to solve the problem or find other errors you will have to use the tool again Look for (Windows Start button and then type troubleshooter).
Then follow these steps: 
Select the tool Troubleshooting (control panel).
Choose the option Network and Internet.
Click in Network adapter.
Press on the button Next and continues with the troubleshooter prompts.
Another way you have to check the error is connect an ethernet cable to the port and test if you connect to the Internet. After this you're going to have to verify that the BIOS is up-to-date (At this step you will be able to do it in the same way as you did with the network card driver). Once all these steps have been verified, you should not have problems in disable airplane mode.
If you have any questions, leave them in the comments, we will answer you as soon as possible, at the same time I am sure it will be of great help to more members of the community. Thanks! 😉