The demographic data they are general information about groups of people. Depending on the purpose, the data may include attributes such as age, sex, and place of residence, as well as social characteristics such as occupation, family status, or income. In web analytics and online marketing, demographic data They are used to provide a deeper vision of the target audience of a web portal or to create so-called people. The demographic data They are used primarily for the strategic use of tailoring offers to the corresponding target group and can also be used as a basis for business analysis and performance reports.
Features
The demographic data and interests belong to the most important statistics in web analysis, consumer analysis and ad planning, as well as targeting. Unlike data collection in the academic field of demography, the approach of demographic data in marketing, it focuses less on fertility and mortality data, but more on age, gender, and interests.
Demographic data collection
The demographic data They are collected by software solutions such as Google Analytics. Here, a subset of the total number of users is used to extrapolate data for the total number of users. The software collects this data using different protocols that promise to track. For example, geographic and language information is collected in the communication between the server and the client. Through the use of cookies or event tracking, more information about gender and interests is recorded and saved.
The information is obtained from the Google Display Network and participating partners. In this way, it makes sense to use this data for commercial promotion. To be able to compile demographic data, a respective tracking code must be integrated or modified accordingly.
At the same time, activation on the account is necessary to be able to use the functions such as reports. In this circumstance, it is essential to pay attention to any changes in the Google Analytics Privacy Policy on the web portal before activating the new functions.
Concurrent with the use of data through google products, website operators have the ability to use their own data to compile and segment demographic data. Therefore, online stores can review and examine their own customer data to get the most out of advertising campaigns. However, they have to abide by data protection.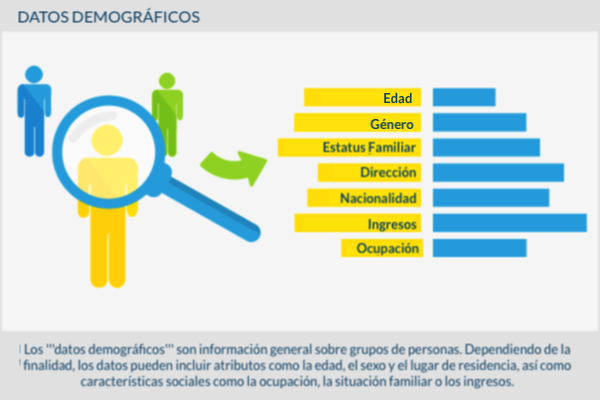 Demographic Data Examples
Age: Age is one of the most important demographic factors. It is a good indicator of the user groups that visit a web portal, as well as the age groups that buy the most. It provides information on what content on the website is interesting to a particular age group and where the potential can be identified.
Gender: The information on gender shows the parts of a website and the multiple products that are most suitable for men or women. Classifying the results according to gender can serve as the basis for planning campaigns targeting men or women.
Interests: Data on user interests shows the interest of visitors to a web portal and allows conclusions to be drawn about consumer behavior. For example, if users have affinity for specific product categories, sellers can create ads that focus on these interests.
At the same time, this enables user group segmentation, for example to determine a connection between 18-24 year olds with certain keywords and interests. This type of targeting is extremely useful for any remarketing campaign.
Possible apps
Possible scenarios for using demographic data they are complex. Reports related to demographic data could provide answers to the following questions:
What groups of users visit the web? Naturally, young users have interests that differ from those of older users.
Which of these groups provides the most income? The most profitable clientele is usually from a certain age group.
Where should content be placed to increase sales? Relevant content can be tailored to age, gender, and interests.
How can your ads be better targeted? Young female users want to see different types of ads compared to older male users.
What factors improve remarketing? Through segmentation, downstream measures can be tailored to the target group and corresponding interests.
How can email campaigns be more effective and target specific groups more directly? In this circumstance, newsletters or emails can be sent to particular groups.
conclusion
Compared with conventional follow-up, demographic data in web analytics they provide a much deeper insight into user behavior. Information about user groups can be used to drive the effectiveness of advertising campaigns, make the most of the web portal offering, and last but not least increase sales. Even though detailed knowledge of the software used is required, this effort is important in the long run. Fundamentally when demographic data They are used for strategic product line alignment, advertising measures, and remarketing. At the same time, the legal use of this data must not be ignored - the data must be anonymous, and the user must be informed about the collection of data, as well as the use of cookies. At the same time, users must have the ability to access in conflict with the data collection.
Web Links