In 2011, it was possible to know Twitch how a new platform focused on esports. Given its power in a short time, it was acquired by Amazon in 2014 and since then, it is estimated as one of the most transcendental streaming websites in the world. Well, apart from dedicating itself to broadcasting games, it has increased the variety of its content and therefore has more than 17.5 million visits daily.
For its part, this number of visits is due to the notable advantages it provides to its users. Taking into account that, they can get access to games and select content completely free, it is a very well organized platform, it offers the possibility of monetizing transmissions and it is also multiplatform, so it can be used on computers and smartphones.
Beyond this, Twitch it is also characterized by ensuring an optimal user experience. Valuing that, allows make use of various extensions created by third parties, with which manages to increase the functionality of this application. Given that they are so important, it is valuable to know them and in this post, We will mention the best there are and how you can use them.
What are Twitch extensions and what are they for?
While it is true, the Twitch extensions are defined as interactive panels and overlays that give you the chance to pioneer the live streaming revolution. Since, through them, all users will have the ability to create a huge impact on your viewers' streaming experience, in order to interact with each other.
For their part, these extensions developed by third parties and / or by the same Twitch community, they aim connect the streamer with his audience, even more. Given that, they serve for these users and their audience to communicate with each other, as well as with the game they are enjoying. Added to this, they also help them earn revenue, create new opportunities to attract more viewers, and share relevant information.
Thus, ultimately, the community of Twitch you will be able to interact in different ways that seemed impossible, making use of the extensions available there. Since, they can be found from activity maps and real-time game data overlays to mini-games, to score tables, music requests and many more utilities with which it is simple redefine and optimize the streaming experience. This, both at the issuer level and also if you are a concurrent user.
List of the best Twitch extensions you can use to get the most out of the app
Fortunately, the extensions of Twitch are characterized by provide great flexibility and thanks to that, each person will be able to decide how and where they are displayed on their page. They also give you the freedom to customize your channel just as you wish, they help you build loyalty in your community and they exhibit unlimited potential.
The reason why, Twitch streamers are interested in making use of them. In this sense, many users wonder what are the best extensions available on this platform to take full advantage of its functionality and performance.
Reason why, below, we will detail 10 of them so that you can choose the ones you want:
Streamlabs OBS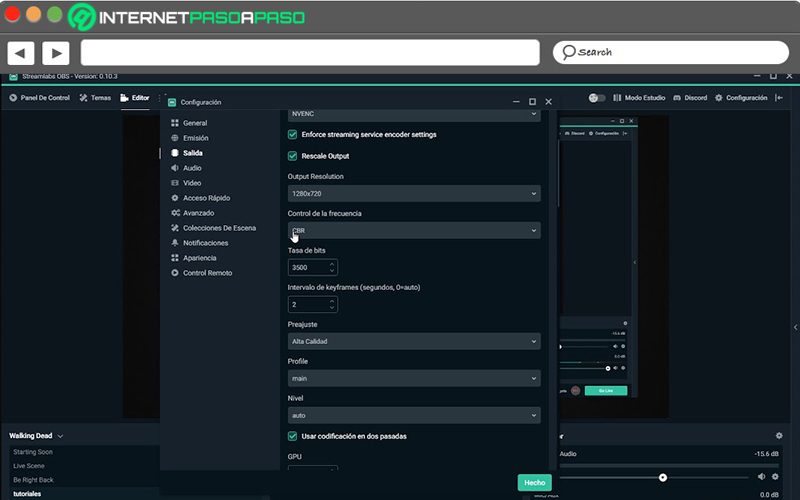 Is about an open source extension ideal for start streaming on Twitch in a simple and effective way. In addition, by default, it works with OBS, which is a free application for recording and transmission of video over the Internet with which users can customize different affects to match them as they are most comfortable.
Thus, has a layout editor through which you can customize your live broadcasts from Twitch by simply dragging and dropping items to create a unique user interface. Further, offers "selective recording" and thanks to this, you can choose the sources that will be presented in your transmissions. As well supports dynamic in-game overlay, has built-in widgets, chat, and skins, as well as game-specific encoders.
Spotify Recently Played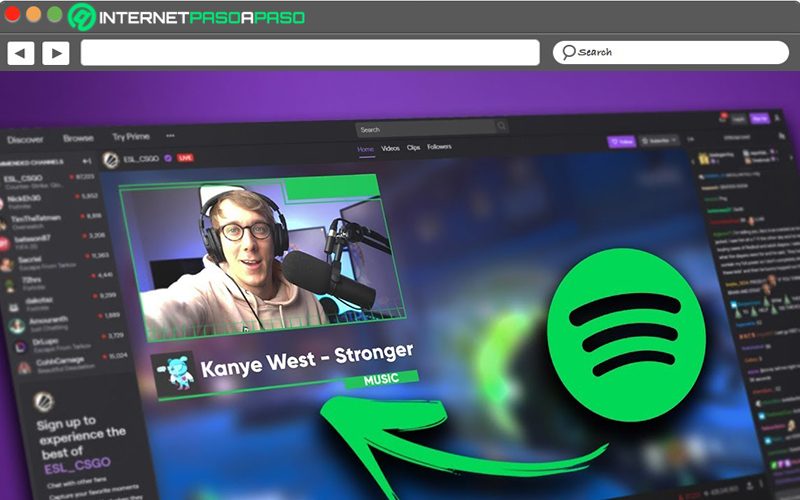 In Twitch, it is usual use background music In order to entertain your audience and in these cases, it is likely that some of the viewers will be interested in knowing the name of the song, manifesting it through the chat.
Therefore, in order not to be answering this question one by one, it is useful to display the name of the track that is currently playing on the screen. Therefore, this extension has been created to Twitch which basically deals with display which song you are currently listening to, specifically. So, thanks to it, other users will be able to see what you are listening to while you are broadcasting live from your channel.
In addition to that, it has other functions such as:
Add all songs to a playlist for others to follow.
Add tracks to your playlist, automatically.
Redirect viewers to Spotify account of the sender with just one click.
Show both songs previously heard.
Muxy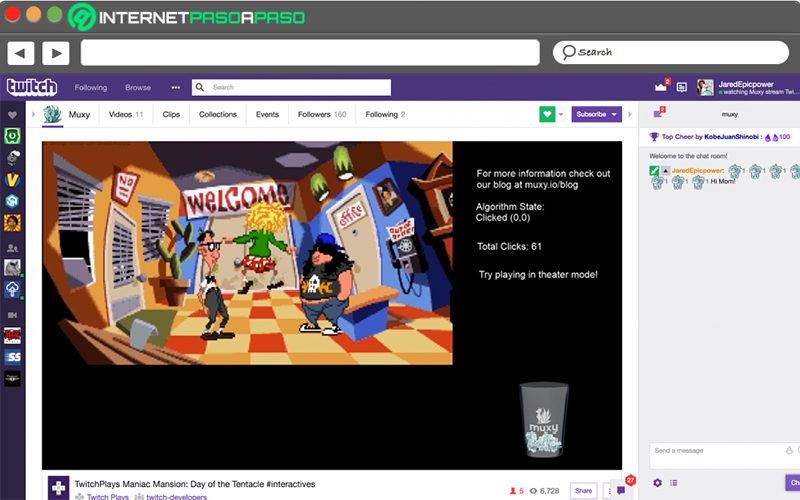 This is another well-known extension for Twitch that offers alerts, stream analytics, real-time feedback, tips, and Cheers visualizations around everything that concerns the games of this streaming platform. In this way, streamers will be able to optimize their experience to the maximum, getting the most out of the platform.
For its part, one of its best features is that it allows see audience interaction in real time and even provides the option to relive broadcasts on the screen. Besides this, Muxy is highly customizable, is optimized for efficient uploading to Twitch and it's easy to use, so that users will not have to have a great knowledge of this environment to enjoy it.
Opera Event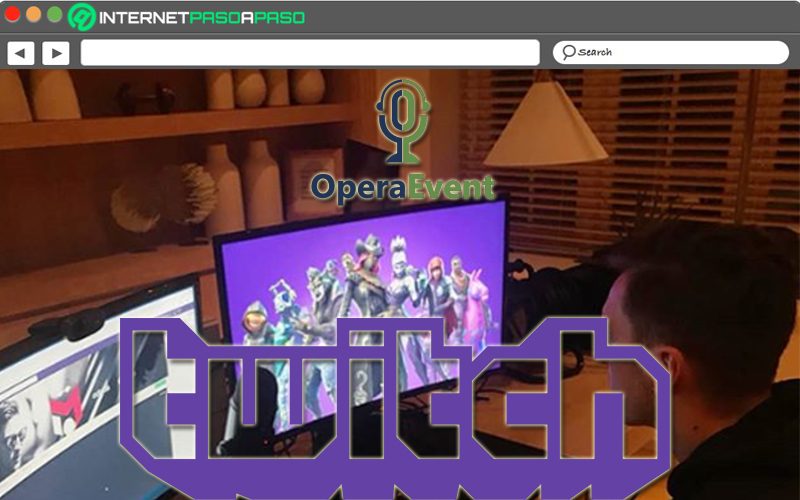 It consists of an extension that has been designed with the aim of connect both streamers and fans, as well as sponsors in the video game environment, especially. Given that, it is a programmatic and scalable solution that provides the necessary participation tools to help influencers capture the value of their audience.
In this sense, Opera Event is characterized by being a platform that provides Twitch streamers the possibility of attract, increase, optimize and improve your audience within the famous website. With this, it is committed to promoting excellent influencer marketing to achieve retain the attention of your target audience and thus, can achieve your goals.
Live Twitter Feed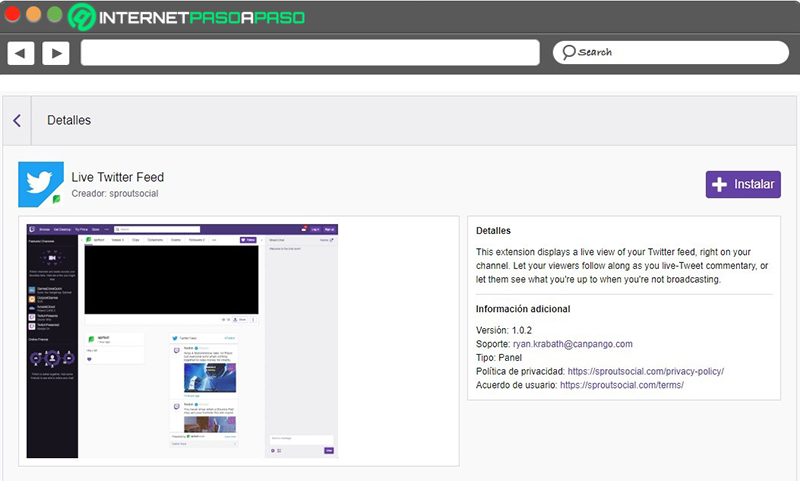 For Twitch users, it is also useful and interesting to be able to add your latest social media postss in order to link their different accounts and stay face to face with the audience on said platforms, with the aim of generate quality Engagement. For which, they can download and install the extension called "Live Twitter Feed".
Through it, you will have the possibility of embed your Twitter account directly on your Twitch channel. In this way, you will be able to be constantly active in your different social networks and thus, it will be faster and easier to benefit from potential followers that they can discover you and follow your day to day.
Overlay Expert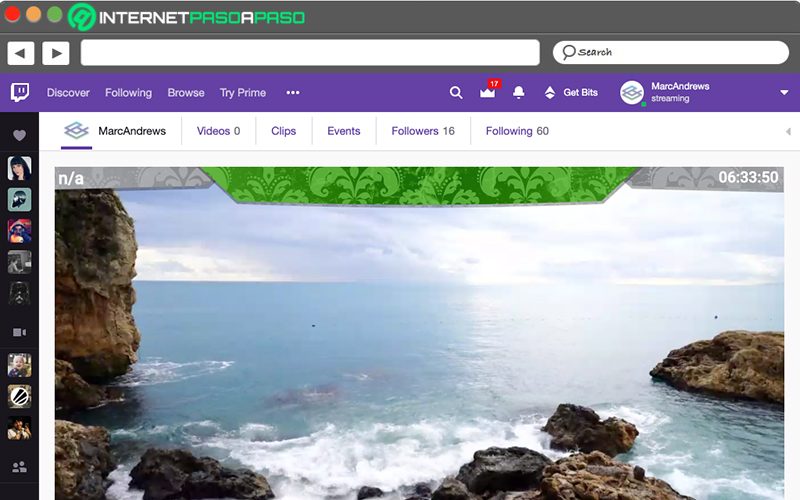 Refers to a utility for overlays that specifically makes it easy to create dynamic overlays for all your live broadcasts from Twitch.  In this sense, Overlay Expert allows you to create overlays composed of static and dynamic elements, as well as by alerts.
Added to this, it allows kick off the experience with preconfigured overlays and custom sounds, with which it is easier to take advantage of the benefits it offers. In addition, it also allows you customize your overlays with backgrounds and animations through "Overlay generator". It should be noted that, luckily, it does not consume many CPU resources when performing these actions.
Streamlabs Stream Schedule & Countdown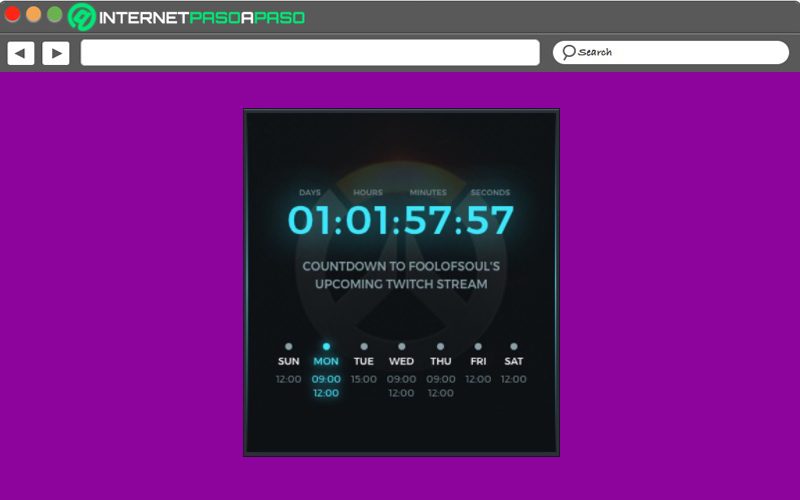 To be able to capture the attention of users always, it is valuable make use of certain incentives to help them feel a desire to keep abreast of your actions in Twitch. Therefore, we highlight that this extension is of great help to be able to achieve it, since, with it, they can view or get a countdown to your next broadcast.
Thus, in short, this extension deals with add a countdown timer so that your audience knows what will be the next time you carry out a broadcast. In other words, interactively, it allows you to set a return date and through the timer, the utility will inform your viewers about when you plan return with more content to your Twitch channel.
Social Raid
«UPDATED ✅ Want to put a set of extensions to use to power up Twitch? ⭐ ENTER HERE ⭐ and Know the Best ⭐ »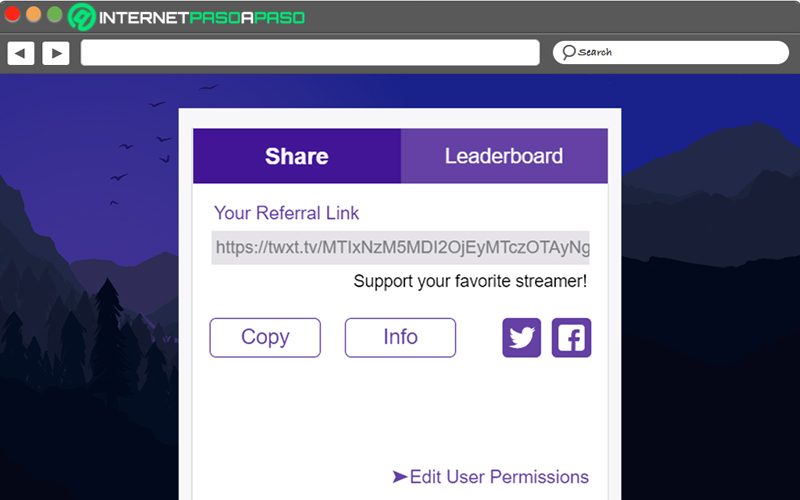 This extension is a tool that, in order for viewers to continue sharing your broadcast, offers a great incentive. Thus, it stands out as an ideal extension for broadcast streamers to Twitch can build a broad community on the platform and earn the highest possible recognition.
In such a way, Social Raid It consists of a customizable referral system that involves the audience of a certain channel, on the growth and promotion of a streamer. This, as we mentioned before, offering a prize to users who share the transmission based on earn points and acquire the highest score on the leaderboard. With this, it is based on encouraging viewers to contribute their support to grow the channel in question.
StanzaCal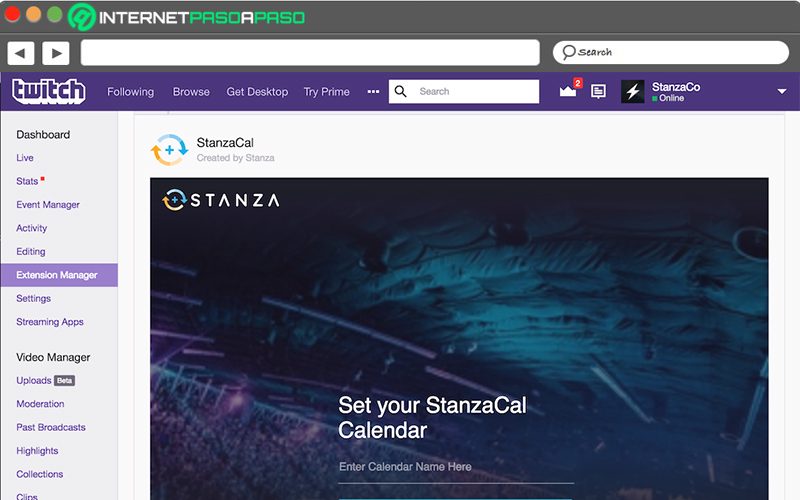 Refers to an extension that is useful for create your own Twitch broadcast schedule and even, to be able to follow the transmission schedule of other users skillfully. Thus, once viewers add the desired content to their calendars, they will be able to receive reminders, alerts or updates about upcoming events to take place.
In addition to this, the extension also provides a link through which it will be easier to view the content in question. Taking into account that streamers have the freedom to choose from a wide variety of content including your own personal schedule to view it directly on the platform panel. Thus, it is distinguished as a utility that is capable of connect streamers with your audience easily by sharing details about upcoming broadcasts so you don't forget to tune in.
Dynamic Follow Buttons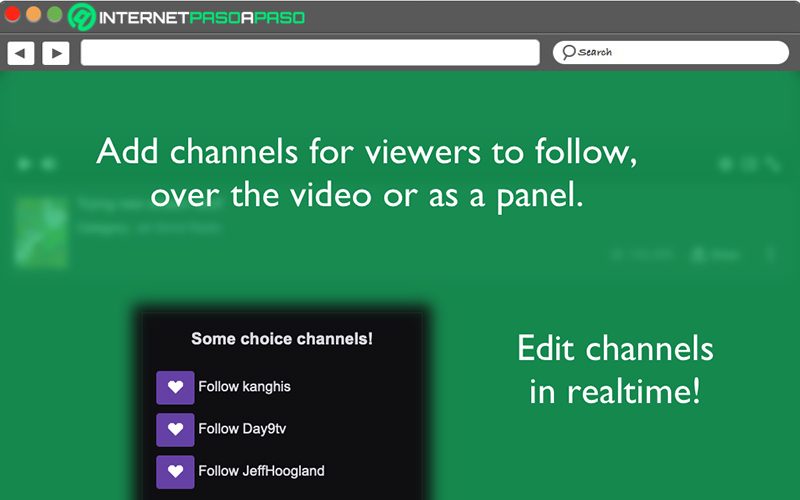 Using this extension for Twitch, you will have the possibility to make a direct call to action on your viewers, so that they are encouraged to follow you or even, you can motivate them to follow other channels of the platform. In view of that, it deals with show follow buttons on the broadcast for the channels you want.
For your part, you can activate it as a video overlay to create a custom design with several buttons or striking areas that people can click. In addition to that, it is also possible to activate this functionality as a component that will present the buttons at the same time. In this way, while you are broadcasting live, you can show, change or hide the channel you want your audience to follow with these buttons.
Learn step by step how to use Twitch extensions like an expert
Apart from knowing which are some of the best extensions available in Twitch, users are also interested in learn to use these tools correctly.
Therefore, in this section of the post, we will focus on explaining three simple steps that you have to execute to be able to use them in a relevant way:
Install the extension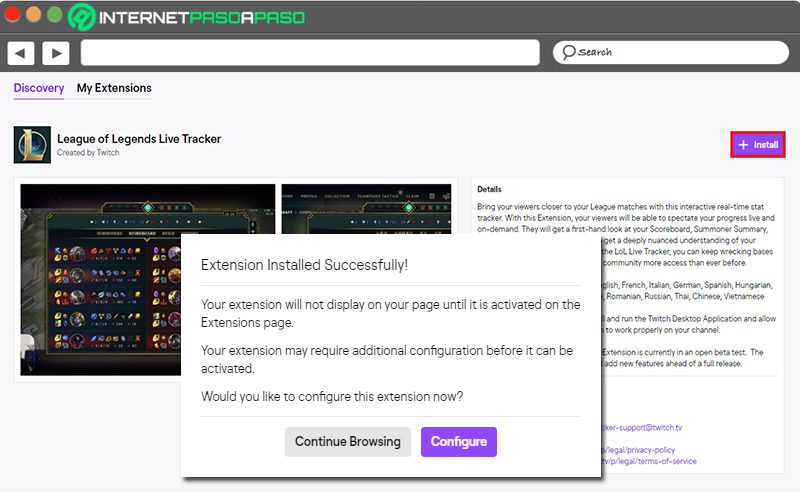 The first thing you have to do, first of all, is find and proceed to install the extension you want to use in your channel. In that case, go to the extension manager of the creator control panel (it is in the upper right corner) and when you enter it, click on "Extensions" from the left sidebar.
Following, it's time to start the Discovery process, through the tab that has that name. Since all the extensions that are available on Twitch for installation appear in it, that is, the complete catalog with the different categories to add to your channel.
Now, after browsing through the different categories available and once you find an ideal extension for your experience, you simply have to press the button that indicates "Install" (It is located in the extension manager box and / or on the extension details page). Once that is done, they will show you a pop-up window to inform you that the extension has been installed successfully and, in addition, it contains an option to configure it and another to continue looking for more tools.
Make the settings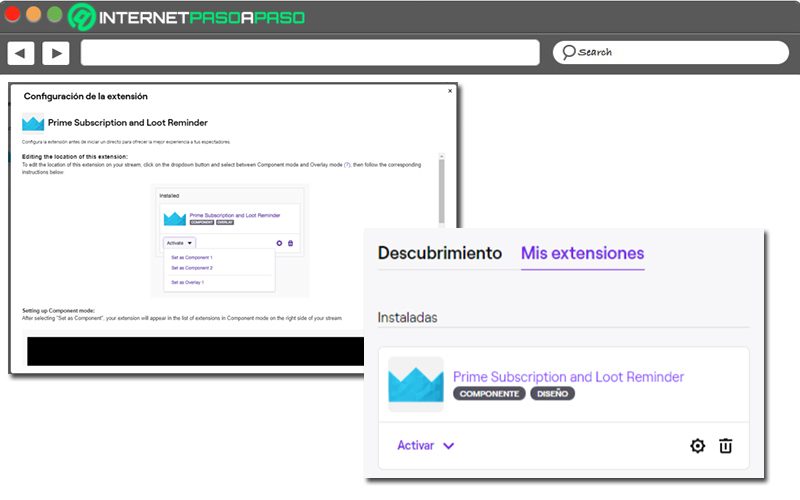 Luckily, every extension for Twitch has its own configuration sets and because of that, we recommend that you read all the details and instructions that they contain, carefully. Now, to configure the extension that you have previously installed, then make use of three different alternatives to make these adjustments, freely.
Which are the following:
From the My extensions tab: Usually from the extension manager, Twitch users go to the section that says "My extensions" To start configuring each extension accordingly, by clicking on the gear icon at the bottom right.
With Edit Dashboards: It is also possible to enter the extension configuration window through the extensions panel, specifically, selecting the option "Edit panels" through your channel page itself.
Through the details page: Another simple way to configure the extensions, consists of go to the extension details page that has already been installed and there, click on the option "Set up" (located in the upper right corner).
For its part, it is appropriate to clarify that the Twitch support service can not help you in the process of configuring these extensions. Since, they are tools created by third parties and, consequently, if there is a problem during said process, You can only solve it by contacting the developer of said utility executing the contact method that they indicate in their details page.
It is time for your activation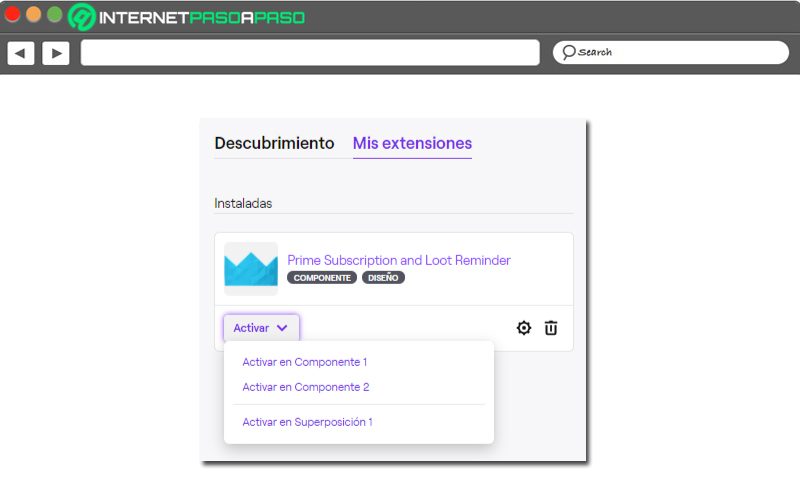 After configure the extension, to end, it's time to activate it. Taking into account that, until you do this, the extensions of Twitch will not be available on your channel, even if you have them installed and configured previously.
Therefore, please do the following process to enable the extension correctly:
Sign in to the extension manager and click on the "My extensions" section.
Then directly in the extension to enable, click on the drop-down menu "Activate" to open it and there, assign the extension to the corresponding slot. For example, "Overlay 1, Panel 1".
If you activate an overlay extension, this will only be visible at the moment you are transmitting. Therefore, it will be observed on your video live and direct.
When all your activation slots are in use, the system Twitch will ask you to replace an enabled extension.
Finally, we highlight that, it is possible to have 6 extensions active at the same time, maximum. Specifically, 1 overlay extension, 2 component extensions, and 3 panel extensions. Therefore, once you have occupied all your slots, it will be necessary to replace some of the extensions.
If you have any questions, leave them in the comments, we will answer you as soon as possible, and it will surely be of great help to more members of the community. Thanks! 😉