Twitch is currently one of the most popular platforms in recent years and which is directed for lovers of the videogames, but where you can also find many other functionalities. That is why it is essential to be able set up your channel for content creators.
In order to get the most out of it, it is necessary to configure several elements of your channel, such as channel customization, the use of extensions, among others.
All this will allow you to be a lot More productive and thus be able to achieve your goals quickly. That is why we explain a little more about how to carry out this process of configuration on Twitch.
Learn step by step how to configure your Twitch channel to give it a professional look
The configuration of your Twitch channel it is as important as the configuration of any other social network profile, so depending on it, you can be successful or not. Keep in mind that configuring the necessary elements in it will help you achieve a very professional look, which is essential on platforms such as Twitch where success is measured by the number of followers and subscribers.
This is how here we are going to show you how to carry out this configuration in an easy and fast way:
Customize channel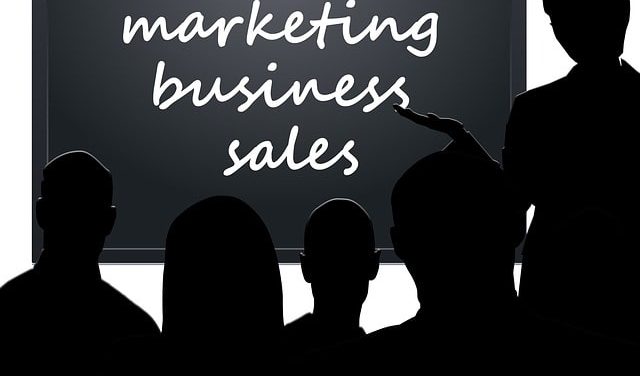 Channel customization it is essential if you want relay, but if you are not thinking about broadcasting for now or want to pay much attention to it, it is also recommended to customize it as this will help you to improve the appearance of it. Keep in mind that any user can access your channel and get an impression about it, either because you comment on a video and you have caught someone's attention or simply because someone wants to visit it.
Here it is important that change the profile image or the background imageMake sure to place a very good quality image on it and make sure it is quite eye-catching. In addition, when changing some of these two images you will have access immediately to settings. There you will find different options such as those already mentioned, you can also add the addresses of your other social networks if you wish.
Now if you enter your channel directly and select the option to "Edit panels", then you will have the opportunity to add and configure different elements. All of these items will appear in a bar extensions panel, where you will only have to select the button "ActivateOf the one you want to use. Also select in "Edit" so you can modify the theme and other channel settings.
Define roles and permissions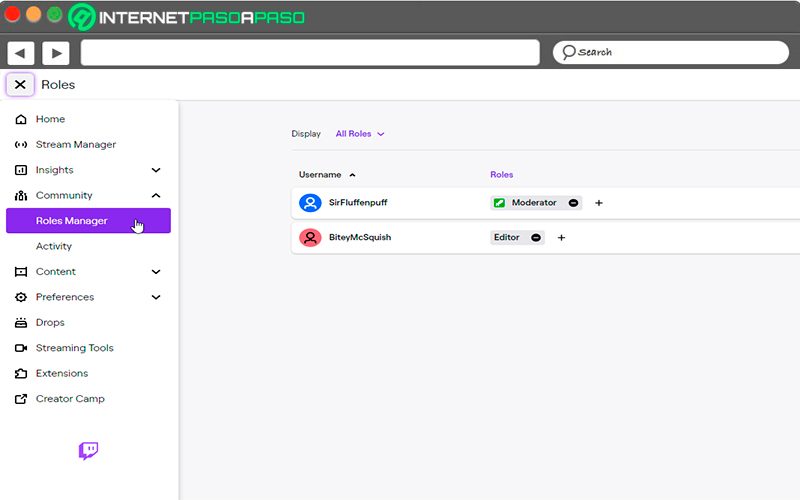 It is also very important to be able manage roles for your community, actually Twitch has 3 roles that can be added or removed by users.
Which we show you below:
Editors
In the case of editors have access to the channel control panel.
They can also help streamers manage each of their channels by doing any of the following:
Start commercial breaks.
Edit stream information.
Load videos.
Load events.
Edit video information.
to download reruns and premieres.
to download heavy emissions.
Moderators
In the case of moderators aims to help manage a streamer's chat and thus make sure that it always remains safe, cozy and above all quite fun.
To do this, you need to carry out the following activities:
Enable slow modes, only for the followers and for the subscribers.
Lay off or ban users if necessary.
Vip
And finally we found the role of VIP, in this case they are valuable members of the community of a streamers, which will be recognized by a special emblem. For it the streamers may unlock 10 VIP slots at the time of completing an achievement like that of "Build a community" it must contain 50 followers and 5 participants in the chat of a stream.
In this way all this will increase in the number of emblems as different achievements are completed, so later they will get 20/30/40/50 and so on the slots VIP. All this will depend mainly on the number of participants in the chat.
In the case of VIPs, they can perform some of the following actions:
Chat without being affected for limits of frequency.
Chat without being affected for the slow modes, only for subscribers or only for followers.
Post links in chat even if the links are disabled.
Given what are each of the roles available on Twitch, the next thing will be to manage the roles for your community members.
For this, it is necessary that you follow each of these steps:
The first thing you should do is enter the "Control Panel", from there you must click on the "Menu" and then select the item of "Community". Once there you must select the option "Role manager", there you will see a list of all the members of your community who currently already have a role in your channel.
Therefore, to add or delete a role you must click in "Add new" located in the upper right corner of your screen. In the case that you add a role to a user who already has a role in your community, you can click on the + button next to your name in the list to select it. Now if you want to delete a role from a user who already has one, you just have to select X that appears next to the role in its row.
Once have the user selected, the next thing you should do is add the role or delete it as the case may be, for this you must check or uncheck said box. In this way you can establish the different roles for each of your followers on your channel.
Enable overlays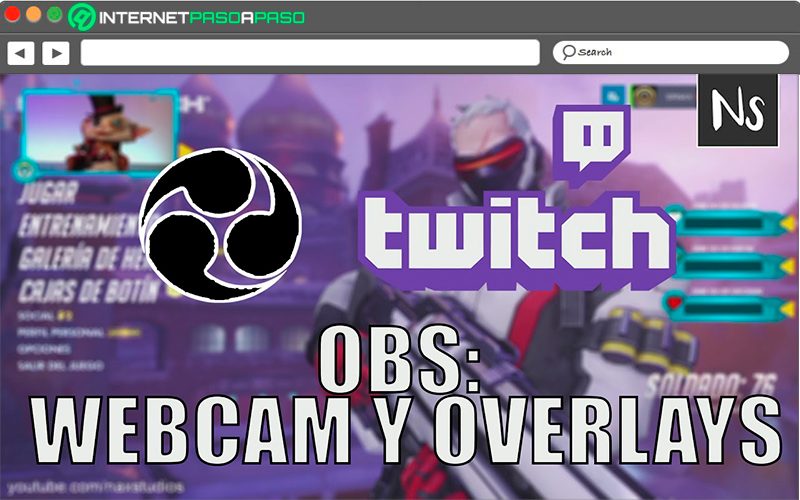 The Overlays or frames as it is also known on this platform it is considered as an ornament tool that runs around the entire contour of the video camera while you stream on Twitch. Actually the overlays It is widely used by professional streamers as it allows them to obtain greater personalization for their channel. Fortunately, this process is very easy to do.
That is why here we are going to show you how to enable it:
The first thing you should do is download a frame of your choice from Google, there you can put as an example "Camera frames" and filter by "Transparent", then in the file type you must select "GIF" and later download the frame that you like the most by clicking on it and selecting the option "Save as".
The next thing will be to load it in the OBD, for this you must access "Sources" and from there click on the sign "+", in order to add a new font you must select "Image source", in this case, a new font must be added and you can name it whatever you want, such as a camera frame or something similar.
Now you must add the source and search the source file, which you have already downloaded and should be found in the download folder or in the one where you have stored it.
When it is already loaded in the streaming, the next thing is to press the key "Shift" and keep it pressed and with the help of the mouse and clicking on the frame take it to the correct place so that it fits with the camera.
After this I would already be enabled overlay.
Use extensions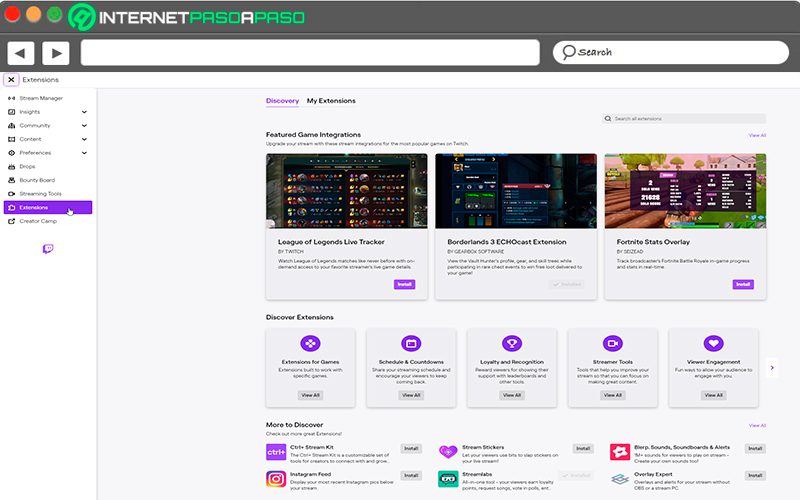 Another of the great features you have implemented this platform is the extension system for the people who broadcast each of their games and which are very useful.
In this way, thanks to the extensions, the design of your page can be improved, which allows you add panels as the schedule to which they broadcast, show the countries from which your visitors come or place a countdown for an event. In this way, the extensions will offer you dozens of alternatives that you can start to add on your page.
Therefore, to enable them in your profile you must follow each of these steps:
The first thing you should do is click on the top right of your profile to show you all the options.
There you must to select the option of "Creator Control Panel".
Later in the control Panel, in the left column of your screen select the item of "Extensions".
Then you must to select or search the extension you want to use, to do this, hover the button over it and click the button Install that appears to you there.
Enable Twitch Prime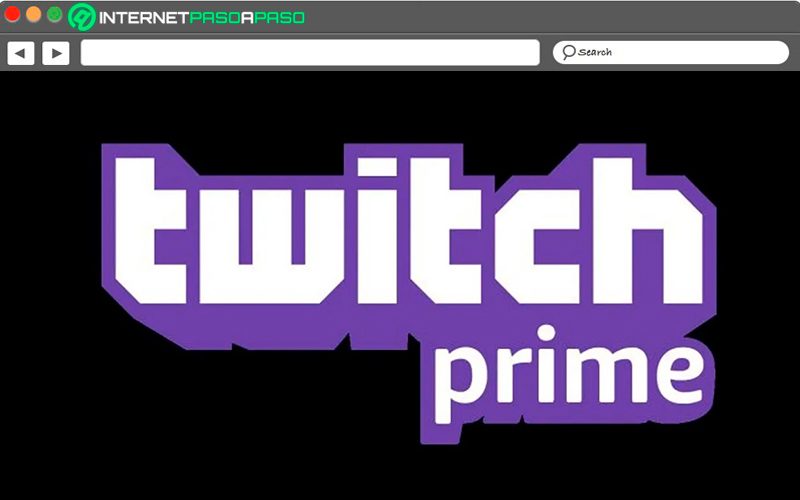 Twitch Prime it has become a tool that can be taken advantage of, especially if you are a user of Amazon Prime, since in this way you will have the opportunity to access the Twitch Prime program which will be automatically linked to your account on the platform with that of Amazon.
In this way, when you access this program you will have the opportunity to enjoy multiple windows such as ad-free videos, access to content and rewards free every month, free games every month and also you can subscribe for free to a channel every month, as you can see, it offers you very good benefits.
«UPDATED ✅ Do you want to know the best settings you can make if you are a streamer on Twitch? ⭐ ENTER HERE ⭐ and Discover All ⭐ »
Therefore, when your account Amazon and Twitch are linked, you will have to click on the crown icon every month, it is located in the top Twitch bar and that way you can claim your reward. You should also keep in mind that free subscriptions They are not renewed every month, this means that if you want to continue with it you will have to do it again. Here you will not only get free gamesBut a lot of other special content for games.
Musicalization of your videos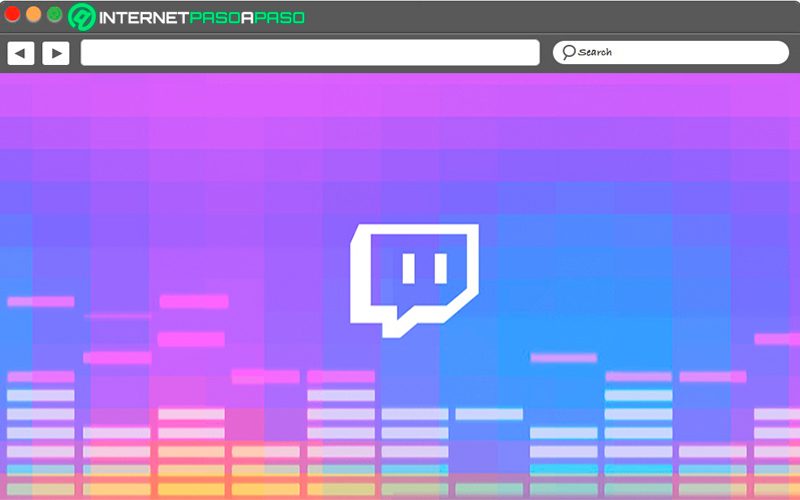 It is important to mention that Twitch allows its users to use music in their videos, but as long as copyright and all other rights necessary to do so are respected. In this way to be able to broadcast or upload content that contains copyrighted music it is considered a crime, so this musicalization tool has been a bit strict in this regard.
It should also be mentioned that in order to get streaming music for Twitch There are many free and paid options, in this case the free options are not highly recommended since They don't offer much musical variety. Also, you should keep in mind that subscribing to a music streaming service does not necessarily grant you the rights to share music on Twitch.
Therefore, it is important that before share music in your videos of this social network you are completely sure that you have all the necessary rights for it, since this will be what allows it to be approved and above all it will help you to avoid risks with your streamer account.
What are the most important things a Twitch streamer should know?
When you are working on a community like Twitch It is very important to be able to take into account different aspects that will help you have a good performance and operation in the same, especially at the time of add any type of content to your channel. That is why here we are going to show you which are the most important aspects that you should know when working in the Twitch platform.
To do this, follow each of the sections that we will teach you below:
Copyright
Twitch It has been characterized as a platform with very clear rules, especially with the use that is given to the platform, one of them is directed mainly with playing music and copyright, where it clearly specifies to each of the members that they cannot use it if they do not have the necessary permissions to do so.
Clearly this is practically required on any platform, but it is something that despite this many users do not pay the necessary attention. This is how many of them have been using music that they do not own or have the permissions to use freely, this is due to the growth of the Twitch community this problem has been getting worse.
Remember that Twitch it is not just a portal of direct video games, but it has also been used for a long time for broadcasts of all kinds, as well as many DJ sessions, so all this has led the site to enforce all these copyright measures in published music content. In this way they have made it known publicly that all content that does not comply with this requirement will be removed automatically of the platform.
Music Guidelines
Another of the necessary aspects to take into account are guidelines on musicThis is how this platform is characterized by valuing the work of the composers, musicians and many other artists.
That is why it has as primary objective to be able to respect intellectual property of all those who create music or control the rights to their songs, so all other members of the community have been required to do the same. According to all this, Twitch has created the following guidelines that will allow you to understand all this in a better way about what are the uses you can make of the music in your content.
Share music on the platform
In this case Twitch asks creators to only share content that they have copyright or the rights necessary for it. In the event that you share or transmit content that contains music with copyright, then said user would be violating the policies of the social network, so your content will automatically be removed from your channel. In this way, members of this community cannot include music that is not their own in broadcasts or low-demand videos.
It is important to remember that buying music or subscribing to a music streaming service does not grant copyrights to consumers, so this does not authorize you to be sharing said content. Such subscriptions only allow users to listen to such music only for personal and private use and not to make them public. Therefore, it is essential to ensure that you meet this requirement before uploading a topic to the platform.
Soundtrack by Twitch
The administrators of this platform are fully aware that the music rights are quite complex, so it can be quite difficult for most to be able to add music to their channel, so many wish they had an easier way to add good quality music to live broadcasts. That is why the tool for Soundtrack, which offers the opportunity to include a selected library of licensed music for your live broadcasts.
Thus, Soundtrack It has been created specifically for what is live broadcasting, that is why all the music included in this tool can only be used for live broadcasts. In this way it is a program with multitrack audio so you have the opportunity to create live streaming video on demand.
Types of music content
It is important to keep in mind that there are some common types of musical content on the platform, in this way here we are going to show you some examples of the musical content that you can use in broadcasts and on-demand content.
As well as information that will allow you to know when you can share that content and when not:
The music must be your property: Keep in mind that it must be music that you have written yourself and that you have recorded or played live. In this way you can upload songs as long as they are owned by you or if you control all of them the rights of recording and reproduction, both the music and all the lyrics that make it up.
You must bear in mind that if you have a contractual relationship with a company that control the rights of the content you have created, such as a publishing company or a record label, then you must make sure that no law is being violated when sharing such content on the platform.
Music for which you have a license: You can also start share music whose copyright is owned by someone other than you, either partially or completely, as long as that person has given you a license to share it.
Music streamed with Soundtrack by Twitch: Add music to your live broadcasts through the tool Soundtrack.
Performances on Twitch Sings: A song that you sing in Twitch Sings, as long as you comply with the terms of service of Twitch.
Next we are going to show you some of the examples of music content that you cannot use in low-demand content and broadcasts:
DJ session: In this case, what are the mixes of music tracks and the reproduction of pre-recorded music that incorporate music that is not your property or of which you do not have the right to share it on Twitch.
Karaoke performance: Singing or performing in a karaoke recording that is not supported in a game licensed for you to share on Twitch, such as performances by Twitch Sings.
Playbacks: sing or pretend to sing a song that is not yours and for which you do not have a license to share it.
Radio-style music programs: the Twitch broadcasts or VoDs that are based on playing music that is not yours and for which you do not have a license to share on the platform.
Visual description of music: music transcriptions, lyrics or any other visual representation of copyrighted music as long as it is not your property.
Song cover renderings: play other people's songs, except for a live performance of your broadcast, if you do so, then you must make sure to reproduce it exactly as the author wrote it and to create all the audio elements yourself, excluding what they are music recordings, instrumental tracks and any other item owned by others.
The uses permitted by law
In the case of the Twitch platform offers them to the streamers a space where they can express themselves in a creative and remarkable way. In addition to keeping in mind the guidelines above, it is important to note that not all unauthorized uses are infringing uses.
How can they be the uses of copyrighted works whose use can be justified or the use of works in the public domain. In this way, it is recommended that each user of this community review the policies of site counter-notification and thus be able to be aware of the uses allowed by law.
How violating the guidelines affects you
If for some reason you infringe the guidelines mentioned above, then you may be request the withdrawal of your content in accordance with established laws, as well, other actions can be taken in accordance with community guidelines.
In the event that the filtering system detects content on demand contains unauthorized music, then the system can delete clips or mute videos. If you have the necessary rights to share music on your Twitch VoDs, then these will not be silenced.
If you have any questions, leave them in the comments, we will answer you as soon as possible, and it will surely be of great help to more members of the community. Thanks! 😉