Stream on Twitch It is one of the most common activities carried out todayThis is due to the large number of content creators that emerge over the days.
Regardless of the area to which they belong, the platforms offer that community a space to carry out their live broadcasts. Such is the case of Twitch, a platform whose main function is to allow users to broadcast live.
Its use has become popular because it makes it possible to monetize the content published there in various ways. So that you can also do it, we will teach you How to place ads and activate monetization on your videos and live broadcasts?
What do I need to be able to monetize my videos and live streams on Twitch? Requirements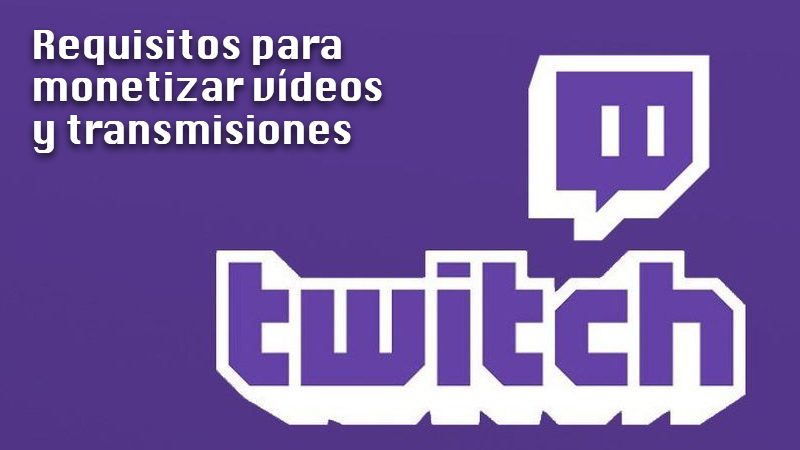 If you are looking to start monetize your videos and live streams on Twitch, you can do it in two ways. First, there is the option of Twitch Partner (partners), a system that provides professional streamers with a series of additional functionalities. Second, you can make money with Twitch through the affiliate program. This is the program Twitch monetization more popular, as it gives streamers (regardless of whether they are beginners or not) the opportunity to monetize their video broadcasts.
We show you the main characteristics of each case:
Twitch Partners
For be part of the partners, you must belong to Partner program of the platform. This section is directed towards those streamers who are dedicated with their jobs and want to achieve a minimum level of affiliation.
All users who are integrated into the partner program are creators of all kinds that content such as music, games, illustrations, programs of interviews or any other activity you can imagine. Usually your community is of a considerable size, which makes it possible for them to start monetizing their work more easily. The idea is that all partners of Twitch be role models for the communityTherefore, they must first go through a series of steps before being accepted.
To this end, the criteria for selecting partners are:
Complete the achievement of become a partner or show that you have a large number of followers in other services.
Offer content that complies with the Community Guidelines, Terms of Service and the DMCA Guidelines.
A fact to take into consideration, is that if you get the achievement of Become a Twitch partner you will have barely unlocked the minimum criterion established, which means that it is not a safe ticket to definitively approve you as a member.
Affiliate Program
For its part, there is the Affiliate program, an option that enables people to earn income from the content they contribute to the community of Twitch.
In this classification, income is obtained through ads, subscriptions and Bits:
Subscriptions: people who join your channel.
Cheering (with Bits): A Cheer is a chat message containing Bits (virtual items that can be purchased on Twitch). Affiliates receive 1 cent for each Bit used to Cheer their channel.
Advertisements: they can also receive money with the ads that are reproduced on the channels.
It is important to note that, As with partners, there are a series of minimum requirements to meet to be chosen as an affiliate.
At this time, non-member streamers must have:
Minimum of 500 minutes emission totals during the last 30 days.
At least 4 days unique broadcasts during the last 30 days.
Average of 3 simultaneous viewers during the last 30 days.
Minimum from 50 followers.
If the channel can participate in the program, in the coming weeks an invitation will be sent to the email address and through the notification area, located in the Right upper corner.
How much money can you make as a Twitch streamer?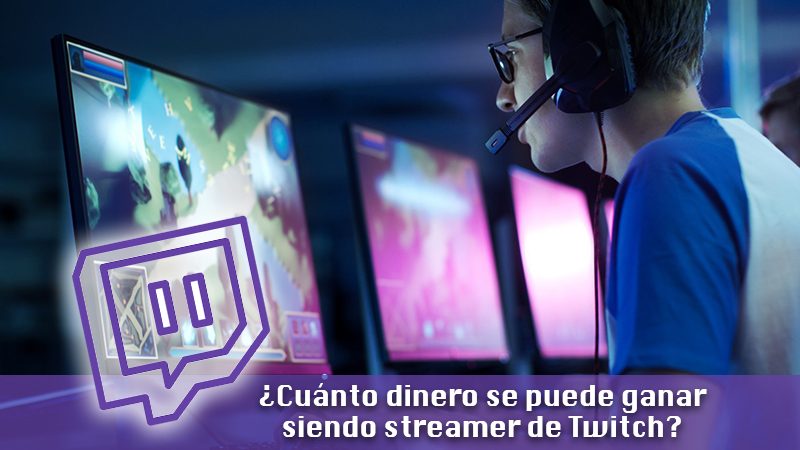 As we previously explained, there are different Ways To Make Money Being A Twitch Streamer: with donations, announcements, subscriptions or through sponsorships. Regardless, when it comes to calculating how much it is viable to earn, it will depend on many factors.
Canadian streamer Jeremy Wang, who has been located in several possibilities within the top 10 in the lists of the most viewed weekly and monthly within the platform, made a video in which he made an approximate calculation of how much the well-known streamer "Ninja" could be earning with Twitch. First of all, it must be taken into account that the subscription price can be € 4.99 per month, and the platform keeps the 50% or the 30% in the case of higher-level partners.
So to understand how much you could be earning Ninja for that moment with 121,080 subscribers, you have to multiply the number of subscribed users by € 3.50. This means you win 423,500 euros with subscriptions only. Apart from that, the earnings from ads, sponsorships, etc. are added to it. Therefore, this leads us to the conclusion that it is feasible to get good money if you have a large community within Twitch. It must definitely be remembered that these calculations were made taking as reference to streamer number 1.
Learn step by step how to activate Twitch monetization and place ads on videos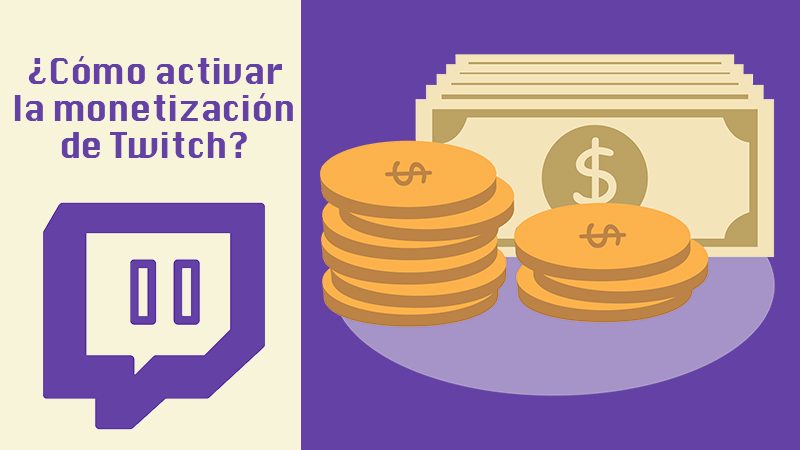 If you are looking to opt for the monetization on Twitch, you must not be a recognized streamer. As we have explained throughout this article, this platform offers different methods through which is viable to generate profits with the content you transmit.
We show you the step by step:
Become a Partner or join the Affiliate Program
In principle, to achieve economic benefits as a result of creating content here, you have to join the affiliate program. You can also join the program partners, but before reaching him you must go through the path of membership. The exception to this is you have a very wide audience on other services.
So, starting from there, Each of these options have a series of basic requirements to meet. As an example, in the case of those who want to join the affiliate program, they should follow up on the path of Path to Affiliate.
The minimum achievements that must be met are:
Achieve 50 followers.
To transmit for 8 hours.
To transmit in 7 different days.
Have an average of 3 spectators.
If your channel has been approved to participate in this program, you will receive an invitation by email to continue with the procedure and start monetization as soon as possible.
For those looking to get on the path of the partner program, Path to Partner, the minimum achievements to meet are:
To transmit for 25 hours.
To transmit on 12 different days.
Have an average than 75 spectators.
If you are eligible for Partner, it does not mean that you will be guaranteed the status of Partner. For you to truly be part of this community, you must click on the button Apply and that links to a membership application form. This request will be passed on to the Twitch to be studied and, in the following days, you will be given a definitive answer. Remember that the way to become Partner it is much more complex and focuses on a specific type of streamers.
Go to affiliate page
Once you have received your invitation as an affiliate, it's time to go to the tab preferences of Creator dashboard. In this section, you can start the process to make your channel profitable.
The step by step is:
Provides the basic overview to sign up for the program.
Sign a Twitch Affiliate Agreement and accept the conditions.
Indicates in Amazon your tax data and fill in the questionnaires for the royalty fee and taxation of the service (TIMS).
Specify through what means will the payments be made to you in the Tipalti form.
After completing this, you will now officially be a Twitch affiliate. From now on, you will generate income from the ads that are shown throughout your streams. At the same time, remember that you can also earn from subscriptions, sponsorships, etc.
Play an ad during a broadcast
Once you have made sure activate the functionality to monetize, you can now play the ads you want. To this end, Twitch specifies that commercial breaks provide a extension from 30 seconds to 3 minutes. Regarding the amount of income, it will depend on the number of viewers who view it. Recommended playing multiple ads of shorter duration throughout the course of the stream, rather than putting them all in one fell swoop at the beginning or end.
Therefore, it avoids saturating the spectators. To play it, just go to the section of "Monetize your stream." There, click on the button corresponding to "Start ad". Select the one you want according to the duration that best suits you and that's it. You can even add these options to Quick access panel, so you don't waste time searching for ads throughout the stream.
Tips and tricks to boost your monetization on Twitch and earn more money on the platform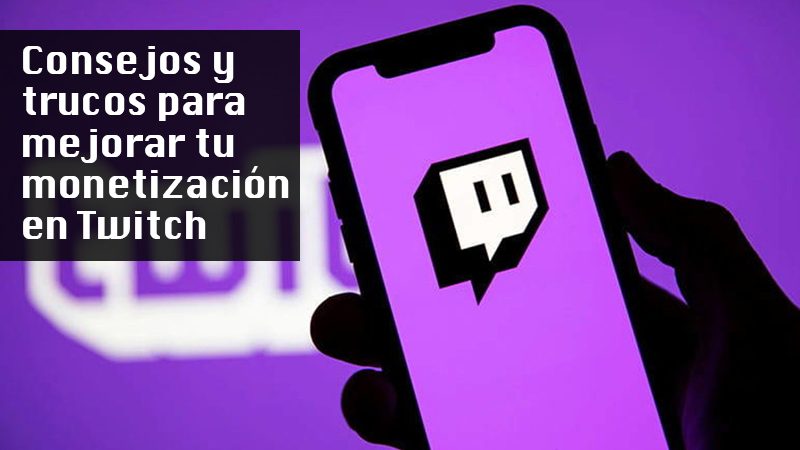 By last, We intend to give you a series of tips that can be of great advantage so that the ads you enter are more effective. In addition to that, there are a number of additional tricks that will help you boost your monetization in Twitch.
Take note:
Inform viewers that you are going to play an ad
It is very annoying to be focused on a content and that suddenly an ad appears on the screen without warning. That is why we suggest that each time you want to enter one, you let viewers know the action you are about to do. Apart from that, you can even indicate the approximate duration of them to prevent them from losing interest.
Avoid playing ads at the beginning or end
Because ad revenue is earned depending on its duration and of the amount of spectators who saw it, it is not recommended to enter them at the beginning or end of the stream. The reason is that at that time probably not all users are connected. Try to do it when the stream is at its best. As an example, in the middle of the transmission or a few minutes after starting. This way you give everyone time to join the stream.
Use multiple shorter duration ads
People they tend to lose interest very easily, so exposing them to long ads can make them go away. Therefore, it better reproduces several commercial breaks of 1 to 2 minutes per hour, instead of doing a long session of them.
Advertise your broadcasts on your social networks
Social networks are powerful communication tools, so they can be very practical when promoting your stream within Twitch. Take advantage of those platforms to invite or remind your viewers about a broadcast that you have programmed.
Organize the stream by parts
It is known that the stream is characterized by having a long duration, so one of the best decisions in this regard is structure it by parts or sections. From this dynamic, you have everything well organized and you don't skip any content. If, as an example, you are making a broadcast to talk with your community, take advantage and leave a space for interaction.
Customize your channel
Something that can make you point out among others on the same platform, is the appearance of your channel. Regardless of whether or not you take the broadcasting world seriously, it's a great idea to bring a creative touch to your profile. Remember that if it is well designed, you can capture the attention of potential followers. So change your profile picture and banner as soon as possible!.