There is no doubt that Twitch has become one of the fastest growing platforms in recent years, where millions of people flock to see the streamers games more famous.
Of this dynamic, live broadcasts are a key factor for the success of each Twitch member, and with them they can be found the clips, which make it possible for viewers can share special moments of the broadcasts.
All this will undoubtedly allow the streamers can grow their channels quickly. This is why here we are going to teach you how to create clips like a true professional.
What are Twitch clips and what are they for on the platform?
It must be taken into account that this platform offers different alternatives to its users so that they can increase the visibility of your channels, but despite this, it is also necessary to be able to create some resources that help increase visits to the channel, for this Twitch has offered what are the clips.
Of this dynamic thanks to clips, viewers will have the possibility to quickly share the best moments of the broadcasts and thus the streamers can grow their channels through posts from social media.
In this way, it should be mentioned that it consists of a function that will allow anyone to share with just one clip at least 30 seconds of video that they are seeing at that moment. For this, they only have to click on the new clip link and it will automatically be will generate a link that will send you to the desired section, in this way the link will be ready so that it can be shared in each of your social networks.
From this dynamic, every time someone clicks on it link caused, you will be able to see the shared clip with the possibility of having access to the rest of the transmission in a very simple way, this will always send to viewers to the original video, which will prevent you from missing any of the visits. Therefore the clips will help the streamers to be able to obtain a greater visualization for each one of their transmissions, helping them to grow their channel quickly.
Learn step by step how to create clips on Twitch and upload your live broadcasts so that anyone can always see them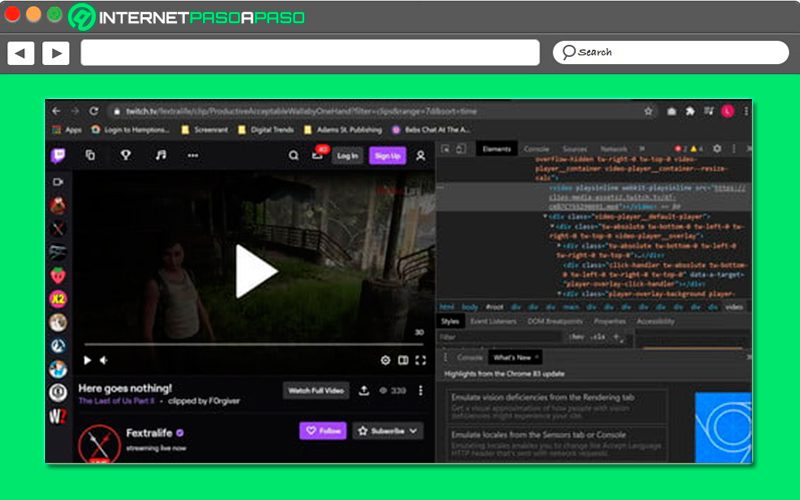 Even when you may think the opposite, the truth of all this is that create clips and share them on Twitch it is something very simple that any streamers can do.
For this, you must basically follow each of the steps that we are going to indicate below:
Share clips from PC
To carry out this operation from the PC, you will be able to do it by following each of the steps that we will show you below:
The first thing you should do is have access to the official Twitch web portal and log in with your access data.
Once you have put, you must go to your channel and locate yourself in the video player, when you are there you must click on the option or icon of the Clip. Therefore this will allow you to give start to create the clip, even though you can also use the keyboard shortcuts that will allow you to do the same.
In the case that you like to work with the keyboard because you can do it in a more direct and faster way, then you can press the keys "Alt + X" in Windows, Once this is done, a new window will be shown on the screen with the page of clip creation. At this point you must choose which segment of the video you want to be part of the clip. For this you can use the slider bar and the next step should be to place the title and finally click on "To post".
After it has already been made public, you will be able to see it along with the information that accompanies said clip, such as the date and number of visits, name of the creator and the corresponding title. In this way, so that you can share the clip you will find a link to it or you will also find the famous quick links, which you will be able to share on the different social networks you have.
Thus Each of the users who access there and click on said link will be sent to the video segment that has been made public with the opportunity to have access to the original transmission and in that way to be able to increase your visits to the channel.
From Android or iOS mobile device
In the case that you are one of the people who prefer use Twitch from your mobile device Because it seems much more comfortable, then you will also have the possibility of carrying out all this. For this, it will be necessary that you have the transmission open and touch the video so that the available alternatives appear there.
Here you must click on the option "Share" and then in "Create clip ", In the case of Android users, the icon "Create Clip" You can find it in the upper right part of the screen next to the video player. When this option is touched, it will automatically open the clip editor And that way you will be able to follow the same previous process to create the video clip.
The best tricks to get the most out of the Twitch app
If there can be something that characterizes Twitch is that it makes it possible to carry out a large number of functions and tools that will help you get the most out of this application. But although it is true, not all users know everything that can be done in it.
That is why here we are going to teach you the best tricks so that you can get the most out of this app:
Hide your connection status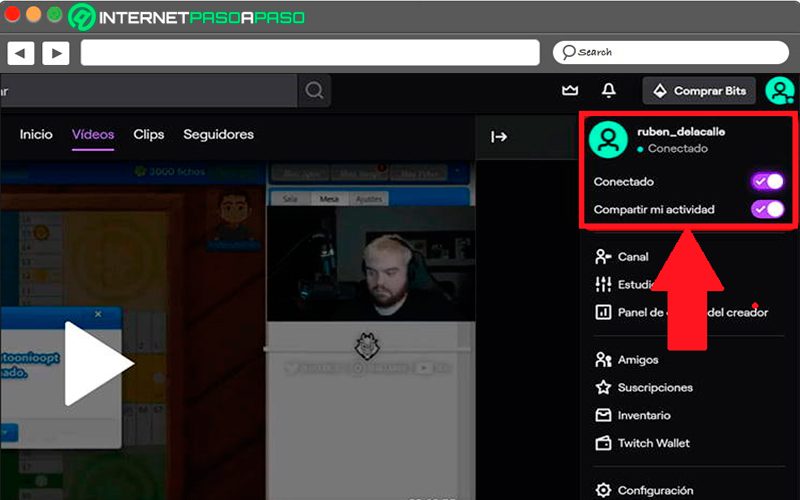 It is feasible that in sometimes you don't want other users to know your connection status, a very simple trick for this is to choose the option to be shown as disconnected even though you are there online. This function is absolutely equivalent to what can be found in messaging applications where you can hide your true status.
From this dynamic, every time you enter the video game platform All your friends will be able to see that you are online, but if for some reason you intend to hide it, then you can basically change that status to offline. For this you must have access to your profile picture and from there you select not to share your activity so that it can be shown to you as offline.
Get information and statistics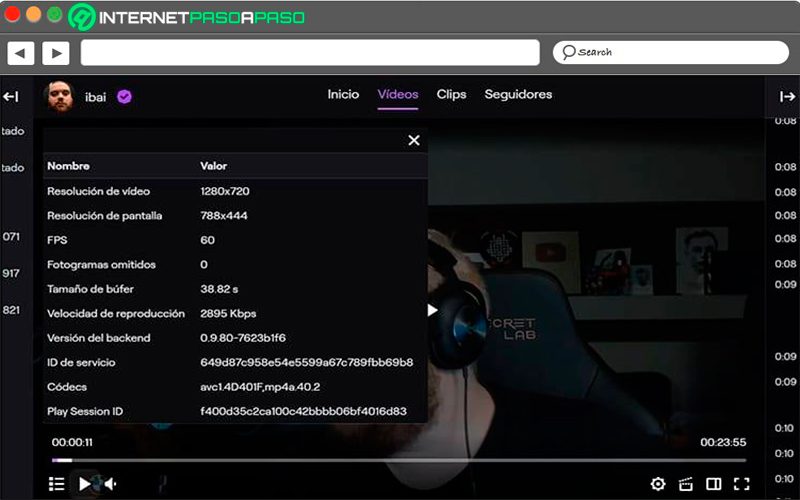 As everyone knows Twitch has proven to be a fairly comprehensive platform, so your main interest is to keep your community expanding, that's why it offers a lot of statistics and information of interest for all those followers of the data. In this way, you will be able to obtain statistics on the streaming broadcasts.
Being able to access all this data is quite easy, for this you just have to follow each of the steps that we are going to indicate below:
Once you are inside the broadcast you must choose the option of the "Settings".
When you are in the Settings section you must choose the item of "Advanced Options".
The next will be activate video statistics.
When you are in this chapter, then you will be able to see all the information necessary to collect the data you want, such as the playback speed, frames per second, among others.
Get started customizing Twitch with the help of extensions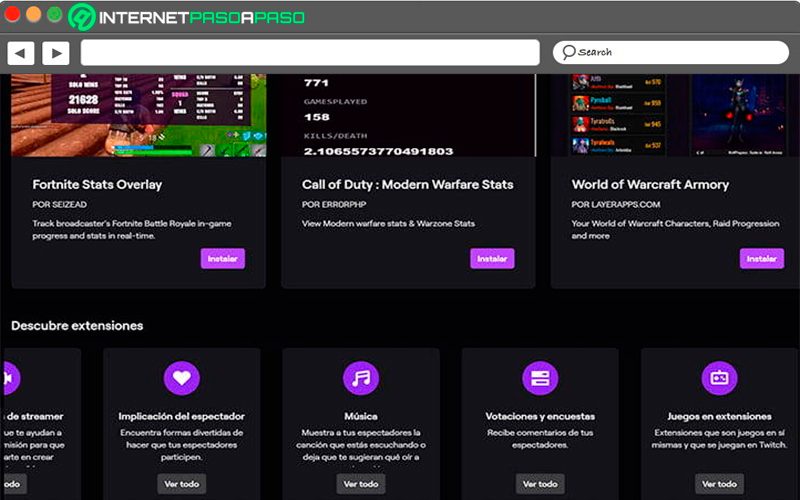 If you're Twitch user It is essential that you know very well what the extensions are, since they are the ones that will allow you to customize each of your live shows in a unique way. And it is that this function stands out for having many tools that will allow you to do what you have always wanted and adapt everything to your liking. In this way, to start using this function you basically have to have access to your profile and there click on the option "Creator Control Panel".
When you are in this chapter you will go to the left side menu to touch the extensions and then choose the one you want. Here it is feasible that get some already created to use with the most popular games, and others that are more generalized. You will also get functions of achievements or music, countdown, among others that will allow you to make your live shows much more striking and fun.