Working with clients is not easy but a good travel agency software It will lighten the workload and help you offer personalized and quality attention to each user. In the following lines we talk about  10 of the best programs for travel agencies. Any of them will have a positive impact on the management of your tourism-oriented business.
Top 10 Travel Agency Software
1. CRM Travel, the CRM for the tourism sector that optimizes sales possibilities

If you need a CRM for travel agencies with which to manage customer relationships, CRM Travel is a good option. (What is a CRM).
Client administration is the focus of this administration program for travel agencies, a software that integrates tools that make it possible to manage actions aimed at personalized attention.
What are the outstanding features?
The system is designed to make the most of the tasks of all sections of the company that interact with customers. Marketing, Sales, Attention, Management departments, all of them are integrated with the same goal: to satisfy the customer. From this dynamic, all the information is unified in a single tool.
This CRM detects sales possibilities and is a good marketing campaign planner. The database enables you to automate incident resolutions, making the administration of customer service workers more efficient.
CRM Travel is suitable for any type of company in the sector. It allows an unlimited number of users and keeps them synchronized in real time.
2. Beroni, a travel agency software that improves productivity
Beroni is an all-in-one travel agency management program. It has several integrated solutions that manage the entire business.
Its functions as travel agency software range from the planning of vacation or business packages, to the registration of personal information to ensure an unbeatable service to each user.
Beroni offers its own CRM, with management of advertising and marketing campaigns and indicators to measure the level of customer satisfaction.
Its outstanding features:
The Beroni headquarters enables hotel reservations and other services requested by the client. It maintains control of quotas in real time and has a secure online payment system.
In the accounting area, it links accounting with administrative administration and billing. Generates books in accordance with legal regulations and enables data analysis for improvement. From this dynamics, daily accounting operations are facilitated and errors are reduced.
Beroni is suitable for different sizes of companies.  Both wholesale and retail travel agencies find it a powerful management tool. Its functionalities are perfectly adjusted to the work system of each type of company.
It is multi-language. Includes Spanish, Catalan and English.
3. Cross, service excellence at the core of this software for travel agencies
For more than 25 years, Cross has specialized in management programs for travel agencies and unifies all the actions of the different departments of the company.
What does Cross offer?
It offers a 100% online sales website, which includes payments, reservations and locators in real time. Customers access all services in their search engines flights, hotels, cruises, coasts. Developed with state-of-the-art technologies, it also integrates a secure payment gateway.
It is software suitable for both retail and wholesale companies, and makes multi-company administration feasible. It includes billing, treasury and accounting systems, configured in accordance with current law.
Cross's online booking allows direct access to the wholesalers' reservation systems. Save time and reduce errors. With information in sight, the operator decides which will be the providers. Includes intranet sales management with operators from all related sectors.
4. Siturweb, the administration software for travel agencies highlighted by its business practices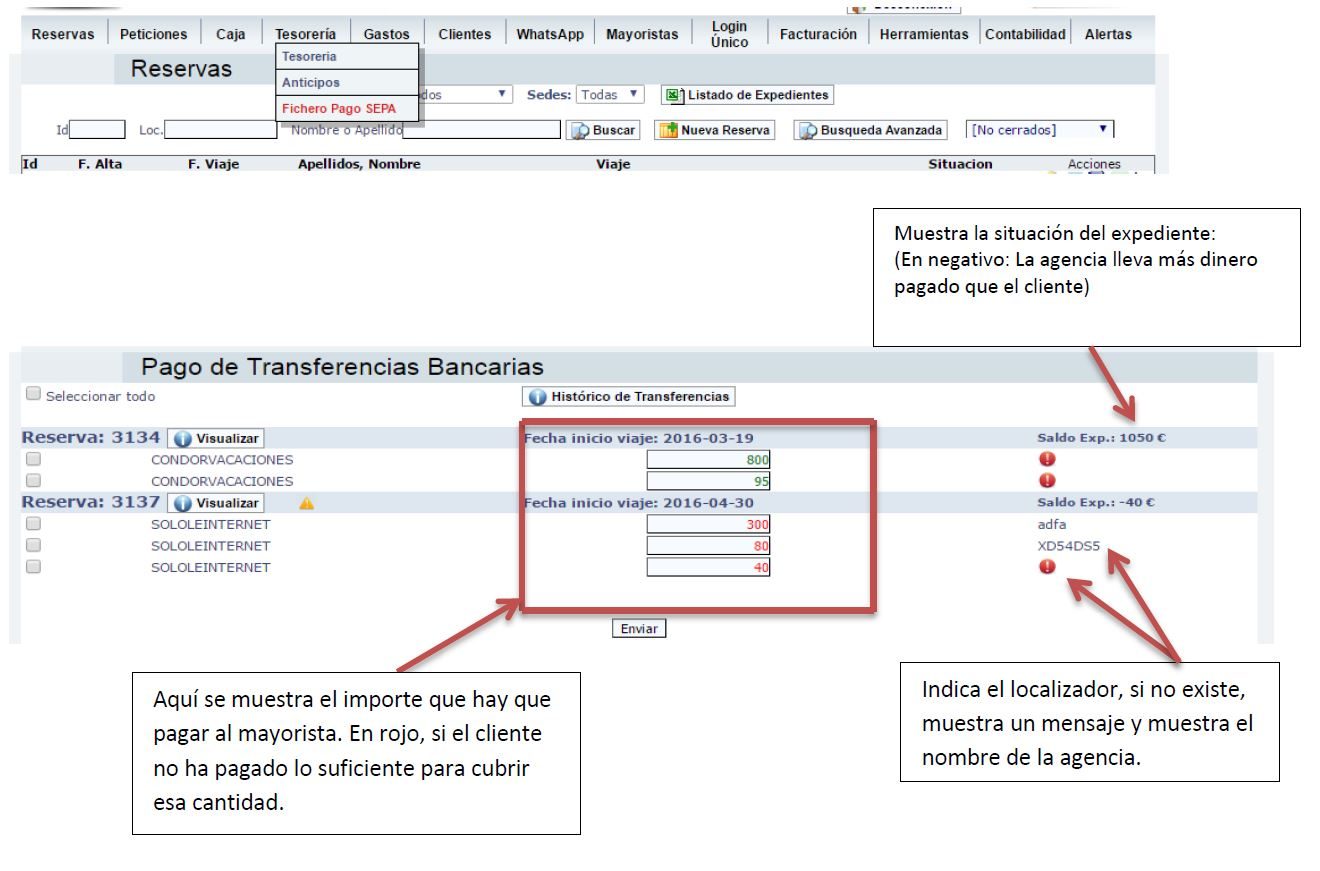 Siturweb is a program used by more than 1,100 agencies. Its ease of use and its free trial period enables users to check its effectiveness to manage any tourism business from the web.
The Siturweb platform is divided into several modules that include basic and specialized functions to meet the needs of each client. In "Miagencia.tuarea.es" personal information of each traveler, invoice record, vouchers and offers of interest to the user, etc. is stored.
Another outstanding feature of Siturweb is its payment option through POS software and the creation of SEPA files, to guarantee liquidity. The cost per license of this travel agency software is € 19.95 per month, not including its billing module. With this module, your rate per month increases to € 21.95.
How does Siturweb benefit your travel agency?
It enables the configuration of different offices and levels of users. In this way, each travel agency structures its company as it prefers. Permits are granted by function performed, which makes it possible to control the productivity and work of the workers.
It has a biometric and remote signature system. The client can sign any document without moving. The signature is stored in your file. This functionality contributes to consumer satisfaction.
Siturweb simplifies billing and accounting. Records control of expenses, issues invoices, generates documentation with the corporate image of the agency.
5. Servivuelo, the leading air manager among consolidators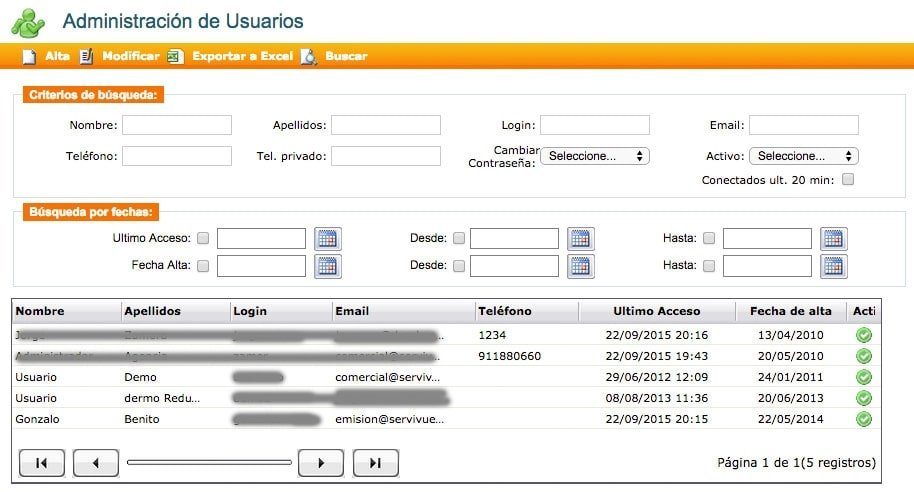 Servivuelo works as a flight consolidator to facilitate the task of the agents. Its main objective is to show and compare the most competitive rates on the market to present various options to travelers, thus being able to select the most convenient one.
Why work with Servivuelo?
Through this travel agency software you can book flights, cars and connect to hotel software to check availability. In addition, you can get quotes for groups, from 9 people, and offer your clients information about their flight in real time through the App Booking365.
Specialization in air distribution provides travel agencies with quality of service and more competitive prices. Offers negotiated rates, group rates, operator rates.
The travel agencies that prefer Servivuelo offer their clients the access to flights at the best prices, without leaving your website. With a minimum investment and absolute ease.
More information: Servivuelo
6. Gesvi, a comprehensive, flexible and secure travel agency management program
Specialized in the administration of retail travel agencies, Gesvi has everything planned to make the most of the company's operations.  Centralized and reachable from anywhere and at any time, it is a perfect assistant for the agent.
Gesvi's main strengths are:
Does not require specific technology or programming. All you need is a browser and a plugin. No need to remember backups or updates. Gesvi automates all these processes, the dynamics of the administration becomes fluid and agile.
It has a friendly and easy-to-navigate interface. It has a security certificate, with encrypted communications that guarantees the security of the data. It makes it possible to establish permissions and roles for users and offices.
Gesvi includes all the functionalities of the software for travel agencies on the market. It integrates centralized accounting, customer and supplier, billing and data analysis modules.
7. Orbis, the complete answer as travel agency software
Orbis optimizes the business administration of travel agencies. It has the most powerful and advanced computer tools. It is inexpensive, efficient, and very easy to use.
What does Orbis offer?
Enables absolute control of all transactions in process at the agency. With one click, locate sales cards, passengers, assigned tickets and contracted services. Control private clients and groups. Its customer file system keeps a record of all operations.
Complete the entire sales procedure: preparation of budgets, issuance of invoices, delivery notes, receipts, bonds, collections and payments. Manage travel contracts and track reservations at every step of the operation.
It integrates functionalities to configure the daily cash register and for the automatic reconciliation of settlements.
Pipeline, the developer company, offers applications that complement the basic version of Orbis.
8. Giav. The first software for retail travel agencies that integrates Artificial Intelligence
Giav, developed by Gesintur, empowers administration with the use of artificial intelligence. Optimizes time management, offers security and agility in operations.
How does Giav introduce himself?
The state-of-the-art interface is a highlight. It offers a wide format that makes it easy to see on the screen. It adapts to all devices in current use, and offers users an agile, comfortable and fast format.
Its productivity tools ease the manager's day-to-day life. You have access to more than 150 wholesale websites from the program and from search engines and accommodation reservations. Generate files and issue invoices in minutes.
Giav is presented as a safe software, with optimal levels of protection. It has daily backups, communication encryption, firewalls, plus four innovative levels of security, which give it a score of 9.5 out of 10 in different evaluations.
9. Sigmma, a travel agency management program oriented to the Latin market
Sigmma is a program for travel agencies oriented to the Latin market. It has various tools that improve tourism administration and advice.
This software for travel agencies includes administrative functions to track income and expenses, accounting reports, sales projections, recording tickets issued by reservation systems such as Amadeus and SABER, or managing customer profiles with relevant information.
Another advantage of Sigmma is its integration with a large number of platforms and CRM to complement the tourist service you provide.
It has 3 subscription plans, each designed to fit different needs. The plan Professional It costs $20 per month or $10 if the payment is annual, and includes all the required administrative and operational functions.
Your plan Business It has a cost of $60 per month or $30 per month in the case of paying the full year, integrating the functions of the plan Professional more accounting tools and technical support by chat. To finish the plan Corporate, whose fee is priced at $100 per month or $50 per month in annual payment. This last plan has all the functions of the previous plans, plus telephone support, tourist CRM and promotional catalog.
More information: Sigmma.net
10. Tourplan, the tool for Tour Operators
Tourplan is a software for Tour Operators. It includes a modular structure that encompasses accounting, management, reservations and budgets. It has its own portal for clients, "MyTourplan", with news, offers and events on tourism.
Tourplan's functions vary according to the edition of the software chosen. Markets four formats: Standard, Distribution, Connectivity and Enterprise.
As we have indicated it is not a software travel agency, but one aimed at Tour Operators of all sizes. For more information about the product, prices and contact, go to its WEB: Tourplan.
conclusion
Any of these travel agency software they are an extremely useful tool for your business. Good service is decisive for customer loyalty and the customer experience begins with the first contact.