Why is there a need for clinic software? Because the medical care of patients is highly dependent on the organization of the center. The management of a medical center encompasses very varied aspects. The management in each area involved in the operation generates a complexity that requires permanent attention.
Supply, human resources with specific and different functions, medical records, agendas, are some of the factors that must be coordinated and addressed. To this is added the commercial management, payments and collections, cash flow or billing.
Administrative procedures support the proper functioning of clinics and clinics. Good clinic management software ensures that each procedure is controlled.
What is a software for clinics?
When the clinic has a good management system, efficiency increases. The automation of repetitive tasks typical of daily activity saves time and human resources, reduces errors and streamlines management.
The image generated in users by a center that has a advanced clinic management software, is update and evolution.
It does not matter if it is a large hospital, a small clinic or a plastic surgery, you need to efficiently manage your administration.
Two important consequences of having a computerized system are the reduced need for administrative staff and a more efficient organization.
The best software solutions for clinics
Below we analyze the 10 best clinic management tools that you can find on the market today.
1. Dricloud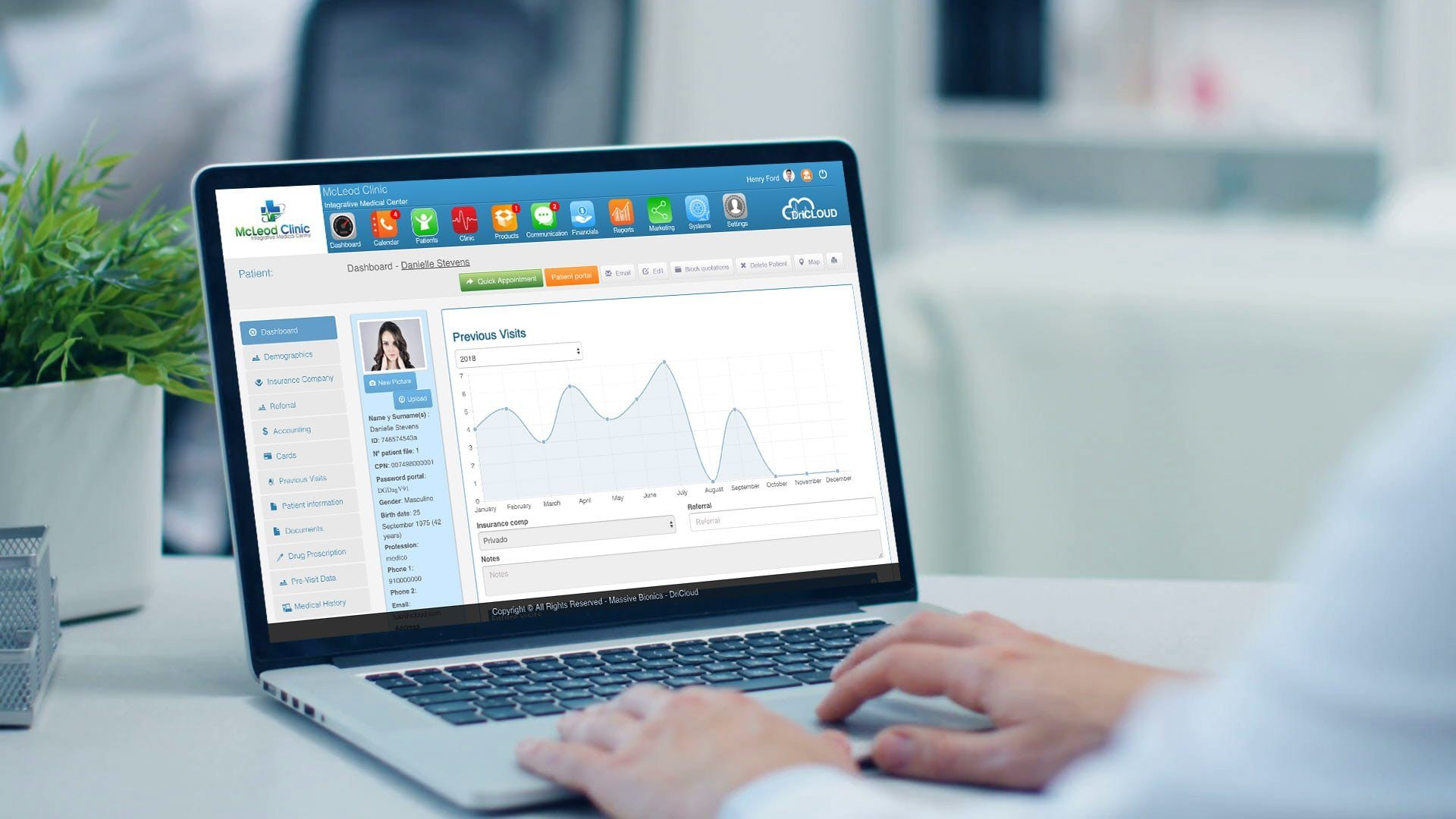 The first clinic software on this list is Dricloud. Developed so that its functionalities are adjusted to primary care, psychology, dentistry, gynecology, pediatrics and other specialties. At the same time, Dricloud storage is 100% in the Cloud so that you safely keep the information of all your customers.
One of the outstanding features of Dricloud is that it incorporates its Telemedicine section, which includes functions such as videoconferencing, consultations and automatic appointment schedule to provide online assistance to your patients. It also integrates tools for managing accounting, billing and developing marketing strategies. Dricloud is one of the most valued options for clinic management.
2. Clinic Cloud

Software for clinics with many centers and specialties. Its structure cloud computing It allows you to access the medical records of your patients from anywhere, safely and with almost unlimited storage. It offers subscription plans that vary in price depending on the functions and capabilities required for the health center.
It has different modules: management, marketing, agenda or records. In each of them there are tools to view the appointments of the month, manage the records of your patients, generate estimates and invoices, create campaigns of mailing and retain your patients. Clinic Cloud provides effective solutions to get the most out of managing hospitals and clinics alike.
3. Nubimed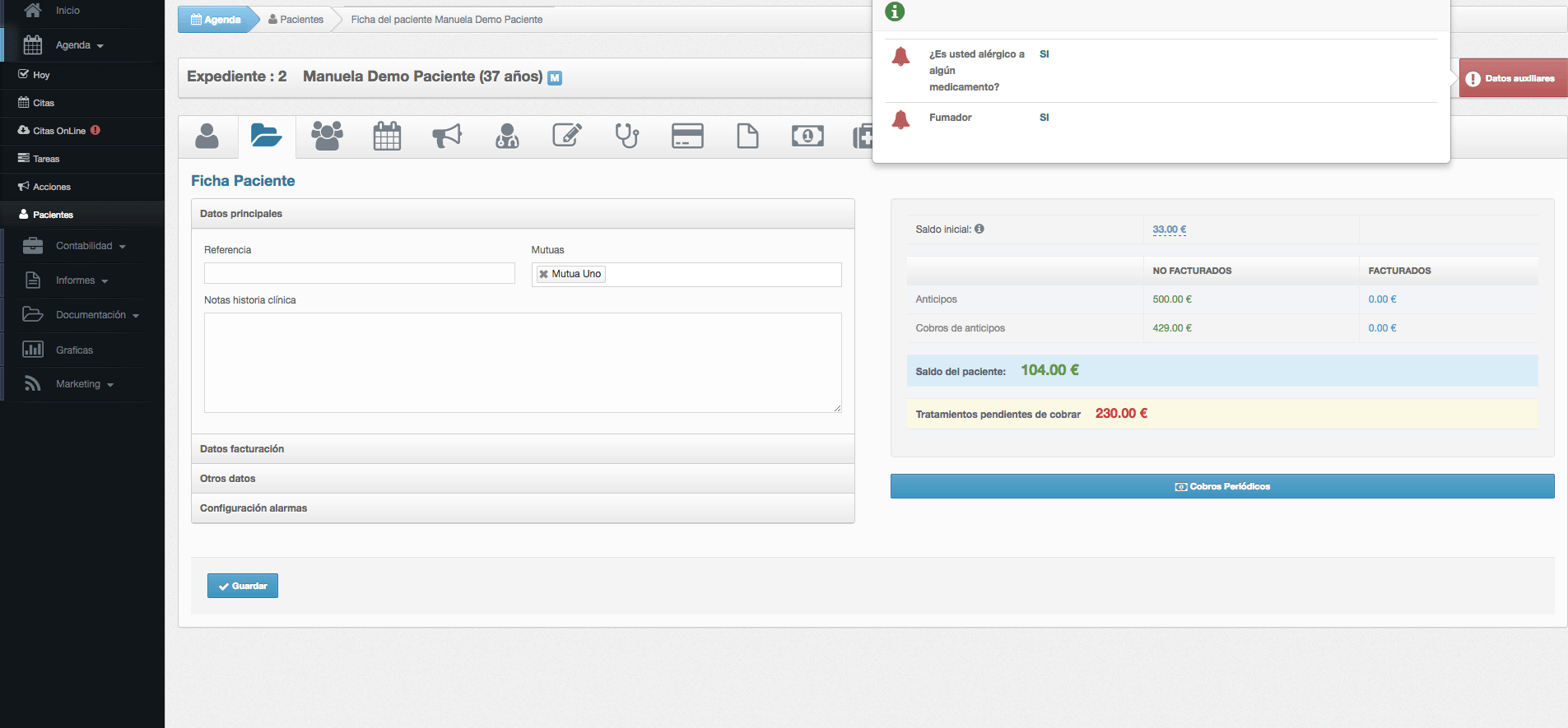 Nubimed centralizes all the management of the clinic. Developed in collaboration with professionals in the medical sector, it stands out for its usability and practicality. All the functionalities of this clinic management software respond to the real needs of any center.
This software has a simple interface that facilitates its use and through its administration panel, features are presented to streamline each task. It has a medical appointment agenda, predetermined document templates and specific sections for patient management. At the same time, it integrates its own accounting and billing module for better financial management.
4. Ofimedic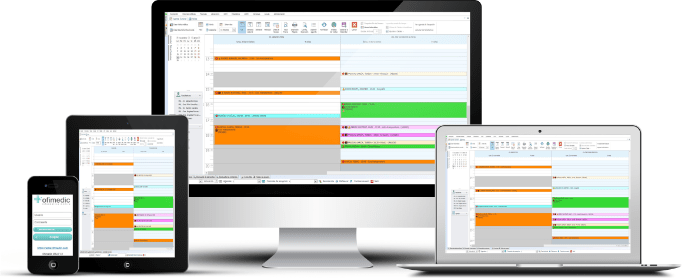 Ofimedic is a software for clinics with which you can centralize all the information quickly and easily, while complying with the legal parameters established by the LOPD. Your subscription plans start at € 16 per month, depending on whether you purchase your license to install on local PCs or cloud storage is required.
It has modules for cash management, validation of insurance companies, stock control or generating reports and statistical graphics on each internal procedure. Ofimedic also integrates its own CRM with which to track interactions with patients. You can send emails from the system and attach recipes or personalized discounts. Ofimedic may be what you are looking for to manage your query in a different way.
5. Dasi Clinic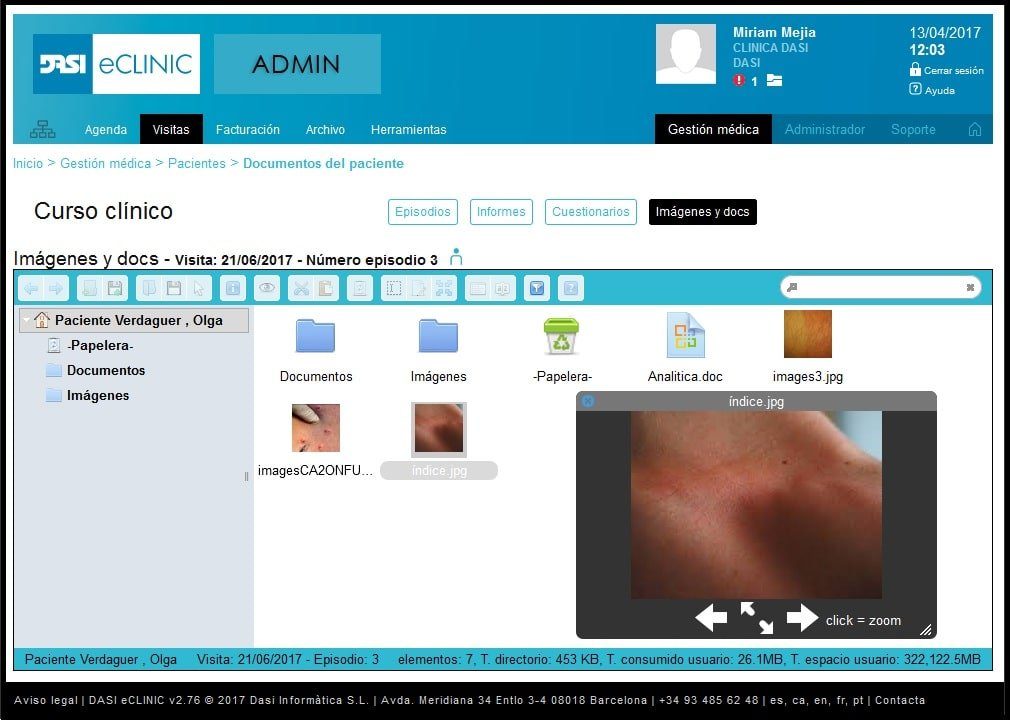 DASI Clinic is a clinic management software that comes in two modalities: cloud and desktop. Your license can be purchased from € 45 per month, with the option of access to its resources in the Cloud. If you are looking to test their tools, you can request a free demo on their website.
The characteristics of the DASI Clinic are adapted to dental, pediatric, aesthetic and multi-specialty centers. Its tools make it possible to schedule online appointments, organize doctor and nurse shifts, or store personal data and medical records of patients. Even your system can keep track of stock, perform accounting or analyze the productivity of each staff member. DASI Clinic leaves nothing out of its management.
6. SFT Clinics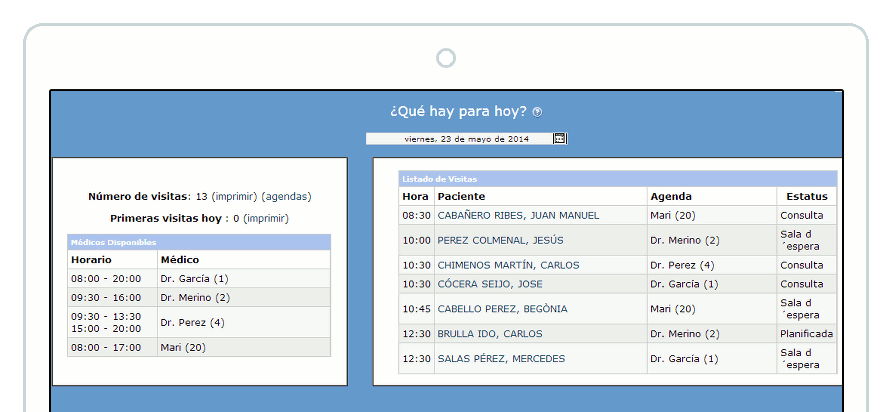 Clinics SFT, makes it possible to migrate the information from any other management program. Its platform is hosted in the Cloud, so all the data in your health center is managed safely and under strict confidentiality rules, complying with the LOPD. You do not need special computer knowledge as it is easy to use. With regard to support and resolution of doubts, they have technical advice and customer service.
To work With this clinic software you don't need a large initial investment. It comes in several versions, ranging from € 23.33 to € 65 per month.
7. EsiClinic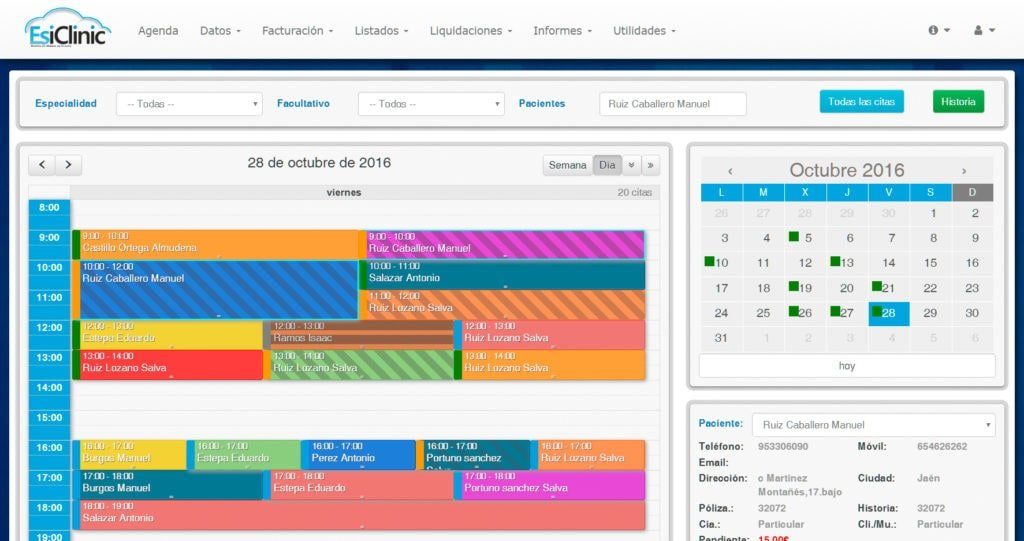 EsiClinic can be used as software for clinics or one-person consultations. It does not require special installation. Once you purchase the software, you are provided with an access code and go to work. From any device connected to the internet you operate in the clinic.
Incorporates email and marketing campaign management. At the same time, the calendar sends appointment reminder messages to patients, thus avoiding wasted time.
This software for clinic management offers a free basic version with which you can experience its benefits. The Professional Plan costs € 24.95 per month.
8. NaturalSoft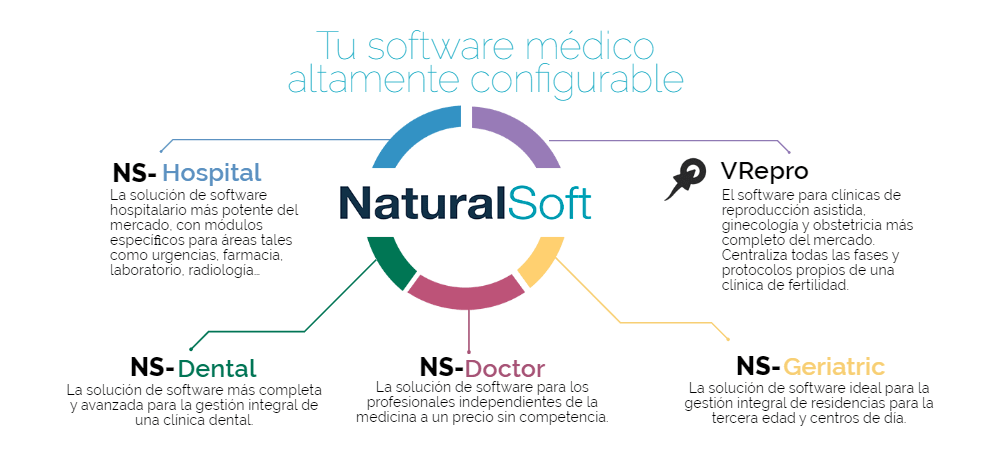 We are facing a highly configurable tool for clinics. It adapts to all operating systems. It is accessed from any device with Linux, Windows, Mac or Android, and guarantees the best levels of stability and security.
It is a clinic management software that has the ISO 9001 quality certification. It has been designed to meet the specific needs and expectations of all specialties. It presents various solutions aimed at different specialties: NS-Hospital (software for hospitals), VRepro (for assisted reproduction clinics), NS-Doctor, NS-Dental and NS-Geriatric.
9. Infomed
Infomed is a advanced clinic software that improves communication and increases the benefits offered to patients. Your system also has with other specific platforms for laboratory management, dental offices or clinics of various specialties.
Infomed tools make it possible to register the check-in of patients, book appointments online, automate the sending of emails and reminders to medical personnel or display dynamic graphs about the different activities carried out in the clinic. Infomed is a software that provides a solution to any bottleneck and exponentially increases the operation of health centers.
10. Medigest (Axon)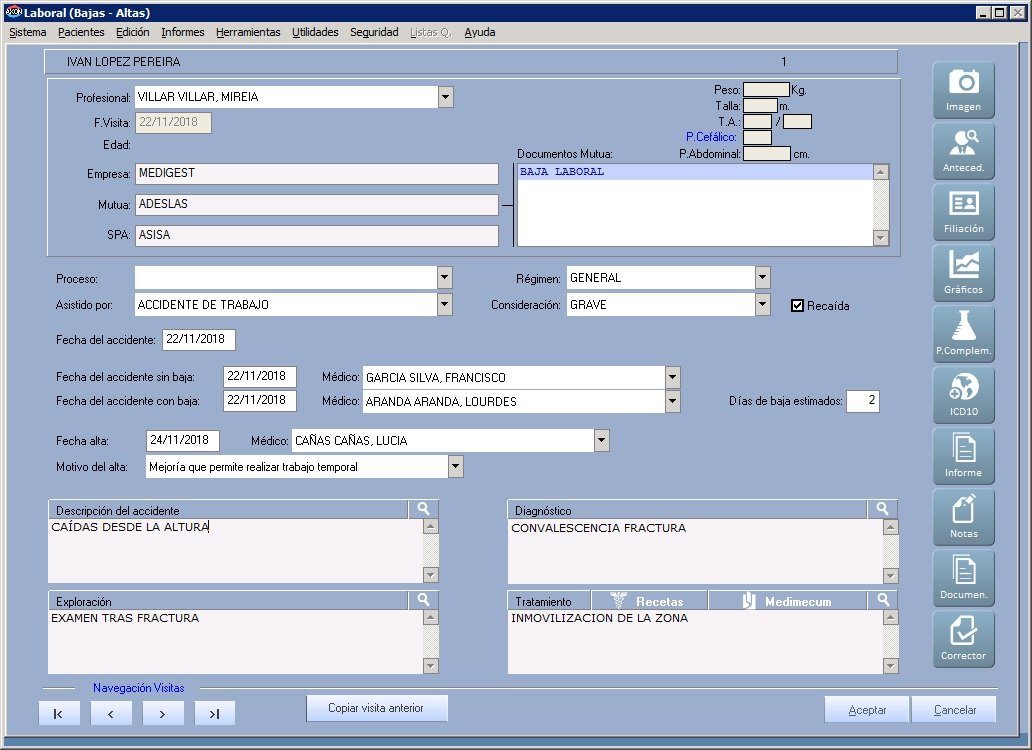 Finally, in this list we have Medigest, whose tool Axón is a fairly efficient software for clinics. It offers two versions: Axón Local or Axón Cloud. The difference lies in the installation on the servers of the center itself or in the cloud. Both platforms have the same functionalities to improve the management of a clinic or office.
Axon offers different functions ranging from generating the planning diary of the health center, issue invoices for consultations, generate medical records or follow up with frequent patients. Axón can be put into practice in all kinds of specialties.
(If you need to discover other systems related to specific specialties, we suggest you take a look at our posts on software for dentists and veterinary software)
Basic characteristics of a software for clinics
There are common features in the management of all medical centers, which good software for clinics must address. What are the essential basic functionalities?
Safe storage of medical records. The storage capacity must be large to accommodate all the medical records of your patients. Look at the growth projection.
Data security system. Patient data is confidential. The software you work with must comply with the LOPD regulations.
Management of appointments and reception. It is a very important issue in medical management, because it affects the image given to the client and the day-to-day organization. Good software will take this into account.
Accounting functionalities. The billing, cash flow, issuance of receipts operations need good precision.
Stock control. Viewing inventory status in real time is another key issue.
Adaptability. Medical software must be adapted to the needs and work system of your clinic.
Clinic Management Software, How to select the best one?
Before putting into practice a software for clinics, you should pay attention to a series of factors so that you choose the best system according to the needs of your health center.
1. Evaluate the level of software functionality
It is essential that the first thing you evaluate is the level of functionality of the software, since it depends on this that the needs of the clinic are satisfied. You can make a list of areas that require specialized software support and make comparisons with the alternatives you have in mind. If the software integrates tools aimed at the problems of your health center, it is a plus.
2. Analyze the implementation time
Do you need weeks to implement and don't have time? Analyze with an expert what is the reasonable installation time for clinic software and adjust activities accordingly. Keep in mind that many systems for managing clinics are hosted in the Cloud and can be used almost immediately, you can take this alternative into account.
3. Observe the adaptability of the clinic
If you manage a medical office, your needs may not be the same as those of a clinic. Observe the adaptability of your health center and what needs to be improved, so you can choose a software whose solution is scalable and adapts to the growth of the company, providing you with specific solutions.
4. Establish a budget according to the economic capacity of the company
Finally, before selecting a system, you must establish a budget adjusted to the economic capacity of the company. Why? There are options with very different prices. Choose a management software that meets your needs and adapts to the initially delimited budget.
When opting for software for clinics, it is advisable to think about the critical points, the weaknesses and in which areas of management need to be strengthened.