There are currently many human resource systems at the service of SMEs and large companies. Information technology is becoming a decisive factor when it comes to managing human relationships in an efficient way. The potential of a HR software It's huge, considering you can control everything from payroll to productivity for each employee. The competitiveness in this sector is such that the choice can become a headache. For this reason, we have put ourselves to it to test the different options available in the market. Here are our conclusions.
What is a Human Resources Software?
To talk about the best human resources software, you must first be clear about the concept. Taking into account the definition of Wikipedia We could define it in our own words as follows:
Human resource management systems (HRMS) are computer programs especially designed to plan, control and organize the human talent of a company. Through its platform you can manage from basic administrative aspects such as payroll payment, storage of personal data to the productivity of each person.
The different HR software They include among their functionalities analytical tools to measure the working time of workers. From this dynamics, the related financial and accounting processes are streamlined. If you have the direction of the area and you are a leader in human talent, it is worth considering having a system of this type in order to make the most of your work.
What is Human Resources Software for?
Human resource management systems take care of every aspect associated with that area of the company. Its main objective, while improving personal relationships, is detect errors that hamper overall productivity early.
A human resources software automate payroll administration, calculate tax payments, control worker attendance, obtain metrics and statistics about performance and help the accounting area.
It is even possible to determine clear strategies for the development of workers' skills, reinforce the training of personnel when detecting deficiencies, record professional data of each person and even quantify productivity for the establishment of bonuses and rewards. A HR software works closely with one of the most important pillars of the company, the personnel department.
The Best Human Resource Systems
1. Bizneo HR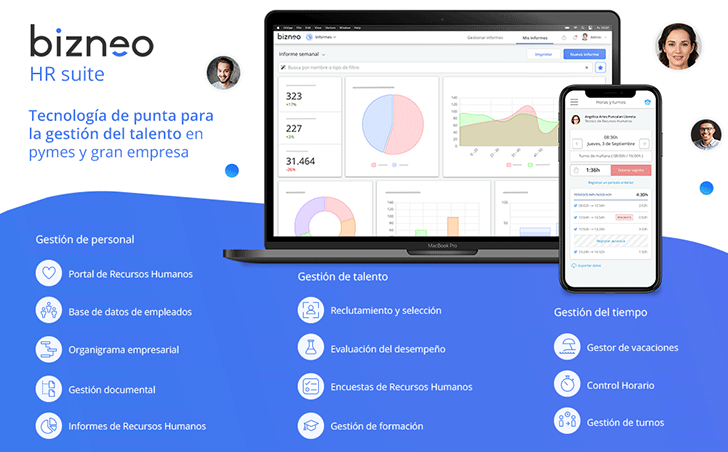 Bizneo HR is at this time one of the undisputed leaders in the sector. His HR software covers all talent management needs in any type of company. Its system is in the cloud and is used daily by users in more than 14 countries around the world.
This platform has modules that optimize all processes: from staff recruitment, metrics to examine performance, to time management within the company. It is a very flexible solution that fully manages the employee's work cycle, identifying it first, then developing it and building it loyalty.
Bizneo offers tools with which it manages to differentiate itself from the competition and groups them into two types of rates: plans for talent management and plans for recruitment and selection. A specific offer aimed at those users who want a specific product according to the size of their company or the functionality they need, from SMEs to large companies. You can request a budget without obligation through its website.
Web: Bizneo HR
2. Factorial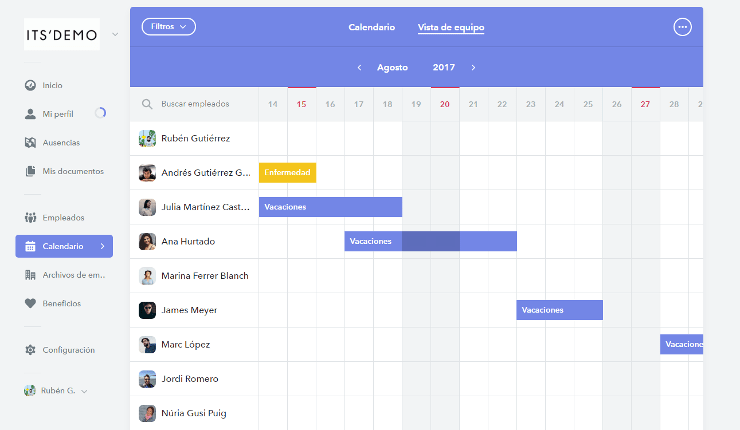 Factorial is a company that was born in Barcelona and whose HR software proposes the reduction of errors and an impeccable data management. With its program it is possible to centralize all the information in a single place, such as contracts, payroll, e-mails and other relevant documents.
Another of Factorial's peculiarities is that it generates reports of all kinds: vacations, absenteeism, rotation, etc. You have at your disposal a personalized event calendar, you can pay salaries and vacations with just one click and even make an organization chart in a short time.
Prices: Factorial's standard plan costs € 30 per month for 10 workers. From that number to each worker that we register in the system we will add an additional € 3. Includes advice, SEPA files, connection with management and automated administration. If we wish to add the recruitment and selection module, we will have to pay an additional fee of € 49 / month.
Web: Factorial
3. Personio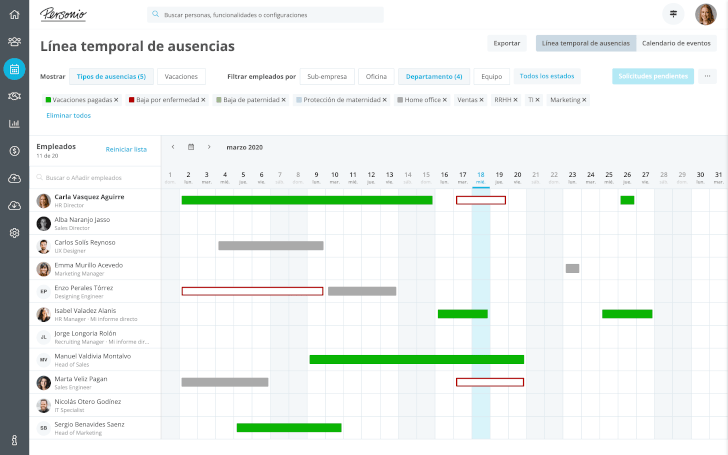 Personio is a HR software developed to boost the productivity and competitiveness of the company. We are facing an excellent HR process manager in all its stages: it manages the publication of offers, selection, evaluation, as well as the onboarding of the candidate.
It has a Self-Service Portal from which workers can check their permits, record the hours worked, update their personal data and even enter their payroll. For managers, it means a significant reduction in administrative burdens. Another function to note is the analysis of data through all kinds of reports.
Prices: Personio's plans are tailored to SMEs of all industries and sizes. You can calculate the amount on their website and request, free and without obligation, a 14-day trial or an online demonstration of the tool by a professional.
Web: Personio.es
4. Endalia HR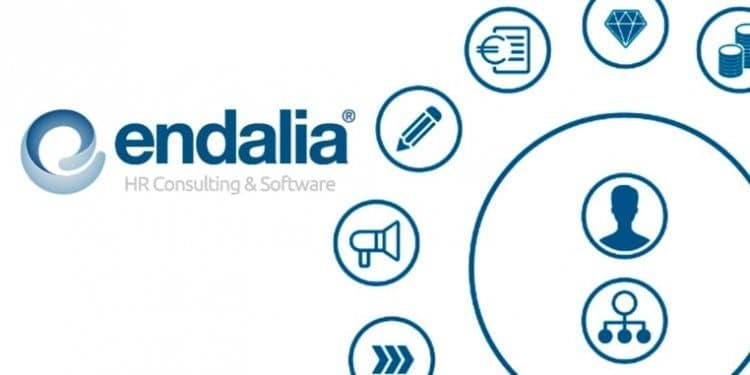 Endalia is a HR software integrated by different modules. As it is a modular system, it adapts to all types of clients since a customized solution can be built using only the resources that meet our needs.
Another point to point out compared to the competition is that you can opt for two versions:
Endalia WEB presents a simple interface that can be accessed from any device with an Internet connection. It is a cloud solution.
Endalia Desktop It is a program that is installed on the client's PC.
The different modules cover all the activities carried out in the personnel department: Administration of organization charts and job characteristics, employee portal, document registration, budget management, payroll, etc.
5. TramitApp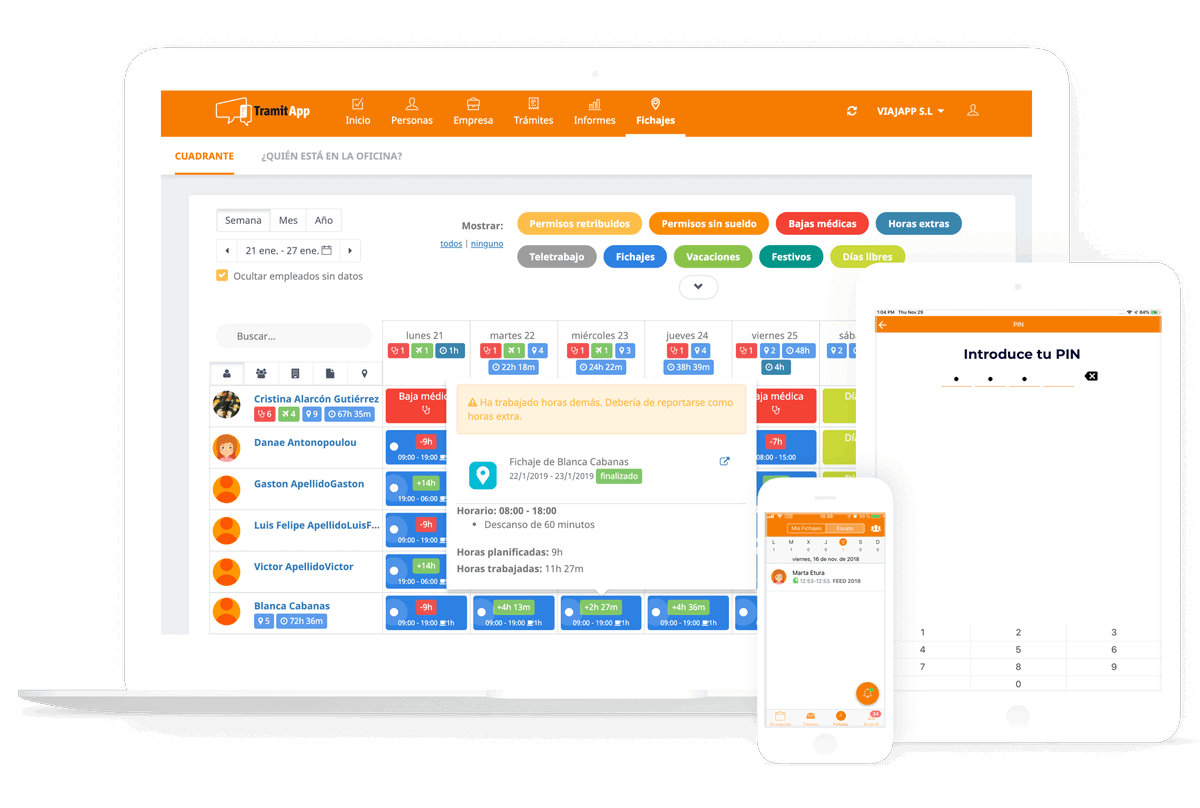 With this human resources software, administrative expenses are reduced and worker efficiency increases. TramitApp stands out for its simple and error-free time control device.
This system has the peculiarity that the staff can carry out all work procedures at any time from their cell phone. I know report absences, sick leave, expense notes, overtime, vacation request. Then, the direct managers will control these reports and will approve or suggest modifications.
TramitApp offers achievable, orderly and updated information on the dismissal of workers and expiration of contracts. Using its tools, administration security is optimized.
Prices: TramitApp comes in three versions. The Basic plan of this HR software is priced at € 30 per month. Then follows the Pro plan, which adds functionalities and workers to manage, whose rate is € 40 per month (€ 4 per employee). In addition, a 'Super Company' plan is offered for € 400.
6. Workday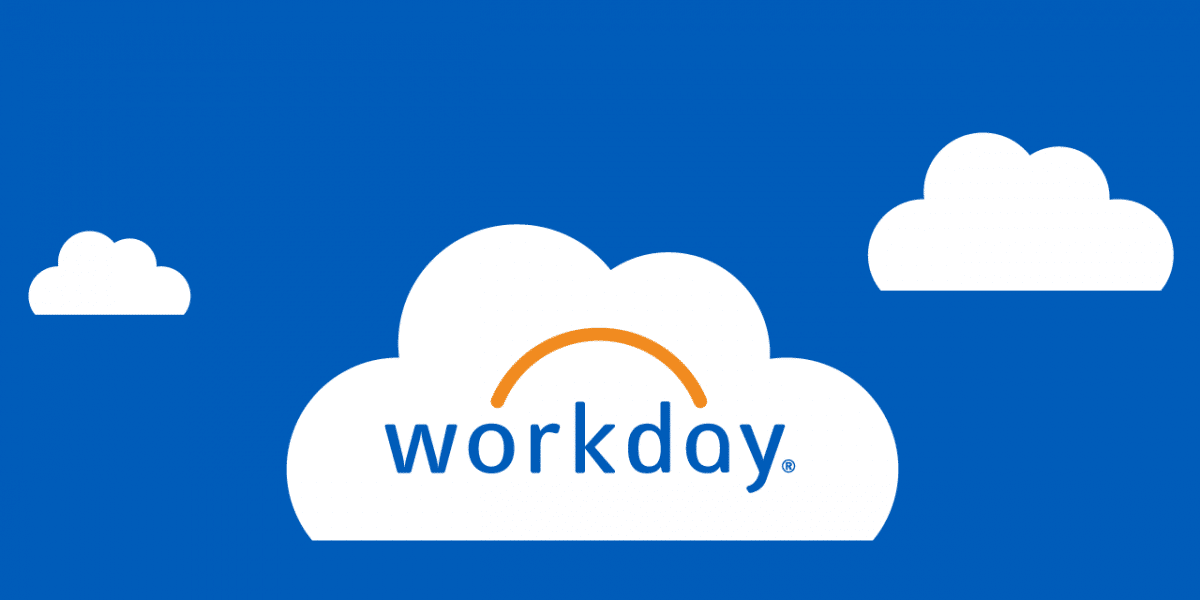 Workday, as HR software, boasts programming carried out from the user's point of view. It comes as a comprehensive solution with specific functions for the administration of human relations, as well as for finances and planning in general of SMEs and large companies.
The Workday platform automates the functions of an HR department. You can generate job offers according to the profiles to be covered in the company, simplify payment transactions, track absenteeism, prepare reports on available talent, etc.
At the same time, with Workday you can view the integration of your work team and the different internal office processes from any device.
Prices: Workday does not publish prices for HR software on its website. According to various sources, the charges are focused on the number of modules contracted and users of the platform. Their prices range between $100 and $200 per employee for a minimum contract of 3 years.
For those who want to see how the software works, Workday has a demo of its program on its web portal.
7. Sage 200 cloud Labor
Sage is one of the most demanded human resources management systems at the enterprise level. Its solutions are scalable and evolve with the company. It provides real-time information that enables in-depth analysis and quick decision-making.
A relevant aspect of Sage 200 Cloud Laboral, is that its functions comply with the legal regulations in force in each country. Provides options that facilitate payroll control and salary calculations, displays specific data on worker performance, and includes analytical tools for your business.
Price: The cost of implementing the Sage 200 Human Resources software is approximately € 1,000, taking as a reference a company of 100 workers and a monthly fee of close to € 50 must be paid.
8. Oracle HCM Cloud
Since 2012, Oracle has offered its own human resources software, a computer program with the potential to process the data of current and future employees, so that executives can recruit the best talent in the shortest possible time. Talking about one of the leaders in the sector may lead you to think that we are dealing with HR software with a high price, but Oracle HCM Cloud provides packaged solutions for both SMEs and large companies.
The functionalities of Oracle HCM Cloud make it possible to control personnel recruitment, increase efficiency in labor hiring, automate worker training and even monitor the performance of the workforce.
Price: Oracle HCM Cloud is a good solution among the different human resource management systems  for companies of any kind. The price published on its website for a medium-sized company with a minimum of 500 employees starts at € 6.95 per employee per month.
9. a3 TEAM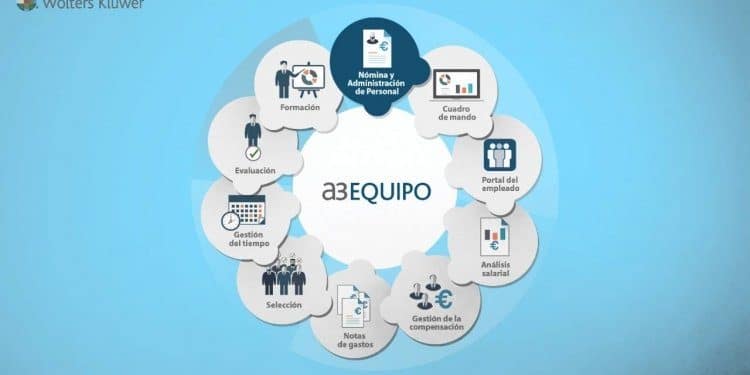 a3EQUIPO is a modular human resources software that modernizes the tasks and processes corresponding to the human capital of a business. You can build a custom tool based on a payroll module and a personnel administration module.
The application makes it possible to add solutions related to training, selection, evaluation of workers, information portal, dashboard from which reports originate and time management.
As one of the most requested human resources management systems, a3EQUIPO offers, as we have seen, a scalable solution that can be adapted to the pace and growth of your company.
Price: Regarding the price, we are facing a system in the cloud, free of installation or maintenance. Its pricing system is based on a payment per use according to the contracted modules. These modules have a price that ranges between € 1 and € 5 per month per employee.
10. Goal4
Meta4 is a comprehensive human resources software It offers useful tools and functions for efficient staff management. We are facing one of the most popular companies in this field that started selling their product under the name PeopleNet .
In the area of talent, Meta4 streamlines the selection of personnel, implements periodic evaluations and contributes to professional training through specific activities. As for the payroll, he is able to administer the salaries and compensations.
With Meta4 you can keep track of attendance, determine the time for each procedure and even provide your own digital space for the interaction of workers. As HR software, it promises effective solutions available to any company.
The price of your cloud solution is per employee per month. There are no official amounts published in this regard since the final amount depends on the client's requirements.
Sheet: Goal4
Tips for Selecting the Right HR Software
Good HR software will solve the complexities you often come across in worker management.
What should you pay attention to when selecting an HR Software?
The starting point is to know which points are most sensitive in your business. Although there are functionalities common to all, each company has its characteristics. You will make sure that the software you choose covers every need.
The number of licenses is another factor to consider. Most HR systems are scalable. If you intend to increase the department staff in the future, your new software should allow a greater number of users.
How does worker dynamics work in your company? Do they always work in the office or do they have mobility? It is essential to select an HR software that suits this situation.
The permanent update, especially of any novelty in the law, is a condition that you must pay attention to.
This is where our selection of human resource management systems. We hope it helps you. If you use any other program, share it with us in the comments.