In the current times of uncertainty, more and more companies are looking for alternatives to train their workers or increase their knowledge. Thanks to the development of technology, LMS or Learning Management System platformsThey are a solid alternative to the traditional face-to-face training that we are all used to.
Just a few years ago, these online learning management systems were heavy, poorly optimized systems that transmitted coldness to the user, but thanks to advances in educational and training standards. e-learning, today they are a real and necessary alternative.
What is an LMS?
Entering fully into matter, The acronym LMS refers to a Learning Management System in virtual classrooms, managed from different platforms that provide their services to academic organizations and companies.
Each of these LMS platforms have their own characteristics, and their particular educational method, which depending on the needs of the user company, or the student who uses it, may be more or less adequate for the purposes pursued.
There are Open Source or Open Source LMS, and proprietary software. There are those that operate in the cloud, and those that require personnel with knowledge for their maintenance and deployment. There are LMS that bet on a Gamification system, with rewards and levels, and the classic and much more institutional ones. Finally, we have an LMS for almost any taste.
What are LMS platforms used for?
Once the first approach to the world of E-Learning platforms has been made, we may wonder what they are used for. Many companies lack the budget to enter into a collaboration agreement with training organizations, or basically the cost of mobilizing staff to send them to periodic training is unaffordable.
However, any employer wants their workers to be well trained, in order to improve performance in the company. Well-trained staff is a sure asset for a business.
Companies have found in e-Learning, in LMS platforms, a good possibility of keep your staff updated, at a contained cost, and with some control over the knowledge that is imparted, and how it is distributed. An LMS offers flexibility and training capabilities to any small company. Implementing an LMS can take a few weeks of work, but years of quality training.
The LMS platforms They are designed to be able to deliver online training in an interactive and entertaining way. They have tools to carry out periodic evaluations, exchange information between trainers and students or create their own content. A virtual universe at the service of training.
For its part, use at a private level opens a new horizon for those who want to continue training in their field, without having to give up their time or money. Training through an LMS will always be cheaper than in person, and that makes many potential students who do not consider taking a course or face-to-face training, take the leap.
The flexibility of class schedules, not being subject to strict time control, or the fact of having to waste time traveling, are factors that make more and more students (or employees) opt for these e-learning platforms. -Learning.
What are the advantages and disadvantages of an LMS?
But far from being perfect, like any system, LMS have a number of advantages and disadvantages, both for themselves and their nature, and with respect to traditional education methods.
Synthesizing the pros of the LMS we can affirm in a blunt way, that they are a way of opening the education, retraining, and knowledge to anyone. Apart from this, the access barriers that open the doors to these Learning Management Systems are much more accessible, both by schedule, cost and requirements.
What cons, LMS essentially have two:
Lack of personal contact. The physical tutorial of a teacher who advises us on how we are progressing in the studies, or on how to face certain aspects of the studies, is necessary to successfully face a training.
The technological barrier. While the younger generations have no major problem with this (and we have seen it this way during this pandemic, with traditional schools making the leap to the online world), people of a certain age are reluctant to make the leap, or have difficulties to interact with these virtual educational platforms.
What types of LMS platforms are there?
We can divide the LMS into two large groups. Those of Open Source, or OPEN SOURCE and those of Proprietary Software, or SAAS (Software as a Service)
Open Source LMS
Open source LMS are platforms developed in an open way. Its code is free and the community has access to it. That means that Any company who wants to use it, you can tailor that LMS to your specific needs, and add or remove resources according to your wishes. This has a number of clear advantages over SAAS platforms. Another point in favor is that OpenSource-type E-Learning platforms are usually free, or you only have to make a small payment at the time of installation. There are NO more hidden costs.
But since all that glitters could not be gold, these open source Virtual Classrooms have their drawbacks: on the one hand, a certain knowledge is required to modify that platform according to our needs, at the same time maintenance is the responsibility of the purchaser and customer service is essentially non-existent. On the other hand, the Software update is at the mercy of the community and what it develops. Perhaps the LMS you purchased has a security hole, but until the community detects it and we are going to fix the bug, months may pass.
LMS SAAS
For its part, SAAS, have certain advantages over Open Source LMS. First, they are platforms that are regularly Ready to use, or ready to use. You hire their services, decide what structure and appearance you want your company's classroom, or your educational center, to have, and that's it. It can now be used. Nothing to start creating administrator profiles and dozens of files for teachers, students, payments ... You don't worry about all that. Apart from this, they are much more up-to-date platforms, both in security and user interface, without forgetting customer and user service. You pay to forget about those aspects of the day to day.
Given the advantages, we can think that the LMS SAAS are the winners of this contest, despite everything, let's go with their cons. SAAS they are closed systems. We will have to adapt ourselves to that platform and what it offers us. If we want to put something into practice, we will have to go through opening a ticket, talking to customer service, so that, perhaps, in short, we cannot do what we wanted. Other than this, we have no control over the code, and we will never know what lies hidden in it. Finally, remember that we will have to repeatedly pay an initial payment for access, and annual or monthly fees to keep the platform active. A late payment may lead to the closure of our classroom.
The best Open Source LMS
Once the details of the LMS have been explained, here I leave you, which in my opinion, based on my personal experience, are currently the best Open Source LMS.
1. Moodle
Old rockers never die, and MOODLE is the Mick Jagger of the LMS. Moodle is one of the first LMS that became established in the global market. It is a robust system, with many contributions from the community, and you can find almost any question resolved in forums or on their website. Is a e-Learning platform that has thousands of plugins for almost any utility and educational application that you can think of and hundreds of status universities and technical schools use Moodle for their virtual classrooms. A guaranteed value with which you will not fail. Its main problem is the access barrier that it has, since its own dimension can make a person without a certain technological base make a world of it begin.
2. Chamilo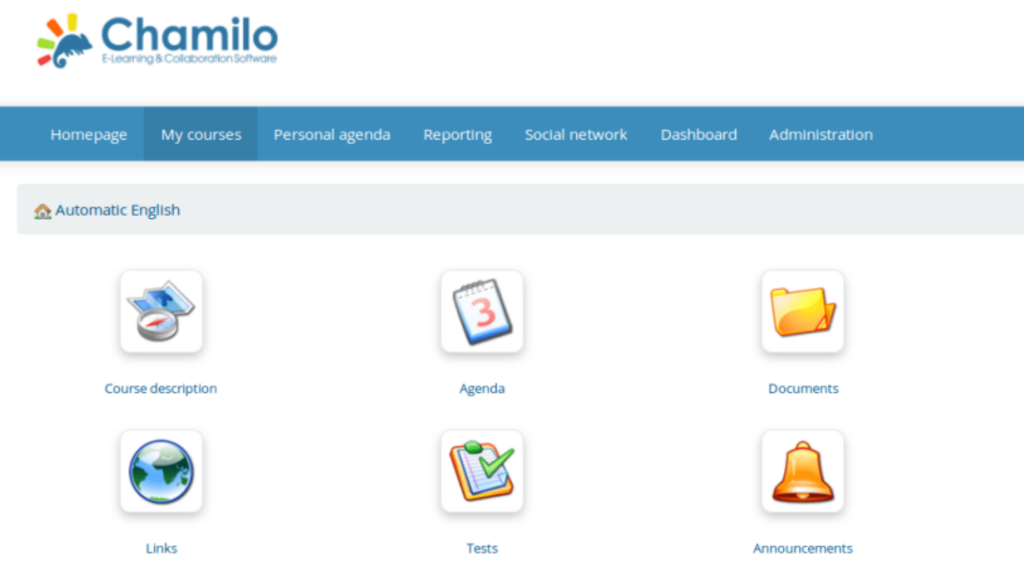 Gamification, timers, online tests ... CHAMILO is also a veteran in this battle. Despite being much newer than Moodle, it has managed to adapt the best of it and give it a twist. A fairly active community and frequent updates, make Chamilo a very interesting option if you want to start creating your virtual classroom.
LMS for WordPress
WordPress is the CMS with which approximately 40% of the web pages you browse the internet are created. This popular CMS is the industry standard, and among all that it can offer us, the themes and plugins to adapt it and transform our site into an LMS platform are one of its strengths. Given its importance, I bring you those that for me are also basic within this platform.
1. WPMLS
His name is a declaration of intent: WordPress Learning Management System. It consists of a theme for WordPress, which boasts of veterancy and at the same time, of simplicity of use. We download the theme, activate and voila, our website is a virtual classroom. With thousands of functionalities, and expandable in functions through plugins, we can create classrooms differentiated by subjects, introduce roles on the page, limit access to areas, or open lessons by results or time. The only bad thing? Those of an OpenSource LMS, with the addition that if we want to have all the functionalities we must obtain its Pro version, which is paid.
2. Sensei
WOOCOMMERCE is a WordPress plugin that makes it possible to turn our website into a store, implement payment systems with credit card, or Paypal, generate a catalog, control stocks ... However, SENSEI for Woocommerce, transforms our web "Store" into an LMS. The main advantage of this plugin is the inclusion and integration of payment, recurring payment and billing systems. One point to pay attention if you want to monetize your LMS.
3. Learn Dash
The most modern, and the most daring, LearnDash plays the card of freshness to attract the attention of those looking to create their digital classroom. It enables us to include Gamification, level system and rewards in an easy and fun way.
Best LMS SaaS Platforms
And in the turn of the LMS SaaS, I will go on to list those that, for me, are the main representatives of this type of e-learning classrooms.
1. Academy LMS
A powerful LMS tool that will not leave you indifferent. The main handicap is that both the software and the customer service are in English, but if this is not an impediment for you, I highly recommend it. It has thousands of tools and functionalities that will adapt to almost any project that you want to carry out in your virtual classroom. Customer service is fast and exquisite. A real 10.
2. Canvas LMS
Canvas LMS is one of the child prodigies in the class. Its growth in new educational projects is prodigious. The difference with its competitors is that CANVAS is mainly aimed at the market of traditional Universities and schools that seek to make the leap to digital. At the same time, it brings together the best of both worlds, it is Open Source even though offers the SAAS version with what we always miss in traditional Open Source LMS: maintenance, customer service ...
Very easy to use and open to almost any modification that comes to mind, it natively includes a system for video calls and virtual distance classes through Big Blue Button.
3. Evol Campus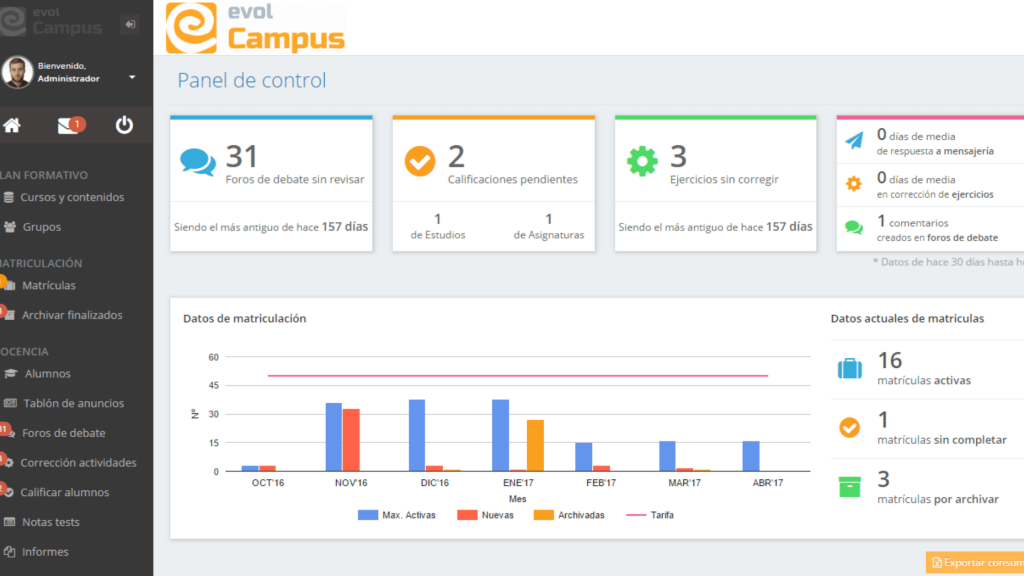 EVol campus consists of a SAAS-type LMS. Its main asset is that it is hosted in the cloud in the style of Google Drive, therefore it will be accessible from any device and place.
In exchange for a monthly fee that is surprisingly inexpensive, you will have access to the features it offers. It consists of a simple platform aimed at those companies or people who want an LMS software but who want to be unconcerned about details, and who do not require a very complex classroom or personalized functionalities.
4. Bizneo
Bizneo is a human resources software that includes a very powerful module of training for company workers, at the same time that their training in their respective areas is encouraged. Bizneo tools are useful to avoid the loss of intellectual capital, develop a training plan for key profiles or fill positions with specialized employees.
With Bizneo you will be able to create and organize online training programs, add an unlimited group of students to the virtual classroom or review the training history of each employee. The main advantage of implementing Bizneo LMS in your organization is the reduction of costs in the recruitment and adaptation to the position of professionals.
5. eLearning Media
More than an LMS platform, eLearning Media is a complete digital ecosystem covering all areas of online training. The functionalities of its platform are adapted to the needs of any educational center. It offers its services in the cloud, under the guidance of experts and 24/7 technical support to explain any inconvenience you may have.
eLearning Media also integrates innovative and simple-to-use tools. You can hold videoconferences, design interactive lessons, develop evaluations or analyze the content of students' work to detect plagiarism. One of its most notable aspects is IntelliBoard, that allows you to analyze in real time more than 120 reports at the same time to establish the progress in the learning of the group. eLearning Media is an effective solution to achieve any educational objective.
6. Advance LMS
Another option within this list is Avanzo, an LMS platform that offers various solutions through its work modules. Avanzo's goal is to serve as a virtual campus for online training for universities and companies alike. Among its advantages of use are the simplicity of its system and a closed environment to promote learning among students.
One of the most outstanding features of Avanzo is that it has its own e-learning content catalog of great value with more than 13,000 files, which includes multimedia material in various areas of knowledge. For the rest, with its functions it is possible to design personalized training programs, create your own audiovisual material or play different games to promote the training of students.
Conclusions on LMS
As we have seen in this post, LMS represent a unique possibility, both for companies that seek to keep their workers trained, as well as for individuals who seek to keep up-to-date in their specialty, or basically, gain knowledge of any sector, but not they want to invest large sums of money or waste time traveling. The LMS market is only growing, and this should send us an unequivocal signal that we are facing a reality that is here to stay. Take advantage of the moment now and do not miss the possibility for your business.