Billing programs for freelancers They are one of the essential tools in the day-to-day life of any professional. The business world is increasingly complicated and technological, and freelancers need to automate routine activities to focus on customers.
Time is never enough, tasks overlap, and work is stressful. Technology is a good help that makes it possible to save time in management to dedicate it to what really matters: producing and marketing.
Self-employed and billing
The self-employed person, even when he has an agency that takes care of the Books and other legal requirements, will certainly have to do the invoices himself.
Why are billing programs for freelancers?  Because billing is the origin of the entire accounting chain. The invoices will depend on the calculation of taxes, the records in the Books, the balances. This way, if mistakes are made while doing them, there will be problems throughout the procedure.
Manual billing requires attention, concentration and perfection. And usually, the freelancer has many tasks to take care of. Billing programs are valuable assistants that automate work and save time.
13 Self-Employed Billing Programs
Next, we offer you several options that you have at your fingertips to bill your clients.
1. Quipu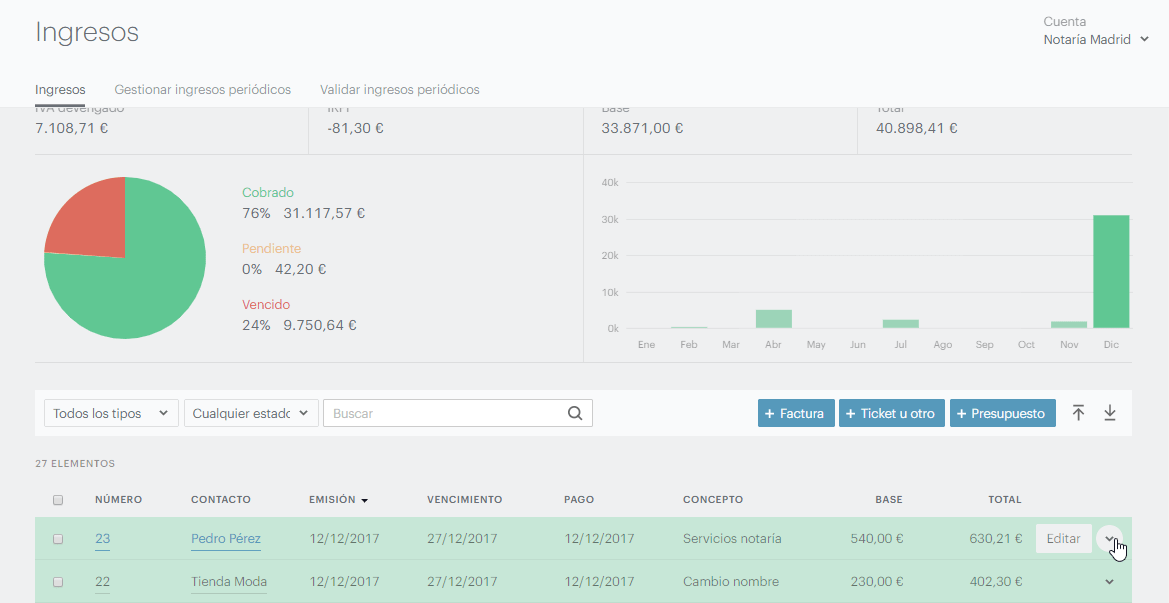 Quipu is an online agency at your disposal. You will be able to issue invoices from any device while keeping your taxes up to date.
The system has a database of customers and suppliers, from which it takes the information. If you take a photo of a ticket or invoice in PDF, it is automatically registered. It also connects with your bank account.
Quipu issues financial summaries with the status of your company in real time. You will have clear information about your income and what your expenses are.
The most basic rate It is called Solution with a price of € 20 per month. Covers all the needs of the self-employed. If your business grows later and you incorporate workers, you have the Business plan for € 40 with advanced reports and project management.
2. Direct Invoice
FacturaDirecta is another of the billing programs for freelancers that covers all administrative areas: invoices, accounting and taxes. It is online, it has applications for both Android and iOS.
InvoiceDirect creates, copies and sends invoices, estimates and delivery notes in a few seconds. For this, integrates a database of customers and suppliers. Solve the cumbersome tax procedures, generate the models automatically and send them directly to the website of the AEAT. It also connects with banks, for inquiries, conciliations and collections for remittances.
One of the positive aspects is that they offer you a 30-day trial period without obligation. From there you have three price plans: Basic with a monthly fee of € 10 and limited to 100 customers and 25 products, Advanced for € 20 without any limitation and, finally, Total that for € 40 incorporates online accounting.
Web: Direct Invoice
3. Sage 50cloud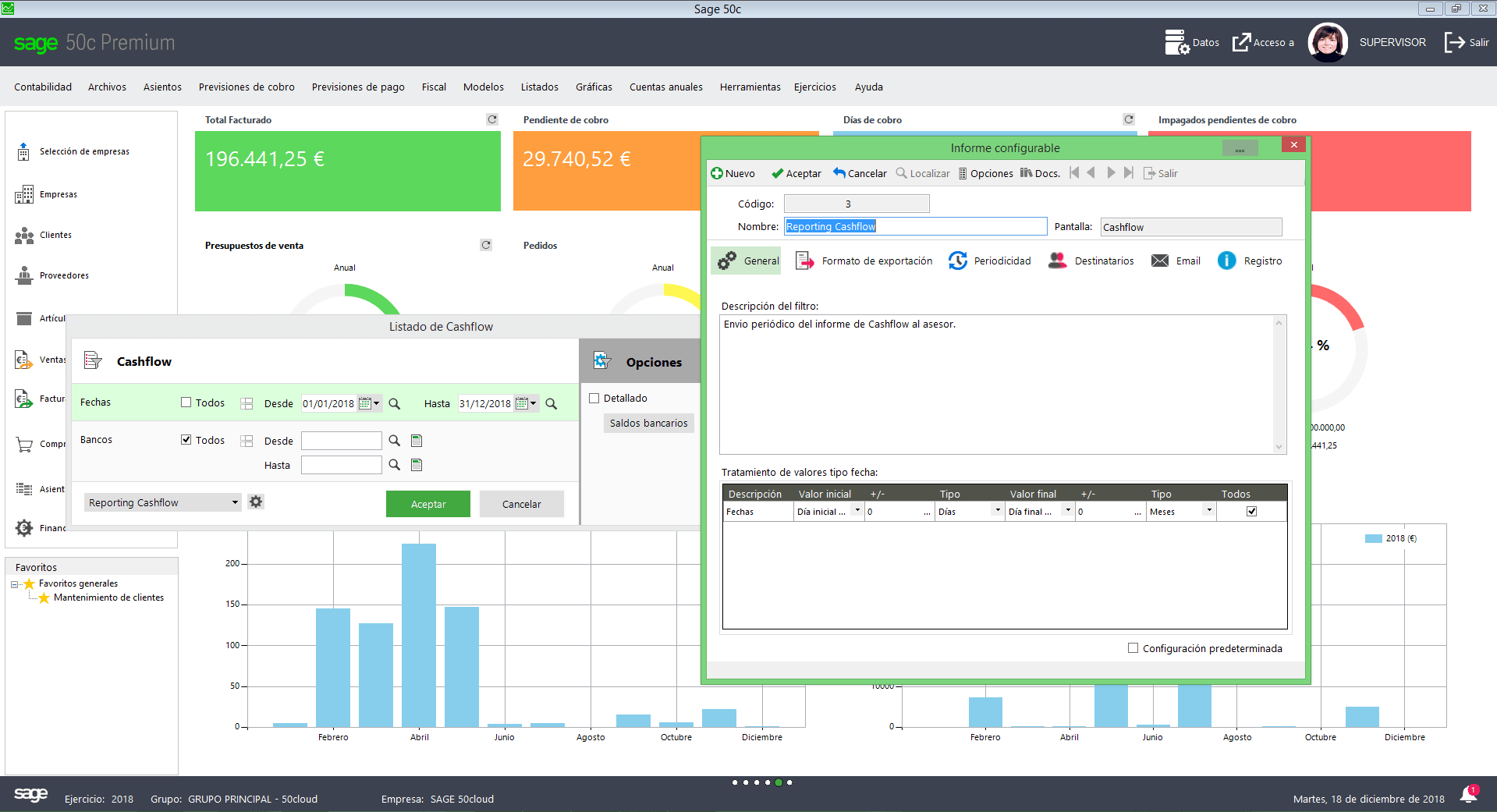 It's about a freelance billing program that links all areas of the business. It can be used in any sector of the commercial activity, since it is ideally suited to all types of products and services.
Sage 50cloud is a complete tool for invoice management. Control in detail the customer database, essential for the automation of documentation. It issues personalized invoices for purchases or sales that can be sent by email and that respond to the format required by legal regulations.
This software automate entries from bank statements, links to inventory and keeps you up to date with stock. It controls income and expenses, and enables real-time visualization of the status of the business.
It comes in three versions. The basic and cheapest cost € 399.2 per year.
Product sheet: Sage
4. Macroges
Macroges integrates billing, CRM and POS in a single platform, saving time and money, and contributing to increased productivity. You will no longer waste time on papers and repetitive tasks and you will be able to dedicate it to developing your business and marketing.
Macroges works on the entire cycle of sales documents. Prepare budgets, pro-forms, orders, delivery notes and invoices. It has templates that you can customize to your liking. When you need it, send the documents from the platform to your contacts.
The billing tool organizes the invoices pending collection and payment. At the same time, the client can have access to their invoices and pay them on the platform. It also connects directly with the accountant and is linked to the warehouse.
It is another of the billing programs for freelancers that They offer a free version and one focused on freelancers, which costs € 5.95 per month.
Web: Macroges
5. Invoice2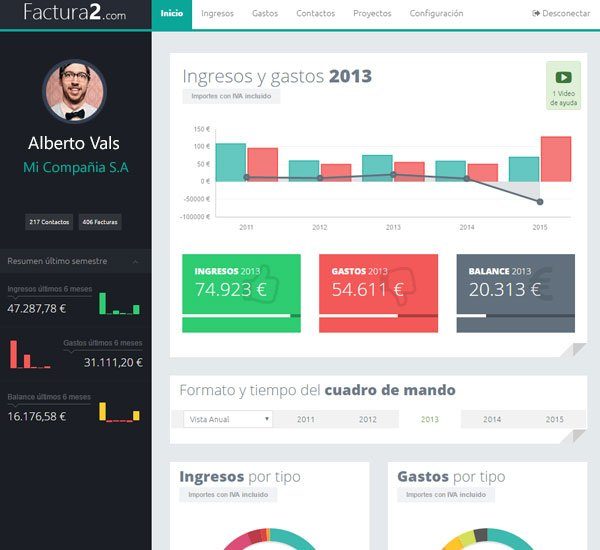 One of the easiest-to-use freelance billing programs. It is hosted in the cloud, data is accessed from anywhere, with a PC, phone or tablet.
With Invoice2 you will be able to generate personalized professional invoices. This tool allows you to automatically issue periodic invoices. It has a contact module that facilitates all operations. Also organize your expenses, grouping them by categories, so it is important that you know at any time what and how much you spend.
An interesting and useful feature is the opportunity to group income and expenses by project. Therefore, you will permanently evaluate what result each one has to make the necessary adjustments.
Invoice2 offers a free basic account, with a billing limit of € 1000 per month. And a Premium plan for € 6.99 per month.
Web: Invoice2
6. Debitor 
Debitoor is designed specifically for freelancers and small companies. It is complete, easy to use and has a very intuitive interface.
Offer a clear vision of your business. Invoices are always neat and visible. Debitoor notifies you if your client has seen the invoice that has been sent and shows you which ones are unpaid or overdue. Debitoor tools create delivery notes, estimates, register products, lists of customers and suppliers.
Debitoor is one of the freelance billing programs that offers the most competitive rates. If you're just starting out, maybe the XS plan for € 4 month (limited to 100 annual invoices) adapts to your circumstances. Other superior plans allow you to customize the documents and generate VAT reports, balances and results.
Product sheet: Debitoor
7. Express Invoice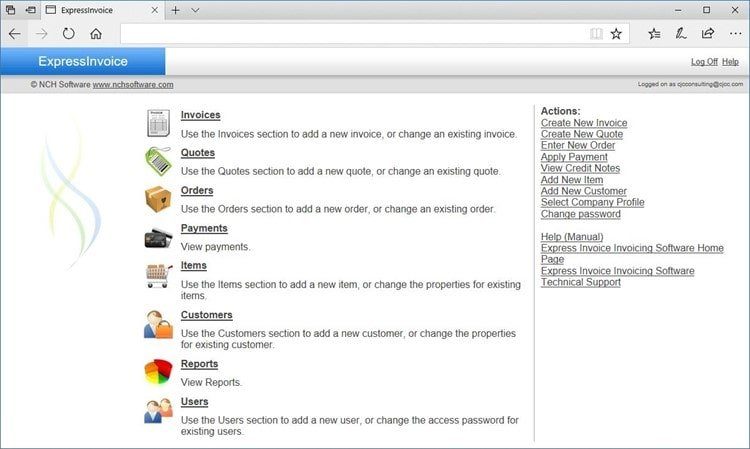 With this software the processes of budgets, orders and invoices are unified. The data is entered only once and the system dumps it in all the documents related to the commercial operation.
Express Invoice create custom invoices that can be printed or sent by email or fax, directly to customers.
Other features: manage taxes, integrate with inventory, create accounting reports, and support various rates for different countries.
It's one of the most basic freelance billing programs. Recommended if you operate internationally but you cannot ask for advanced features. Offers a free version aimed at private users and companies with less than 5 users. The basic version costs 69.95$ and is installed locally.
Web: NCH Software
8. Blueindic
It is an excellent software, that professionalizes and simplifies administration. You do not need to have special knowledge to use Blueindic, since it is very intuitive and guides you point by point. You will create your sales invoices, you will send them and you will control the due dates and collections.
Issue treasury reports, in which you will be able to analyze the main expenses and assess the situation at all times. At the same time, it automatically generates taxes and gives your manager access to all the information related to your activity.
Blueindic can be used on any device with an internet connection. It has a very practical and visually friendly design, so it will be easy for you to operate from your smartphone.
It has a free basic version with which you will be able to issue 5 invoices per month. The plan Starts, for € 4.75, it allows you up to 30. If you want unlimited documents and features plus professions you have them from € 7.95 / month.
Web: Blueindic
9. a3 invoice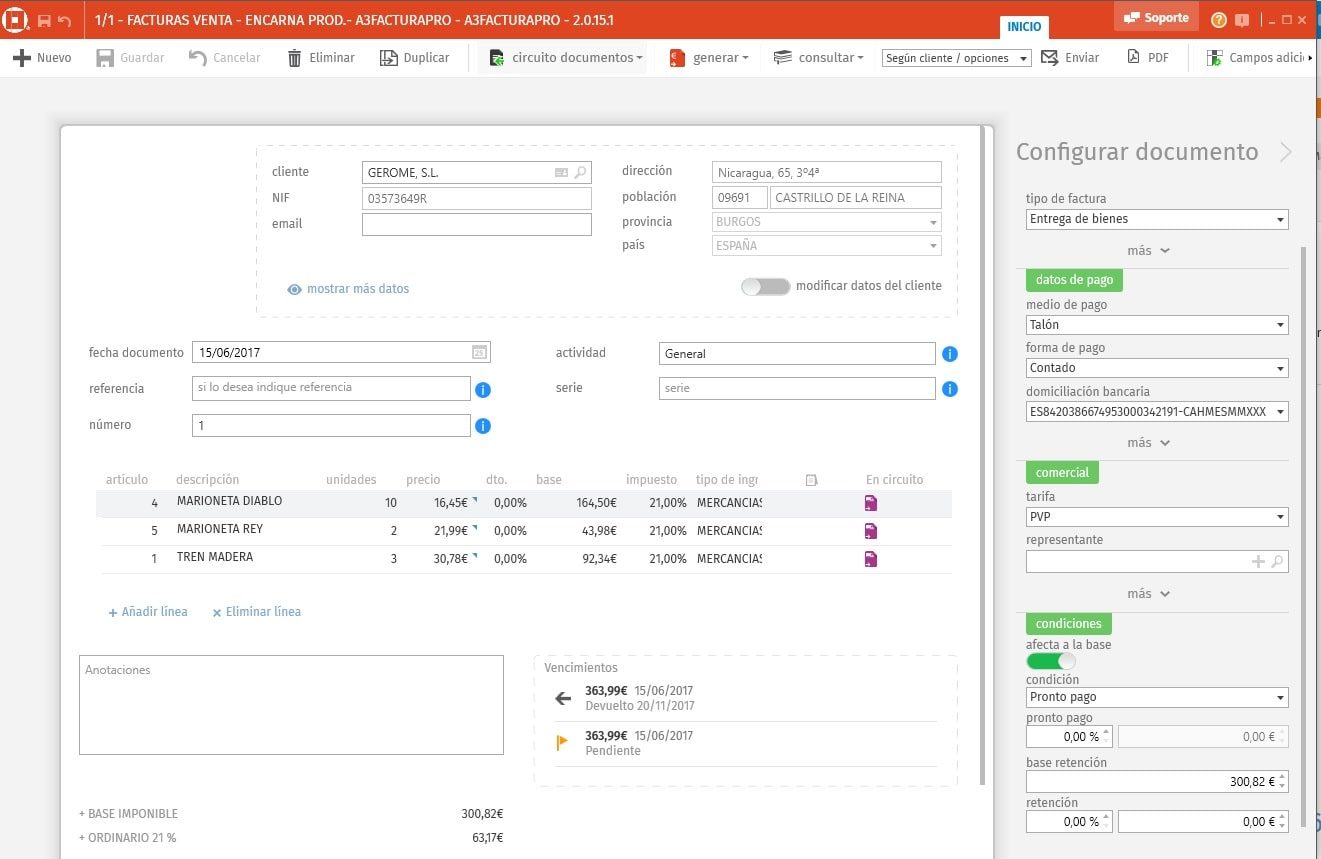 a3 invoice is a safe and reliable tool. The confidentiality of the data is guaranteed. It is hosted in the cloud, so it is achievable anytime, anywhere.
With this freelance billing program you will have the most important information at a glance. On the initial screen you will see the global status of your business.
And the most important, you will be able to issue your personalized invoices with the image of your company and send them instantly. From the invoices, a3 invoice generates the corresponding accounting entries, and at the same time issues accounting reports of profit and loss, sums and balances.
There is option to try it free for a month, and, if it convinces you, you will be able to hire either of the two versions, Go and Pro, which cost € 9.95 and € 39 per month respectively.
10. Keyandcloud
If you want a smart and versatile freelance billing program, Keyandcloud is a good choice. It is multi-everything: multi-language, multi-currency, multi-user, multi-device, multi-company.
When a customer accepts a quote created with Keyandcloud, it is automatically transformed into an invoice. Issues the electronic invoice and includes the automation of frequent invoices. You undoubtedly save a lot of time with this software.
Keyandcloud keeps finances under control: costs, expenses, income, payments, debts, debtors. Its integration with accounting operations makes it possible to automate entries from invoices, avoiding rewriting the same data so many times. At the same time, you can give access to your accounting manager, and so you should not send anything or waste time on visits.
You have three different plans. The basic and cheapest cost € 12 per month. There are no commitments and you can cancel it at any time.
Web: Keyandcloud
11. Moloni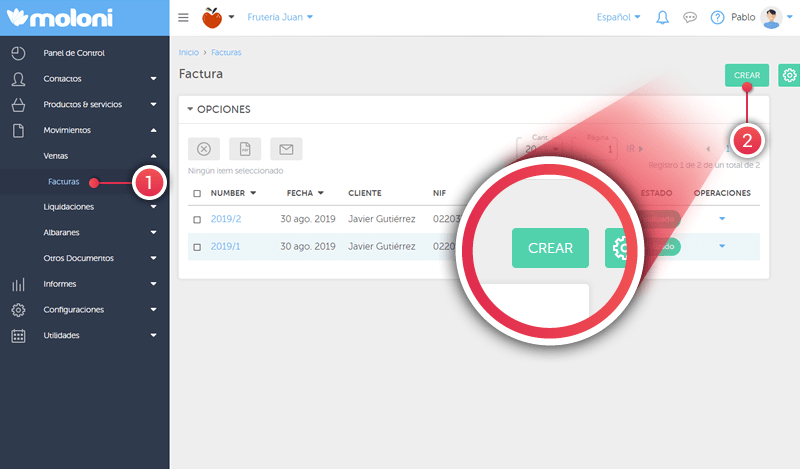 Moloni is one of the latest developments in the market for self-employed billing programs. Moloni's electronic invoicing conforms precisely to the laws relating to public procurement. It is safe and confidential software. Its connections are encrypted, and it automatically performs frequent backups. It is permanently updated.
Has free phone, email, chat and remote access support for all plans. You will always have help in case you need it.
Moloni integrates all the functionalities of this type of system: issuance of invoices and other documents, contact database, account and stock control.
Offers a 30-day free trial and three payment plans. The basic one has a monthly fee of € 4.
Web: Moloni
12. Billage
Billage is a freelance billing program that easily organize everything that happens in your business. Efficiently manage the different areas, clients, invoices, expenses, projects, banks.
Billage optimize your company's management control from the creation of a budget to the issuance of the invoice and the administration of the collection. Prepare the reconciliations of collections and payments and connect with your banks. Integrate invoice and budget templates that you can customize according to the image of your business.
So that the visualization of the status of your company is simple and clear, offers charts and analysis dashboards. There you have all the information you need to make decisions. No more wasting time or searching for papers to read and compare.
Billage presents a plan without costs (limited), and two more complete. The Basic plan costs € 8 per month.
Web: Billage
13. ERP Conta Cloud
Among the invoicing programs for freelancers we find systems that go further and that offer total business management, we are talking about ERP software.
The basic principle of Conta Cloud ERP is that each company is unique and different from the others. That is why, adjusts the program to the needs of each one. At the same time, it handles the initial data upload and user training.
This system integrates all the features of a program of its kind: issuance and sending of budgets, delivery notes and invoices, entry of entries, asset control, connection with banks, reports. Nothing is missing.
It offers three scalable plans. The basic one costs € 15 per month. All three have a free trial period.
Benefits of freelance billing programs
The freelance billing programs make it possible to document all economic activity and manage billing daily. They are an indispensable tool for the self-employed to manage their company.
Some prominent benefits are:
It is easy to issue invoices. You save yourself entering data since you will be able to store the contacts.
The risks of errors are reduced. Automation prevents failures.
Control expenses carefully. Profitability results from the balance between income and expenses, so knowing expenses at all times and analyzing them is essential.
Tax filing. A freelance billing program calculates taxes and makes it easy to comply with models according to the fiscal calendar.
Save time and resources. It will not be necessary to have a person who deals exclusively with billing and paperwork, because the program will do it easily.
Save space and paper. You will not accumulate folders, filing cabinets and papers, as you will have all the files in the cloud.
Features to pay attention to in freelance billing programs
The first thing you should do to choose which self-employed billing program to select is know the weak points of your business. What do you need? Will a program that only issues invoices be enough or do you prefer it to integrate other functionalities? Knowing your business is always the first step, because the program you choose must adapt to your work system, without complicating your life.
Some important aspects to pay attention to are:
The cost and your opportunities. There are very complete programs but whose costs may be higher than what your resources allow. The best strategy may be to start with a basic option and, as you evaluate results, escalate if necessary.
Easy to use. The program has to be easy to useBecause if it gets too complicated it will be an obstacle and not a help.
Other functionalities. See what other features it includes and if they are the ones you really need. As an example, tax calculation is a function that will always work.
Support and customer service. Perhaps you have an incident or need advice until you get used to the operation.
Find out, consult opinions and request trial versions before buying. We hope that among the freelance billing programs that we have presented to you is the one that most interests your business.