SimilarWeb says: 'We are the measure of the digital world'.
Its website analytics tool measures the traffic scores and sources of more than 80 million websites, arming digital marketing specialists with the prospect of growing exponentially.
A scan can be run literally on any website, by anyone! This offers countless opportunities for marketers who are committed to increasing their traffic and digital presence.
Their tool is a FREEMIUM product, which limits the data to the 5 best results for FREE users (which is more than enough for small and medium-sized companies).
By the way - This article will explain how you can use the FREE tool to increase your traffic scores (because we are inclusive as well!).
How to use SimilarWeb (for sellers)
Before I continue, I want you to open SimilarWeb on a separate tab and follow all the steps in this article. This is the only way to see how powerful it is!
By the way : SimilarWeb also has a google chrome extension It connects to your browser, allowing you to run an instant scan on any website. Get the extension to speed up your performance.
If you haven't used SimilarWeb before, the first thing you'll want to do is run a scan on your own website. So before you go ahead and continue marketing goodness, get it out of your system.
The data from an analysis of your own website is useful, but in reality, you should already have much more insightful analytical tools connected to your website (such as Google Analytics) that will provide you with more valuable data.
OK, I hope everyone got that out of their system ...
… It's time to talk about leveling up your traffic scores.
It's interesting to be able to search the scores and traffic sources of any website, but when you do this analysis on your competitors, it gives you tons of traffic information.
Its competitors chase the same target audiences That you, so if they have discovered something that you have not discovered, is an excellent opportunity to increase the number of visitors.
SimilarWeb gives us the opportunity to steal ideas and optimize them.
Starting
You should start your analysis by searching for a website in the SimilarWeb search bar: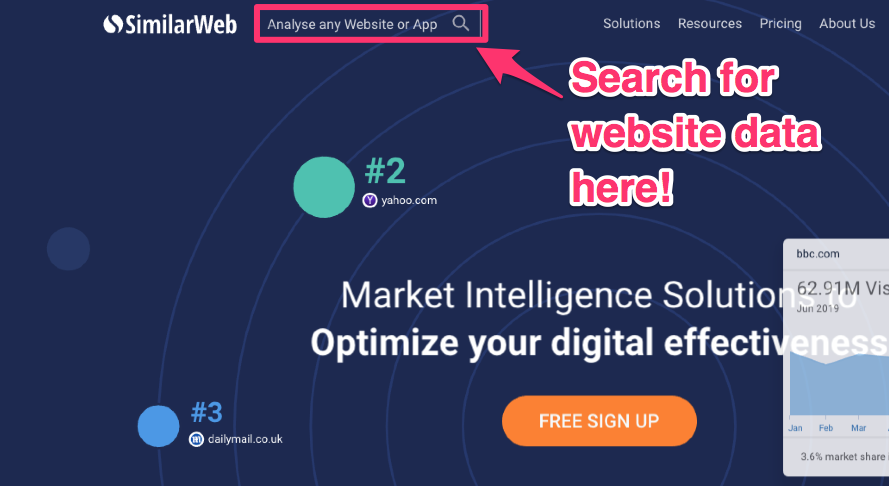 For the purposes of this article, I'm going to run an analysis on SimilarWeb and I'll pretend that I'm building a rival traffic analysis tool (very creative, I know).
After searching the website, you will be presented with a screen containing all the data you will need to steal traffic from your competition.
The top of the results page shows general information as well as:
Global classification: This figure indicates where the website is located in terms of traffic. The lower the number, the greater the range.
Country classification - This is where the website is located in the country where it is most used. Again, the lower the number, the better!
Category classification - Shows where the website is located in your category.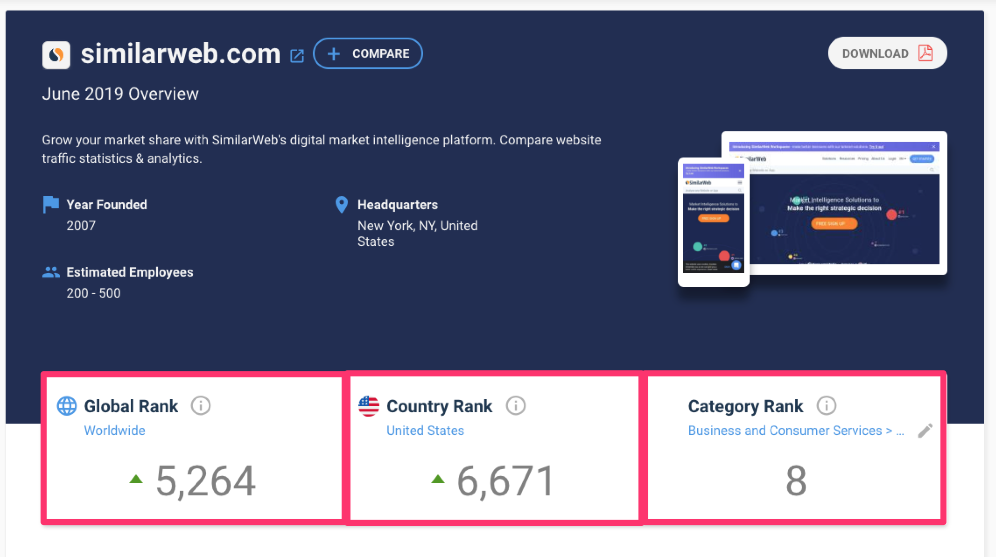 By the way: If a website has a very low rank (shown by a high number) it does not receive a lot of traffic and it is not worth running an analysis. 
As you scroll through the top of the results, you will see 'Traffic overview' which shows how many visits the website receives and 'Country traffic'.
Remember, it is important that you are analyzing websites that are relevant to your target audience. Make sure these websites get traffic from their target countries and receive a high enough volume of visits.
The next section I would like to highlight is 'Traffic sources'. This shows the percentage of traffic a website receives from each source.
It is important that you keep these percentages in mind. If there is a font that is particularly low, it probably is not worth investigating, and the reverse applies to fonts that generate high percentages of traffic. 

By the way: 'Direct' are users who visit a website by typing the URL into a browser. There is no way to analyze this traffic.
References 
The first hugely valuable piece of data you will come across is references.
By the way: A referral is a visit to a website from an external source (usually through a link).
Don't worry about 'Top Destination Sites' for now. Please refer to the left side of the 'Top Reference Sites' results.
These are the top 5 websites that drive traffic to your competitor and are potentially incredibly valuable to your website.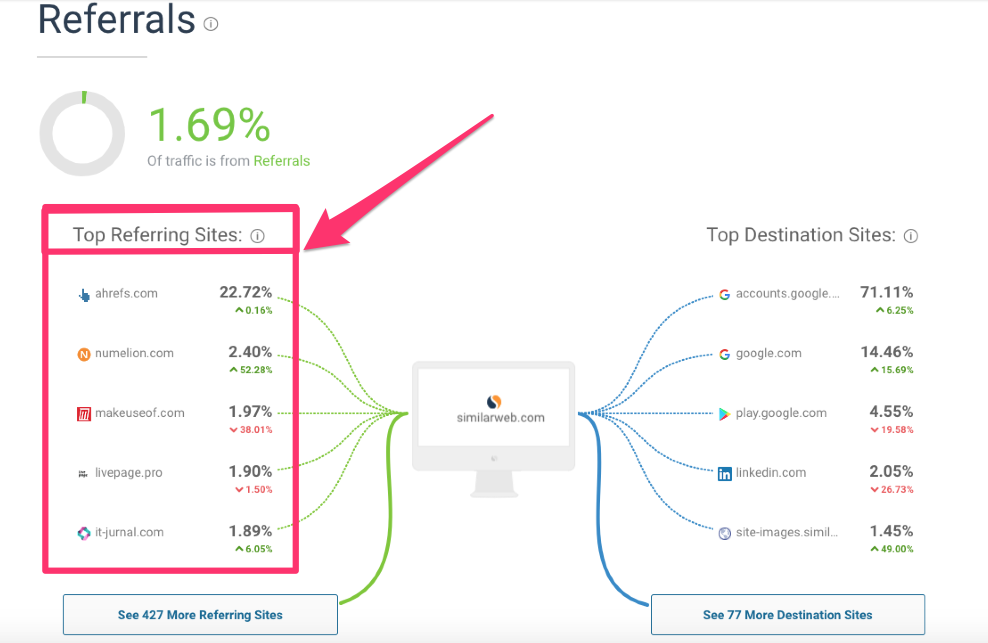 If your competitor is getting a lot of referrals (shown by percentage), it is a clear sign that they have found a valuable place in your audience's congregation.
Research the best referral sites for your competitors. Ask the following questions:
What type of website is the referral source? (eg blog, tool, feed, directory)
How do your competitors drive referral traffic? (eg content, link building, recommendations, comments, reviews)
How can you replicate and improve your strategy?
When you can answer these three questions, you can hijack referral traffic from this source.
Remember, your competitor has probably put hours of effort into finding these reference sources. Just found him on a search for SimilarWeb . Use it to your advantage. Create a presence on that referral site and steal your traffic.
Look for  
Content marketing is a must. Continuously posting high-quality content will naturally elevate you to a high rank in search engines. This will generate free traffic to your website ...
… But what search terms ( keywords AKA) are generating the most traffic for their competitors.
When you get to SimilarWeb's search statistics, you'll see two opposing data sets: ORGANIC and PAID.
By the way: If you're analyzing a well-known brand or tool, the top performing keywords will be your brand name, as highlighted by the SimilarWeb results.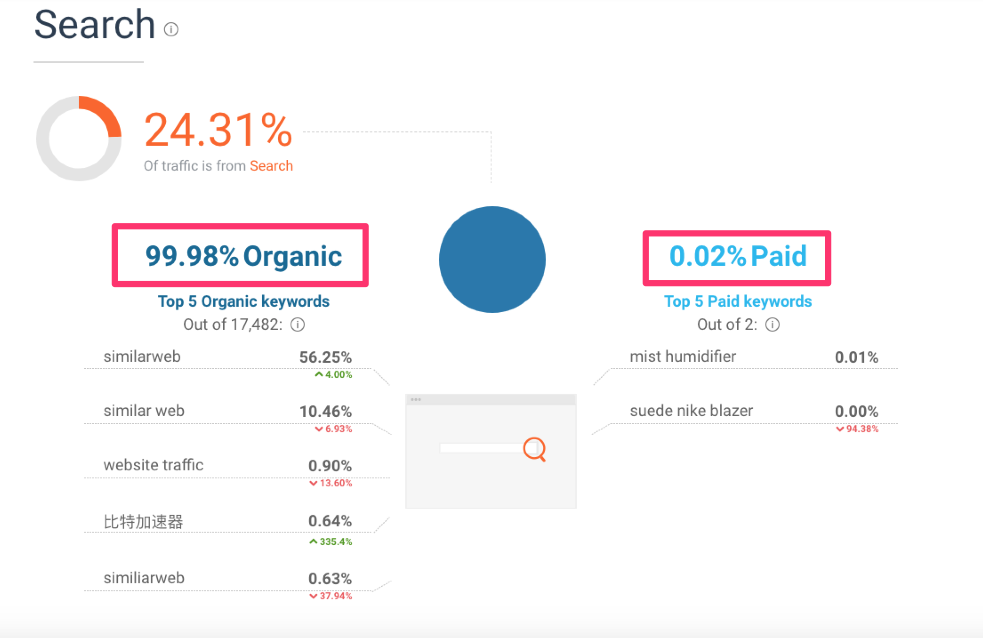 Do your competitors receive more for organic or paid products? Why?
If organic is the answer, look at its top 5 keywords. These are the most successful entry points for your competitors on search engines.
When you know what your target market is looking for, you can produce valuable content to focus on these keywords.
If your competitors are killing you in paid traffic, use those keywords to produce content (same as organic). And consider paying for the same (or very similar) keywords. Alternatively, you could even pay to rank for your competitor's brand (many companies do this!).
Social
The largest networks in the world it They have become fiercely competitive battlefields in recent years ...
… So each additional piece of data and analysis gives you another chance to get ahead of your competitors.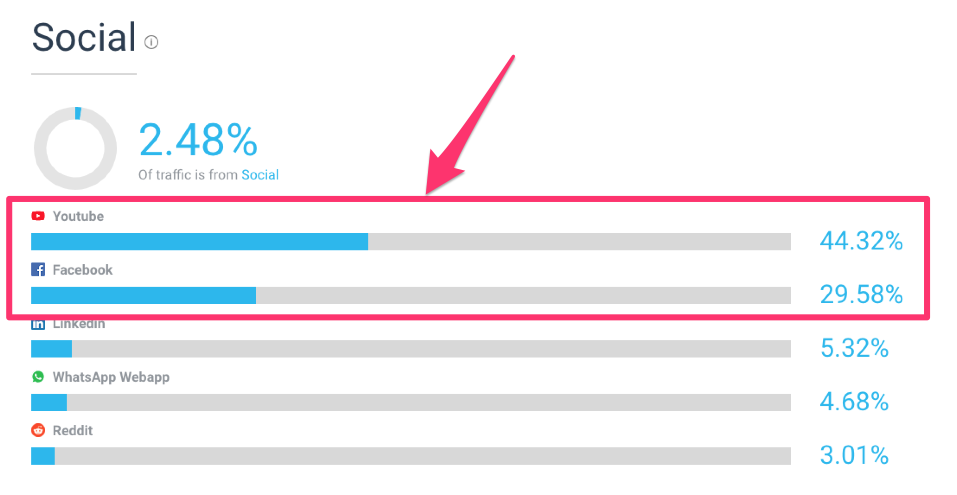 analysis:
Are your competitors / big players in the industry receiving traffic from the same networks as you?
Where do most of your visitors come from?
What are they using that you are not?
By analyzing your competition data, you will discover which networks are worth the most in terms of your target market. This is massive.
When you know which social networks work best, visit the profiles of your competitors. Look at their posts, content and headlines ...
... and try to find out if they are running ads. You can easily do this in Facebook by clicking on the 'Page Transparency' section of your profile page.

If they are running Facebook Ads And it is clear that they are generating a lot of engagement and traffic, it is probably worth it too. You could even use that website as an 'Interest' in your FB audience building strategy.
Show ad
If you were looking for sites that host your competitor's graphic ads, you'd be lucky to find 1 in a solid month of web browsing.
SimilarWeb does it in 2 seconds.
Why is this useful?
This data shows you the most successful places for your competitor's ads, so you can place ads there yourself!
And if this wasn't enough ...
… You can discover the ad networks they are using to deliver these ads.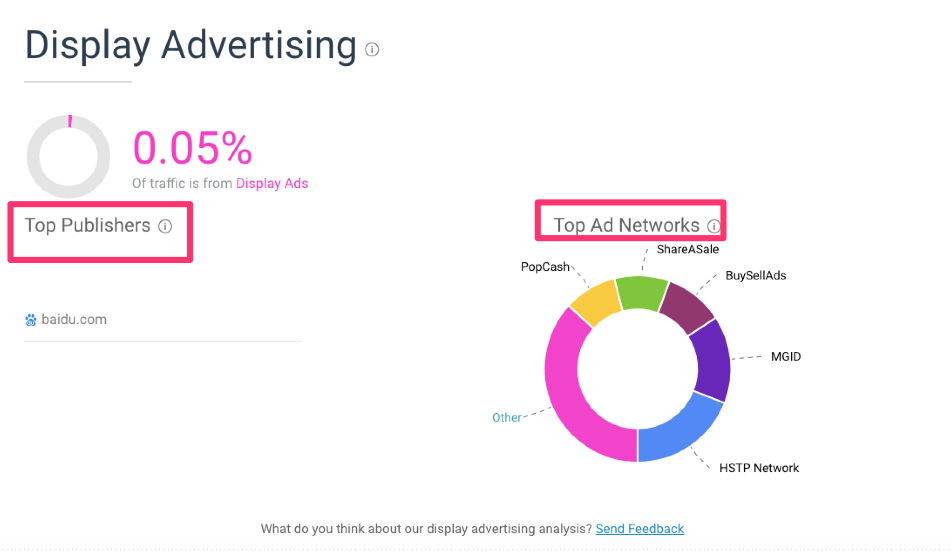 Graphic ads may not be the most popular method of generating traffic (right now), but if it works for your target market, who are you to argue?
Find the sites that perform best for your competitors within display traffic (top publishers), contact the site owner and request display ad pricing…
... or go directly to the 'Top Ad Networks' and serve your ads through them.
Interests of the audience
You should already have a solid understanding of your target market interests. Customer avatar …
... but maybe there is something you have missed or haven't thought about.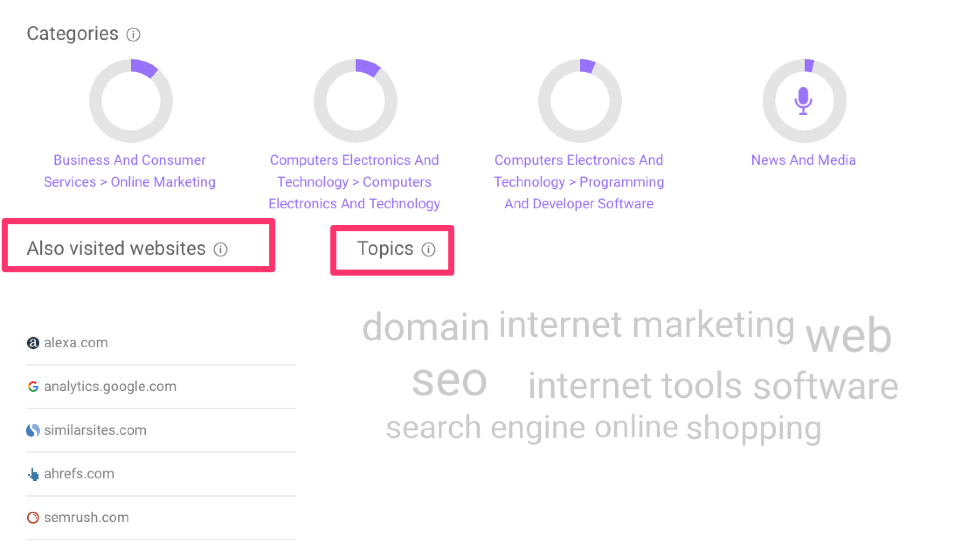 If that's the case, SimilarWeb audience interests will provide you with ideas for your next content or paid traffic campaign.
You can use the most popular 'Themes' to better target your audience and even run a SimilarWeb analysis on 'Visited Websites Too' (as they are also engaging your target audience). 
Competitors and similar sites 
My last tip from SimilarWeb is found on Competitors and similar sites.
Finding out which of your competitors is your biggest competition will give you much more valuable data for all categories in a SimilarWeb analysis.
It means you can go back to all the points we just mentioned with all the competitors in your competition.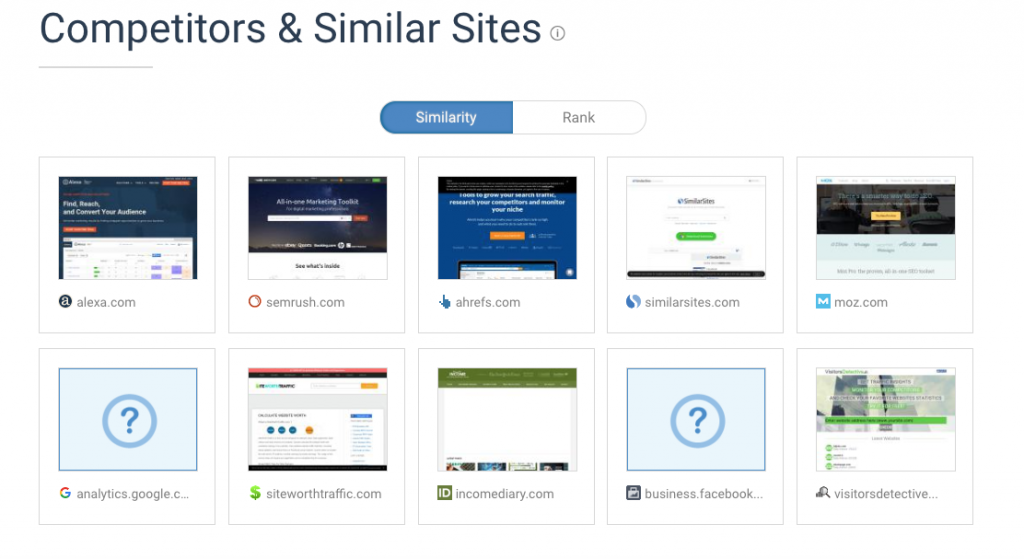 Yes, this may take a little time, but if you add the data, your results will be much more valuable. I suggest going through all of these competitors and looking for the great hitters in your industry.
You'll have tons of different strategies and tactics when you're done.
This section effectively turns an analysis into 10 more. And it's particularly useful if you're not sure who or where your competitors are.
By the way : if you are lacking ideas, you can use SimilarSites (a website created by SimilarWeb) to help you discover more competitors in your space.