Local SEO (local search engine optimization), sometimes referred to as local search engine marketing, is one way incredibly effective way to market your local business onlineas it helps businesses promote their products and services to local customers at the exact time they search for them online
This is accomplished through a variety of methods, some of which differ greatly from what is practiced in standard SEO, and some of which are much easier to manage using local SEO tools and may require local SEO services. specific.
What is a 'local search'?
First, let's look at the differences between a standard informational search and what is known as local search.
DID YOU KNOW? According to Google, 46% of searches have a 'local intent' .
While anyone in the world with enough SEO and authority can be classified for a search query as' how to fix a broken pipe ', when the query has much more purchase intent, it becomes' plumbers near me' or 'better. plumber at [location] '.
For these types of search queries, which generally include a location or "near me" (which are not even necessary if searching with Google Maps or if Google knows your location and assumes the search is locally intended), the engines Search engines understand that the search engine is looking for business suggestions or lists based on location, and that is precisely what they offer on the results pages of the local search engine (SERP). This difference in behavior and outcome is precisely why local SEO is important and worth investing in alongside standard SEO.
What are local SERPs?
What local businesses need most to improve traffic to their websites or through their doors is the visibility of what is known as a 'local pack' or '3 pack'. This is the block of three business listings that appear below the map in the results that are displayed after a Google search with local intent.
Below is the local package that results from the search 'plumbers buenos aires'.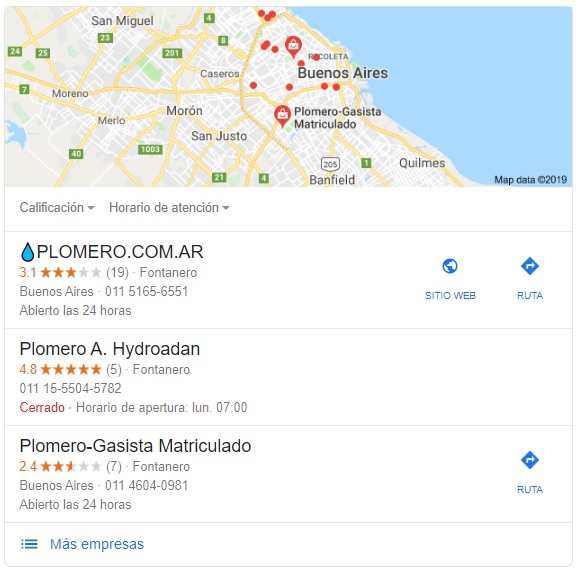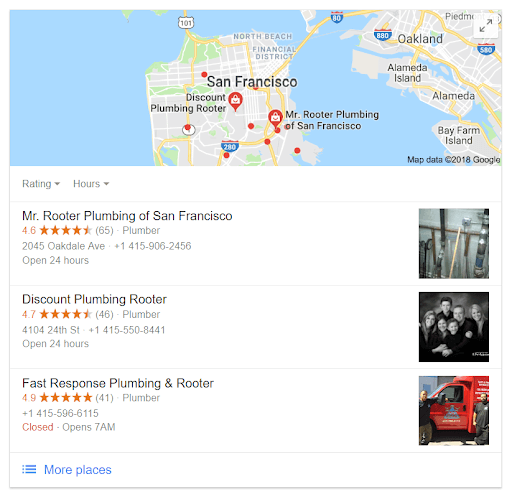 You'll notice a lot of different things from standard organic results, like opening hours, review ratings, and even photos. Although Google is getting smart enough to extract this information directly from its website, this is not where these elements come from.
Everything that is displayed in the local package comes from the profile of Google My BusinesIt's business, a critical part of local SEO marketing that is becoming more important as Google tries to satisfy more search queries directly on the SERPs.
What is Google My Business?
Formerly known as Google Local, and for a time, including Google+ Local, Google My Business (GMB) is, as the name implies, your business profile on Google. Can you know how to add your business in Google My Business here.
It provides information to a variety of places, including local package and Google Maps search results, but the most familiar appearance is probably when you are in the top right (or top on mobile) of a branded search for your business , as it's shown in the following.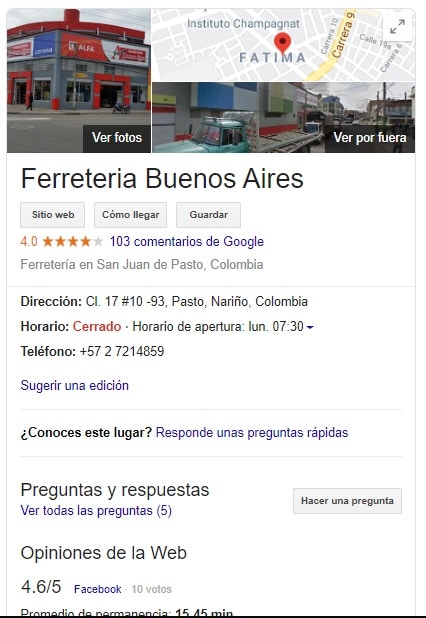 This is what is known as the Knowledge Dashboard. Your GMB profile can include a large amount of information submitted by yourself, such as the services your business offers, contact details, business description, category and opening hours, but it is important to take into account that features such as GMB attributes, GMB questions and answers, and Google reviews are totally consumer generated.
A big part of local SEO is making your GMB profile as up-to-date and accurate as possible, so that it has a higher chance of showing up in the local package, and reliable, engaging, and engaging enough to guarantee a click. Although incredibly powerful, Google My Business is just one example of what is known as a 'quote'.
What are dating?
A citation is anywhere your business's NAPW (name, address, phone, web) information appears online, usually in an online directory or on a business listing website.
These are particularly important to local SEO, because if it doesn't show up in places where people search for businesses like yours, competitors are likely to outperform it.
There are two types of appointments: unstructured and structured. Structured citations generally appear in company lists and come from form fields that are filled out when the list is claimed. Below for a Yelp listing.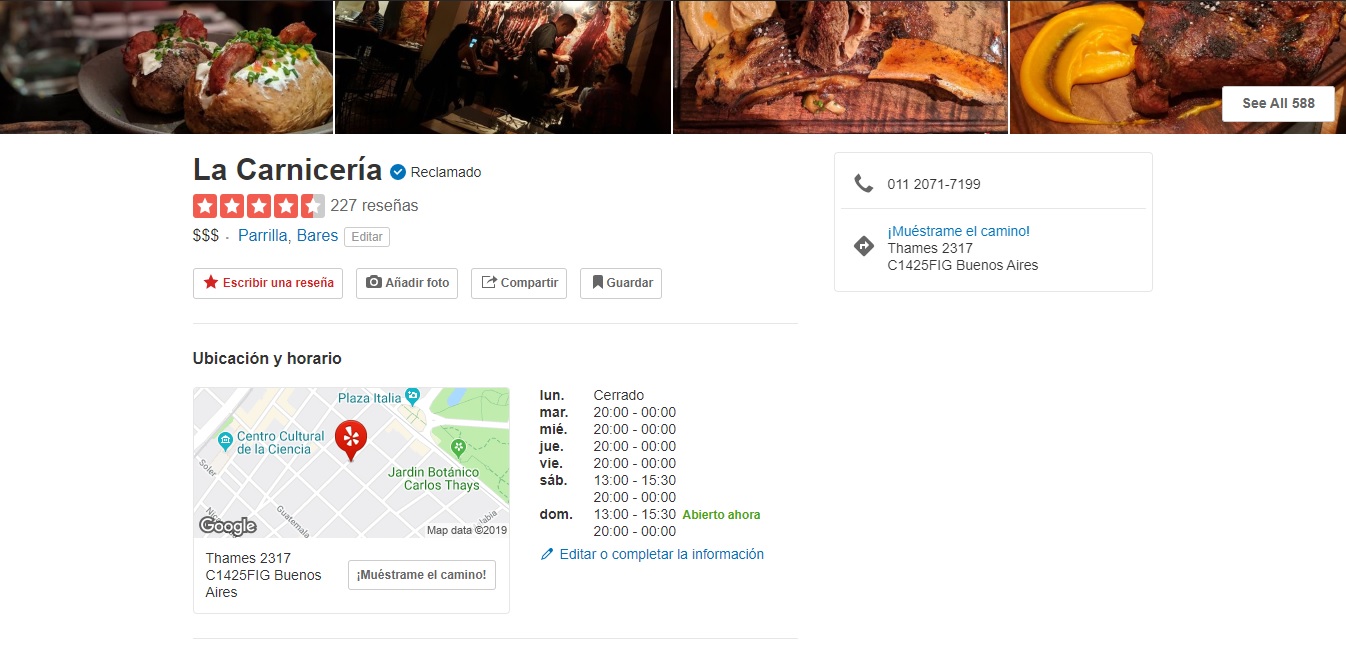 Unstructured dating is more likely to be the result of the press and social media, where your NAPW information is visible and linked on a web page (perhaps via a local business news story), but not on a structured format.
While making this a critical aspect of your local SEO strategy is key, when building citations on the most relevant websites, research shows that if they are not updated and cleaned regularly, there can be dire consequences.
---

---
How to position well in the local search?
So now that you know what local SEO is all about, you are probably wondering how to really achieve success! First, we recommend that you familiarize yourself with the three main elements of local search ranking:
Proximity: How close is your business to the search engine?
Relevance: How relevant to the search query are your products and services?
Prominence: What are other consumers saying about your products and services?
What are the main services of local SEO?
Thanks to the ever-changing nature of search engines like Google, local SEO can be a lot of work. It's always changing and it can take a lot of time and effort to get right. That is why many SEO agencies and consultants focus exclusively on local.
We've discovered some of the key things that help you achieve local SEO success; now here is an overview of all the services where local SEO can make a difference:
Website 'localization'
'Localizing' your website means including the name of your city, province or region naturally throughout your site. For companies with multiple locations, this might mean creating separate pages or Content Hubs for individual locations. Other tactics include get involved with local community events and present articles and information about them on the site.
Dating building
Secure your site features on online dating sites and business directories. This will not only help customers find your business, but include your business name, address, phone number, and website URL (NAPW) on dating sites and add additional information to dating directories. businesses will help improve your search rankings.
Claiming your Google My Business business
Claiming your business on Google My Business is a key step in helping your business show up on Google-featured services such as local search results and Google Maps. GMB (and its Microsoft equivalent, Bing Places for Business).
Manage reviews and ratings
The reviews Genuine and honest are critical both to show the quality of your service and to send signals to search engines that your site and service are trustworthy and useful. The number of reviews you receive, the overall quality of the reviews, and the authority of the review sites are all important factors for local search rankings.
Getting relevant backlinks
Inbound links obtained naturally from well-regarded websites help search engines recognize your site as a reliable source of information and increase the 'prominence' aspect of the local search algorithm. Links from local newspapers, bloggers and business associations, as well as citations, can help improve your search visibility.
You can learn more about how to optimize your website in our SEO best practices guide for local businesses.
10 Reasons Why Local SEO Services Can Help You Attract New Clients
Local customers are turning to the Internet to find local businesses, on desktops and mobile devices
The old printed phone book is over (literally: the yellow pages have not been physically distributed for many years), as more and more people turn to the Internet to find information on local businesses.
Here are some statistics:
PC owners 96% perform local searches

The 46% of all Google searches are local.

64% of local customers use search engines and directories as their primary way of finding local businesses
Local mobile search engines 50% look for business information (such as a business address or phone number)
A surprising 78% of local mobile searches results in an offline purchase
(Sources: Searchengineland.com and Business2community.com )
Local search marketing is highly targeted and timely
The main reason people search local is to find a local business. The second most common reason is to find a product or service. Many local search engines look for the name of a specific business, but many searchers don't have a specific business in mind when they start their search.
By learning how to do local SEO, you can better position your business and promote what you have to offer local customers when they search for your type of business. There is no better time to connect with a potential client than when they really need it.
Local search has the highest conversion levels of all local advertising channels.
If you want a quick reason why local SEO is important, this is it. Online directories (like Yelp, Citysearch, Foursquare, etc.) display a business name, address, phone number, and sometimes additional information (such as a menu or business description). Local directories dominate the first page of many local search results. Local directory marketing (just one of many local SEO strategies) has a higher conversion rate than other more traditional advertising options - up to 50% of conversion on some directories. That means that by accurately listing your business on as many online directory sites as possible, you will convert 1 in 2 potential customers into a real customer.
The mobile Internet is growing
More and more customers are using mobile phones or tablets to find the best local businesses while on the go. Local SEO covers both mobile and PC internet access, which means you will never miss out on a potential customer.
Local SEO results in a great return on investment.
Unlike traditional advertising (for example, local newspapers, brochures, direct mail, etc.), with local SEO little exposure wasted. You reach potential customers when they need you, not when they don't. This makes local business SEO efficient and profitable.
Only 44% of companies have claimed their business on Google My Business
Google My Business is a free list that Google makes available to almost any business. Signing up for Google My Business can help you increase your chances of showing up high in local search results on Google. Also, many local businesses haven't figured out the importance of online marketing yet. That leaves the door open so you can get ahead of yourself before your competitors get wise and become more competitive.
(Source: Local Marketing Institute )
Many of the best local SEO opportunities are FREE (for now!)
It is Free claim your listing on Google My Business, Bing Places for Business and in hundreds of other online business directories. That means free promotion for your business!
Only 20% of adults receives news from print newspapers
Traditional advertising media are declining. In fact, fewer and fewer people read local newspapers. Recent figures show that some local newspapers have lost their readers' 80% in the last 20 years. Why? Because more and more people are turning to the Internet for local news and information about local businesses.
The 85% of consumers trust online business reviews as much as personal recommendations
Word of mouth is an important factor in the success of many local businesses. So, increase your company's online reputation, ask trusted customers to leave positive feedback about your online business, and attract hundreds of new customers.
Local customers rely on the Internet to find information about their business.
These days, people depend on the internet to find information on all kinds of products and services, whether they are using traditional search or, as is increasingly common, voice search to find local businesses. If your business is not found in the local search results, you will lose new customers. Implementing a variety of local SEO strategies for your business can help you appear on the internet map for future clients to see!
We can improve your local SEO