Content is one of those things that a site always needs and needs to be of high quality. Once you create that high-quality content, how do you get it to convert?
Traditionally, it was about sharing your stuff with people with a large following.
Well, there is a new and easier way to publish your content and make it popular - that solution is BuzzSumo. And we have a guide for the content marketer on how to learn how to use BuzzSumo.
7 steps on how to use BuzzSumo to remove your content from the park
Let us begin!
Step 1: Create strong core themes with the help of BuzzSumo
The power behind BuzzSumo is in part the way it makes it easy to share your content and in part how easy it is for other site users to discover content. A simple search in BuzzSumo produces a list of links for content that is shared on the social networks more important. Looking at what those results give you, you can easily distinguish the most popular stocks. From there, you can start developing content that fits this niche that follows the formula of the most popular posts in that area.
To develop great content that will gain you traction and do a good job converting users, you need to figure out what your core themes are in your content strategy and start building your content for these core themes.
For example, if we consider a small t-shirt marketing company that makes custom t-shirt designs that cater to the intellectual crowd, the main areas in which they would be looking to develop content would be designs based on famous intellectuals of the past and present.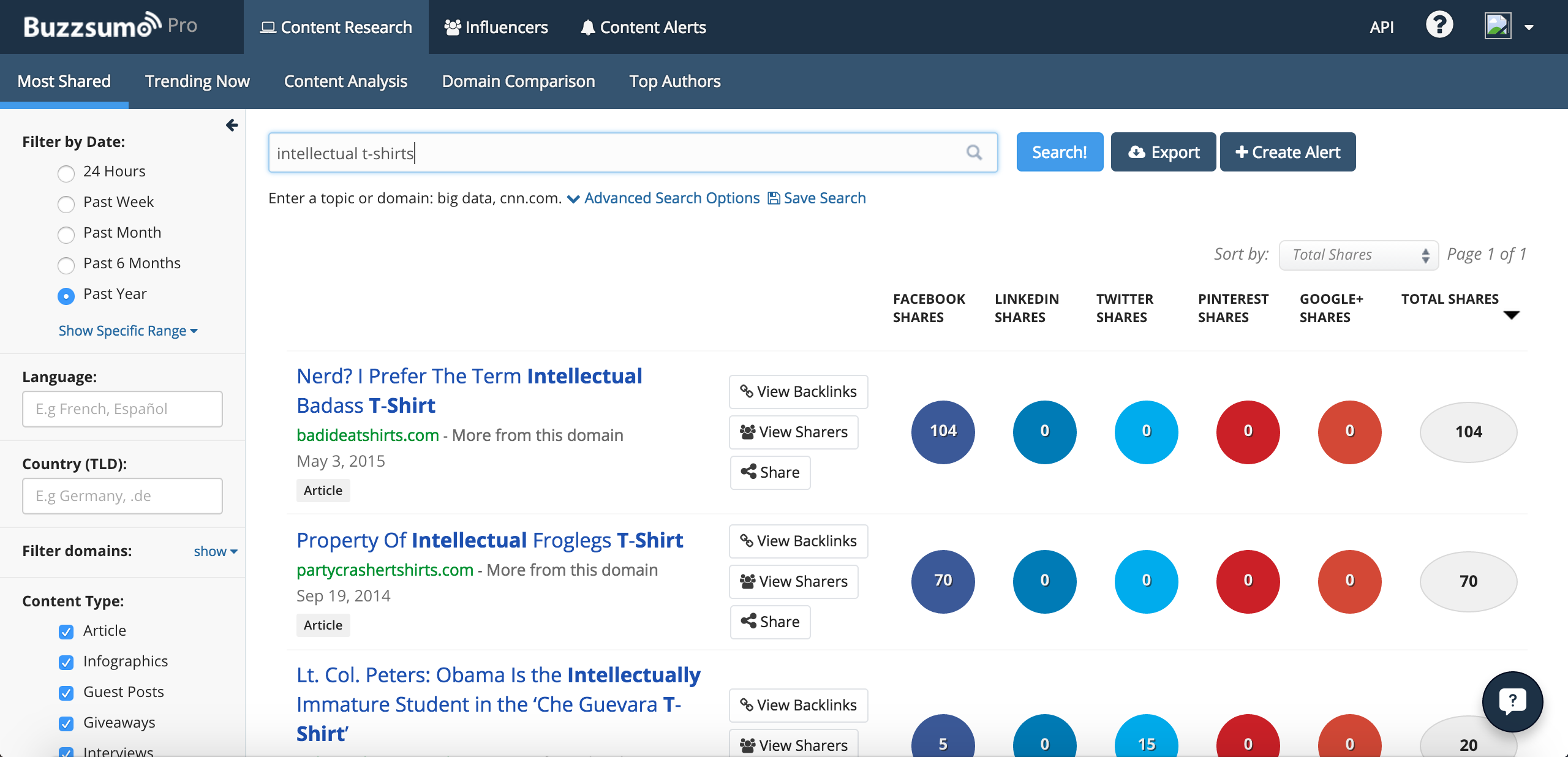 Once you realize that, it's a matter of moving on to step two. 
Step 2: see which content was shared the most and on which network
BuzzSumo gives you an easy-to-understand summary of the important statistics for sharing any particular content and breaks down the number by social networks. This is one of the reasons why it is important for a content marketer to learn how to use BuzzSumo, because we already have our social media channels figured out. Linking the shared resources on social networks with the channel we use allows us to optimize our content to attract a wider audience. Shares on Facebook, for example, can be much smaller than shares on Twitter for a particular content, which tells us that Twitter is a better medium to launch this type of content.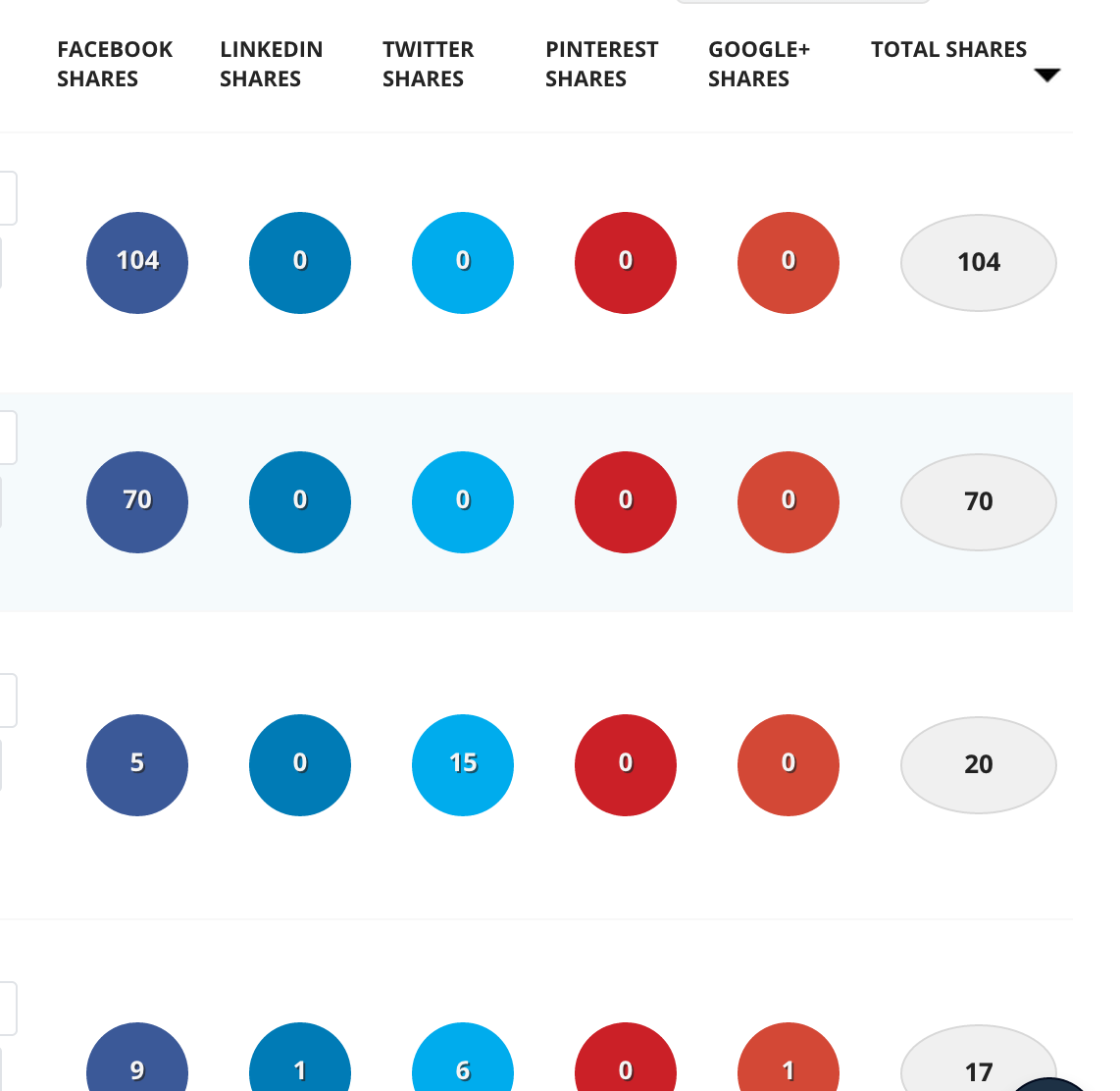 The other thing statistics do to help your content production efforts is give you a guide to the type of content that is most shared. This is extremely important as developing content that is engaging and easy to share is the key to creating high traction content.
The only way to do that is to find out what kind of content your audience cares about. BuzzSumo turns it into a walk in the park, giving you detailed information on what is being shared and which types of content are more popular than which ones on social media. networks.
Step 3: Instantly Find Out What Big Industry People Share, Get Inspired
One of the most powerful content marketing strategies out there is leveraging the power of exchange of influencers. These are social media accounts with a large following, usually within a particular niche. Your followers collect your actions and share them on the Internet, allowing even more people to view your content. Influencers are important because recent research suggests that up to 92% of customers tend to trust real people's recommendations about branded content.

BuzzSumo lets you see who shared the most popular pieces of content and trace their actions back to the people who shared them. Influencers themselves are important in getting the word out that your content exists. But the main reason that content shared by influencers is important is because it allows you to see what users in a niche identify with. Studies have shown that people tend to share content that they feel represents them. This is the type of content you have to produce if you want it to have great traction. The best way to do this is to see the content topics that get the most shares from influencers and who shared those posts.
Step 4: Create an Awesome Headline by Finding Out What Works on BuzzSumo
Copyblogger It says that 8 out of 10 users will read just its headline, with only 2 out of 10 remaining to read the rest of its content. Compelling headlines mean a lot in the world of content creation as any professional content creator can tell you. Creating a good headline takes a bit of skill, but it also requires a great deal of research. Great headlines incorporate the SEO elements you expect on your site and combine them with something that forces the reader to click the link or share it as the case may be.
BuzzSumo is ideal for researching content headlines in order to create content that appeals to your core market. By continuing with your search for topics, you can quickly identify which types of headlines create the most traction. Once you calculate the keywords that drive the most shares, you're on your way to developing content that you would expect the majority of your core audience to share about.
Step 5: develop your content with inspiration from BuzzSumo
In some cases, this can be the most difficult part of the process. You already have the type of content you are going to develop and the medium through which you are going to spread it to others.
But what are you going to build for your content? What does your message represent perfectly but also contains the elements that you want to include to help your content strategy be successful?
The development process can be quick and painless, without fruitless hours trying to figure out the best way to present your point of view, when you have a content marketing aid like BuzzSumo.
A content search for a particular type of content gives you a rough draft of how you want to make your content:

Popular content has certain key design elements that you can use as a draft to create your own content. Take a look at where the important content elements are and use that as a guide to where your elements should be. You don't even need to limit your search for content to your particular niche. Looking at other areas can give you new ideas for your own content creation. BuzzSumo allows you to launch your network far and wide for inspiration to develop great content.
Step 6: Source suitable links with the help of BuzzSumo
In most of the content you develop, you will need proper links to the source material if you are to be taken seriously. Even opinion blogs tend to use links to make their content more credible. The domain authority score determines the quality of a link and targeting domain authorities above 50 is a good way to keep the links you have in your content at a level that Google won't penalize. You can easily obtain this score by selecting the "View Sharers" link which will take you to a page that describes the details of each registered sharer and their vital statistics:

BuzzSumo has a nice and useful domain authority score that allows you to see the link quality of a site that is within your niche right away. Although you will still have to go through the site manually to determine if it is relevant (an important step, as relevance affects your overall SEO score), the DA rating gives you a great place to start. It is a very useful way to reference high quality sites and increase the DA of your own piece as it is shared.
Step 7: Use BuzzSumo's own research
BuzzSumo knows the content inside and out. For a site that deals with content popularity, there are few authorities better positioned to advise what makes content easily go viral. In a recent interview with OK Dork's tech geek Noah Kagan, BuzzSumo reveals the things they've determined to generate viral content. The list includes:
Include images with your posts
Long-form content is popular
Use emotional appeal to generate a response
List articles make content more readable
Content that is actively promoted tends to improve
Since you are looking to develop content that has traction and can go far to increase traffic and conversions, you would do well to use this research when generating content. Nothing is more impressive than creating content that goes viral. BuzzSumo even went so far as to show that posts published on Mondays and Tuesdays tend to get better traction. Maybe it's time to slightly adjust your posting schedule?
Learn how to use BuzzSumo and face the changing face of content production
When content first took its place as the king of the internet, all you had to do was create a simple piece of content that could be shared and broadcast to the people who would spread it to more people. If it was popular, it drove traffic. If he was unpopular, he died an un-celebrated death. Then all of a sudden user networks exploded, social media evolved and now content production is a whole new ball game.
BuzzSumo is the best new tool available to deal with this new face of content production. It gives you powerful research tools at your fingertips and allows you to complete weeks of research in seconds. It incorporates the most common tools you will use when searching for content to share and combines it with statistical analysis of related content and resources shared by social networks. Never before have content marketers had all of this in one nice, neat package. The question to ask yourself now is why you are not using BuzzSumo yet.