In the middle of the technological era, and with the widespread use of the internet and social networks, it is very common that there is a misuse of social media, but we know the risks and dangers of social media, Do we know them? Do we know the consequences of what they can cause?
In this article I am going to explain 10 dangers of social networks as well as a series of tips so that you can use them safely.
It is really a very useful article for the whole family because we are going to see the top dangers of social media for teens and kids.
---
You might also be interested in:
What are social networks and what are they for? + Most used social networks in 2019
19 Advantages and Disadvantages of Social Networks for companies and professionals
Guide to Measurement of Social Media Images
---
The Dangers of Social Networks for children and young people
We are going to start with a list of risks and dangers of social networks for children and young people, and also in adults.
1.- Identity theft
Identity theft in the field of social networks, consists of creating a false profile on social networks, in order to hide your real identity. If the profile does not have a photo of the person it is not a crime, but if you put a photo of that person you are already committing a crime.
Normally people do this crime to make online and physical purchases, get credits, etc.
What do I do if my identity has been spoofed?
We try to get evidence, for example: a screenshot.
Report to the Security Forces and Bodies as soon as possible. The National Police has a website that can be done on-line.
Tips to prevent identity theft:
Try to be cautious with our publications on the internet.
Do not share anything, with unknown people. Facebook is a place where friend requests are made from people you've never seen or dealt with. We don't really know who is behind that profile, so be careful. The same is valid for Twitter, Instagram ...
I recommend this article: WordPress website price
2.- Phishing
Phishing is a technique in which data, passwords, etc. are stolen from the user. Making you believe that you are in a trustworthy site.
According to an article by Kaspersky, the 60% of 'phishing' in social networks is related to fake Facebook pages. You have to be very careful with this danger of social networks.
Phishing attacks, Adware, Trojans to steal bank details, ransomware are the order of the day. Being Facebook, the one that leads all this type of attacks.
Tips to prevent phishing:
Do not reply to emails that ask us for the bank codes, our bank will NEVER ask us to provide the codes and less by email.
Look at the URL, which is prefixed with HTTPS and not HTTP.
Have the antivirus updated, even if it is free.
Change passwords frequently.
3.- Fake News
Fake news is fake news created with the intention of deceiving. Normally most of the fake news is with the intention of obtaining money.
We have all read fake news. Unfortunately this modality is on the rise on the internet and they do a lot of damage, both to individuals, companies and governments.
Currently, countries are trying to contain this modality and billions of € are spent trying to stop something so harmful, such as Fake News.
We all know what it takes to build a reputation and fake news can bring down your reputation in no time.
Tips to prevent fake news:
Confirm the news in another medium.
Do reverse image search on Google.
Be suspicious of news and articles that are not signed.
4.- Losing time in working hours
Today, companies seek to improve performance to increase production, however, it is common to see a worker, checking their social networks during working hours.
Social networks negatively impact the productivity of a company.
Companies are taking measures and in many of them access to social networks is blocked from computers. In some companies, workers are beginning to be forced to leave their mobile phones at the entrance in lockers designed for this purpose.
There is talk of "face-to-face absenteeism" which is being at your job, looking at WhatsApp on your mobile, checking social networks ...
Social networks can turn against us many times. We all know of people we have on social networks who take photos in full swing of the party and upload it to the networks. Not to mention, when they tag you in a photo, doing such a thing ...
The HR of companies, when selecting candidates, many of them use social networks to learn a little more about the candidate, companies;
Tips for making good use of social media at work:
It is important to instill in workers the goodness of social networks and the consequences that this has.
It is not about putting applications so that workers do not see anything at all, but rather to show that during work hours you should not use social networks.
5.- Cyberbullying
Cyberbullying is one of the great dangers of social networks for adolescents, young people and really for all those people who make a inappropriate use of social networks.
Many minors surf the Internet and come into contact with people they do not know in the context of anonymity, and sometimes the impunity that the Internet provides.
Cyberbullying or cyberbullying is the use of digital media to harass a person or group of people, through personal attacks, disclosure of confidential or false information, among other means.
We all get over-caught when we hear on the news or read the newspapers, this type of bullying.
In this case Use of the social network, is to threaten, blackmail, outrage, children, young people ... It is currently one of the dangerus in the social Reds most importantly and the authorities are studying how to solve this type of harassment.
At present, children have a mobile phone from a very young age, they take it to school, WhatsApp groups or another program are created.
Tips to prevent cyberbullying:
If you are online and they are bothering you, leave that connection and ask for help.
If you are being bullied, try to save as much evidence as possible.
Who is harassing you tell him to stop.
Block people who are bothering you.
If you are threatened, seek help immediately. You can call the police and file a report.
If we witness that someone is being harassed, we must not look the other way, we must act.
6.- Privacy
When we register on social networks, we give our private data that in theory should be safe, but unfortunately they are subject to attacks and to know what will happen when they fall into the wrong hands.
Social networks are loaded with our information, where we travel, where we eat, how we dress, hobbies, etc. A clear example is when we say that we are on vacation in Asturias and how well I am having a good time eating a cachopo and we do not know if that information that we give too much can make, for example,
Some thieves can steal with complete peace of mind and security that we are not at home. It is a clear example of the consequences of social media.
That is why we must be more cautious with what we publish. Children today are more aware of what they should put in them, but in the end it is the parents, who must review what they put. It is very important to raise awareness among the little ones about the dangers of social networks.
Tips to keep our privacy:
Be cautious with our publications.
Do not share family data.
Configure our privacy on social networks: Twitter, Facebook, Instagram ...
7.- Family
Unfortunately each time, it is more common to be in our free time, reading social networks and that is time that is taken away to spend as a family. That is why we must know how to disconnect and spend time with the family. Since that causes many families to break up, being one of the social media risks.
Within this section, we could say that our children like communications and use a mobile phone, tablet, etc. much than we do. For whatever reason, it is necessary to have an exhaustive control of what they do.
It is possible to control and select what they will see. Like when they chat, do we know who the other person on the other side of the computer, tablet or mobile really is?
Tips for making good use of social networks as a family.
Take advantage of the time that we are with the family to talk, do activities.
Teach our children the proper use of the internet and social networks.
Explain to our children about the rsocial media risks if we do not use it properly.
Not being with the mobile or tablet at the table, chatting or on social networks.
The smallest of the house, they do what they see us.
8.- Connection time
Do you know how much time we spend on social media per day? According to a study by AIMC maintains that 15,25% of Spaniards dedicate more than 2 hours a day to social networks, a 15,7% between 1 and 2 hours. I show you the data of examples from social media:
Facebook with 85.6% is the most used network, followed by Instagram, with 47.1%, Twitter moves to third position, with 46.4%.
9.- Addiction
One of the great risks of social networks for children and society in general, is undoubtedly addiction.
It is considered a disease. Social networks make us constantly interact with them. And when social media comes to the fore and your personal links move to another priority, it's clear there is a problem. This triggers: anxiety, stress, lack of time, drowsiness, bad social relationships ...
Tips to reduce connection time and social media additions:
Set a schedule and willpower.
Disable notifications.
Deactivate the mobile app so as not to be tempted to see if they have written to us.
10.- Living a false identity
People who are shown in one way when in reality it is in another way, it is as if we create a fictitious avatar but nothing looks like us, you have to bear in mind that you can run into people like that on social networks, so always remember the phrase "all that glitters is not gold", and that does not want you to distrust each person you meet in the social environment but rather to be cautious, especially if it is someone you just met.
There are also people who create these avatars with a business objective, that is, not with the objective of deceiving people but rather like a movie person who brought them business or sales.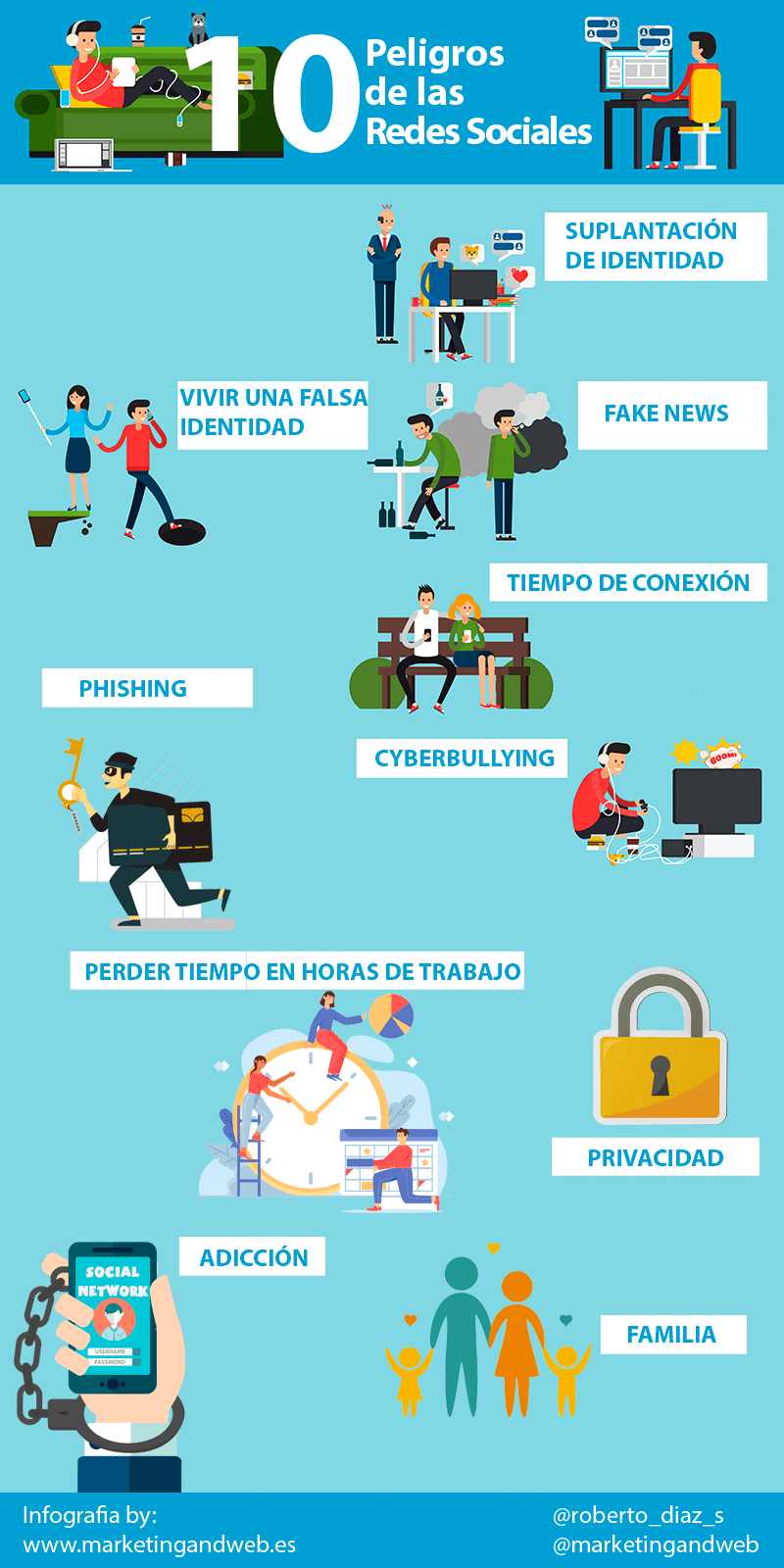 You might also be interested in:
Dafont. What is it? How to install fonts on my computer?
Advertising on Social Networks: what it is, how it works and ways
How to make a Marketing Plan in Social Networks
I give you a few tips to make things more difficult for people who do not use social networks for good purposes, here are a few.
Tip 1 Https
Always use the https prefix, with that we achieve that the information is encrypted and is much more difficult to decipher than using http, that the information is not encrypted.
Tip 2 Passwords
With these tricks, you are going to increase your level of security a lot:
Do not give your password to anyone.
Change the password frequently.
Use a password for each site.
Use a combination of letters, uppercase, lowercase, numbers, signs ... You can use this WebTo create secure passwords, you will see the password level in it.
For what you want more, DO NOT PUT A password or: dates of birth, or ID, etc.
Tip 3 Shared computers
Many times, we find ourselves in the need of having to use a shared computer or go to a cyber cafe, etc. Here we should take extreme security measures, here are some tips:
You should avoid inserting pendrives since we do not know if the computer is infected.
If you enter banks, DO NOT select to save your password.
At the end, before leaving, delete your browsing history.
Tip 4 Privacy and good use
For avoid risks in social networks, do not accept friend requests or follow people you do not know. Try to configure social networks to avoid that what you post is seen by the whole world and try to be cautious with your publications.
Tip 5 Public or external WIFI networks are not secure
Take extreme precautions when we connect to a WIFI network that is not ours. You do not know who is lurking and what is its purpose
conclusion
Social networks are interesting but like everything, you must do a good management of social networks so as not to fall into the consequences of social media that we have commented.
It is very important to become aware of the proper use we make of social networks, based on ethics and values. Keep in mind that the advice we have given you makes it much more difficult for you to suffer a mishap, but it will make it very difficult for those who try to do something improper.
I hope you like the article, and I will be happy if you help me increase the list with more risks and dangers in social networks.
If you liked the article, you can share it with a friend.
Did you like this post? Rate it
This may interest you ...