Mac computers are increasingly used, I declare myself a fan of iOS devices, but it is important that we have our Mac equipment in perfect condition so that it works efficiently, for which we must do a cleaning from time to time and with this elimination of the Mac programs that we do not use.
So in this article I am going to teach you how to uninstall programs on Mac in a very simple way and in a few steps.
---
You might also be interested in:
WeTransfer, what it is and how you can use it to share files
10 programs to record the screen in Windows 10 (PC)
18 Tips and Tricks to Make the Best PowerPoint Presentations
---
Types of programs on Mac
In the macOS system there are two types of applications or programs;
1.- They have their own installer. If you drag this application to the trash to delete it, it would not be the correct way, since you would be leaving a large number of files (garbage) stored on our computer.
2.- Those that are containers. This type of application can be dragged to the trash to eliminate it, since we will be eliminating the entire file folder of the program.
How to uninstall programs on Mac completely
We are going to see different methods so that you can use the one that is most comfortable or easiest for you to uninstall programs on Mac:
Method 1. Checking if there is a file in the application folder for uninstallation.
This should be the first step that we should apply, but be careful, not all programs have it, so we go to the installation folder to see if the uninstallation file is found. If so, use it, this would be the correct way to remove the program on Mac.

Here you can see an example, how the Photoshop program includes a file to uninstall the program on Mac.
Method 2. Using an application to uninstall programs
We are going to see a series of apps that we can install on our Mac computer to help us uninstall programs when necessary.
7 Apps to Uninstall Programs on Mac Completely
Cleaner-app is an application for Mac that will be of great help to you to eliminate duplicate content or find similar files to, for example, uninstall programs.
Appcleaner is a free and easy-to-use application to be able to uninstall programs on Mac completely.
The operation is simple, we drag the application that we want to eliminate and Appcleaner will find all the related files so that we can eliminate them all and not be left with garbage stored on our computer.
Appzapper is a paid application, it costs about $ 12, but it works really well when it comes to removing programs on Mac.
The operation is similar to the previous application, we can drag one or more programs that we want to eliminate and the Appzapper will find all the related files and files so that we can delete them all.
Daisydisk is a very visual and easy-to-use tool that will show you the files that are taking up the most space on your disk, and will allow you to delete files on the Mac, as simple as dragging and dropping.
Delete useless files from your Mac computer and reclaim space on your hard drive.
Gemini 2 The Duplicate Finder is not properly a tool to uninstall programs on Mac, but it will help us find duplicate files and eliminate them, with which we will gain space and have our Mac computer more optimized.
Characteristics:
Identify duplicate files and folders.
Find duplicates of photos, applications, songs, documents and videos.
Look for files that are almost, but not completely identical.
Find similar photos in Photos: other shots or just similar
Move the files to the trash and allow you to restore them, if necessary.
Delete duplicate files immediately, if you wish.
Disk Cleaner is a tool that perfectly fulfills its function, since it is super easy to use and helps you free up unusable space on your Mac.
Characteristics:
Elegant and easy to use.
Delete all the unusable files.
Clear cache space you don't need.
You will be able to free up a quantity of gigs from your Mac that you didn't even know about.
It is not a tool properly to eliminate programs on Mac but it helps us to eliminate garbage and files that we do not use and also to improve performance so that our Mac always goes very fast.
Characteristics:
Free up files you don't need on your Mac computer.
Performance. Optimize your Mac's memory and boot time.
Buy safely without leaving a trace online.
Protect your computer from threats, viruses and adware.
Of course, when you install it for the first time it is a bit heavy with popups and notices, I recommend that you deactivate them.
It is true that it is a paid application, but it is good to have software that helps you improve the performance of your computer and Mac and that you are more secure from any type of threats.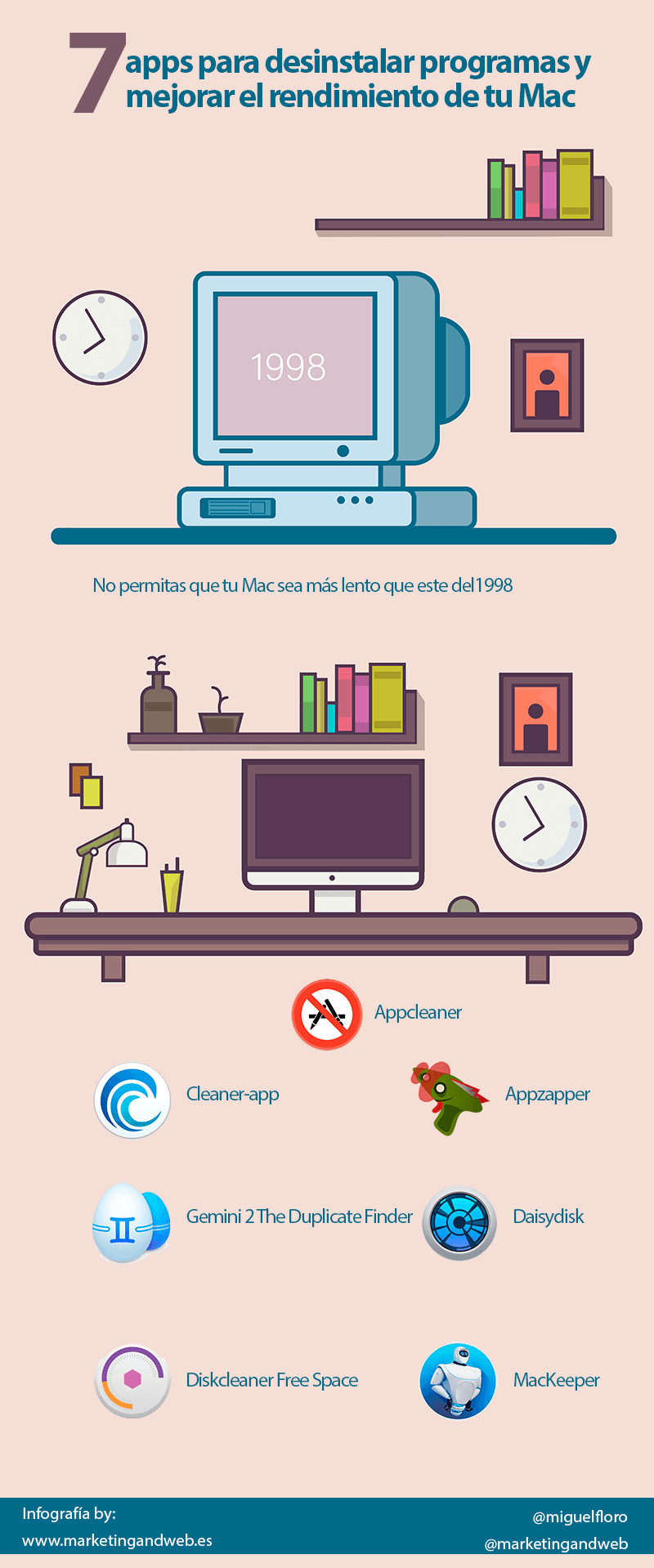 You might also be interested in:
The 22 Best Internet Search Engines (+ Alternatives to Google)
25 Programs to Make Animated GIFS for FREE
How to download online videos [Youtube, Facebook, Instagram and Twitter]
Conclusions
In this article you will find 7 applications that will help you uninstall programs on any Mac computer and thus free up space and accelerate its speed.
Surely there are many applications to uninstall programs on Mac, so I would love if you could tell me which are your favorite applications.
What is your favorite application to erase programs on Mac?
If you liked the post you can share it with a friend.
Did you like this post? Rate it
This may interest you ...