After more than 700 articles published on the blog I have started to write my first physical book with the Anaya publishing house.
Yes, you have heard correctly, I can finally present my book "Digital Marketing Course" where you will learn in a practical way how to develop a digital marketing plan for any project.
The book is 100% practical and you will also have access to a 16-lesson video course where you will learn how to apply the different digital marketing strategies that are described in the book.
From my professional experience, correctly and correctly defining the roadmap of a digital project is essential if we want to get closer to our objectives, otherwise we can fall into the error of trying actions until we find one that works or gives us some result.
Many thanks to all the professionals who have helped me grow in the world of digital marketing, especially to the great professionals and friends who have also participated in the book such as Luis Villanueva, Álvaro Fontela, Rafa Sospedra, MJ Cachón, Èlia Guardiola , Miguel Ángel Trabado, Rubén Máñez, Fernando Angulo, Fernando Cebolla, Ana Ivars, Carlos Pinzón, Inge Sáez and Iñaki Tovar.
You can now book my book Digital Marketing Course, and be the first to have it in your hands and enjoy learning from the world of digital marketing.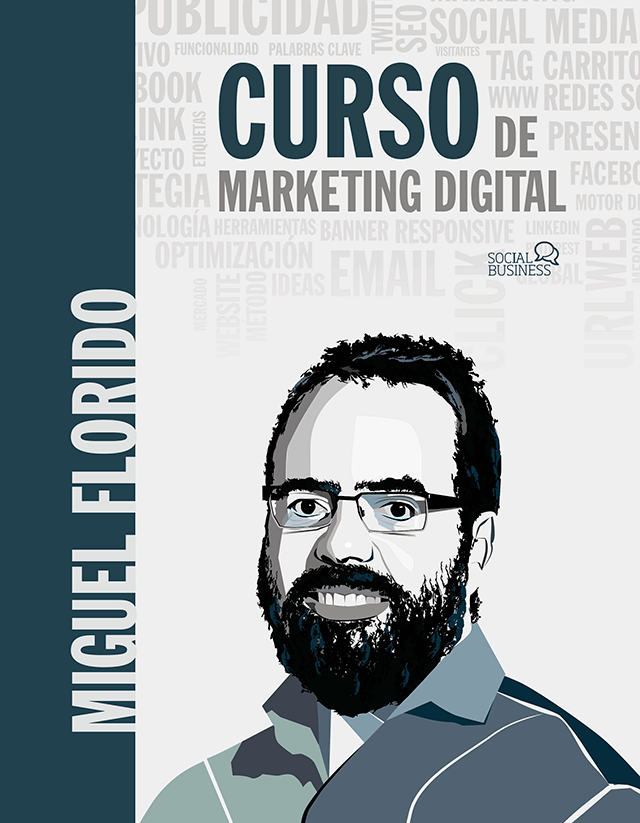 ISBN: 978-84-415-4164-1
Reserve your book from the Digital Marketing Course or in ebook format
Book index:
Introduction to Digital Marketing
Definition of the business model.
Internal analisis.
External analysis.
SWOT.
Objectives and Buyer persona.
More effective Marketing strategies.
SEO strategy.
Content Strategy and Branded Content.
Social Media Strategy.
Paid media and advertising
Branding and Personal Branding.
KPIS and Measurement.
Action plan.
Conversion funnels and Email marketing.
Monetization and ways to earn money.
Professional templates and tools.
Chapter 1: Business Model Definition
There are many projects that are launched on the market without first having correctly defined what their business model really is.
It is necessary to determine which will be the most important monetization channels of the project.
But not only that.
It is also essential to determine what will be the elements on which it has to be supported, as well as to be clear about the costs.
Chapter 2: Internal Analysis
Before starting to design a marketing strategy, we must do an internal analysis to find out what our competitive situation is.
You will have to analyze both offline elements, such as:
Analysis of the services.
Analysis of the products.
Departmental analysis.
Etc.
As online elements:
Visibility analysis
Content strategy analysis.
SEO strategy analysis
Analysis of the strategy in social networks
Etc.
Chapter 3: External Analysis
The external analysis will allow us know the type of strategies that the competition is carrying out.
It is then that we will really know the competitive situation in which we find ourselves.
It will be necessary to analyze the same elements as in the internal analysis (insofar as it is possible to obtain the data).
Chapter 4. SWOT Analysis
Having performed both analyzes, the next step is to translate them into a SWOT Matrix.
In this way, we will know the reality of the project in relation to four quadrants:
Strengths.
Weaknesses
Opportunities.
Threats
This is the step prior to the design of the strategy.
Chapter 5. Objectives and buyer persona
In this chapter we will see the importance of defining SMART goals that are achievable and the buyer person.
Defining our ideal client well is essential if we want to send them the right message.
The same product can have different customers, segmenting them and understanding the differences between them should be a priority.
So, In addition to telling you all the questions you have to ask yourself, I will tell you the tools you can use.
Chapter 6. Most Effective Marketing Strategies
The ultimate goal of any business is always the same, to increase turnover.
Therefore, in this chapter I will tell you what are the most effective strategies on the internet today.
Later we will go into detail in each one of them.
Chapter 7. SEO strategies.
In this chapter you will know the essential points when designing an SEO strategy.
From the study of words, going through the factors on page and offpage.
As well as the most important KPIs to measure the SEO strategy.
Chapter 8. Content strategy and branded content
Through the content strategy we will be able to make ourselves known, increase our authority and above all, position ourselves as a benchmark in our sector.
This chapter is focused on creating a powerful editorial calendar, as well as the most effective types of content.
I will also tell you the pyramid of the success of a blog, you will see that it does not take much content for a project to work.
Only the essentials.
Chapter 9. Social media strategy
You will know the step by step to design a social media strategy with different examples.
I will also tell you what the types of most effective strategies in social networks such as:
Branding strategies.
Sales strategies.
Lead capture strategies.
Etc.
Chapter 10. Paid Media and Advertising
Advertising is one of the most effective strategies to achieve short-term results.
It allows us to show the right message, to the right people, and at the right time.
Therefore, in this chapter I will tell you peculiarities of different ways of advertising such as:
Facebook and Instagram Ads.
Twitter
LinkedIn
Google Ads
Influencers
Media
As well as specific cases and tools that we use.
Chapter 11. Branding and Personal Branding
The brand image is decisive for any business and its size does not matter.
It is just as important for a multinational as it is for a freelancer.
The brand image is what allows us to position ourselves in the market and differentiate ourselves from other competitors.
We will go deep into this chapter.
Chapter 12. KPIs and Measurement
How they say: Everything that is not measured, cannot be improved.
You have to know which are the most important variables to measure for each of the strategies.
You don't have to pay attention to all the data, only the ones that are directly related to your goals.
Chapter 13. Action plan
One mistake many projects make when making their marketing plan is the action plan.
This is where we will have to define all the actions that we are going to carry out and assign them a period of time.
I will show you different tools that you can use in this phase, such as the Gantt calendar.
Chapter 14. Conversion Funnels and Email Marketing
All the strategies that we carry out must be associated with achieving a conversion.
Sales funnels are the part that connects each of the channels to achieve that goal.
Therefore, in this chapter I will tell you about different types of funnels such as:
Lead welcome funnel.
Online sales funnel.
Sales funnel with Facebook Ads.
Funnel to sell courses.
Remarketing funnels.
Chapter 15. Monetization and ways to earn money
To finish, I will tell you the most effective ways to monetize a project on the internet such as:
Affiliate Marketing.
Sponsored articles.
Adsense.
Infoproducts.
Online courses.
Webinar.
The goal is for you to see the full potential that businesses have on the internet today.
Chapter 16. Professional Tools and Templates
You will have access to different templates and tools professionals such as:
Templates of the canvas model.
Template for your editorial calendar.
Internal and external analysis template.
Template to make your action plan.
Gantt calendar template.
Aspects to highlight in this digital marketing book
Course 100% practical where I explain how to design and execute each of the strategies.
16 video lessons made by different professionals in the sector and that will help you understand each of the strategies.
Access to professional templates that will be very useful in your projects.
Free 30-day access to a professional SEMrush account, a great tool that you can use for your SEO and SEM Strategy.
Free 30-day access to a professional Metricool account, a fundamental tool for your audit on social networks, as well as its management.
Discount to access one of the best image banks (Freepiks).
Tips, tricks and above all a lot of experience transmitted by each of the professionals who participate in the book.
Reserve your book from the Digital Marketing Course or in ebook format
I will be happy to solve or answer any questions you have about the book.
I sincerely hope that this first digital marketing book that I wrote helped you boost many Internet businesses.
Did you like this post? Rate it
This may interest you ...