For: Julian Rojas Millán
People underestimate LinkedIn. There is a certain bias towards careers related to the development of digital technology, it is true. But I went to Colombia and now to France with a visa and all expenses paid thanks to a good profile on LinkedIn.
It doesn't hurt to take the time to put it together. You must be good at what you do and show it on your profile, recruiters don't eat anything. It would be more of a medium-long-term plan, but the idea is to stop being short-term.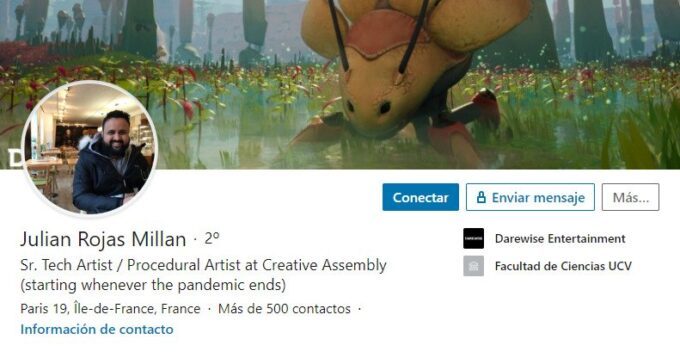 The first thing I learned from LinkedIn
Creating a profile on LinkedIn, and a good CV and cover letters, are things that take time. Looking for work is a job. When I made my profile and my first version of the CV I wanted to leave the country in 2015, it took me almost 2 weeks to be satisfied with the data and information posted there. Do not forget to put on LinkedIn that you are in Active job search!
LinkedIn is a medium and long-term plan. It is possible to get offers in the short term, but you should not plan around it. From December 2015 to February 2018 I received 5 offers with an interval of 4 and 6 between each one.
You have to knock on all the doors sending your profile to anyone. LinkedIn Premium tools are designed for recruiters to find you, not the other way around. As it is not accessible to everyone, it is a Long-term Plan.
In this way, you have to be patient to put together a good CV that is short and readable in PDF. And have several versions of it in Spanish and English, as well as lots of information.
You do it the first time and then it is easy to update. So it is advisable to work with a template in Word or a design program that is easy for you to use.
Your short-term plan: let you know
In this case, Julian is a Programmer, so he worked using Upwork and Workana, in addition to creating his network of private clients. No front can be neglected. Yes, it's a lot of work, but if you don't promote yourself, you starve.
The search algorithm is based on the amount of information in your profile, how often you update and your interactions. It doesn't matter if you are Pro or not, it has nothing to do with it. The reason is business as usual «if the service is free, you are the merchandise«. LinkedIn is for recruiters who pay to get the best profiles.
Build a good profile. Be honest, detailed, tell what the challenges were in your work, how you solved it and what you achieved in the end. And don't worry about creating it in the first sitting, as I said, what matters is the updates, so you can spend as long as you need until you are satisfied. Every week they get in and fix something.
Complete the profile. Whatever LinkedIn tells you to do, fill in as much as you can until the profile percentage is high. that counts a lot.

"Chamo, but I don't have a degree, or courses" ...
Chamo, make one at least. Know? you have to want to improve professionally too.

It is good to have a profile in Spanish and English. Most of the opportunities are searched in English even if the recruiter is Spanish-speaking, and having two profiles increases your score in the algorithm.

«

Chamo I don't know English ».
Learn.

It depends on the area in which you work, but a good profile for LinkedIn is one that has working examples, links to it and multimedia.
Put a damn good photo. No clippings of a photo at a party or photos from 4 years ago. Take a profile picture with a smile, no passport photos. Seriously, LinkedIn has facial recognition.
The number of connections is important, especially if they are related to you. In 2015 I read that quite a few are over 450 connections. As of today I have almost a thousand. Send invitations, you don't have to personalize them if you don't have time, people accept them almost out of inertia.

 

Accept invitations.
The reason why the number of connections is important, it's because interactions are important. You know all those stupid ads for 'So and so has a new job, do you want to congratulate him?' Well do it, they are not stupid ads. They are interactions.

You don't have to spend all day on it obviously, but that you enter your profile once a week, check the notifications and congratulate with the default message is enough. Applies for birthdays and how much pod comes out.
Many notifications? I have them turned off on my cell phone, and although I did not deactivate the emails, they could, thanks to Inbox the emails do not reach the main tray. I don't see any of that, I just go to the page from time to time and check notifications. I never wrote on the blog, but for content creators it is a good idea, because it is an example of your work. But you don't even have to type, you can share links from your area or just click on links shared by others.
LinkedIn counts the clicks you give and the news of others you share. I did read, and do read, the links, but you don't even have to do it if you don't feel like it.

In the wave of interactions, it is a good idea to endorse (endorse) the skills of others. But do it sincerely. There are ways for the neural network algorithm to tell if you are doing it just from clicks (I know about that, studied that). The idea is that people, out of kindness, return the endorsement of your skills, and it happens, it is not rare, but you can invite your friends to do it.
Write recommendations to others. Sincere, short and professional. They are more valuable the closer you are to the contact (in any case LinkedIn does not allow recommendations like that). Invite people who worked with you to do the same. The more you do and get the better, but you don't have to do or be 30, 4 or 5 is enough. (The endorsement and recommending thing goes into having a good profile, it is one of the things that LinkedIn asks you to do).
You must be good at what you do. You must know how to sell yourself, which is what I try to help, but if you are not good, if you do not have how to build a good profile, then there is no LinkedIn that is worth it. Recruiters who can contact you are usually looking to fill a quota, but if they waste time for companies, that recruiter is going to screw up. In my experience, recruiters smell mediocrity. If you are starting, play as with everything, seek experience. If you have time working in the area, how did you survive if you are not good? The idea is not to discourage, but to the contrary. If you don't have merits, it's time to make an effort, but a couple of people I know, when trying to fill out the LinkedIn profile and see that they did not have them, discovered that they did not like their work. And they changed it.
What to do with recruiters? answer them, answer their forms, accept the interview by Skype or Hangouts. Usually they end in nothing, but you enter the database. Those recruiters, like I said, are looking to fill quotas. If they have databases, it is easier to fill those quotas, and the more they call you, the more likely it is that you will match. In my case, especially, 2016 and 2017, I received between 1 and 3 messages or emails from recruiters. You respond. Clever. I already show you an example. January of this year. I received 3 emails. Just under one email per week on average. Nothing bad. I have received 3 in a week. In this case it was not my area, but you respond the same and indicate what you are good at, what you are looking for and how you want it. You ask that you do not know if they will give you.
What to do with the LinkedIn profile? with nothing left inside me: send that shit everywhere. In 2015, when I updated my profile looking to leave the country, I sent 620 emails. Is seriously.
How did everything turn out?
I had 2 templates, English and Spanish, cover letter and LinkedIn profile. I used google to search and sent that shit to every pod I got through.
I had planned to send it, but Efecto Studios in Bogotá contacted me at the end of 2015 before I even wrote to them. I guess I showed up because of the mutual contacts we had.
- «You have to be smart when sending your profile»
- No corduroy, stop shitting, I literally spent 2 weeks putting together that shitty profile, he's going to see it to church, I'm not interested.
That way people add you to their mailing list, but especially to their LinkedIn profile, and you fuel the cycle of interactions. During 2016 and 2017 I literally never submitted the profile. I still received messages.
I put together my first profile at the end of 2013, when I didn't understand much.
In January 2014 a VR and oil company contacted me. I started in February. It helped me that I know that we are still few in the area. That company fired me in September 2015. There I sat down to investigate and build a good profile.
I got good temporary jobs by submitting the profile, but like I said, at the end of 2015 Efecto Studios contacted me. I moved to Medellín, all expenses paid.
My contract expired in December 2016. I worked for Upwork and got good tigers by submitting my profile (freelance jobs, everything helped me in the future). In August 2017 a company in Medellín contacted me thanks to LinkedIn, I worked with them until March of that year.
In February 2018, Darewise contacted me using LinkedIn. 
I write this from Paris, I came with all expenses paid!
Maybe 4 years seems like a long time but for me, who in 2013 was finally coming out of my depressive period, 4 years was quite an achievement. And that I was very happy in Medellín.
Keep in mind that, as I read to Stephanie hurlburt, the best time to look for work is when you have a job. This is why LinkedIn is important. It is time to work and strip. Don't be communists.
I hope it helps you.